Last night, the consultation on the future of Prestwich Village began with the first meeting of the Prestwich Village Consultation Liaison Group at Bury Town Hall, which had representatives from a range of local community and business organisations, and councillors.
The Group has zero power over the plans but can "help the JV [Joint Venture between developers Muse and Bury Council] shape the proposals using community feedback where appropriate and possible". The group is just part of the 'consultation' process, with the general public invited to the first drop in session this Sunday 29th January at Prestwich Library (11am-3pm).*
Little was absolutely revealed at last night's meeting, with representatives of Muse attempting to underline how 'sustainable' and 'green' the scheme will be, to be 'relevant in forty years time', while dodging some of the questions on finance, affordability and where the ultimate power for the regeneration lies…
The Muse placemakers were keen to point out how they had looked at the historic layout of Prestwich Village, and want to establish more open links between the tram station and Bury New Road. They also want to 'de-engineer' Rectory Lane, to remove most cars, and to have the road near the Precinct lined with townhouses. Similar houses in other Muse developments in Salford are sold for up to and above £400,000.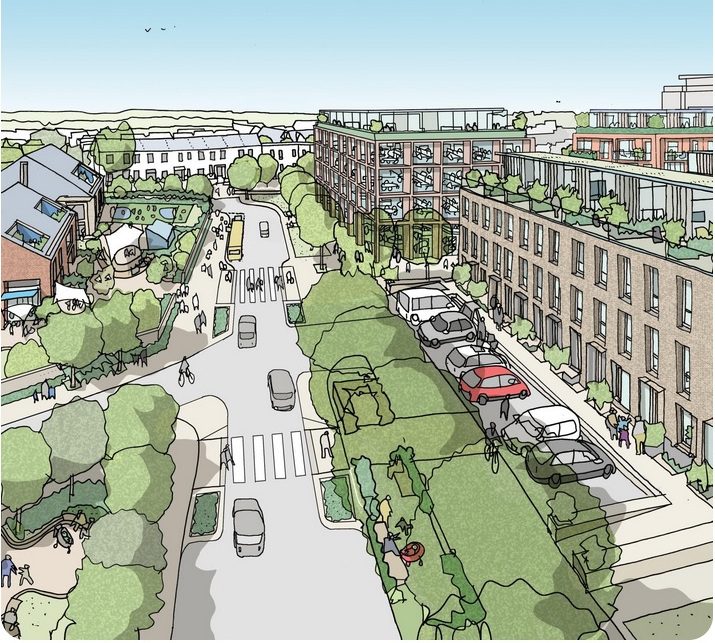 Muse also wants to move the car parking away from the Precinct and the tram station to a multi-storey car park at the top of Fairfax Road. When asked whether people would be able to leave their cars there while getting the tram into Manchester centre or whether it would be short term parking, at this point there weren't any answers. When asked whether Prestwich would lose its current free parking, Bury Council Leader, Eamonn O'Brien, said that "We don't want to charge for parking" (which is well different from saying that 'We won't be charging for parking').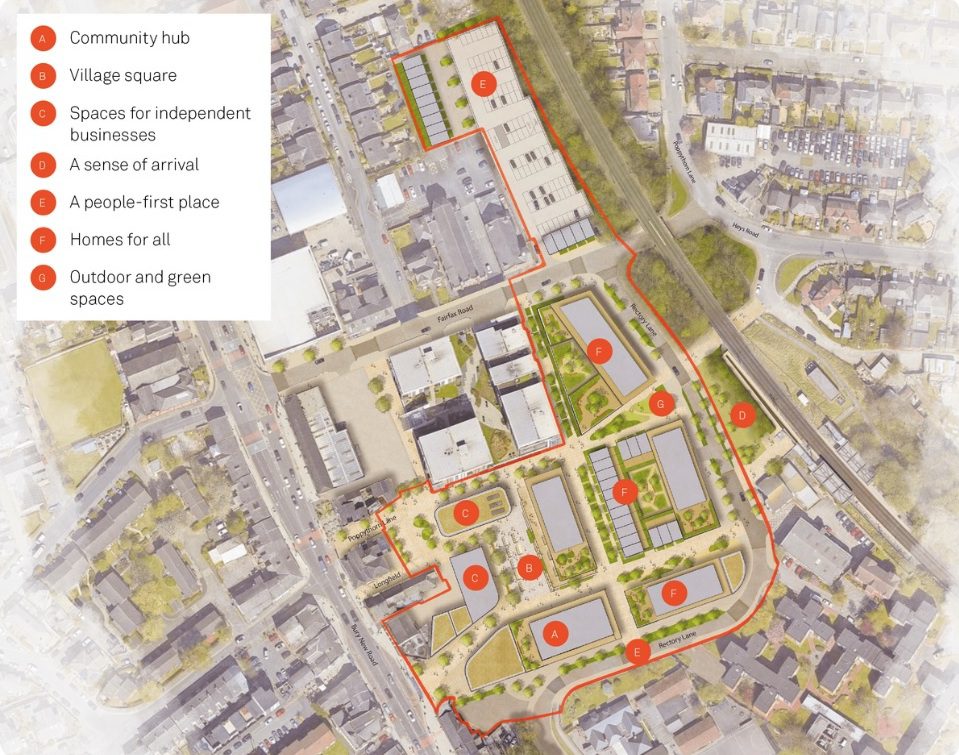 Representatives from the local business forums argued that small businesses should have space not only to sell their goods but also to be able to make them on site, and that the Precinct should work in tandem with the Bury New Road high street rather than being something separate.
Details on the new Community Hub, which will replace the current Prestwich Library and the Longfield Centre and be moved nearer Bury New Road, were really sketchy, with Councillor O'Brien stating that what it would be depended on finance. Members of the group put forward ideas ranging from a gym to a performance space and gallery, to the restoration of a sprung floor for dances a la Longfield…
Indeed, few concrete details emerged, as the idea was to listen to feedback over the next few months before plans are finalised in the summer and a planning application is lodged in September.
Despite being promised a more lengthy Q and A at the end of the developer's presentation, time ran out, so here are some questions to ponder…
If the 'Village' is to attract new businesses, will the rents for shops and making spaces be truly affordable?
While the Precinct's charity and bargain shops are not to everyone's taste, there are a lot of local people who are not well-off relying on these resources. Will they be able to survive the new scheme?
The hype states that Muse and Bury Council want to make 'A Place For All', yet there is no sign of any truly affordable housing. Has any element of truly affordable housing been written into any Joint Venture agreement?
The usual method of ensuring developers give something back to the community (or to 'mitigate their impact') is via a Section 106 agreement (which includes affordable housing, public realm, infrastructure etc). In Salford, Muse (via the English Cities Fund) by-passed this with its own unaccountable Development Trust and no affordable housing – what will the deal be in Prestwich?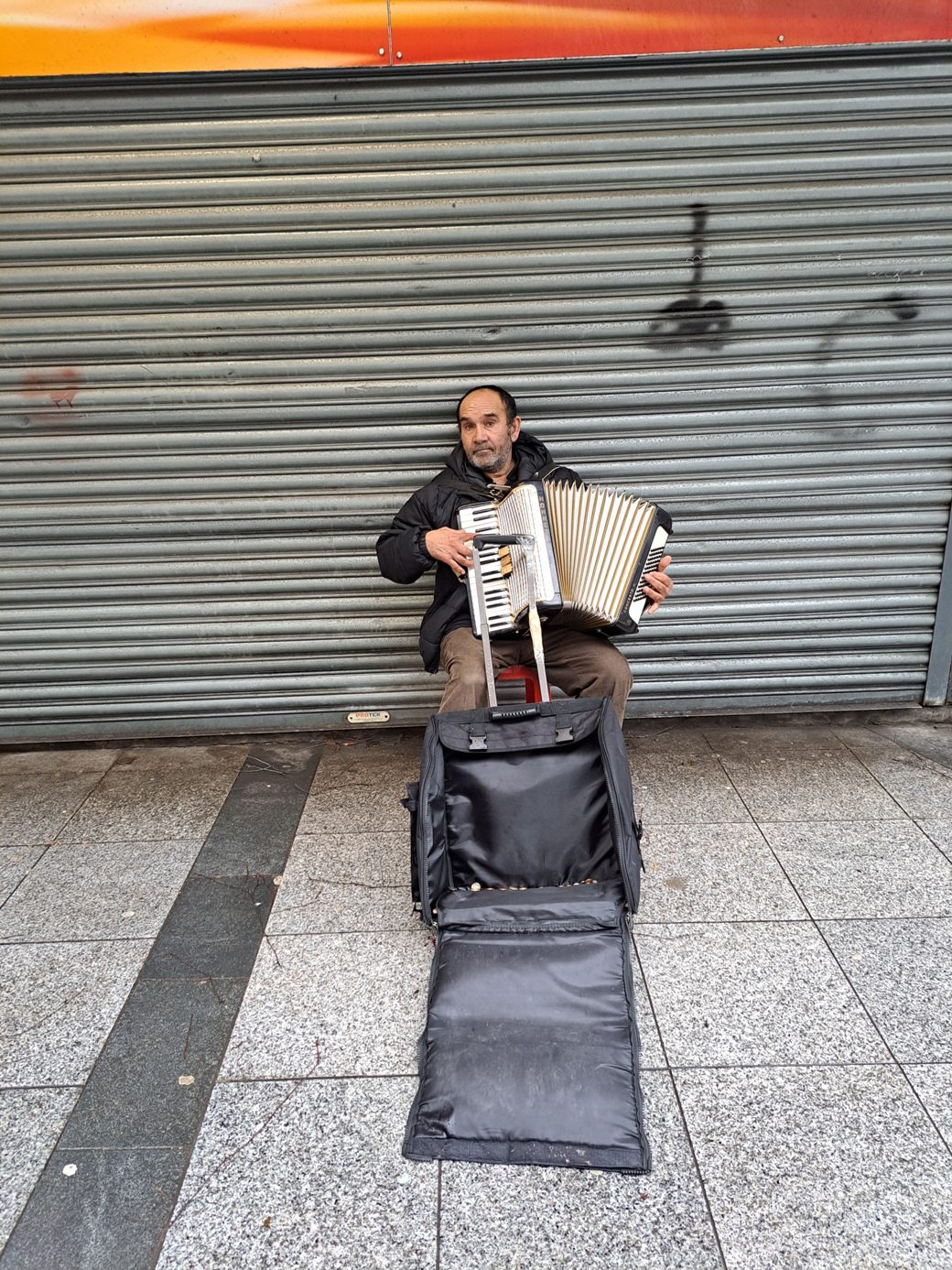 *Full details to date on the scheme are available at https://yourprestwich.com
Community consultation…
Drop in open to everyone: Sunday 29th January 2023, 11am-3pm at Prestwich Library in the Longfield Centre
Live online Q&A Wednesday, 1st February 2023 6:30pm-8:30pm – register here
There is also a questionnaire to fill out on the Your Prestwich booklet which should be delivered to everyone in the area.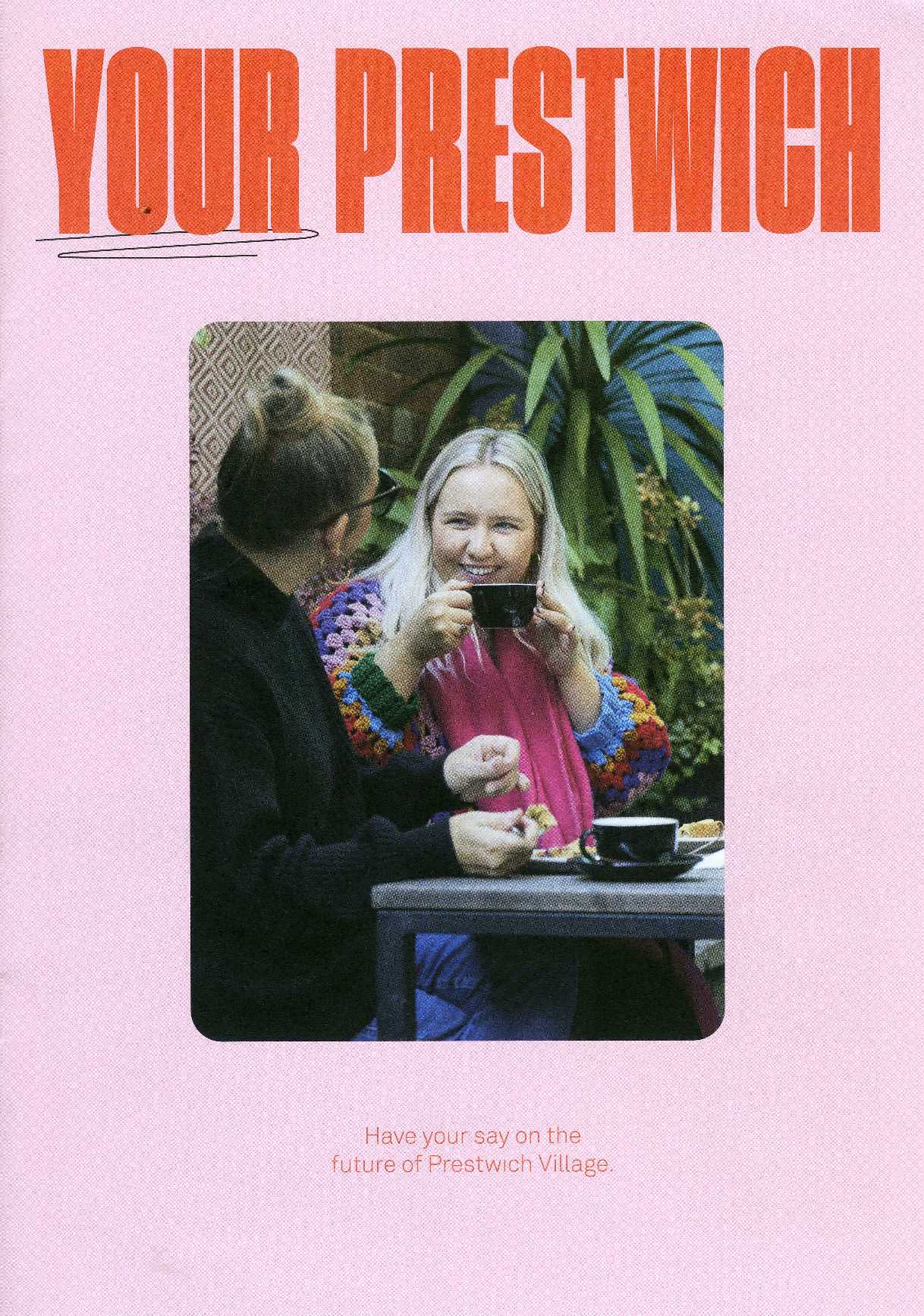 See also previous Bury New Road project article on Prestwich regeneration – click here