Strangeways here we come? Stangeways here we are!
Today, Tuesday 23rd May, for two hours only between noon and 2pm, artworks created by long term prisoners at HMP Manchester went on display, chained to the railings of the prison that fronts Bury New Road.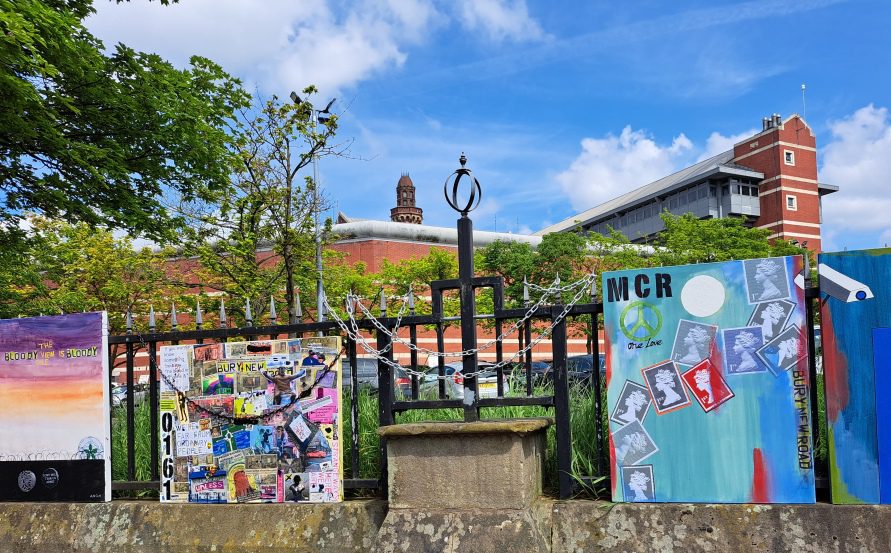 The Bury New Road heritage project worked with the men for six sessions within the prison, and they created nine stunning canvases and verse expressing their feelings on the relationship between the prison and the over busy Road in its shadow.
The artworks centred around the culture of the Road, with icons including Bugzy Malone, John Cooper Clarke, Mark E Smith, William Grimshaw (the world's first DJ) and Joy Division all featured on the canvases. And people viewed the works to a Bury New Road soundtrack that included Bugzy Malone, 10CC, Elkie Brooks, The Fall, Joy Division, ACR, John Cooper Clarke and New Order.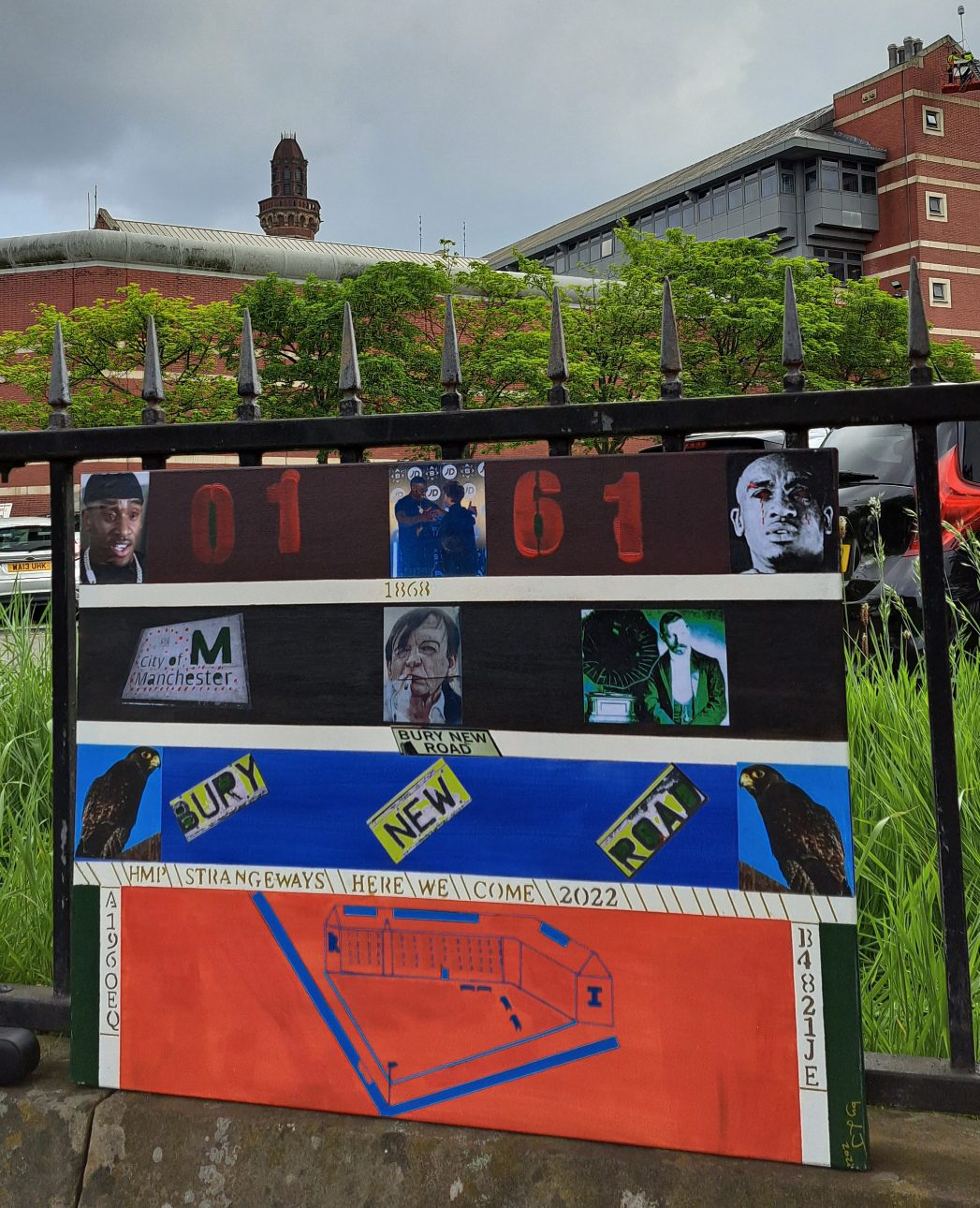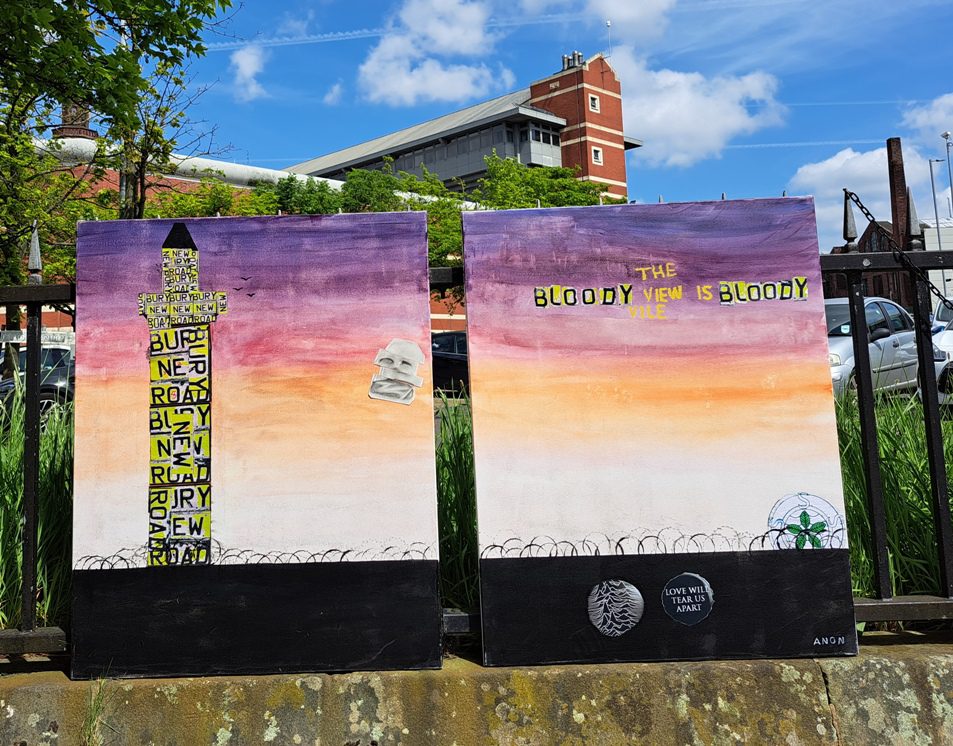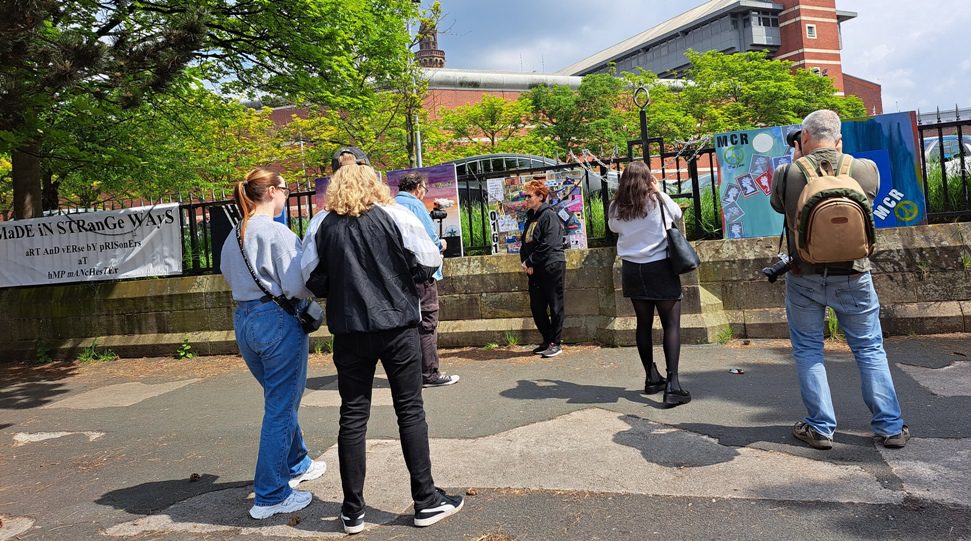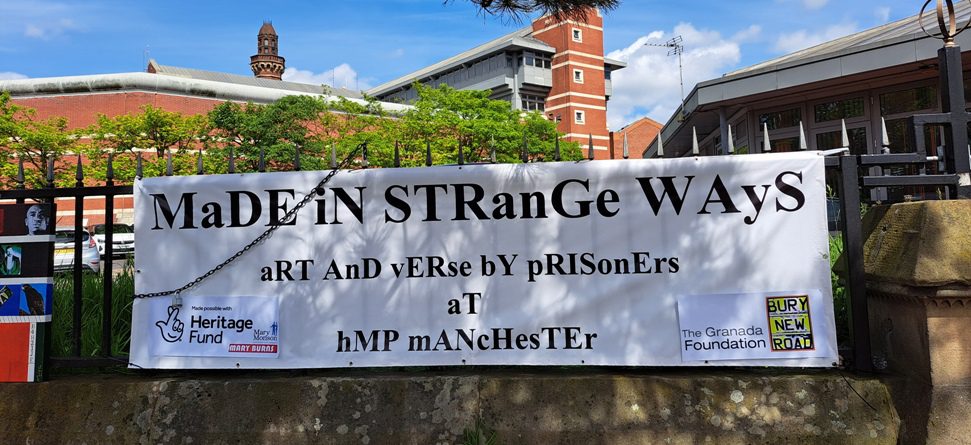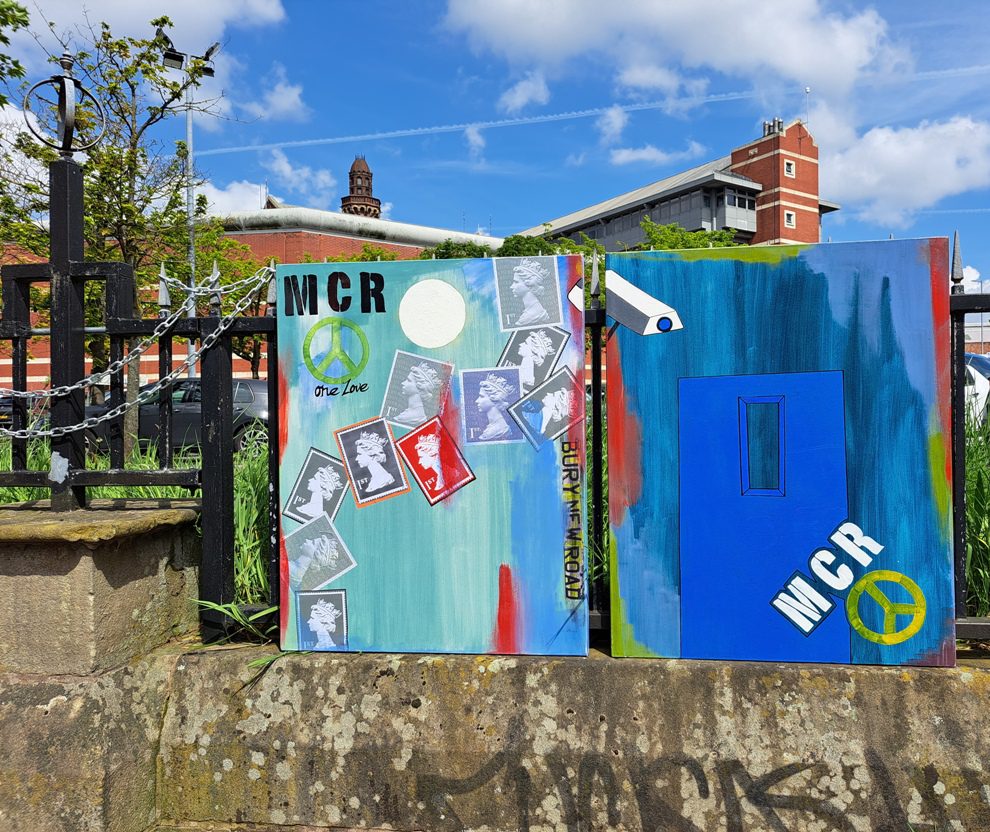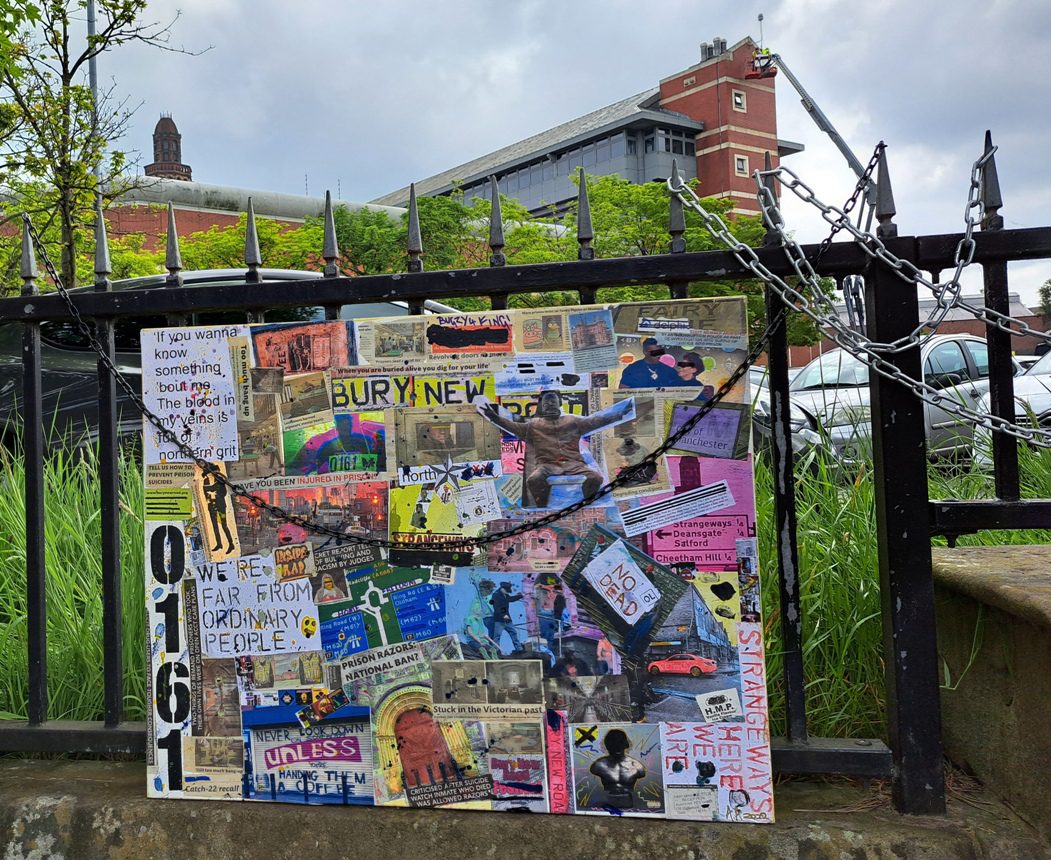 "It's been a privilege/exciting to be involved in such a project" says HMP Manchester Governor, Rob Knight "Utilising the skills and talents of HMP Manchester's prisoners is something we're proud to do…"
"It was an amazing experience for us, working with the prisoners, and in the current art room which was formerly the chapel where the famous riot started" says Stephen Kingston, Bury New Road project co-ordinator "Usually, it's people walking or driving past the prison every day who might just wonder what goes on behind the huge walls.  Here, the prisoners are giving a taste of that, and what they know is happening on the outside…"

Bury New Road project artist, Louise Garman adds: "There are some amazing artists at HMP Manchester, whose work is exhibited all over the inside of the prison. Unfortunately most people won't be able to view these works but our Made In Strange Ways exhibition will showcase some of the talent that exists unseen and unheard…Displaying them on the railings was like guerrilla art but with permission!"
A Nation Behind The Door
HMP BOYZ
Kiora-Lee
The Screaming Peregrine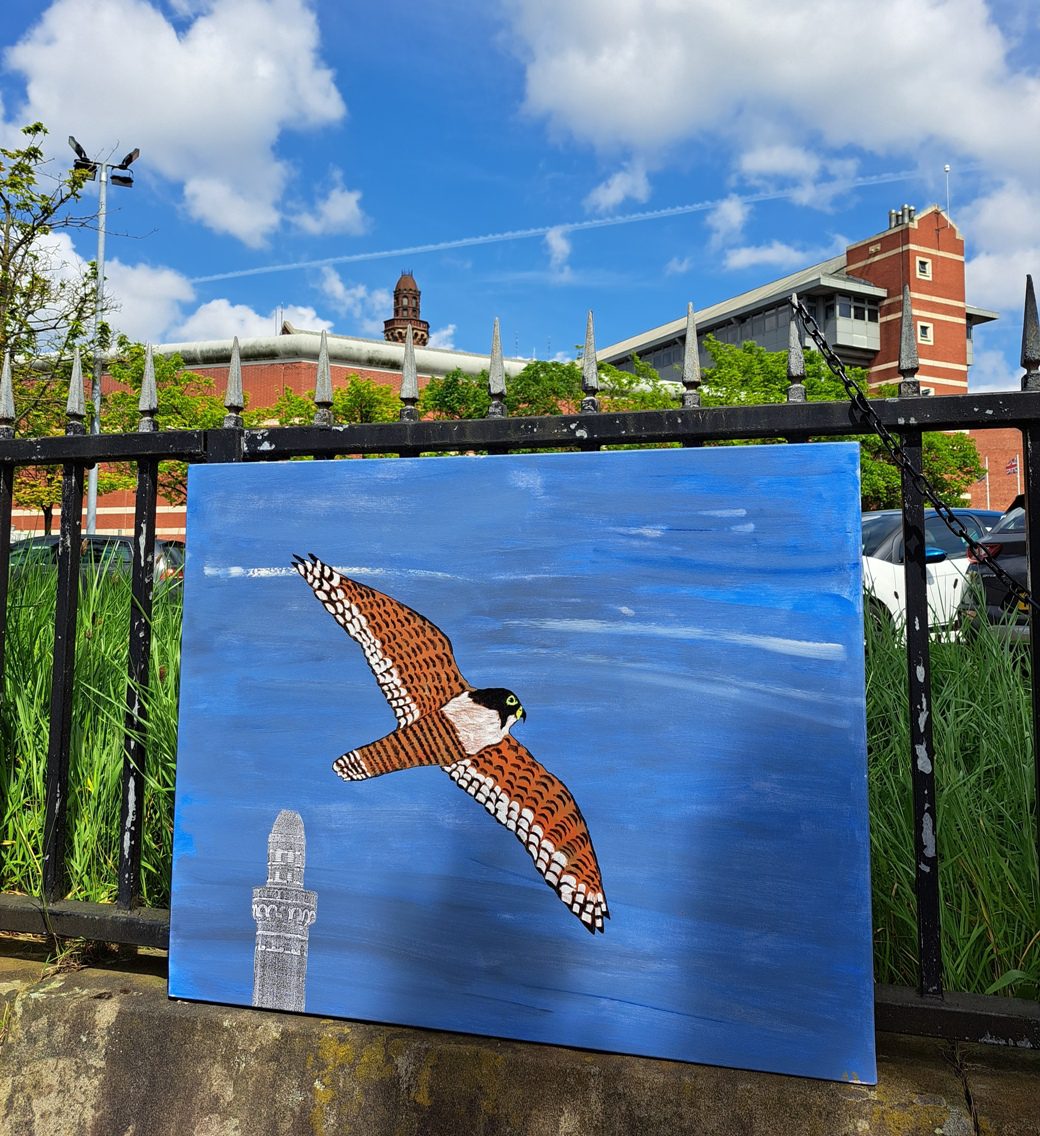 Censorship
The Bloody View
Red Yellow Blue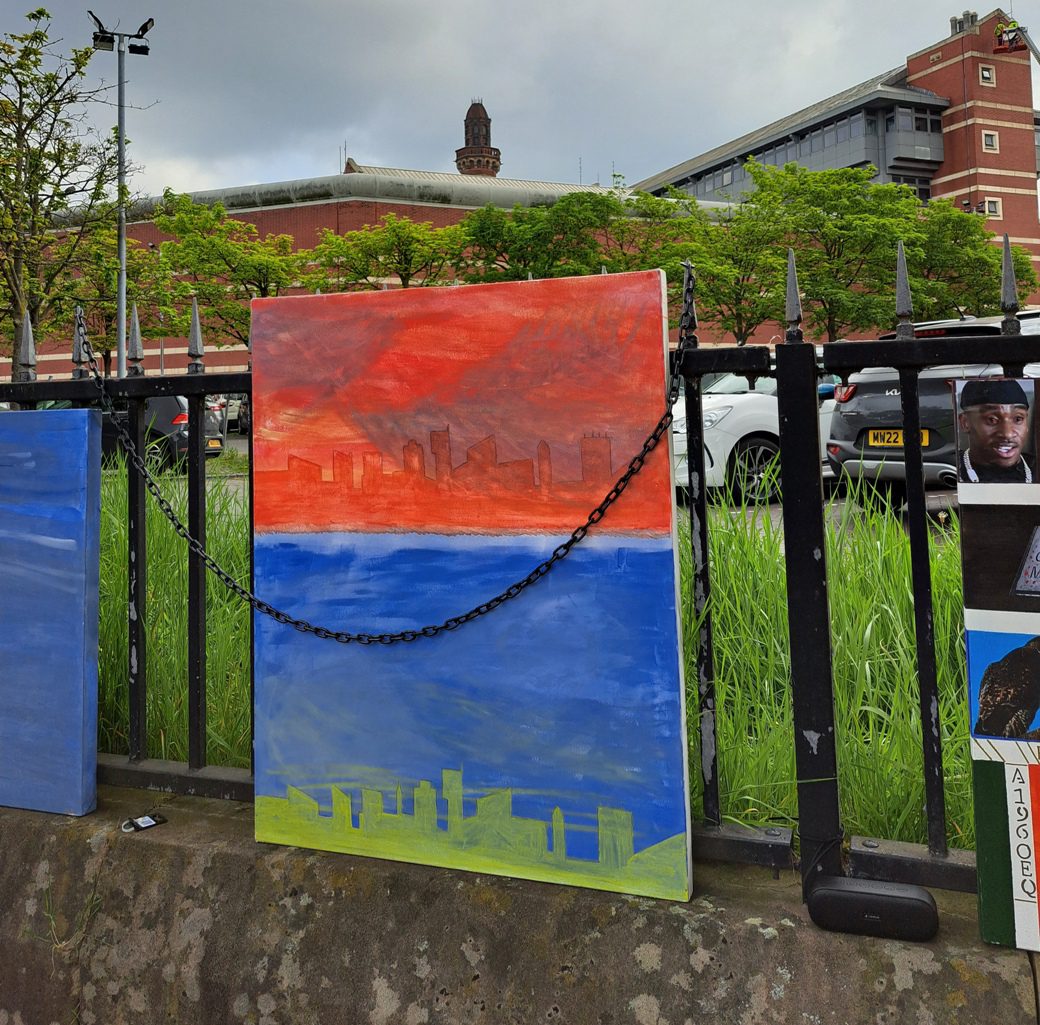 "I created this artwork while I was serving my sentence at HMP Manchester. We were asked to express our views on Bury New Road" says the creator of the canvas Censorship "I had visited the Road before I came to prison to go shopping in the warehouses but I never knew of the Road's history and all the famous musicians who came from here. I was a big fan of Bugzy Malone and love the fact that he shouts the Road out in his tracks but I was surprised to hear that John Cooper Clarke and The Fall came from up this way. My title is Censorship as it was my idea to keep the viewer guessing and censoring my work rather than the Prison! "
The Bloody Peregrine
The bloody peregrine
She bloody screams
I even hear her in my dreams
As I look from my bloody cell
I think to myself
'This is fucking hell'
The bloody peregrine
Screams once more
But I can't open this fucking door
She signals to me
Once more
But I can't just walk out of this door
I'm trapped like a rat in a cage
Boy, I hope I don't really age
Stories of youth
Keep going on and on
But the Shamrock Express keeps on
Rolling on…
It's now time to say 'Goodbye'
To the bloody screaming peregrine
Hope when we meet again
Things will be divine
With all my love to the…
Bloody screaming peregrine….
4 The Addictz
This is for the addictz
An all of them smoking Spice
If you indulge every day
You pay the ultimate price
Submit to greed, become dependent
Then no amounts suffice
So rewind, say 'No!'
Is my only advice
Be the first to slap yarself
Av you been smoking again?
Ya had ya head on Cloud 9
Dint feel addiction set in
See it was fun when it started
But now itz makin ya weak
Ur muscles ache, u lost weight
An ya bones all creak
If you do sleep you lay there grindin'
Your teeth, heart, thumpin in ya chest
Like a techno beat!
It's time to stop
Time out…
It's time to shake ya habit
Coz you just lost sight of ya dream
And the strength to grab it
Swapped ya swagga
An ya sex drive 4 nothin but debt
Become a shadow of ya former self
Ya lost to it
Dint think you would do it
But you were careless
G, I know the rush
Fillz the void
Coz drugs were there 4 me!
Project Facilitators: Art: Louise Garman Words: Stephen Kingston
Exhibition Curators: Louise Garman and Andy Smith
Filmmaker: Rafe Conn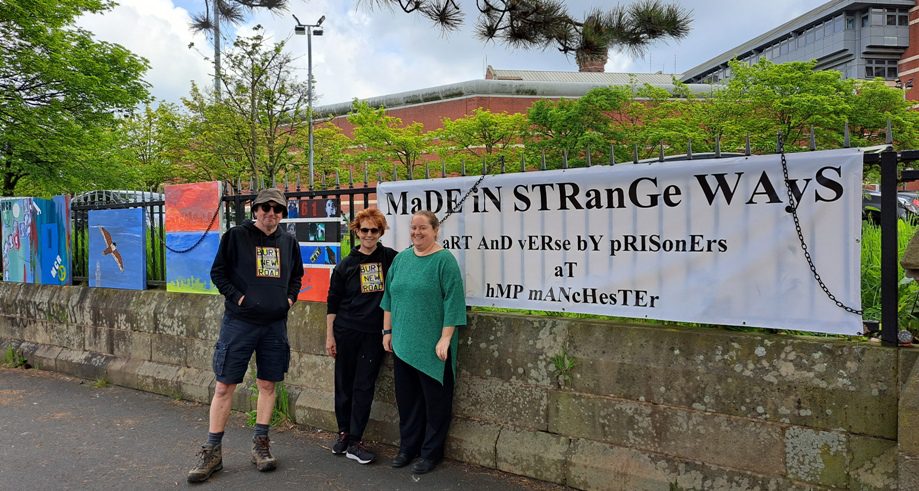 The Bury New Road project would like to thank everyone in the prison service who made this possible, particularly Laura Mitchell, Learning and Skills Manager HMP Manchester, HMP Manchester Governor, Rob Knight, the prison art tutors, Caroline Collinson and Andrea Cotton, and the group of talented men who created these works…
The Bury New Road project has made a short film of the exhibition…