Seen anyone walking around Prestwich Village recently with a fox head, or a bank robber mask, or a cat's head? Seen anyone chalking mad music lyrics on walls, or re-enacting a prison cell at a bus stop? It's proper public performance art by AlShepMcr, Bury New Road's answer to Marina Abramović. And it has a huge purpose…to reduce the stigma of mental health…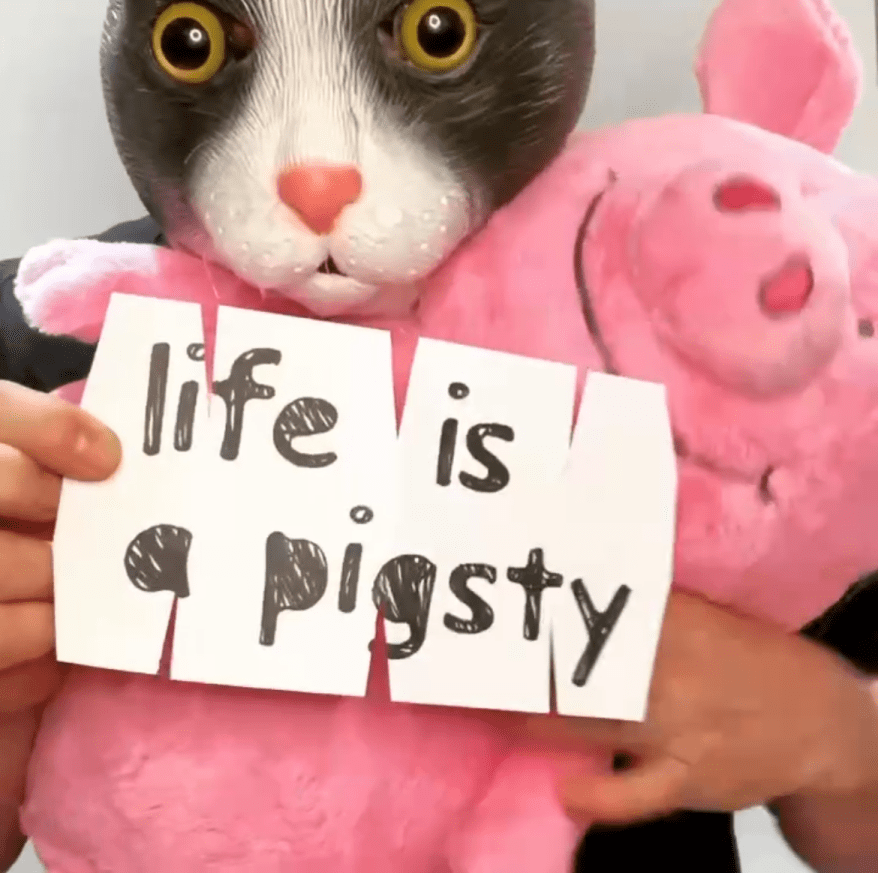 Al is a mental health nurse in Prestwich and was inspired to begin his art when he read the term 'Think differently about people who think differently'…"That kind of sums it up in a sentence" he says "I'm doing it all to raise awareness and reduce the stigma. Every family must have someone with stress or anxiety, or some kind of mental illness, but it's like a dirty word really. I want to get people to think differently…"
Al has stencilled poignant lyrics to Joy Division's Love Will Tear Us Apart on double yellow lines, Oasis lyrics on Prestwich tram station walls – 'Maybe you're gonna be the one that saves me' – and loads of Morrissey lyrics everywhere, taped on railings, scrawled on balloons, on bus stops and, the latest, on a traffic arrow on the Tesco approach…'How can you say I go about things the wrong way'.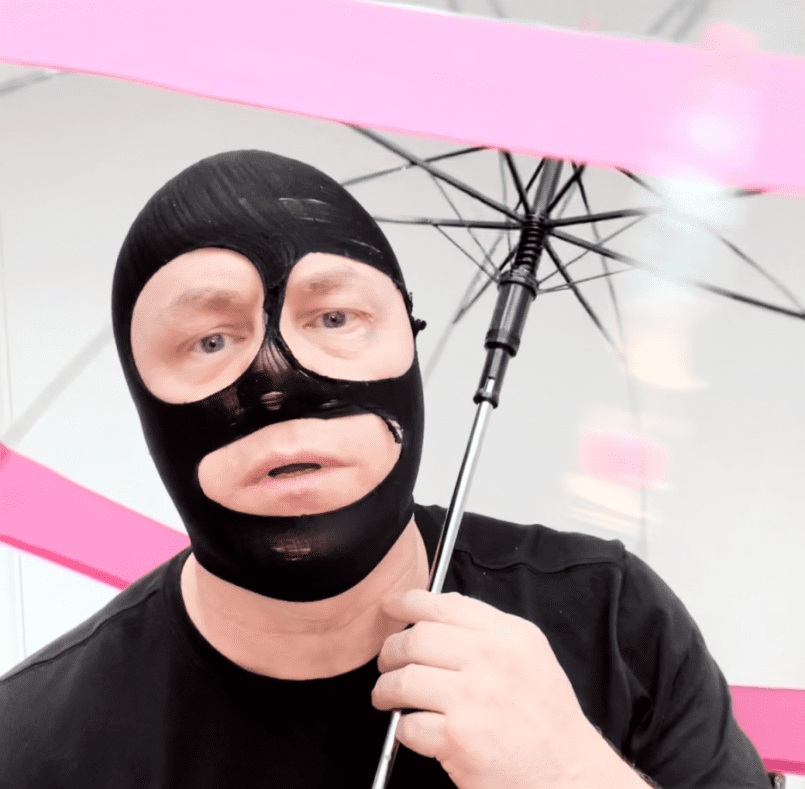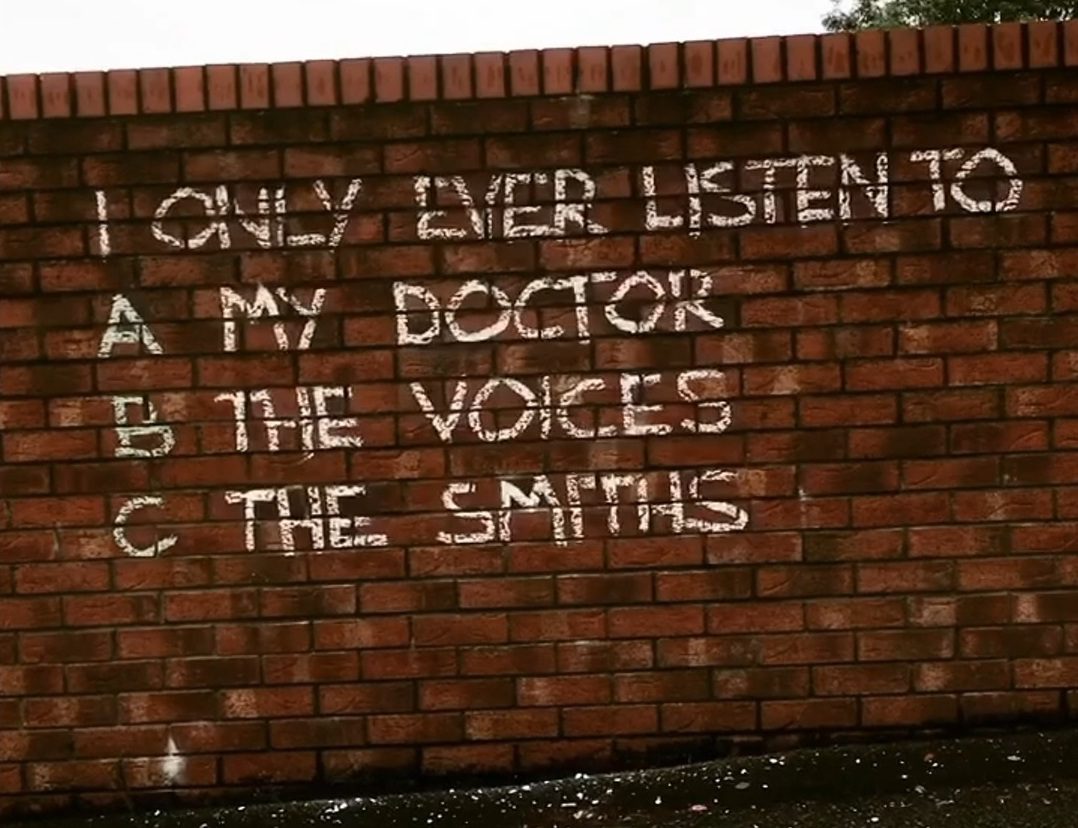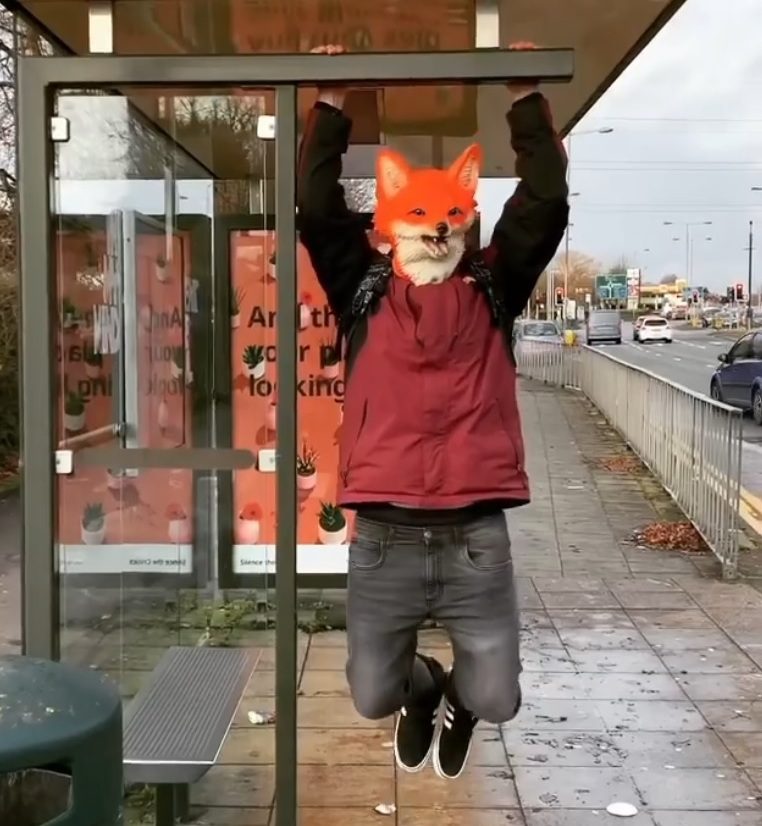 All the art is removable, washable and short term, and the vignettes end up in very short videos on Instagram, Tik Tok and Twitter*, with thousands of followers and likes. So far, there have been around three thousand clips…all featuring mostly lyrics from Prestwich, Salford and Manchester creatives…The Fall: 'Mr Pharmacist…give me some energy…'; James: 'In my head you don't exist, don't need a shrink but an exorcist'; New Order: 'This is why events unnerve me'; Joy Division 'Your confusion, my illusion, worn like a mask of self hate…don't walk away', and John Cooper Clarke 'You're so easy to resist, I'm not your psychoanalyst…'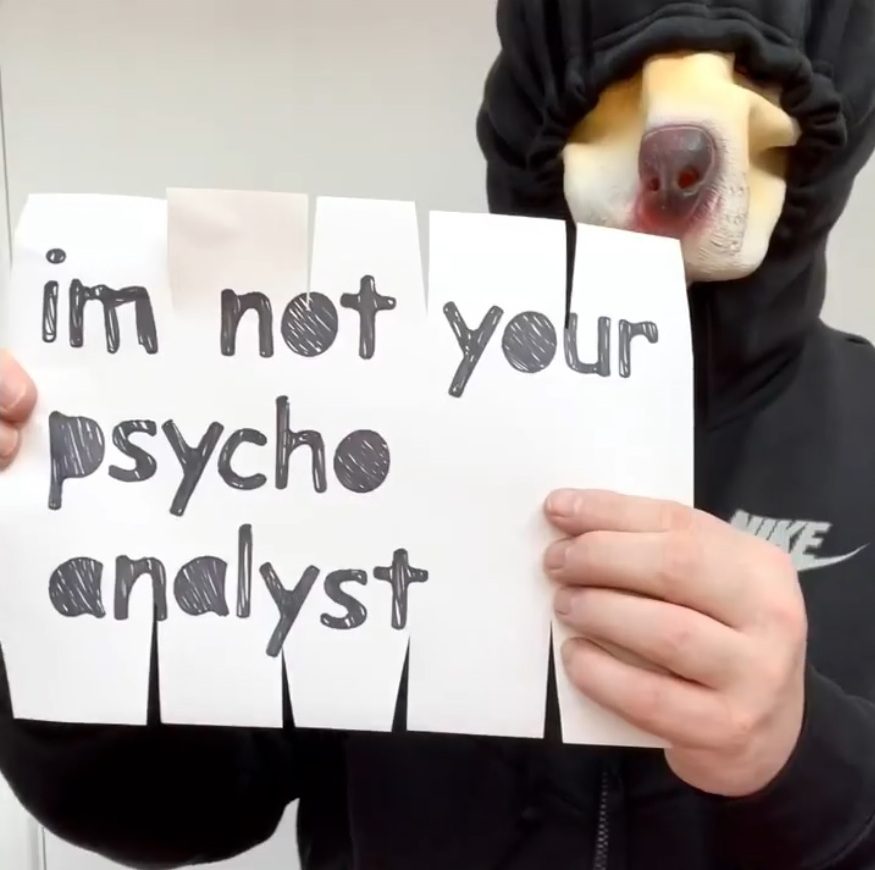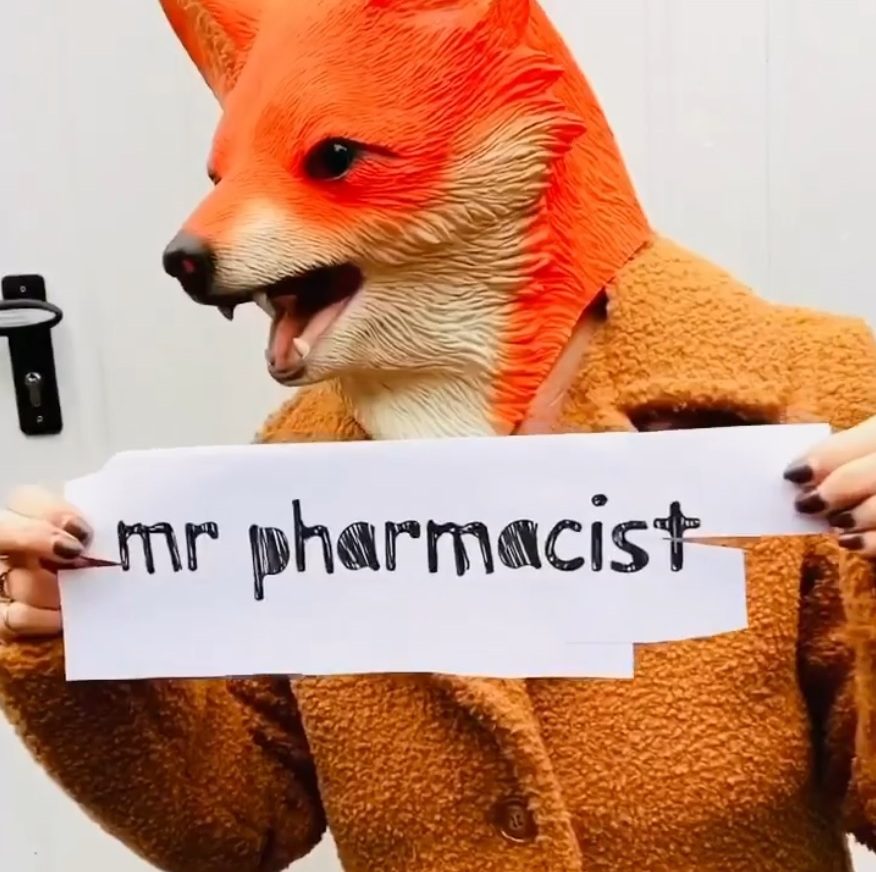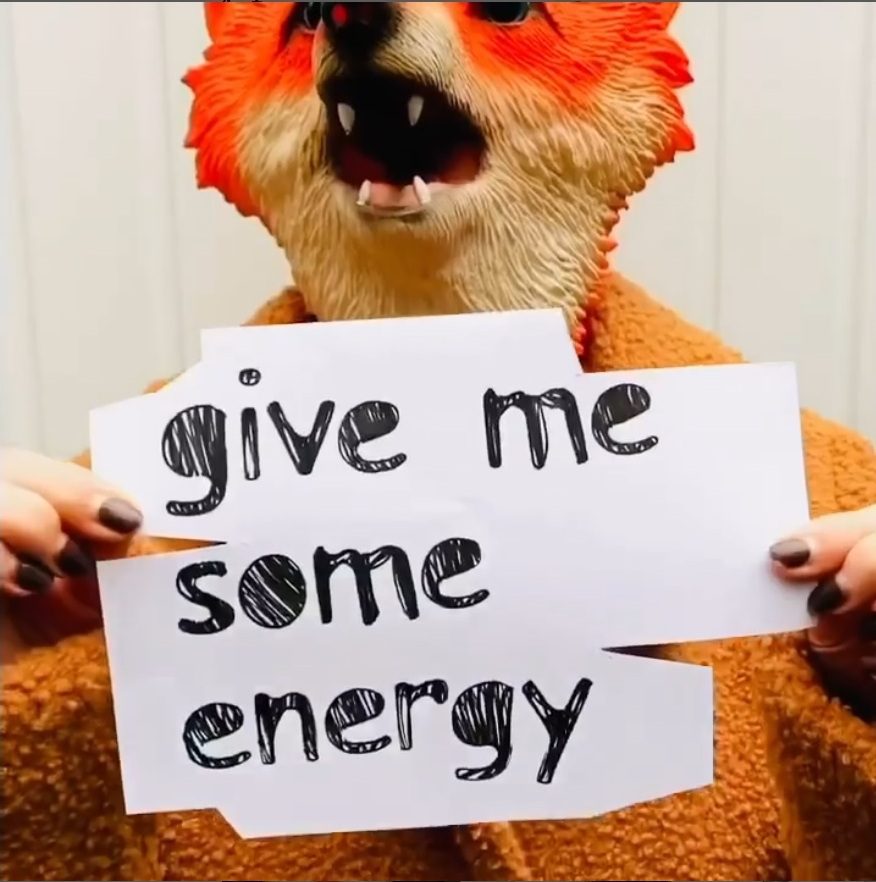 "I'm mad on Manchester music; The Smiths, Joy Division, Stone Roses and all that, and most people around here are" Al says "I listen to Morrissey's songs on a loop while I'm driving to work and one little phrase might jump out that could be associated with mental illness. He probably didn't write it thinking about that but if I isolate just that tiny bit it's going to get the point across that I'm trying to say. So I'm using their words to say what I want to say."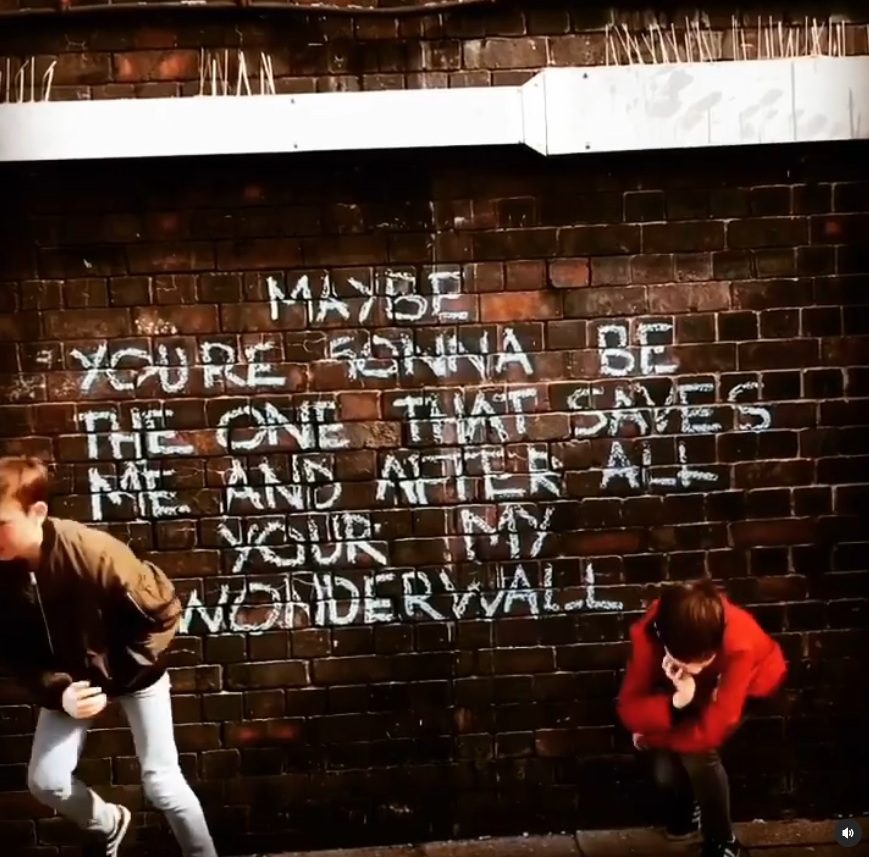 The videos usually feature Al in some kind of a mask, ranging from a bank robber to a fox, cat or dog, which also has a meaning behind it…"People think that they're violent and aggressive but they're vulnerable as well and that sums up people with mental health issues" Al explains "People think if you've got schizophrenia you've got a big axe in your hand and you're going to kill someone – it's not right! So I'm making them look scary and intimidating in the videos which are a little bit disturbing but there's also another vulnerable side to it as well."
The masks also keep Al's anonymity, while definitely grabbing attention.. "They also make you focus on the words, not distracted by Morrissey dancing about or the music" he adds "I do seem to get some positive feedback and it's also quite cathartic. People might see it and think 'What's he doing that for?'…It's to raise awareness and reduce the stigma."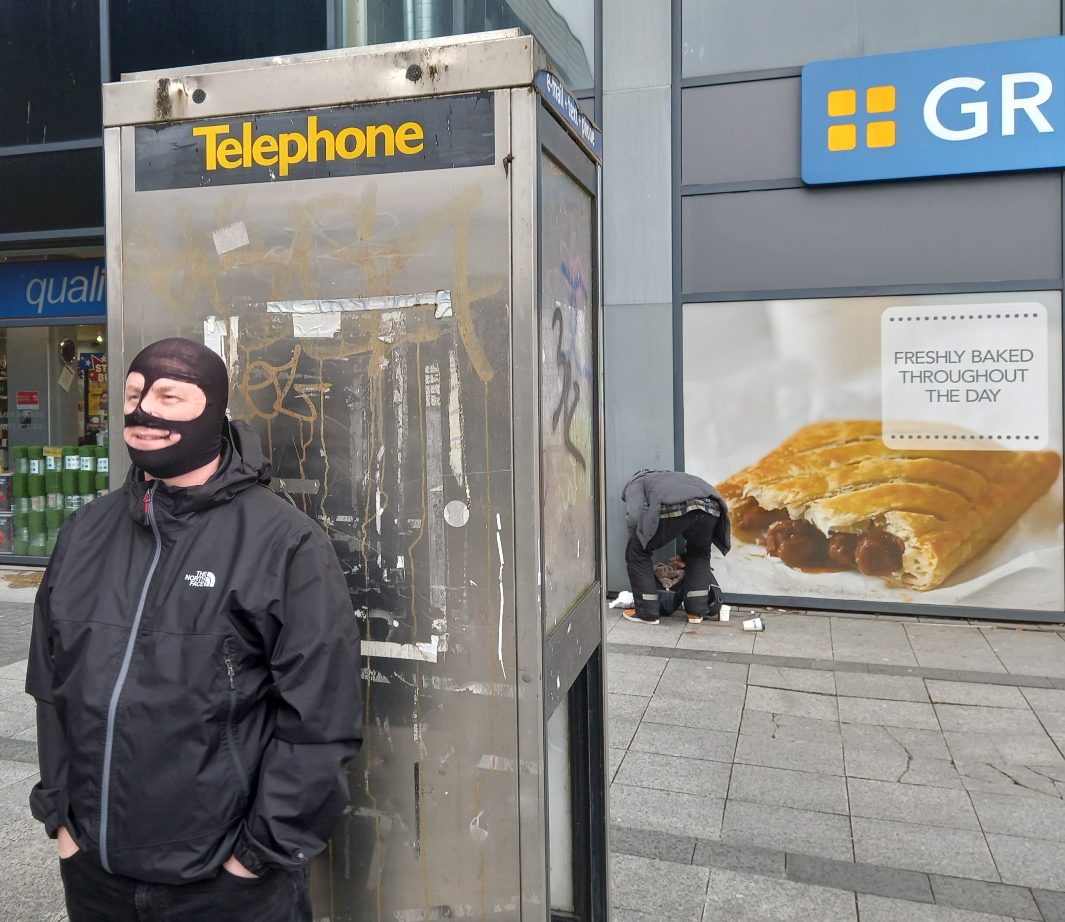 Even though Al is creating brilliant, striking public performance art, he doesn't see himself as an artist particularly…"It sounds pretentious, I'm just someone who does some creative stuff" he says modestly "I don't like everything Andy Warhol has done but I do like the idea that anyone can do it, that's where my inspiration comes from. And Jasper Johns…"
The actual quote from Jasper Johns is 'Do something, do something to that, and then do something to that. Keep doing this and pretty soon you've got something…' After three thousand mental health inspired, incredibly short and vivacious video clips, Al has definitely got something. But why in Prestwich? And why on Bury New Road?
"It must be something in the water" he smiles "There's lots of creative types, and I think Manchester is a bit like that. Without sounding naff, in North Manchester we're a bit poorer so we're all sat at home being creative to get out of it. If you're affluent it hasn't got the same edginess…"
'Edginess' is something Al has in abundance – and the most unlikely public places are his gallery…
*Look Al up on…
Instagram: alshepmcr
Twitter @alshepmcr
TikTok: alshepmcr