Playing out in Prestwich as a child undoubtedly influenced Celia Birtwell's stunning designs that redefined fashion in the Sixties and Seventies. Brought up in Holyrood Road, Celia went to St Margaret's Primary School, next to Heaton Park where she spent hours experiencing nature and drawing in little books.

"We used to make dens in the park and take little trinkets and hang them from the trees" she recalls "And as you walked into the St Margaret's entrance there were rooks in the trees. My sister was a mad animal lover and she'd bring home all the little rooks that had fallen and we'd try to nurture them. My father used to get worried about us in the evening and ride on his bicycle through the park looking for us. He was a gardener, although I didn't pick up gardening until I was much older but I think everything influences you when you are a child. A lot of things that you don't really understand until you're much older.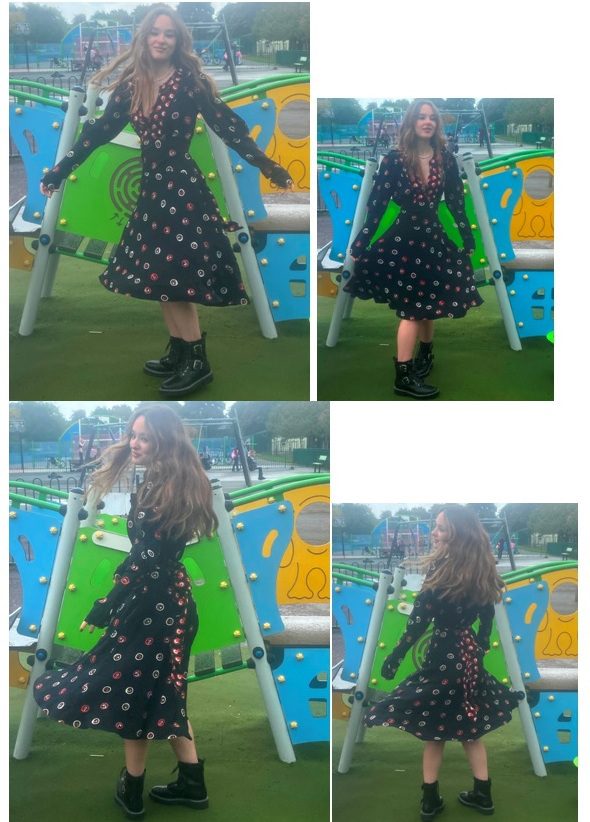 "So my early memories are of Heaton Park, and Holyrood Road was full of other children who I would play with" she adds "There was a cal de sac at the bottom of there where we used to put on little plays. I have fond memories of it because it was my childhood. We used to walk to Prestwich Village and there was a large Co-op on the corner…I remember going there and they used to put your money into one of those little canisters and it floated across the shop. I do think Prestwich is special for me, it's got very, very happy memories and I'm very proud that I was brought up there."
Prestwich is also incredibly proud of Celia Birtwell and there is a special exhibit of her work in the small local heritage centre upstairs at Prestwich Library.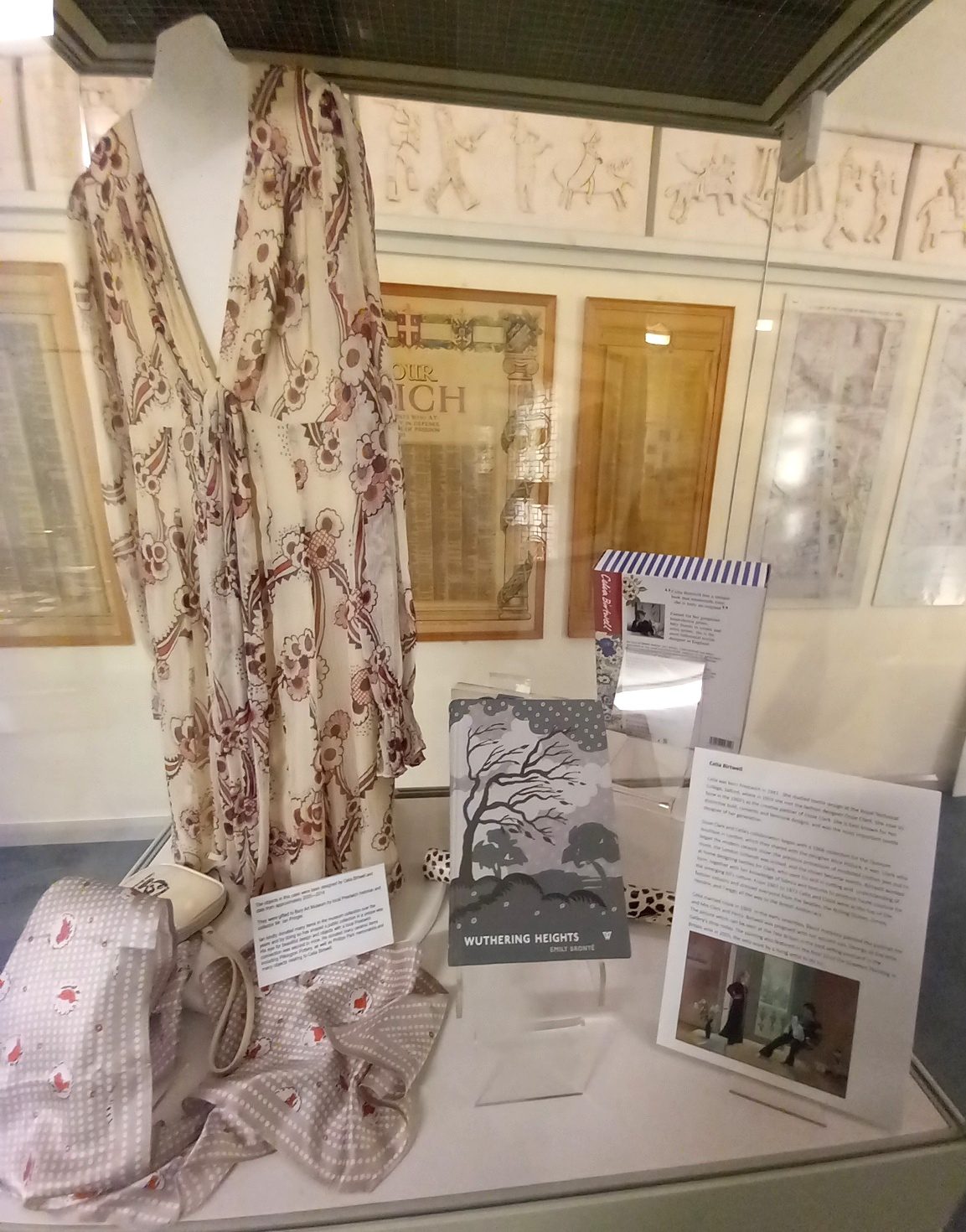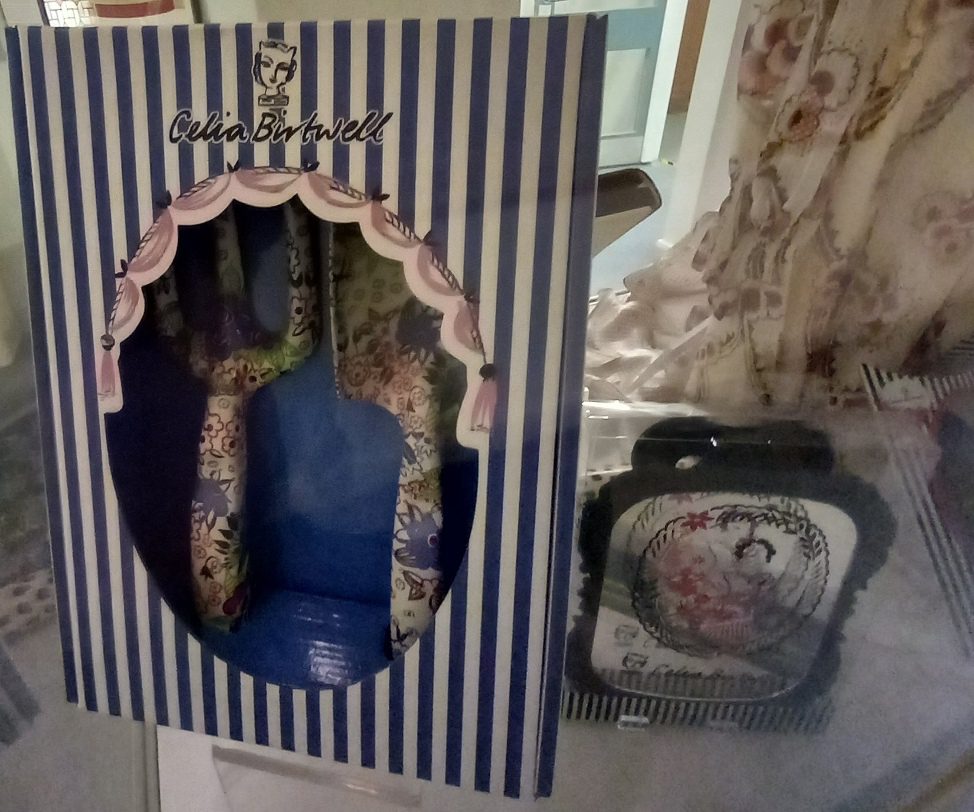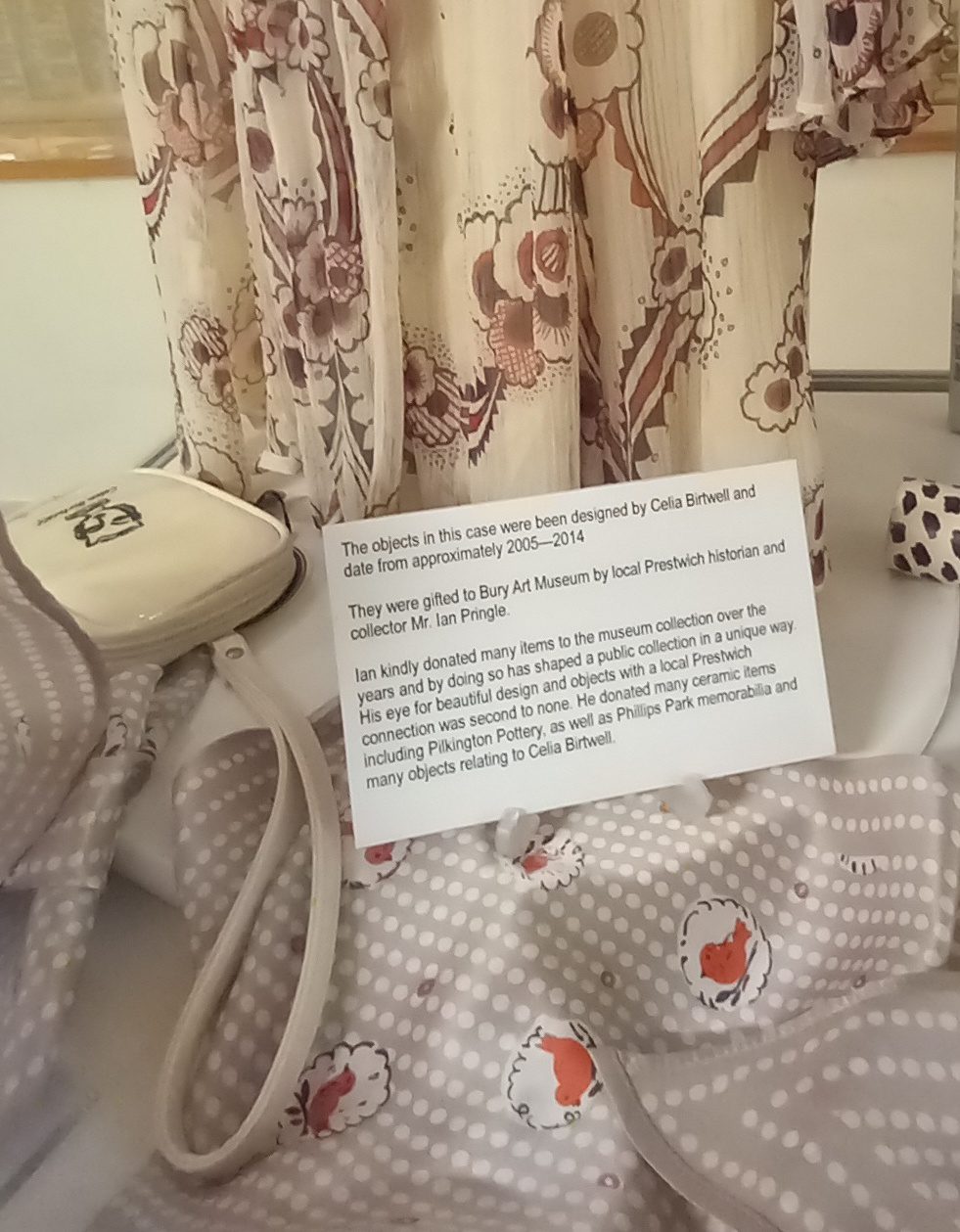 At 13, however, Celia's family moved to Salford as their landlord offered them a new property near Lancaster Road but that wasn't the end of the Prestwich connection, as Celia's grandma also had a house on Holyrood Road, opposite where the family lived… "One of my first boyfriends lived just off Butterstile Lane near Prestwich Clough. We used to go dancing on Saturday nights at the Odeon and when we moved to Salford I'd go and stay with my grandma.
"I never liked living in Salford" she explains "I really missed Prestwich because I'd got fond memories."
However, at 14, Celia went, as one of the last pupils, to Salford Art School, next to Peel Park, where her formal training in textile design began. It was here that Coronation Street founder, Tony Warren, was a life model, and LS Lowry could occasionally be spotted…"I only saw Mr Lowry once or twice going up the steps to the Art School wearing a great big long mac with a nice trilby hat on. My mother was a huge fan of Lowry's so she got him to sign a print but I didn't know him at all…."
It was also where Celia began dating that Prestwich Jewish boy. Although both parents were socialists, Celia's grandfather was 'quite anti-semitic'…
"My father would have terrible rows with him and, as, my first boyfriend was Jewish, it didn't really help…I wasn't really allowed" she recalls "He was an only son and his mother was so frightened that we might marry…I mean it wasn't on the cards at all but she didn't want her only son to marry a non-Jewish girl. That was a bit difficult. He was a terribly nice chap, my mother thought he was wonderful and we used to borrow his uncle's Hillman Minx car and go on little romantic journeys.
"I've always been brought up with Jewish people, and I like Jewish food and Jewish people; I find them interesting, usually very clever" she says "I even like those mad hats and big coats…I've always thought they were rather attractive; I suppose because they were there in my childhood and I had friends who were Jewish."
Meanwhile, it was Celia's mother, who worked in the library near the Art School, who originally influenced her passion for textiles, patterns and fashions…
"I remember Mary Quant coming along and thinking 'Oh I've got a dress like that'; it was a sack dress with a pleat at the bottom and my mother would go to Kendal Milne and I'd take her to the couture section and say 'I want you to copy that'" she recalls "Poor old mummy would get her patterns out and alter them and sit at the sewing machine. I'm one of three girls so she was always at the sewing machine sewing for us, because she was a terribly nice woman and she could sew beautifully."
Indeed Ossie Clark, who was studying at Manchester College of Art, knew Celia through mutual friends and began dating her. He would go to see her mum at work…
"Ossie would come to the house and ask her questions about how she put a sleeve in or how she did this or that, and she said he's got a real talent, an amazing talent which he had" says Celia "…I suppose I saw the rise of the 60s having had a very nice childhood, very nice parents, quite spoilt; but I did want to go to art school. That was my ambition from being really quite young."
Art and frippery supplies were sought from a Jewish family who had a shop called Continental on Bury New Road opposite Strangeways jail…"It was a fantastic shop that supplied all the arts schools and my mother used to take me on the bus from Prestwich. During the war, the father went all over Europe and bought wonderful trimmings. My mother would buy thin little fabrics and I loved this shop.
"When they had the riots at Strangeways, my mother and my partner Andy drove there and watched the poor old prisoners on the rooftops shouting" she says "It was quite exciting and frightening at the same time."
Celia also taught part time at Salford Art College…"It was a bit bizarre because I was teaching cake decoration to domestic science students, which was really ridiculous, and I remember doing a bit of welding with these boys who doing wrought iron work. I didn't know anything about that but they seemed to quite like me. Then the summer holidays came and I had a friend in London who had been at Manchester Art School and she said 'Well come and stay with me'. I thought 'Ok' and I never went back to live in Salford. That was over.
"My father used to say 'Have you got bored yet?' and I would say 'I don't think I'll be coming back' because there, of course, I met many people like myself. So I stumbled into things that worked for me in rather an innocent way, may I say…"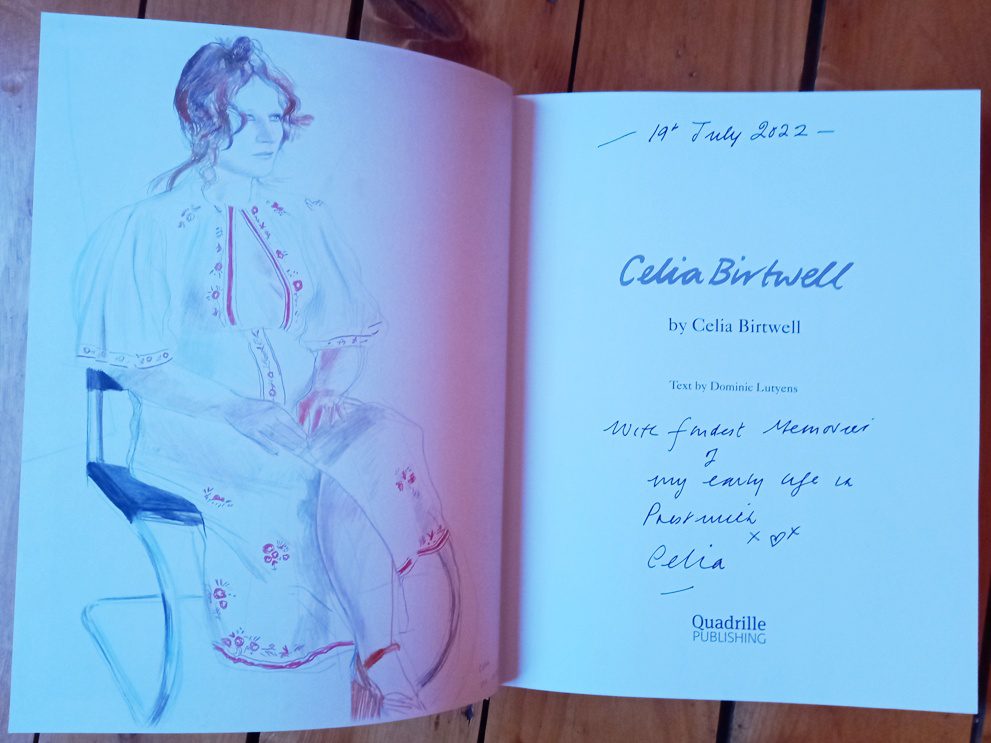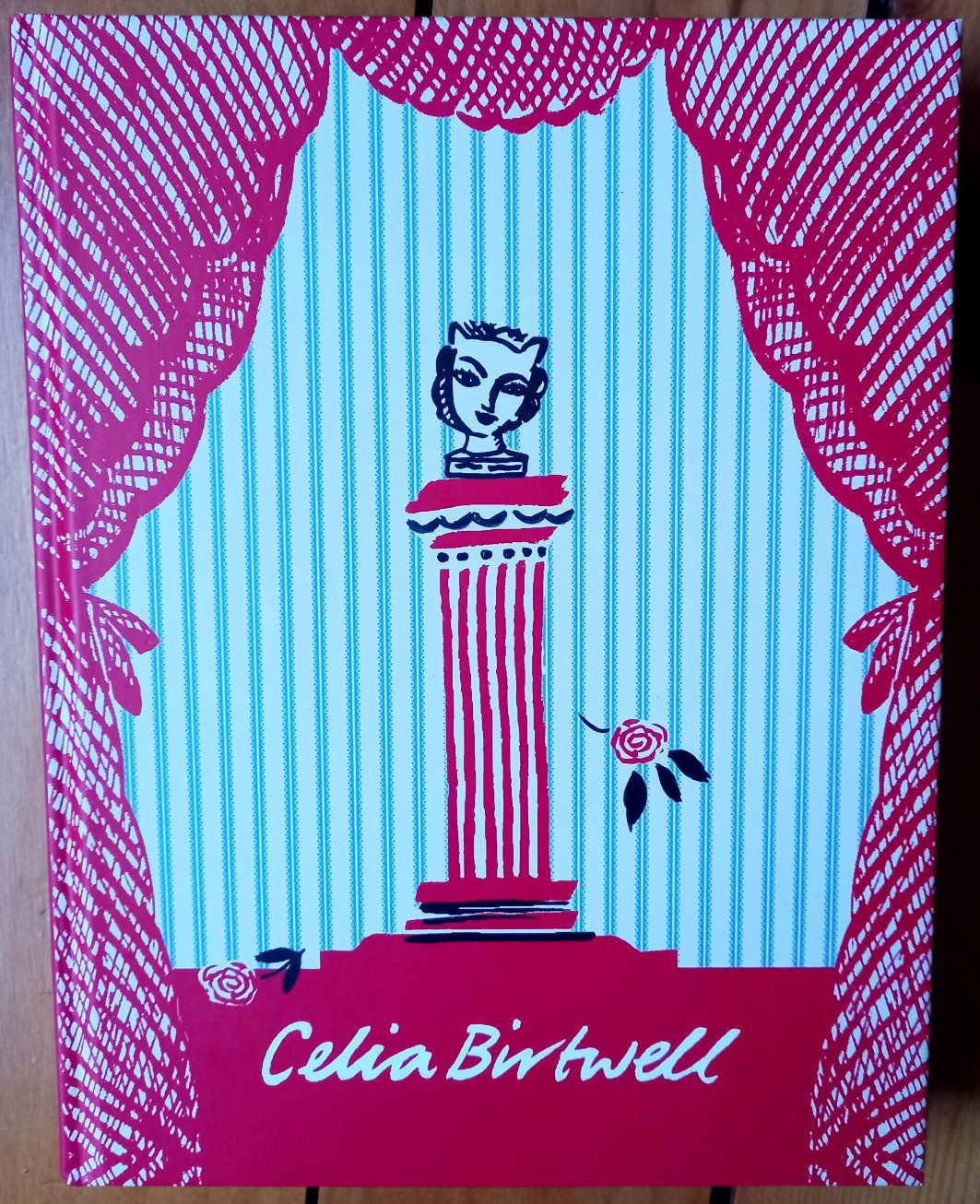 Celia Birtwell's stunning book is available online
See also:
Celia Birtwell: Who is she? What did she change? And just how important is one of the key textile designers in recent history? – click here
Celia Birtwell at the epicentre of Sixties and Seventies fashion – click here
Celia Birtwell – Still wowing after all these years! – click here