Walk into the Church Inn, at the bottom of Church Lane, and it's like walking into a local museum. The walls are festooned with old Prestwich images, there's cabinets full of ancient artefacts and the whole place shimmers with history, from beery monks to musicians and apparitions…
"The earliest written date is 1629 but there's nothing really intact" says landlord Tom Gribben, who, after 24 years at the pumps is retiring and handing over the historical legacy to the next proprietor.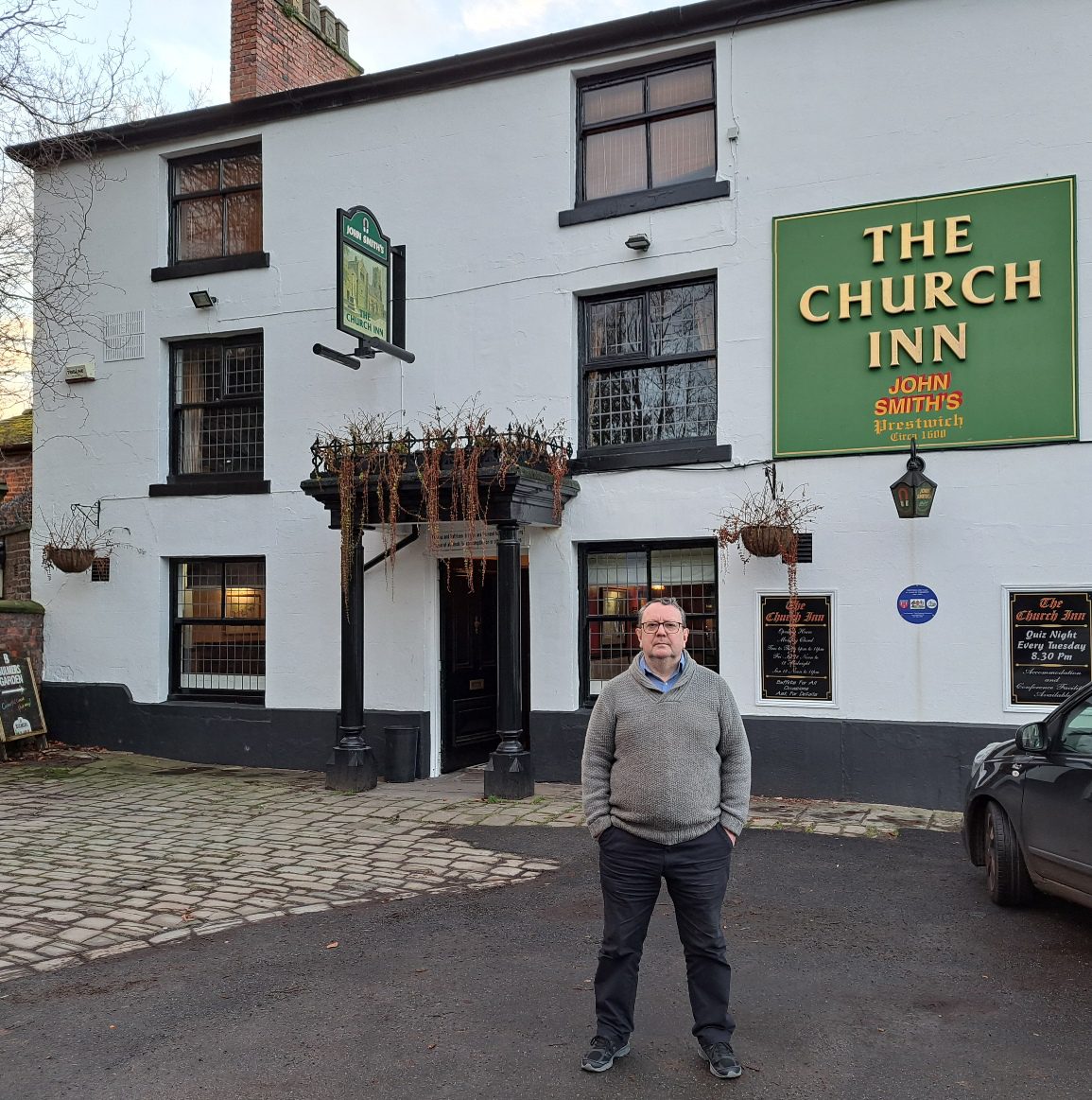 "We think the original pub was just three rooms, and then they've gone up and backwards and done the end part of the building in 1700s" he adds "Back in 1629 there was only one parish between here and the other side of Oldham , where there are 42 now, so for any weddings, funerals or baptisms they had to come to this Church and there was probably always something going on at the inn."
Now Grade II listed, together with the adjoining number 38 Church Lane, the pub was known as the Ostrich up until 1823, while recent archaeological digs have unearthed loads of artefacts currently on show.
"Alan Wentworth dug the beer garden up and they found a 16th or 17th Century barrel vault that looks like a short tunnel that goes from the beer garden into the pub" Tom explains "It was from back in the day when they were brewing their own beer here. Originally, and we think this was before 1629, apprentice priests started brewing beer and this is where they sold it from.
"We also had archaeologists from Manchester University and the Museum excavate the gable end of the garage, and they reckoned it had late 11th or 12th Century foundations which could be the original homestead of Prestwich."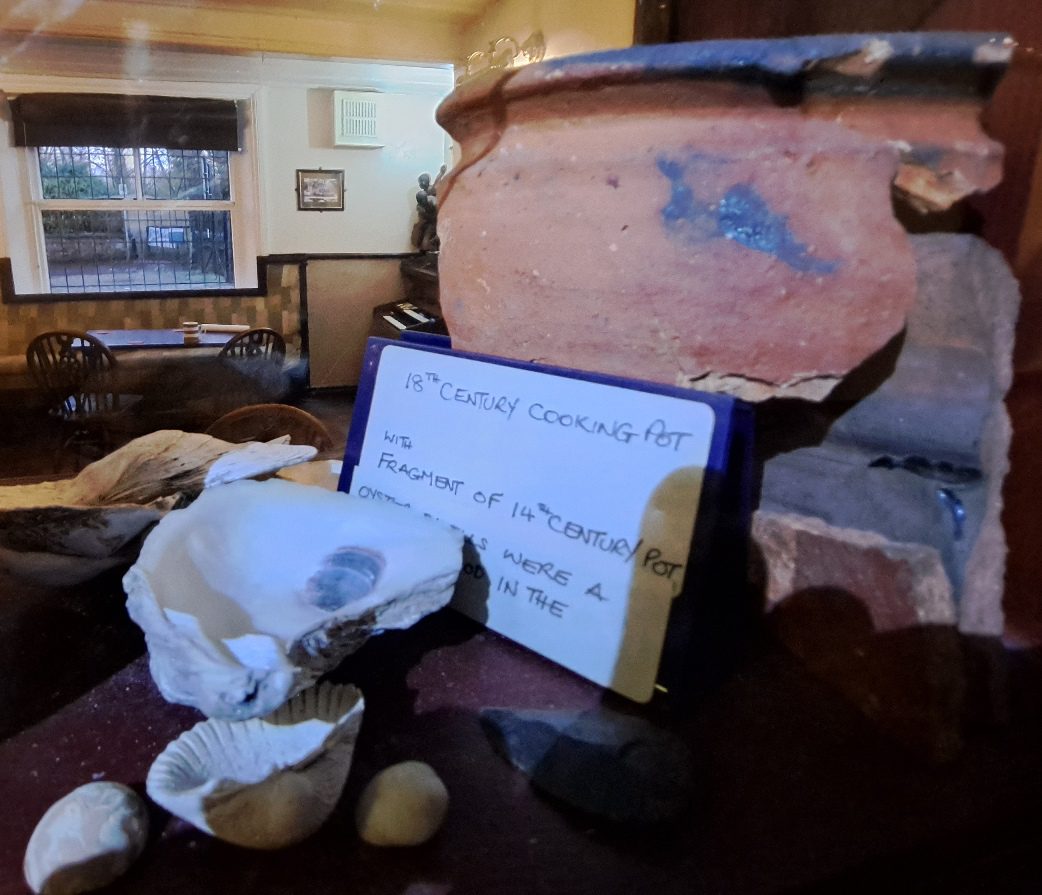 In the showcases at the Inn are some very strange objects found during excavations. Along with 17th, 18th and 19th Century clay pipes, clay marbles and cooking pots, an amulet was found under the dining room floor, secured by an iron hook. It was used to ward off evil spirits in the 18th Century. There were also some creepy small statues found walled up in the cellar of the building.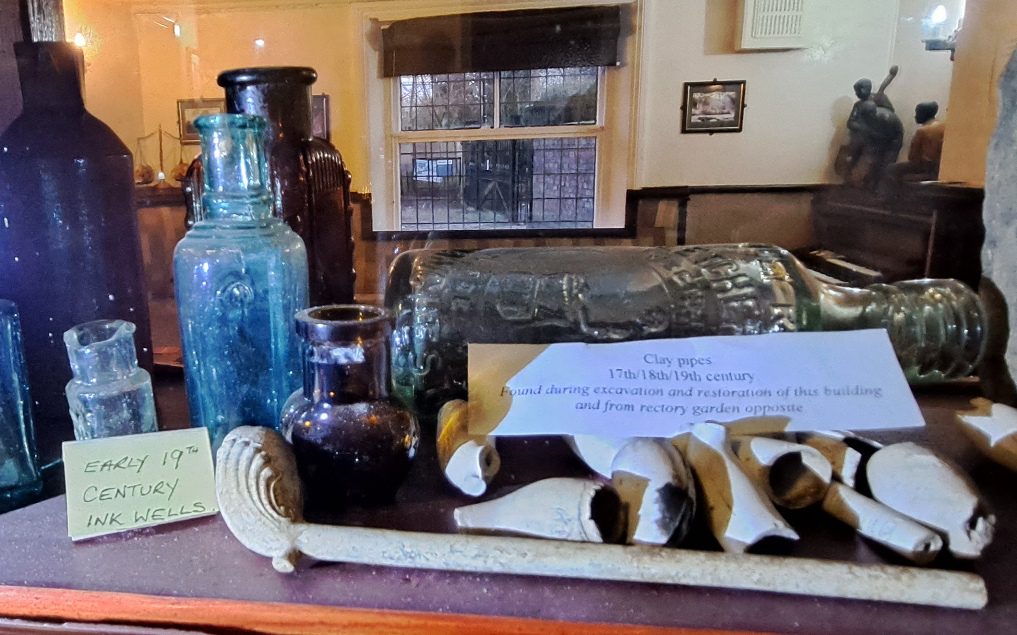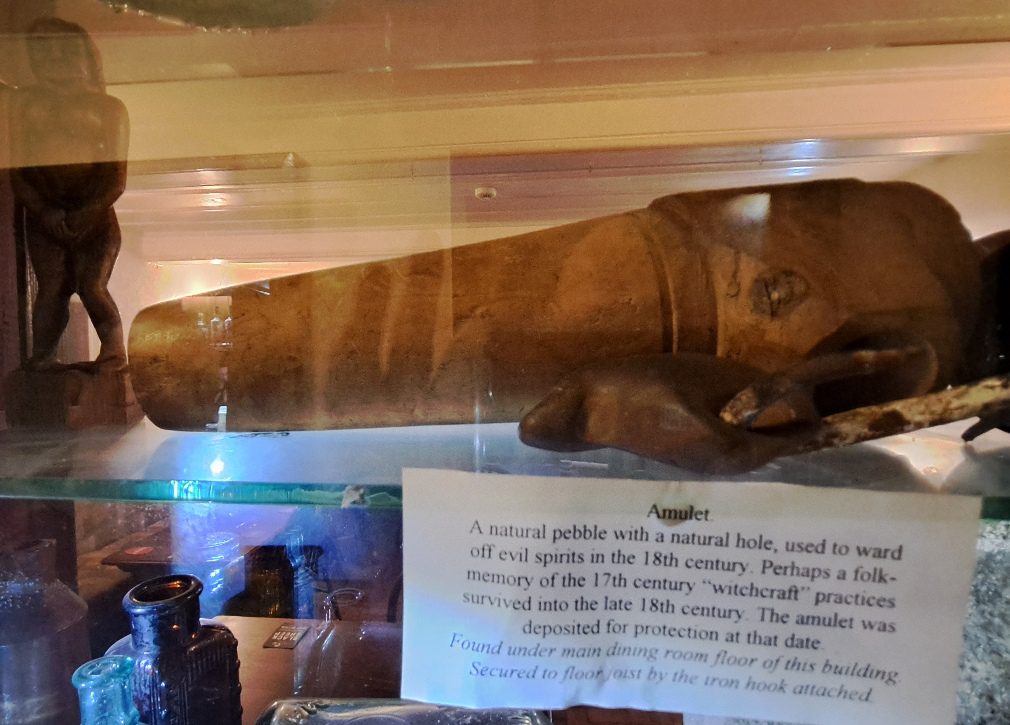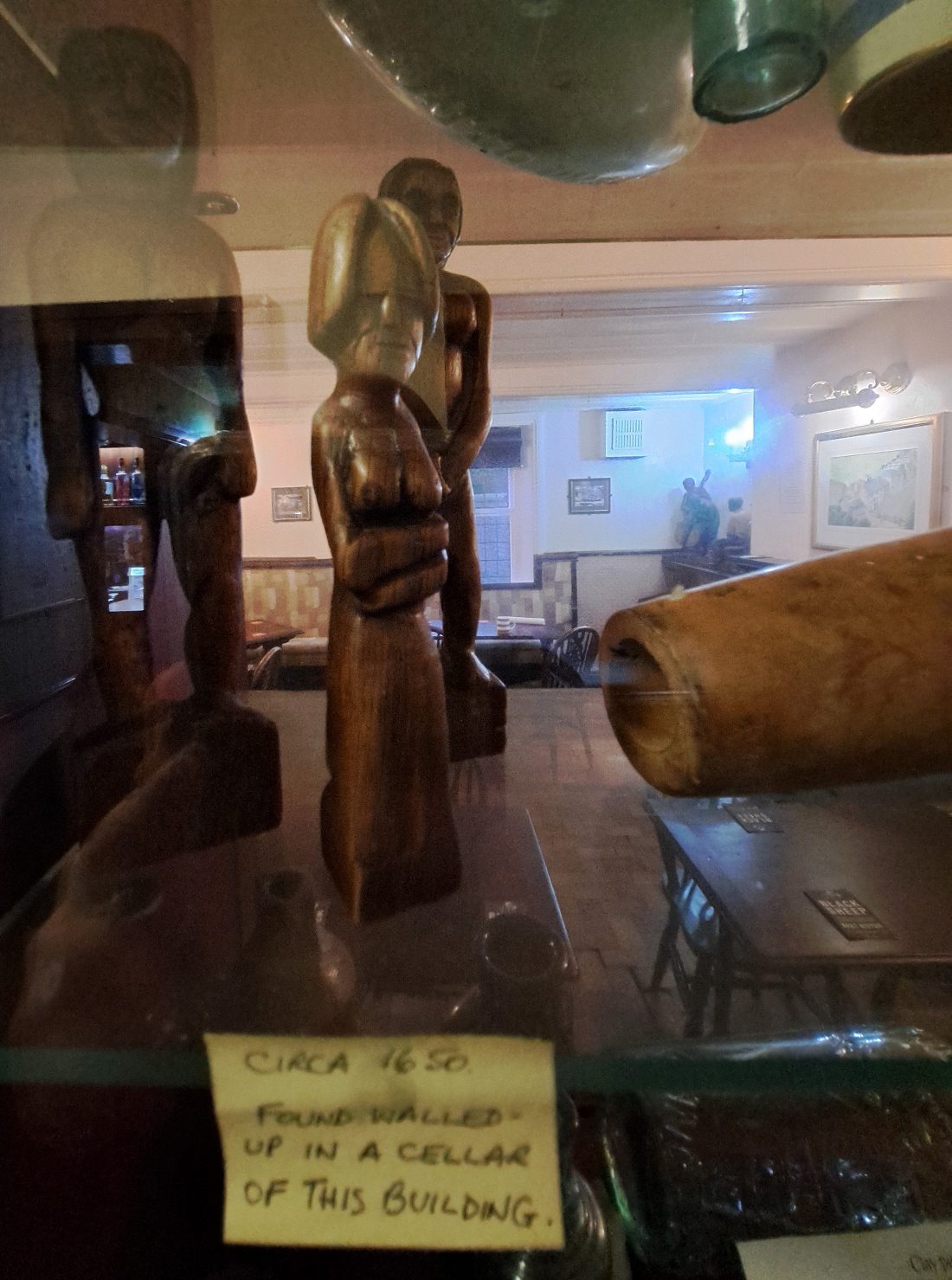 Meanwhile, one of those original monks or apprentice priests, nicknamed Tom by a previous landlord, is said to move full barrels of beer around the cellar…
"There are ghosts but we don't tend to talk about them" the current landlord Tom explains "We did get a lot of over enthusiastic ghost hunters, and allowed a couple of them to come but it was 5am when I finally got rid of them. There are a couple of things that have happened. I was up one night finishing the till off and locking up, and the dog started barking. Then I heard someone shouting 'Help'."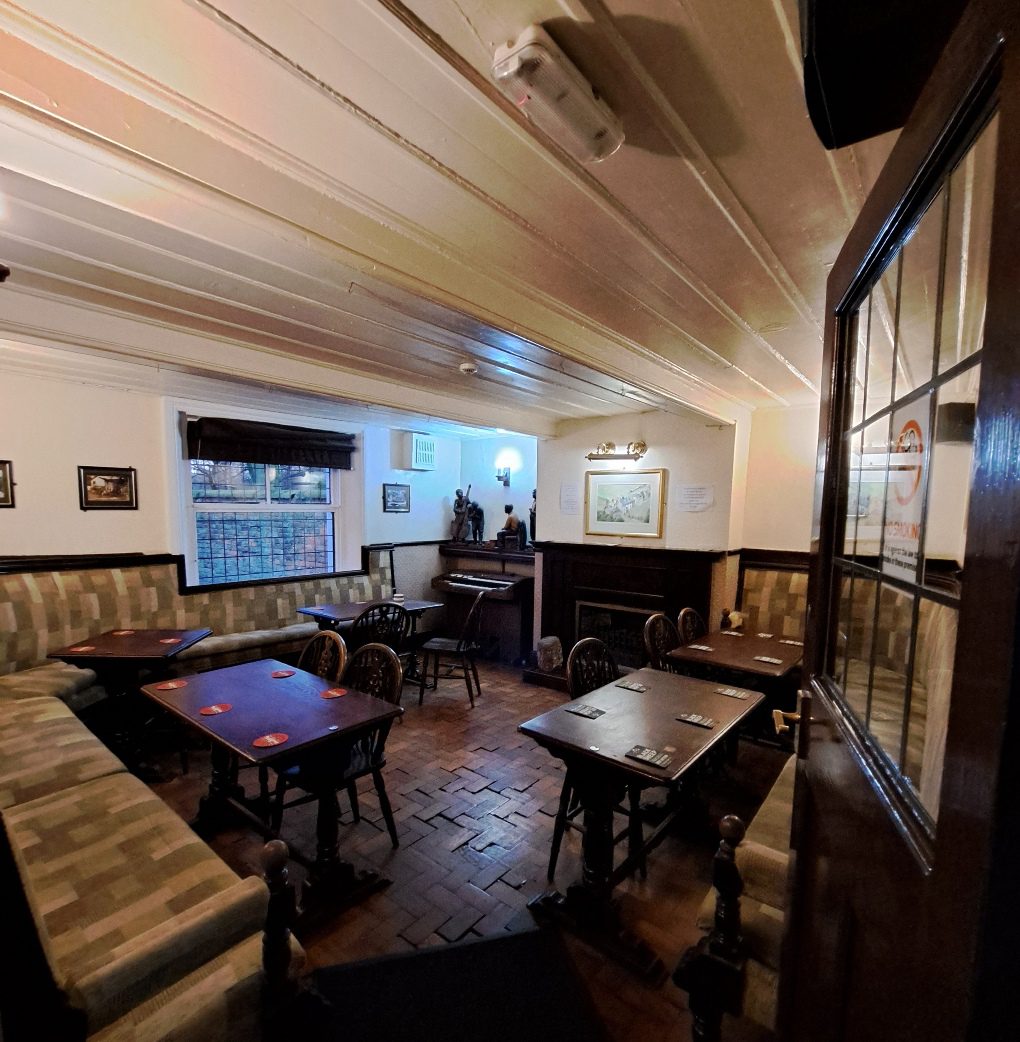 With its genuine history, the Church Inn has also been used for film locations, including for Coronation Street, a film that was supposedly set in Cornwall and in the late 80s it doubled as an 1800s coaching house, complete with added leaded windows for added realism, for another tv series.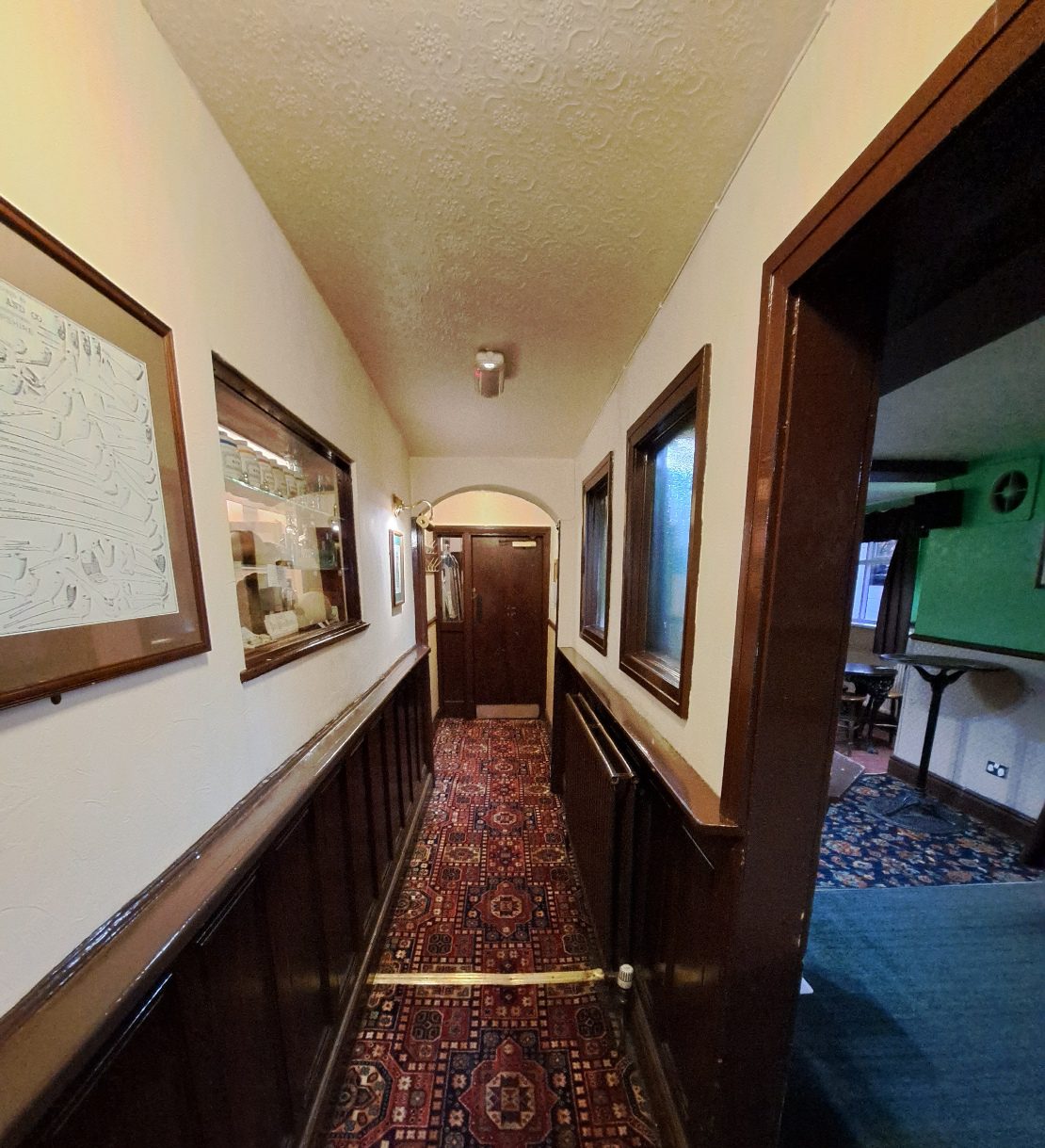 While stories of heritage, history and ghosts go down well after a few pints, music has gone down even better over the years. In recent times the pub has played host to a plethora of folk and acoustic nights.
"Mike Harding played here, Hamish Imlach, a Scottish folk star, also played, as did Ewan Macoll, Kirsty MacColl, and, allegedly Paul Simon played here one night when he was doing his tour back in the early days when he wrote Homeward Bound" Tom says "And Jasper Carrott made his first public appearance here supposedly, and possibly Elkie Brooks in her early days.
"Someone came in to see me a few years ago and said 'I didn't know you were into the folk side of things because I've just got rid of all the records; when they played and how much they were paid'. I think he threw it in the bin, so it's all been lost" Tom adds "During the wars, Prestwich had an official town clerk and when he was told to recycle any unwanted paperwork he recycled a lot of the history of Prestwich."
The Church Inn still has a musical reputation, with folk on a Tuesday night and acoustic sessions on Friday, with everyone welcome to join in…"Mark E Smith came in a couple of times but he was more a Holts' man" Tom recalls "Nico used to come in now and again, and Elbow used to come in. Ren Harvieu used to come in; she's got a cracking voice."
Despite times moving on, Tom still champions the Church Inn as the centre of the local community, with the Prestwich Heritage Society meeting there, along with groups trying to enhance the area, from Prestwich Clough to the Prestwich Whitefield and Salford 41 Club.
"The generosity of people in the local area is superb" he says "We've managed to buy five or six defibrillators for the community through the pub, people helped with the tsunami appeal, and recently have been helping with the Ukrainian appeal. One of the major things that I'm proud of was that, back in 2018 the local legion closed down without a parade or anything, so myself and a couple of veterans got together and we've gone from strength to strength with Prestwich Remembers. This is a community pub, and it's not only our home and it's home to a lot of people in Prestwich."
History is about to move forward at the Church Inn with Tom retiring and new owners coming in…
"We've had 24 good years, a lot of happy times" he says "I'm 67 and pulled my first pint at 17. So fifty years is enough for anybody… We'll miss it, but hopefully we will still come in for the odd beer…"
And if that ghostly monk is still around, it could be a very odd beer indeed…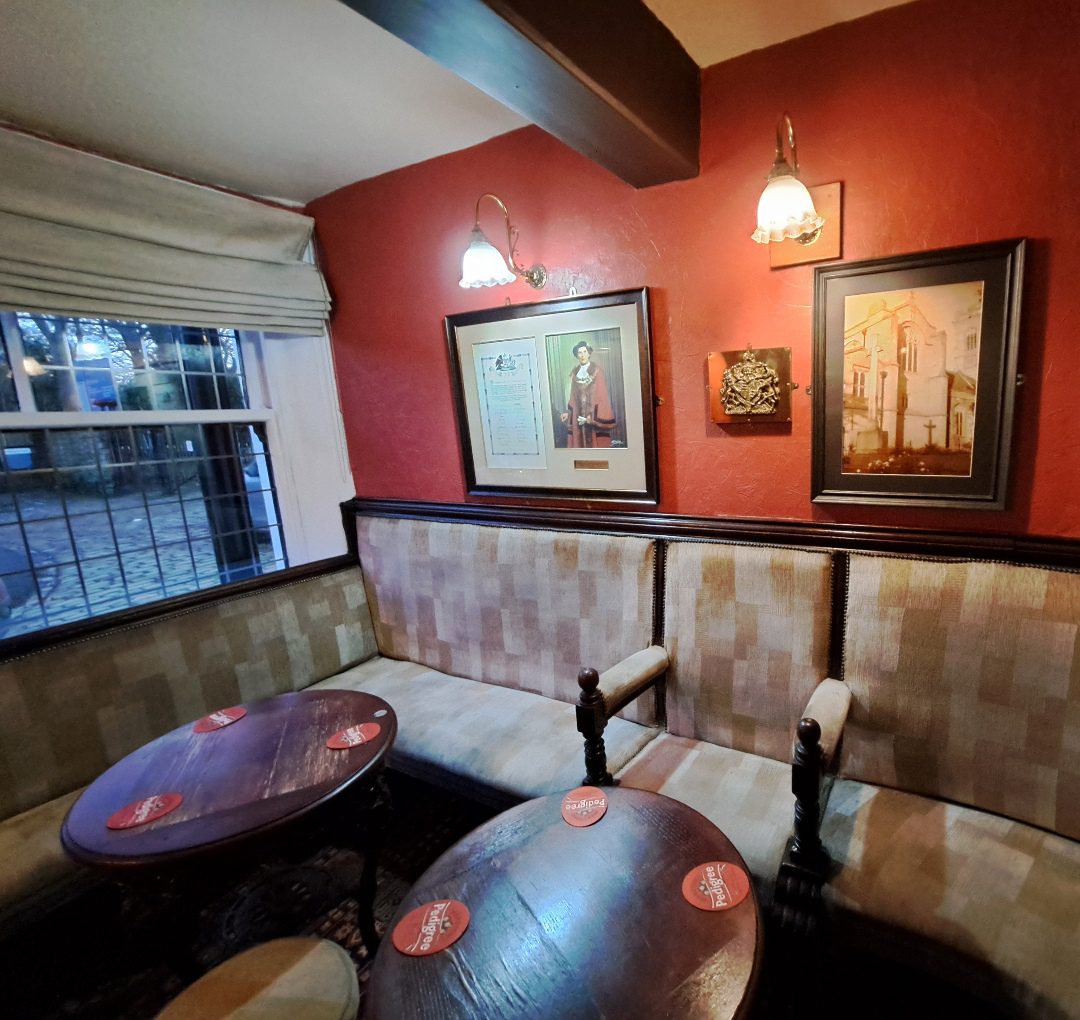 See also…
Church Lane, off Bury New Road, and its 39 Listed Structures, Joy Division, The Fall, Paul Simon and some ghosts…click here
Church Lane Sanctuary at the St Mary's Churchyard – Jon Bleasdale, of the The St Mary's Churchyard Action Group, tells of the mission to upkeep the Churchyard, lead tours and tell of its tomb inhabitants…click here