Surely the most peaceful place in Prestwich is the Churchyard of the Grade I listed St Mary's Church which dates back to the 14th Century and beyond. Here, the graves honour the rich, the poor, the gallant, the ingenious and the anonymous. And amongst this delicatessen of humanity is the stone for William Grimshaw, the world's first DJ.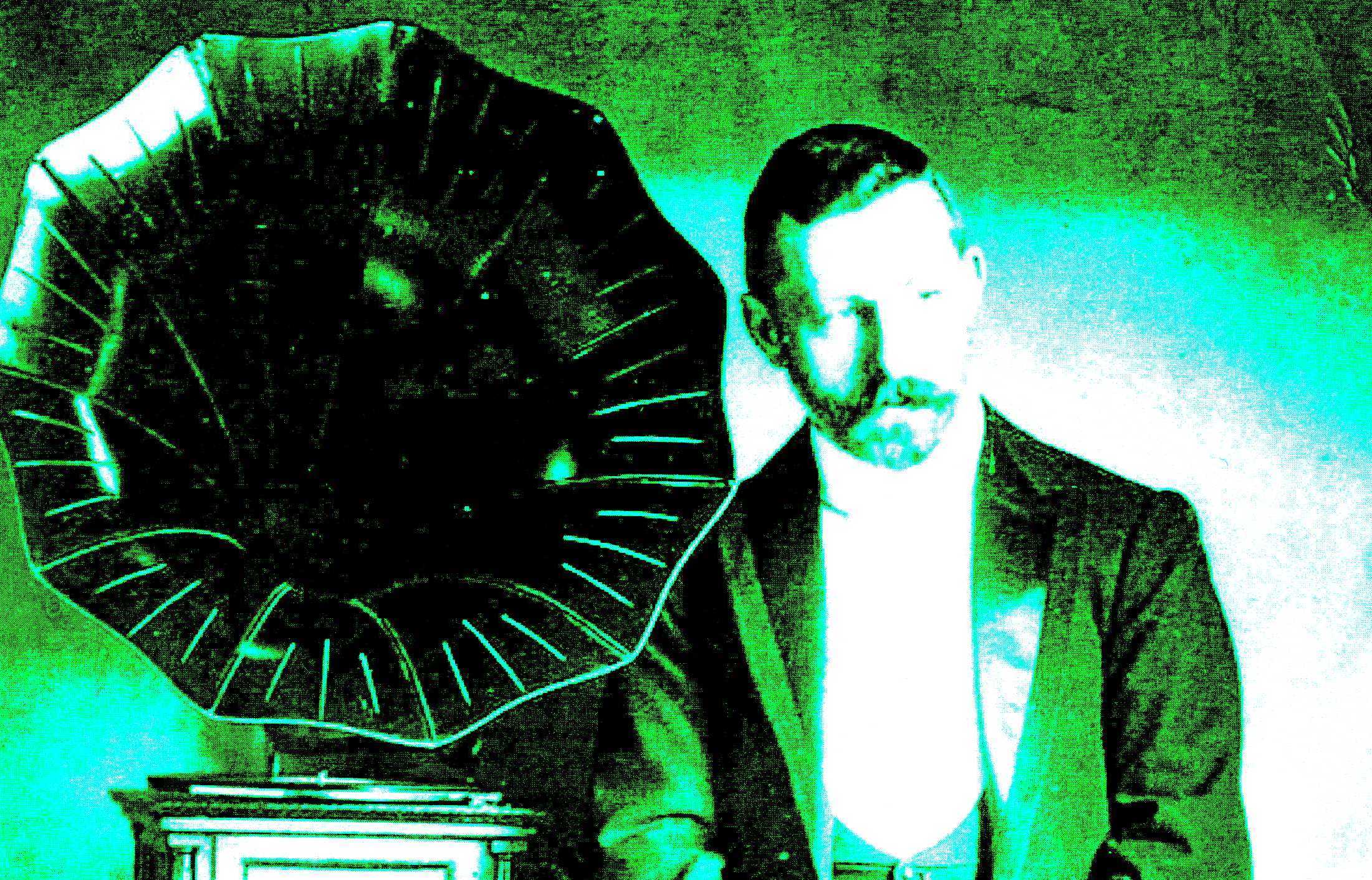 Grimshaw, who had a store in Prestwich Village, took a huge gramophone player to Heaton Park in 1909 and played a Caruso record to 40,000 people, followed by tours of other parks, making him the original Disc Jockey (for more details – click here).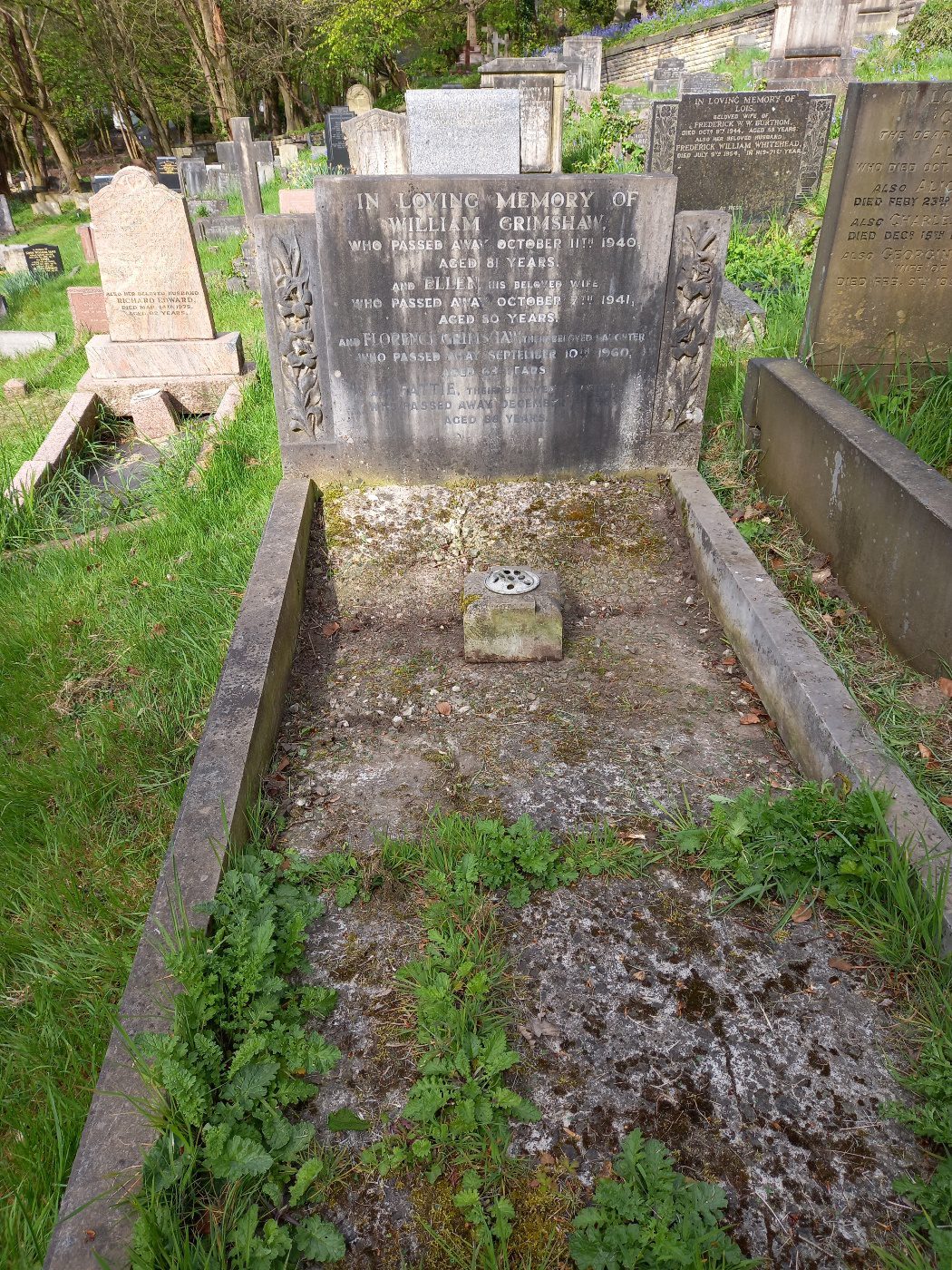 If Grimshaw has joined all the other ghosts that are said to wander Church Lane, he'd be made up with the cultural future he kicked off. The Churchyard itself inspired the name of Graveyard Studios, once situated in the basement of 28 George's Terrace on the Lane, with that whole row of five 1863 houses complete with a plaque and an original gas light, now listed locally as a NDHA, or Non-Designated Heritage Asset.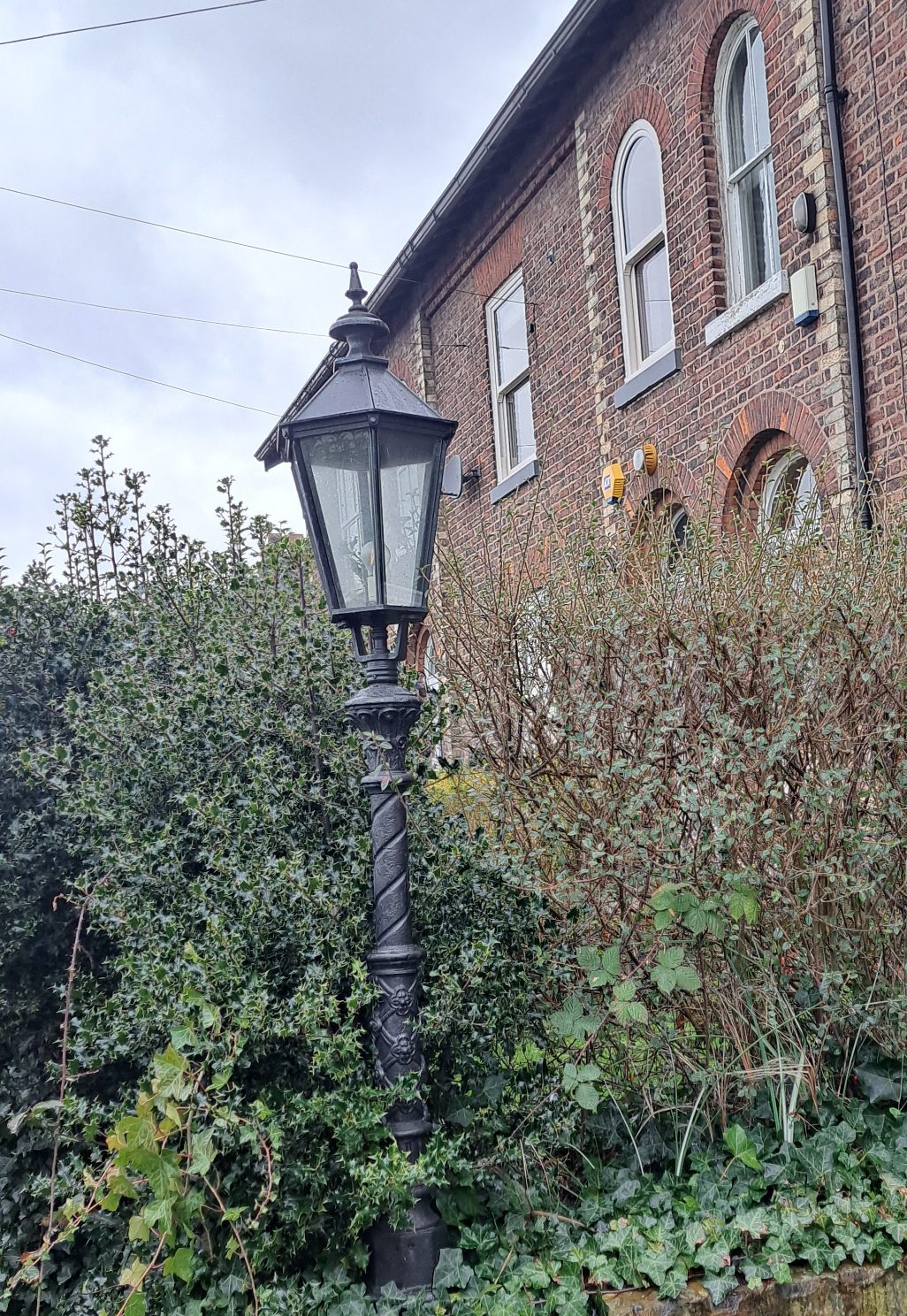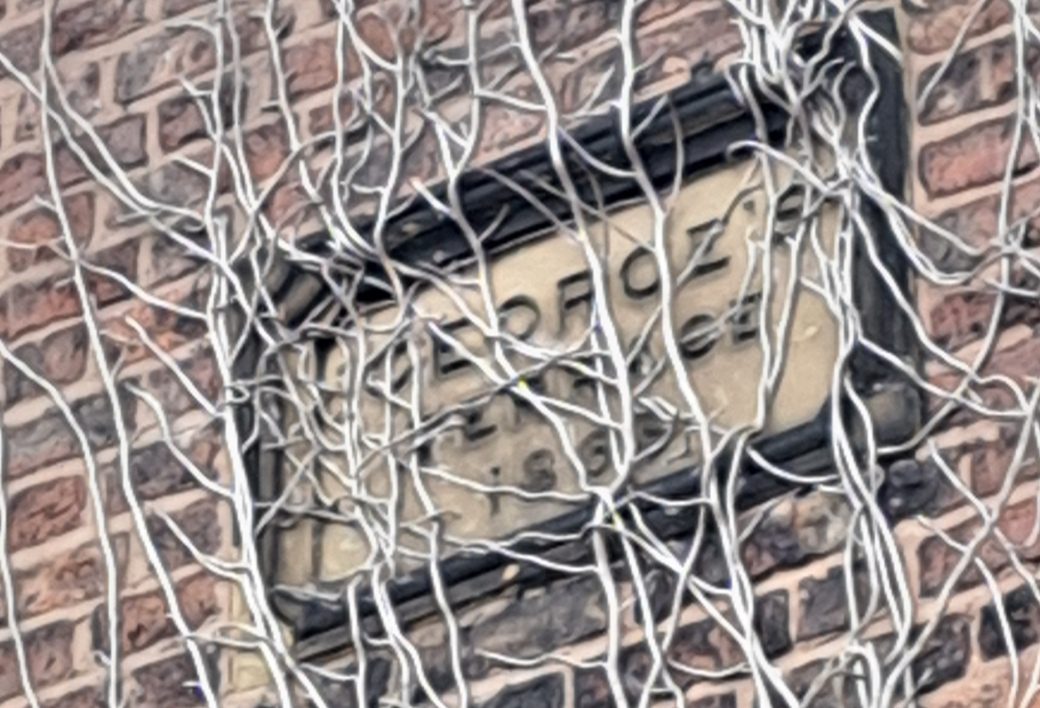 Graveyard Studios, originally set up in 1978 by Stewart Pickering in the basement of his home, had a parade of music icons recording and partying there. The Fall were filmed in that year playing classic tracks Psychomafia and Industrial Estate, while A Certain Ratio recorded their debut cassette album The Graveyard and the Ballroom, for Factory Records, in 1979.***
Pete Shelley, later of The Buzzcocks, recorded a session with the Tiller Boys at the Graveyard, The Durutti Column were engineered there, Joy Division recorded there, and the first incarnation of a possible New Order put down tracks with Kevin Hewit on vocals. There were lots of other bands recording at Graveyard too, from Crispy Ambulance to The Noyes Brothers (for a full list click here).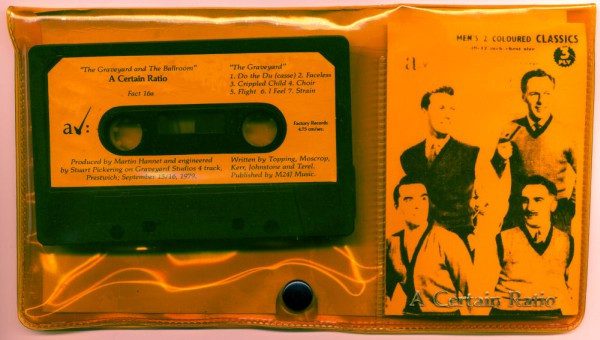 In 1980, Stewart Pickering sold Graveyard Studios to Janice Johnston Howie , Andy Hieke and Colin Robinson from the band Night Visitors, and Colin recalled recently that "We had some very good New Year's Eve parties at Graveyard – I remember one where Mark E Smith turned up with his mum and dad, and Nico from the Velvet Underground was there as well."
Neighbour, Geoff Brown, who has lived in the Terrace since the time of Graveyard Studios, recalls nodding to frequent visitor Tony Wilson but the studio shut in 1984, the equipment having to be ripped out when mould set in via the soundproofing. There is a fantastic archive of Graveyard Studios on Prestwich.org.uk.
At the very bottom of the Lane is the Grade II listed Church Inn, dating from at least 1629, and home to musicians ever since. Known particularly for folk music gatherings, in the Sixties Mike Harding, Ewan MacColl, Kirsty MacColl and Scottish star Hamish Imlach did gigs, while it was supposedly the stage for Jasper Carrott's debut performance, plus a possible turn from Elkie Brooks, and a maybe mythical show from Paul Simon when he was touring England at the time of writing Homeward Bound in Widnes train station.
"Mark E Smith came in a couple of times but he was more a Holts' man" recalls landlord Tom Gribben "Nico used to come in now and again, Elbow used to come in, and Ren Harvieu used to come in; she's got a cracking voice."*
Mark E Smith might have written his track centred in St Mary's Churchyard, Jawbone and the Air Rifle, after a session in the Church Inn…
'The rabbit killer left his home for the clough
And said goodbye to his infertile spouse
Carried air rifle and firm stock of wood
Carried night-site telescope light
A cemetery overlooked clough valley of mud
And the grave-keeper was out on his rounds
Yellow-white shirt buried in duffle coat hood
Keeping edges out with mosaic colour stones…'
As well as the cultural energy cutting through Church Lane is also a huge spiritual energy. St Mary's Churchyard dates back to the 14th Century, and is home to 19 Grade II listed gravestones, including those of inventor William Sturgeon and pioneering botanists, the Artisan Naturalists**, while the gate piers and boundary walls of the Church, plus its sundial, mounting block (1678), hearse house, marking stone and war memorial are also Grade II listed. Its Rectory, now in private hands and being slowly restored, is Grade II listed too, although built in 1923. It has doubled as a set for Coronation Street and has a secret 'servants passage' running from the hall to the upstairs.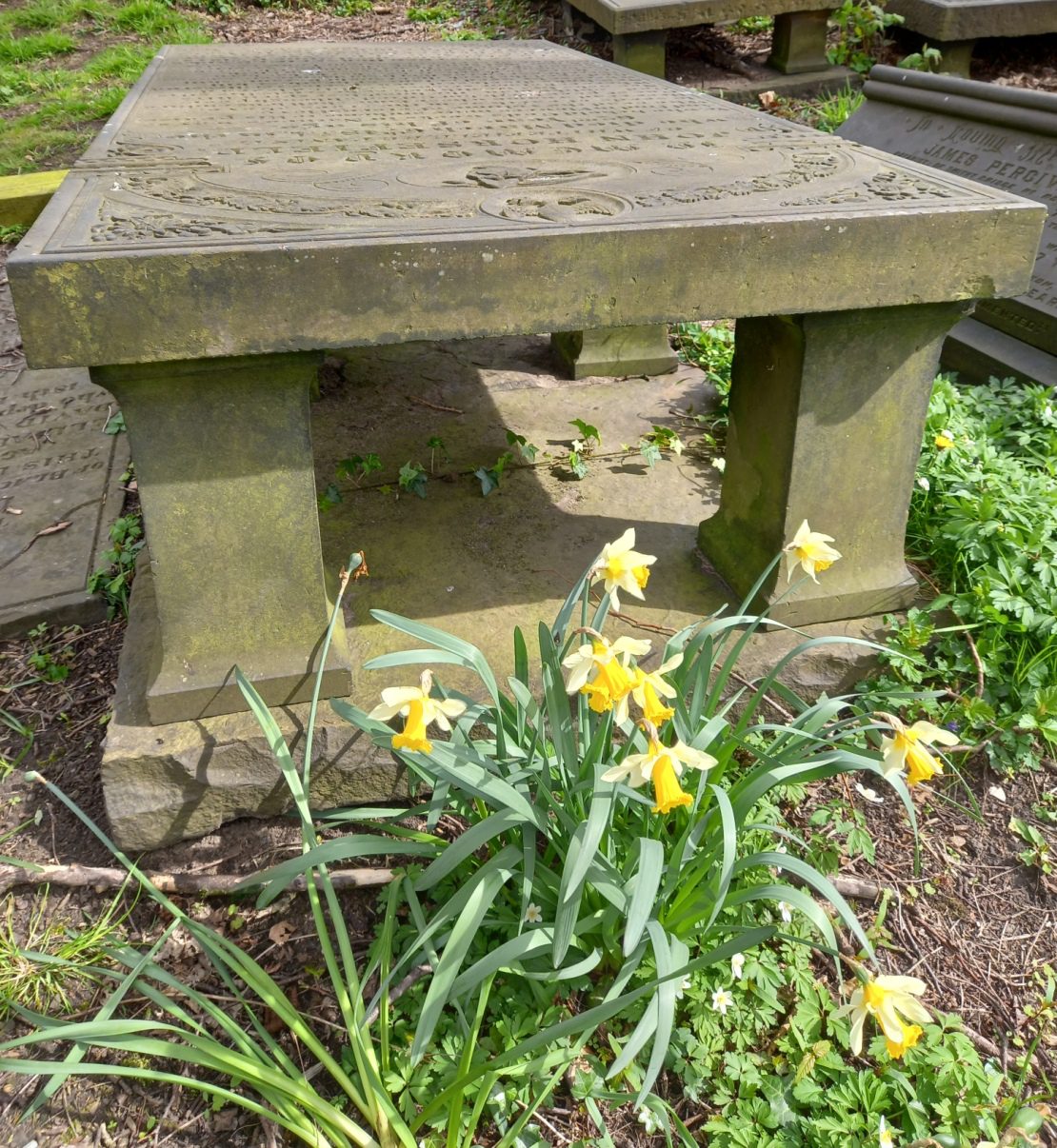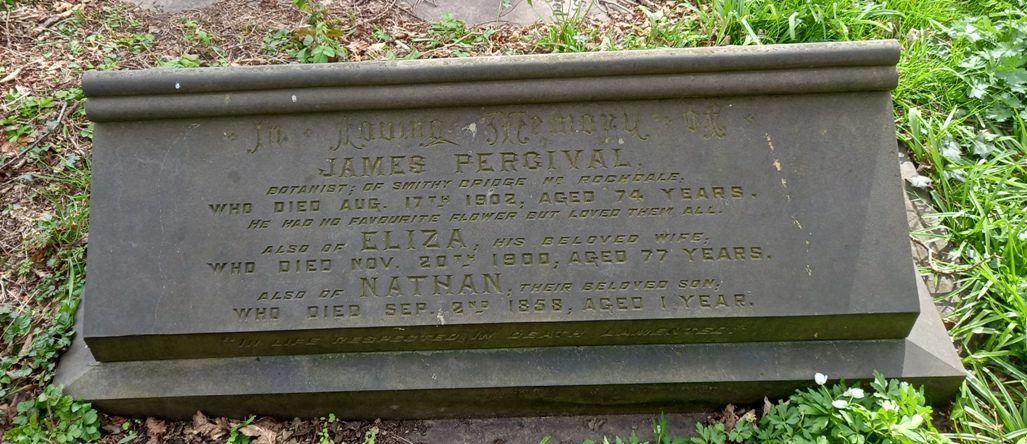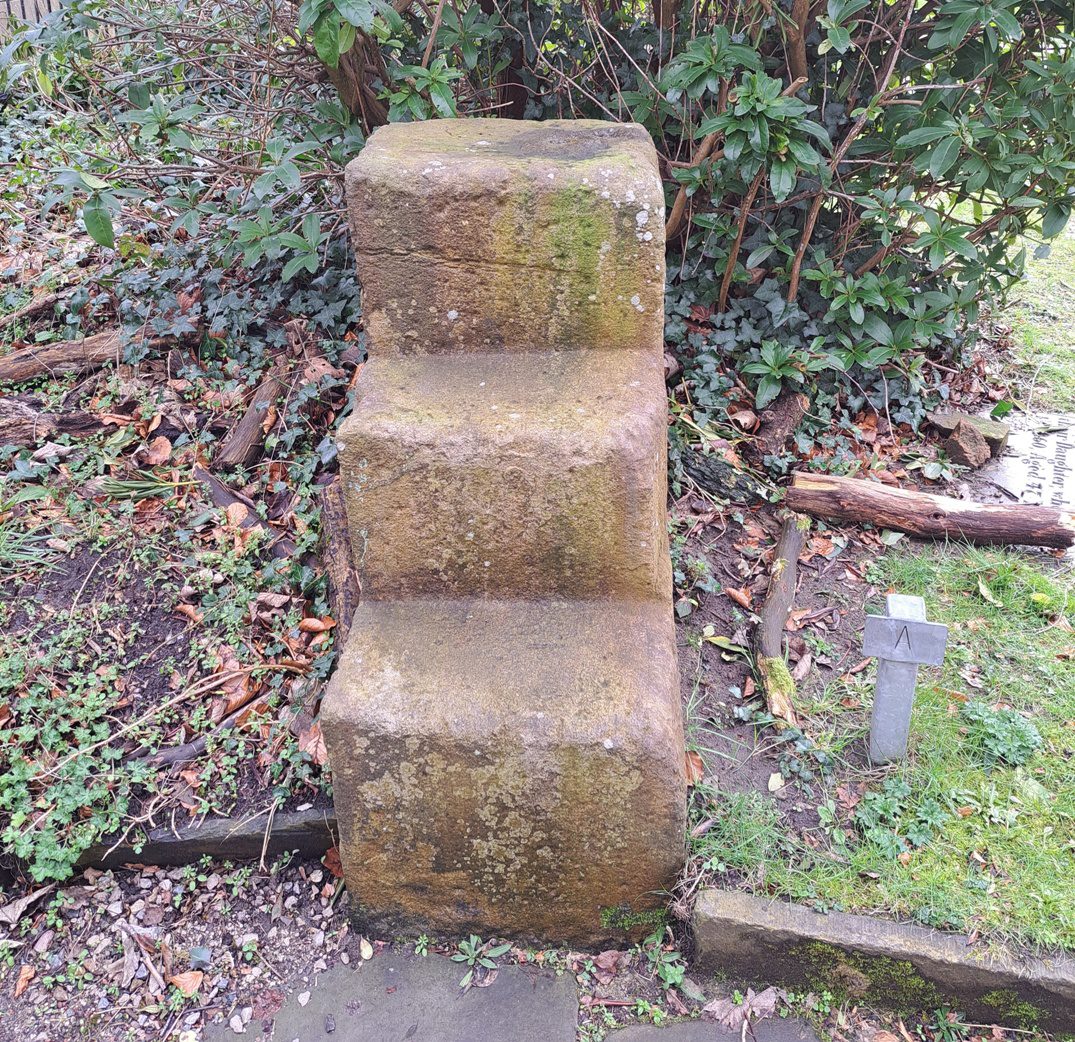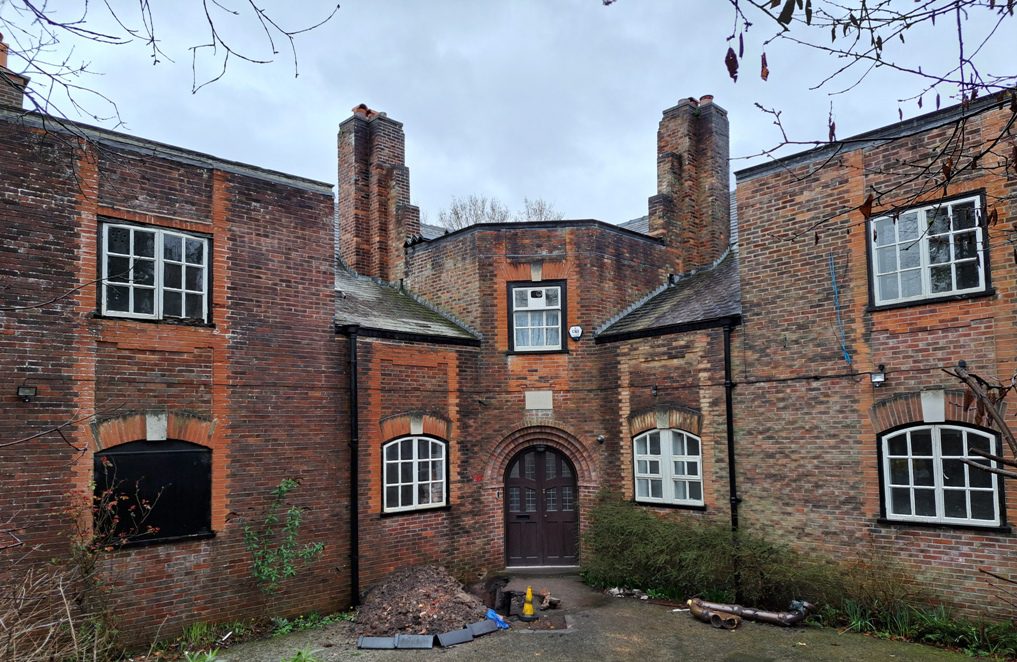 Historic England dates the Grade I listed St Mary's Church, scene of Coronation Street weddings and much more, back to at least 1200, with the earliest remaining structure the 15th Century tower…"A fine church with much medieval work and of great historic importance as the ancient parish church of Prestwich-cum-Oldham".
The Church certainly gave its name to Prestwich, deriving from the Saxon words for 'priest's dwelling', and, with it being the main parish for miles around, this was a place of weddings, funerals, christenings and whatever else went on back in the day. Like many churches, beer was almost certainly brewed by the monks and sold via a kind of off licence at the Church Inn. A brewing monk is said to still haunt the pub, which has now stopped ghost hunters bothering it.*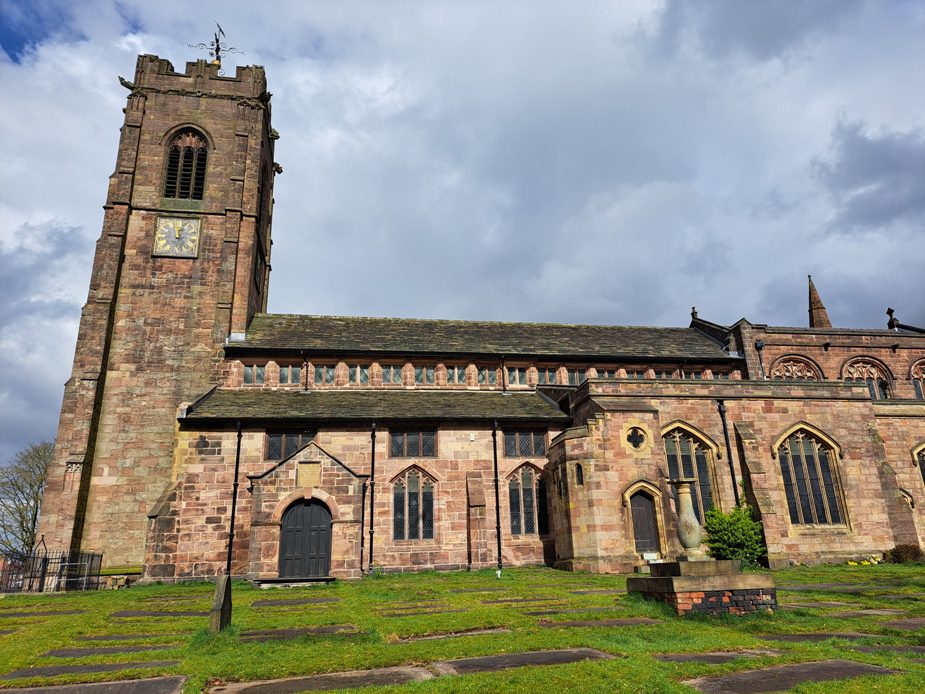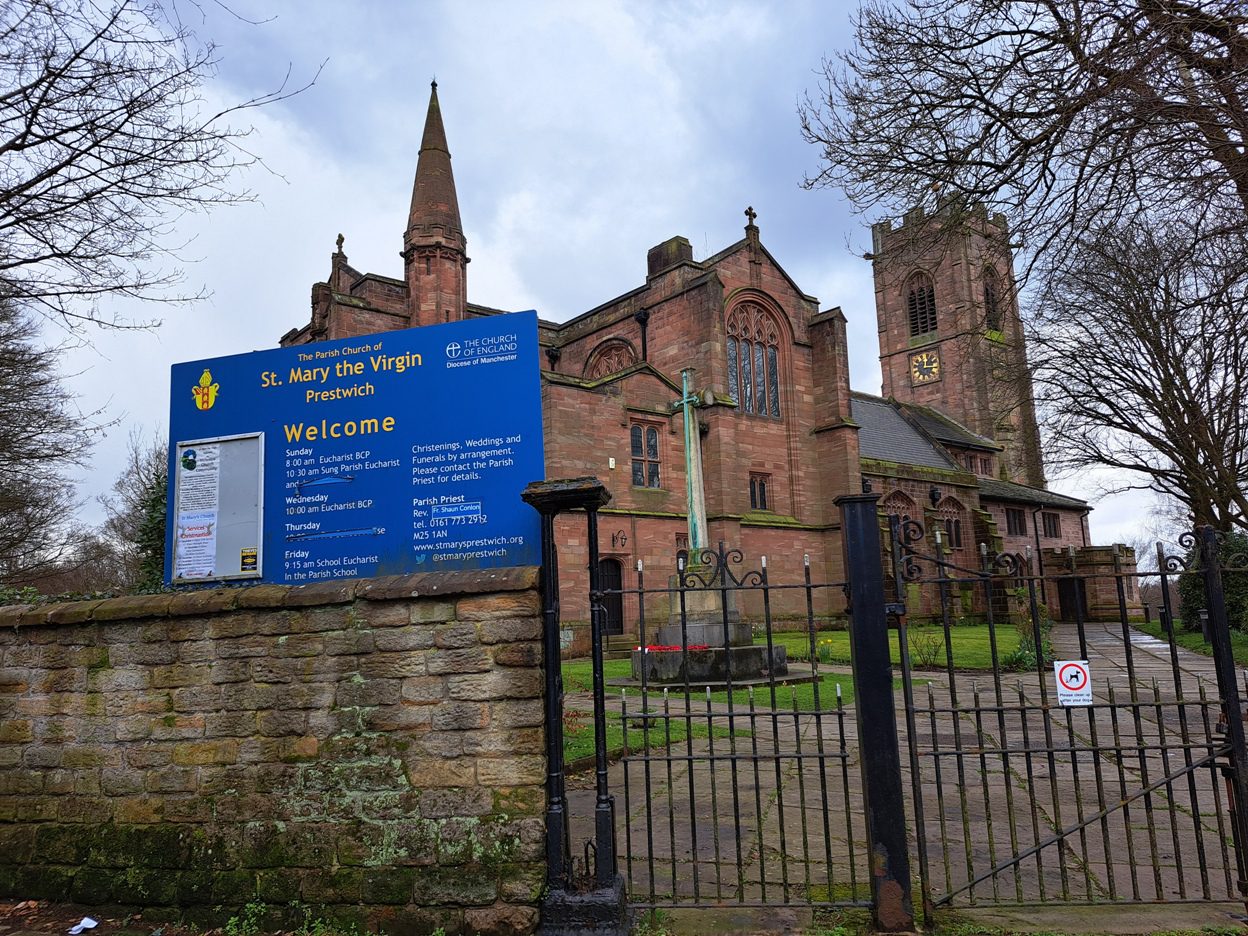 Further up the Lane are some friendly ghosts at number 32…"It's not haunted for me" says Judie Krebs, who has lived for 46 years in the locally listed (NDHA) house, built in 1811…"A friend saw a couple standing in the corner and I knew who they were; it's the couple who lived here in the 1950s and 60s, and are buried in the Churchyard…"
Despite having loads of original features, including stone flags leading up to the original entrance at the back of the house and under the hall and front room, plus original windows and doors, this house and the one next door are not nationally listed as the Council states that they've changed too much.
"According to my next door neighbours at the time who knew all about the houses, they were built by the Church for Flemish weavers who had come over at the turn of the century" Judie explains "It's the oldest pair of semis in the Prestwich area at least, and this was one of the first 'buy one get one free' deals which ran from 1811 until 1951, where, whoever bought number 34 got 32 free. My original neighbours were the first people to buy 34 separate from 32. And they bought it with Don's £500 demob money from the RAF."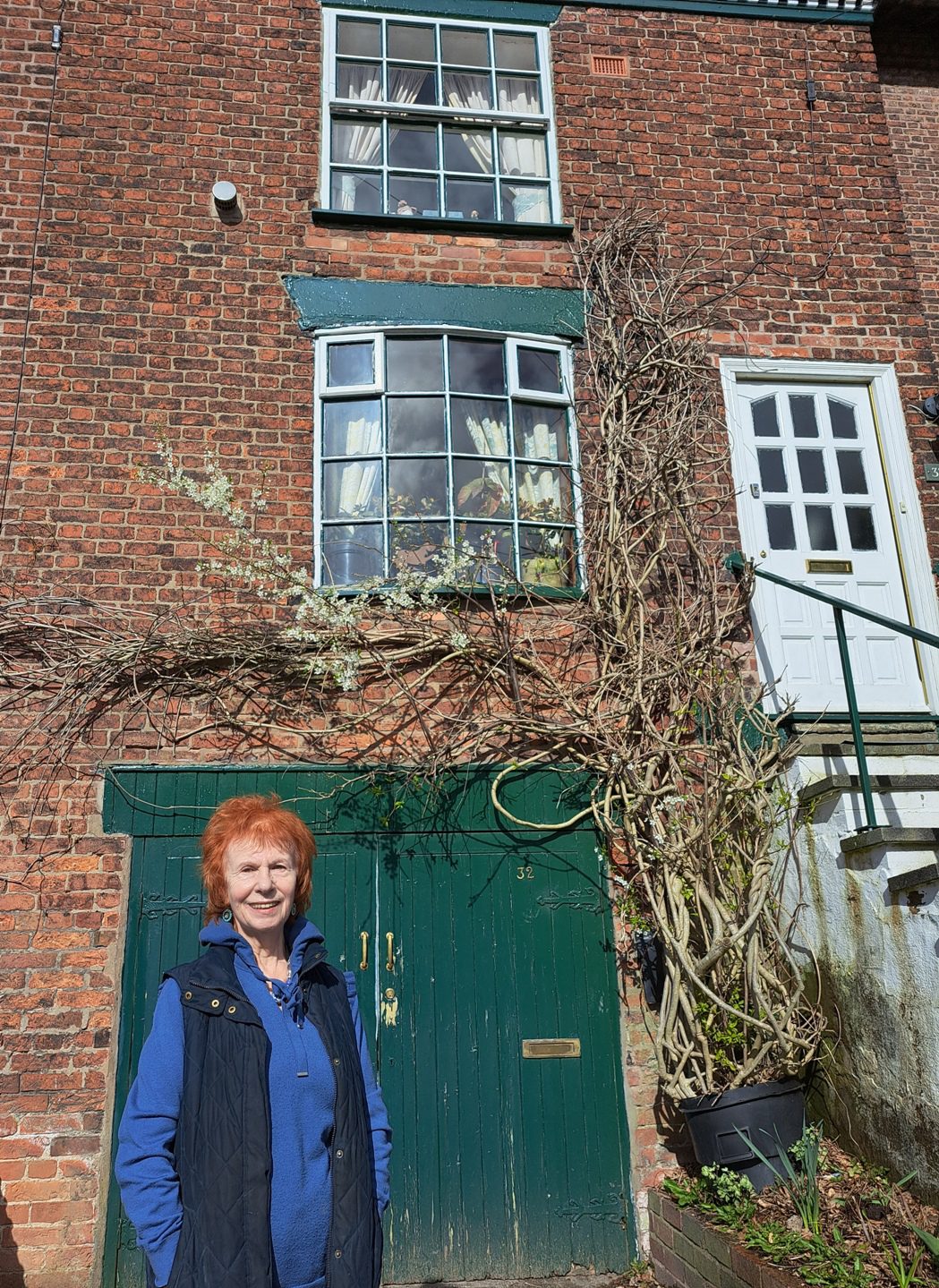 Judie herself, whose dog, Oliver, used to sing to the St Mary's Church bells, is also steeped in the culture of Prestwich, having lived opposite future 10CC star, Lol Creme, in Edgeware Avenue, when younger – "the only reason I didn't become a guitarist was because he refused to turn his strings the other way round so I could play left handed". She later became a journalist for the Manchester Comet, Melody Maker and local papers, interviewing everyone from Dusty Springfield to Sandie Shaw – and, as a 17 year old, getting a lift home one night from Bury New Road resident, Jimmy Savile, with no impropriety involved.
Church Lane also has the locally listed (NDHA) original Conservative Club, built in 1879, which is now International House with planning permission to turn it into flats. It is described in Bury Council's official appraisal as having a "Slight Gothic/ecclesiastical feel and good stone details".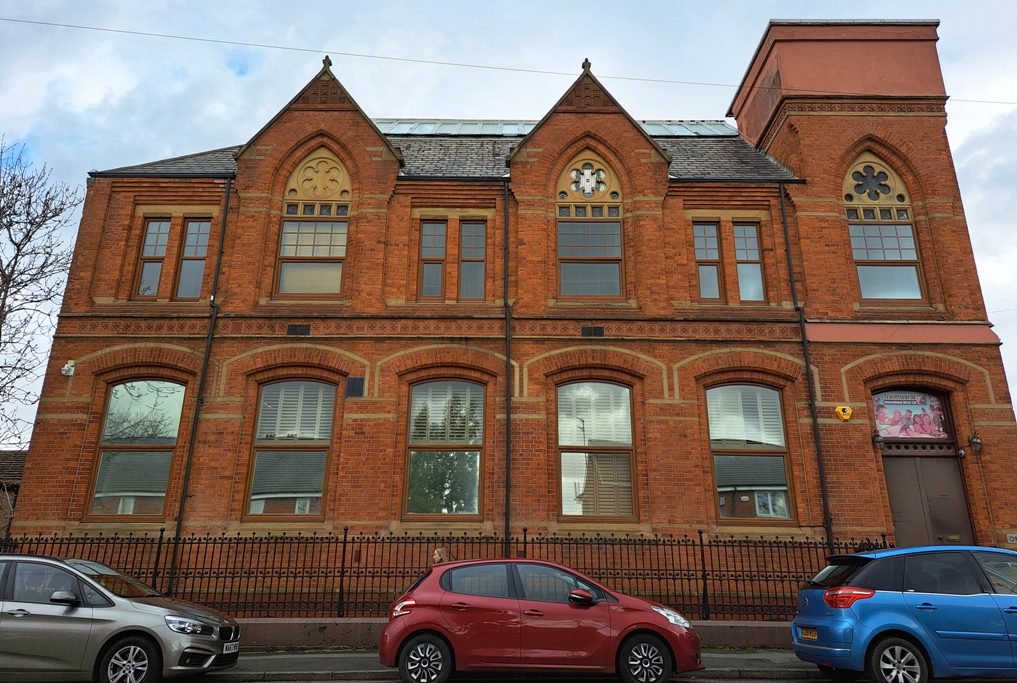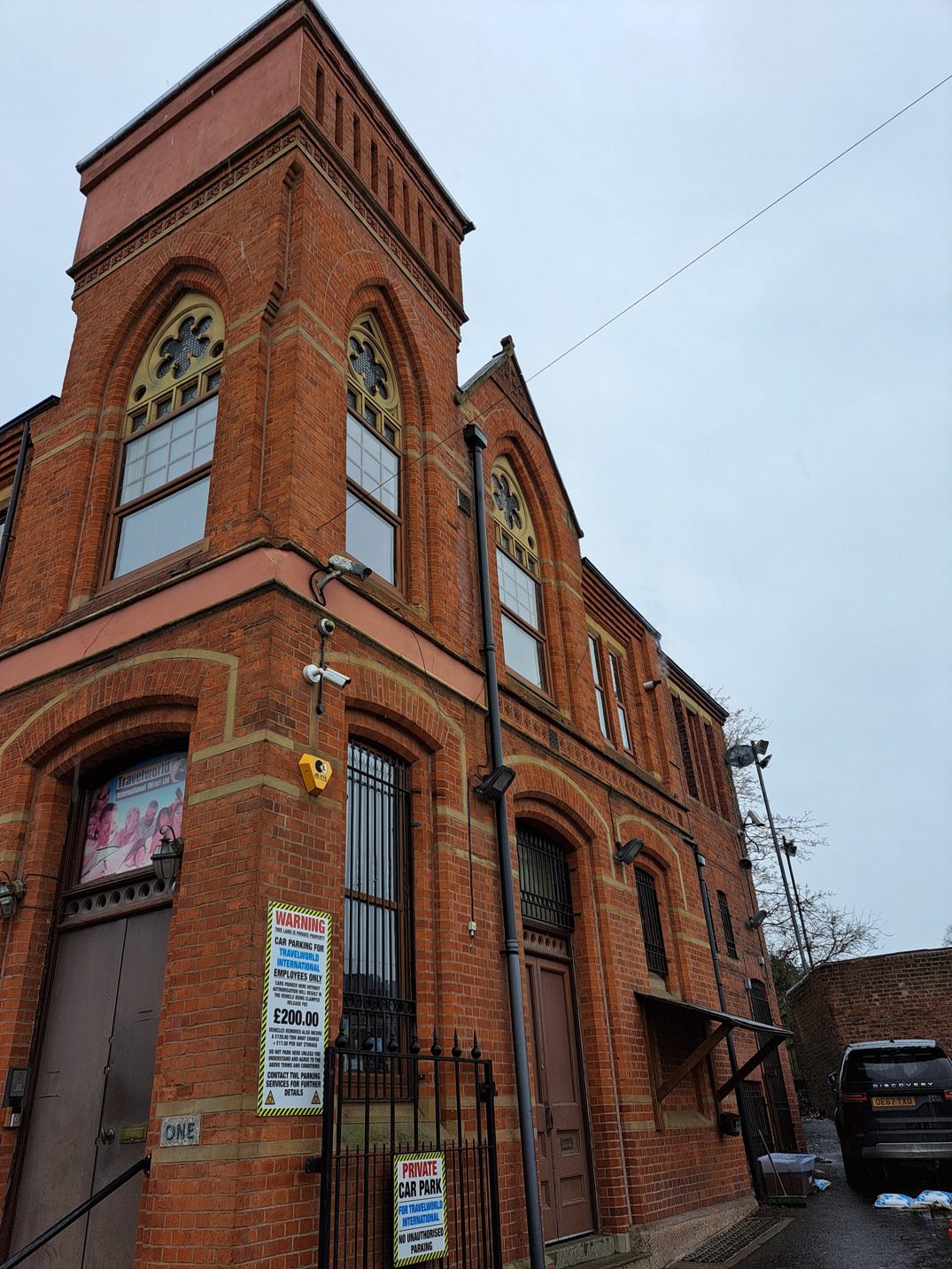 The Conservative Club moved across the Lane in 1957 to a big white building which was formerly the site of Spring Bank manor. It isn't listed but tells its own political story, as it's been ripe for anti-Tory graffiti, ever since the night Mrs Thatcher was elected Prime Minister when it first appeared. Currently, you can still read 'Tory Scum' underneath a whitewashed square, a relic from the last Conservative Party election victory…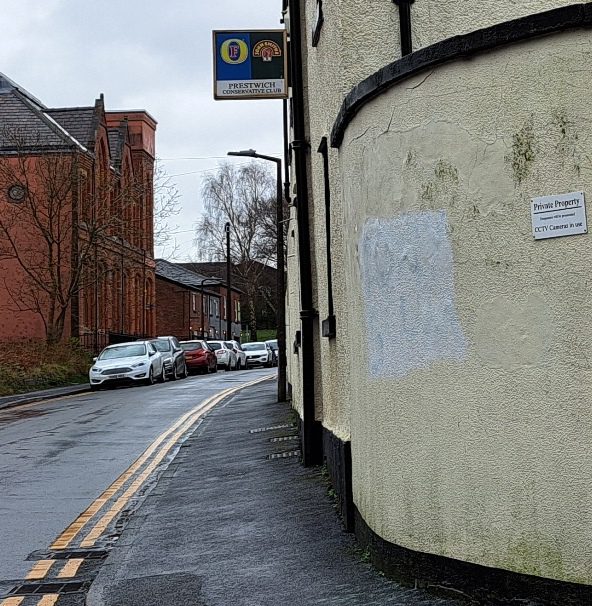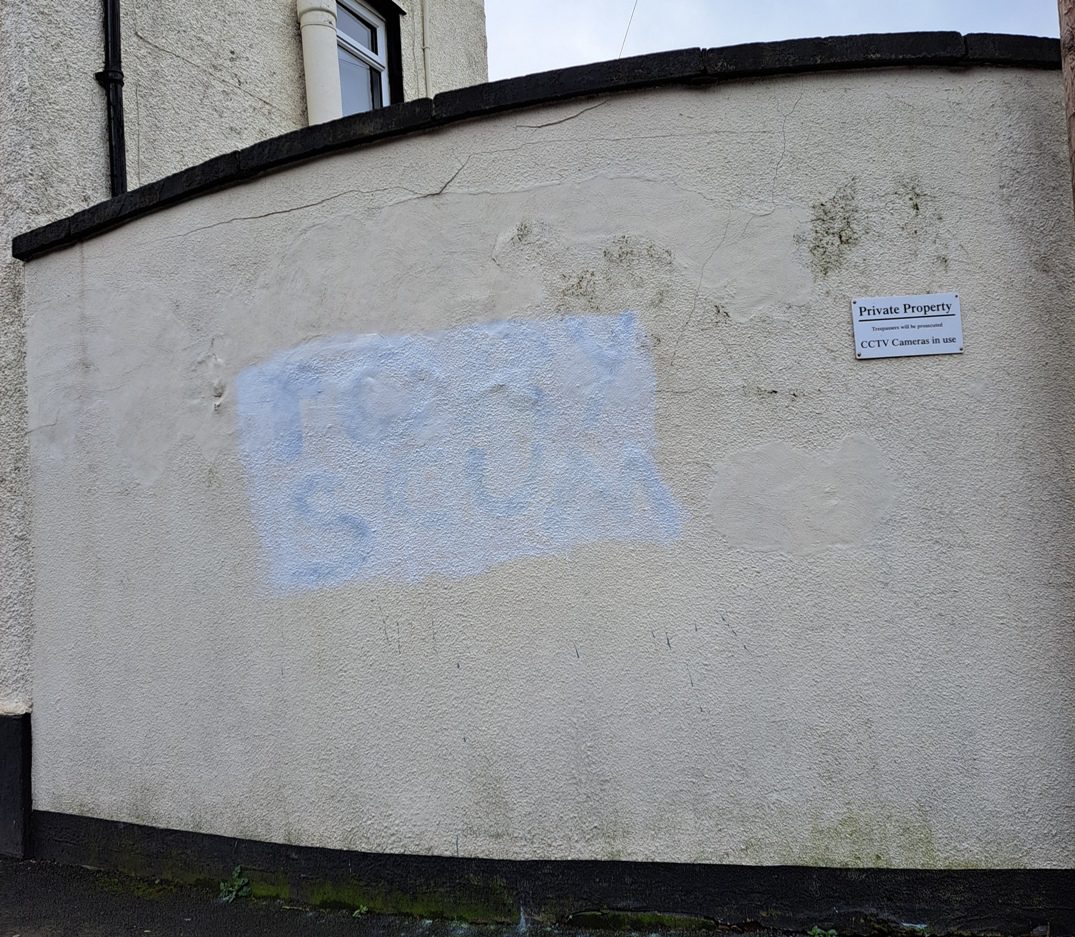 Up at the very top of Church Lane, on the corner of Bury New Road, is yet another locally listed building, number 1 Church Lane, now the Grape to Grain, with its re-built curved 19th Century-style exterior.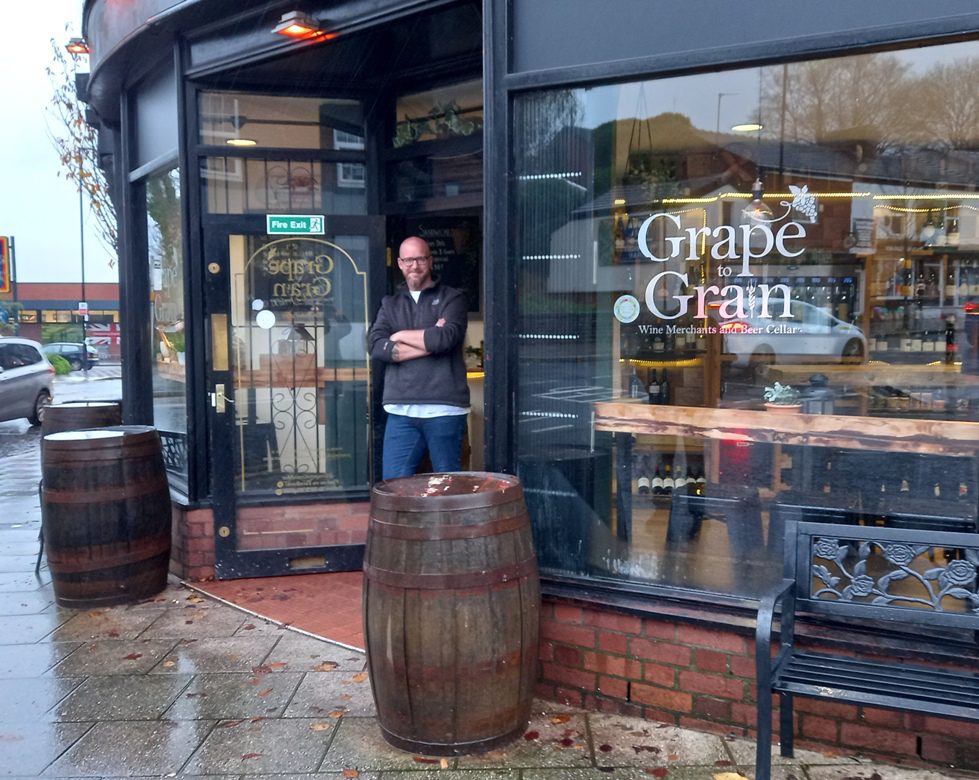 So, altogether in Church Lane, there is the Grade 1 listed St Mary's Church, 19 Grade II listed gravestones and memorials in its yard, plus 8 Grade II listed structures (its walls and gate piers, mounting block, triangular marking stone, sundial, hearse house, war memorial and former rectory and its sundial). There is also the Grade II listed Church Inn and its adjoining number 38 – which makes 30 nationally listed structures. Add in the locally listed, or NDHA, buildings – 5 George's Terrace houses, plus numbers 32 and 24, the former Conservative Club and number 1 Church Lane, and you have a total of 39 listed buildings and structures in one tiny Church Lane…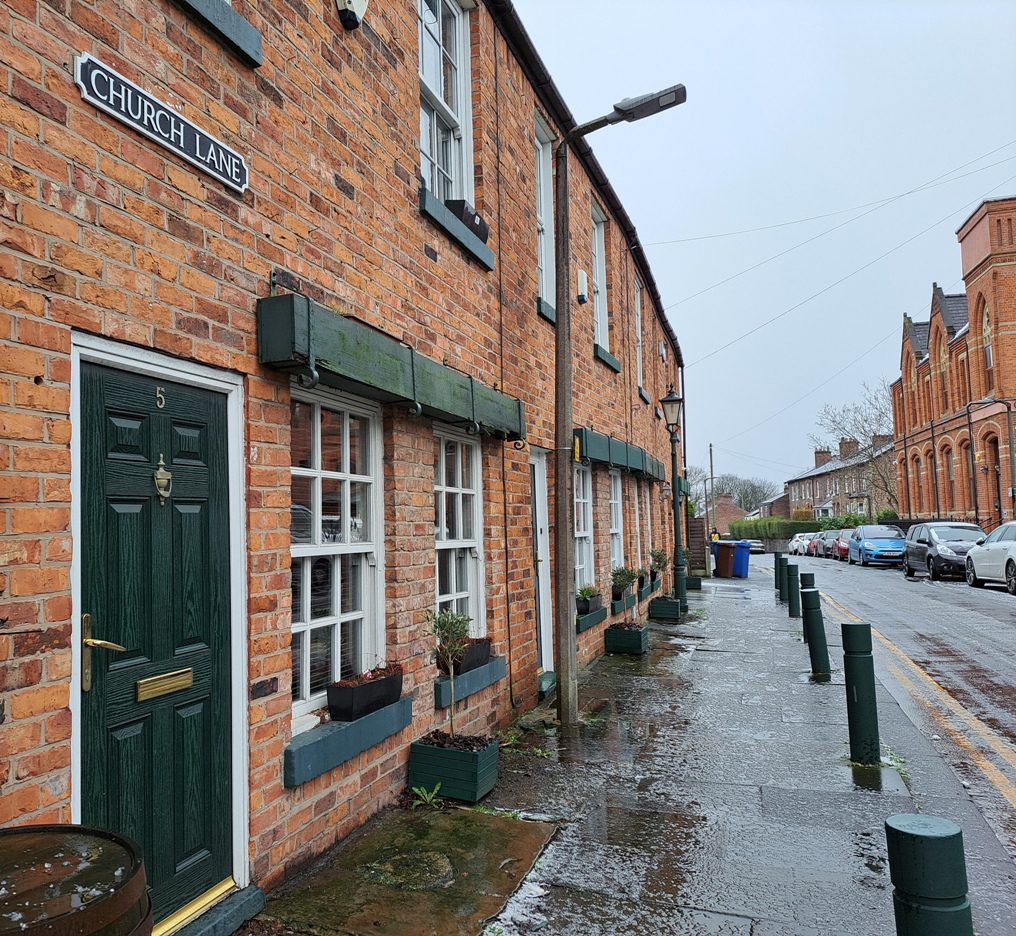 There would also be one more highly listed building – except that it was demolished in the 1950s. 'The Castle', as it was known, filled a six feet gap in between two other houses and was reputed to be the tiniest house in the land. It was situated in what is now the car park of International House on the Lane. All that remains is an old brick wall.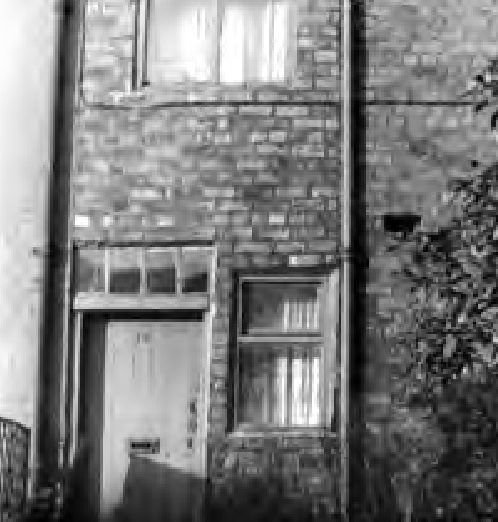 Meanwhile, the cafes at the top of the Lane have ancient cobbled passageways which would have led to the old slaughterhouse, while there was originally a forge on the site of the Church Lane Community Centre. Indeed, the whole of Church Lane is steeped, and is in the St Mary's Conservation Area.
But Church Lane is not just about old buildings and structures and fancy stones. It's about the people, and the cultural and spiritual energy that has soared through the area over the years…and the resonating resting place at the end of the Lane…
See also…
Church Lane Sanctuary at the St Mary's Churchyard – Jon Bleasdale, of the The St Mary's Churchyard Action Group, tells of the mission to upkeep the Churchyard, lead tours and tell of its tomb inhabitants…click here
*The 17th Century Church Inn off Bury New Road – click here
** For lots more details on the Artisan Naturalists – click here
*** For more details see also Celebs and the Rialto – click here