"I joined Boddingtons in 1986, their first marketing appointment, and was working with the trading division at the time. The company was looking at where it was going and trying to figure out its future. It had been a family owned company for about two hundred years and was reasonably successful but it could see opportunities maybe moving a little out of the region. It started to sell some beer in London, with the burgeoning interest in real ale and there were obviously a lot of ex-Mancunians there too.
By 1988 we had a full marketing department, and in 1989 Whitbread, a national brewer, agreed to buy Boddingtons for £50million. I stayed on as brand manager, to extend the brand into Yorkshire initially, then nationally.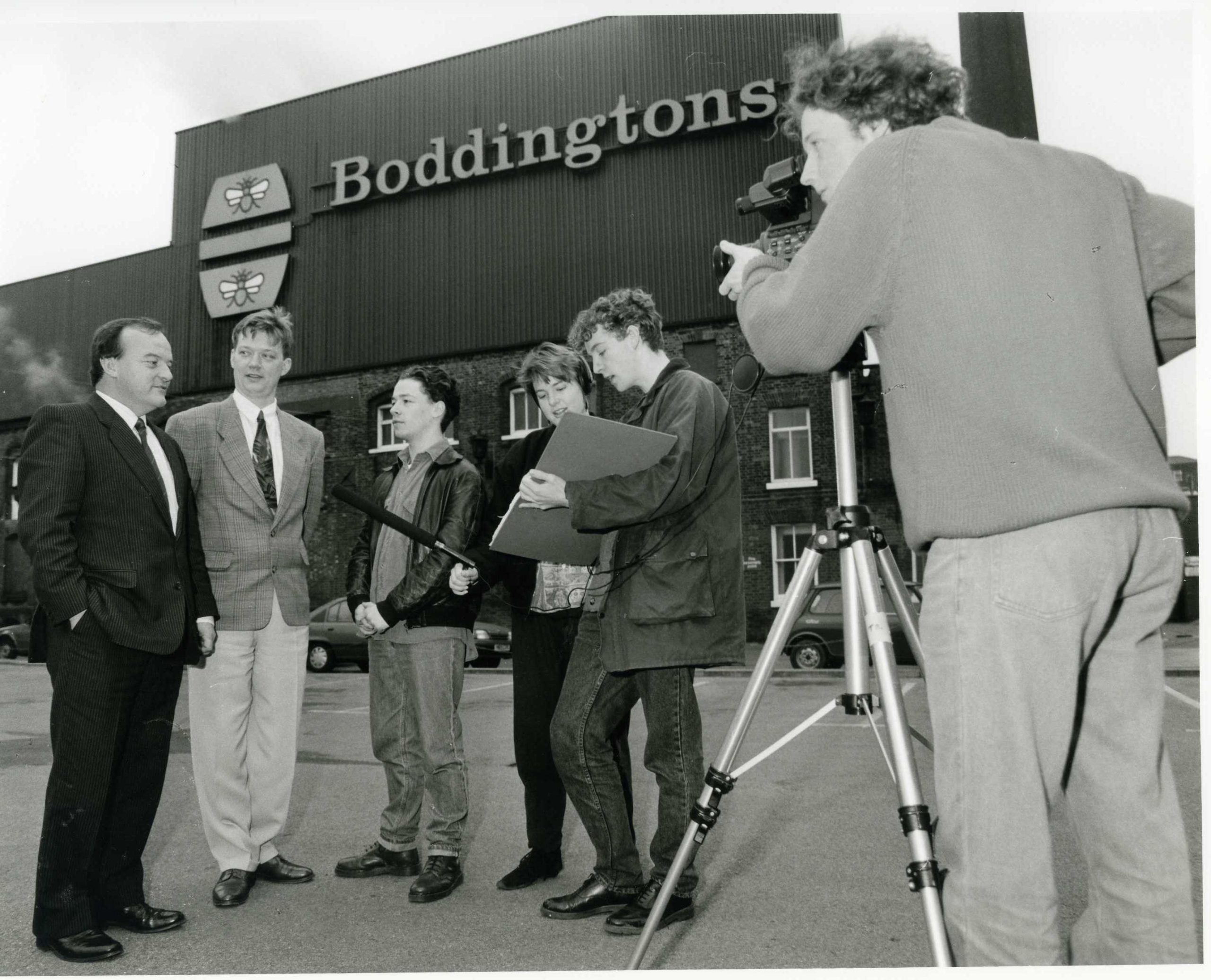 The Cream of Manchester…
There was an advertising agency called Bartle, Bogle Hegarty, which was renowned for being very creative and they did a lot of research and came up with a strategy that included 'the Cream of Manchester' theme. But the original strategy was truly wacky…
…Their first idea was to have lots of cream pies thrown around in a room in a really slapstick way to illustrate this concept of the 'cream of Manchester', and we had to reign them back quite a bit to develop the first commercial in 1991, which was the one featuring Debby Carr – 'by eck you smell gorgeous tonight petal…' and the catchphrase caught people's imagination. .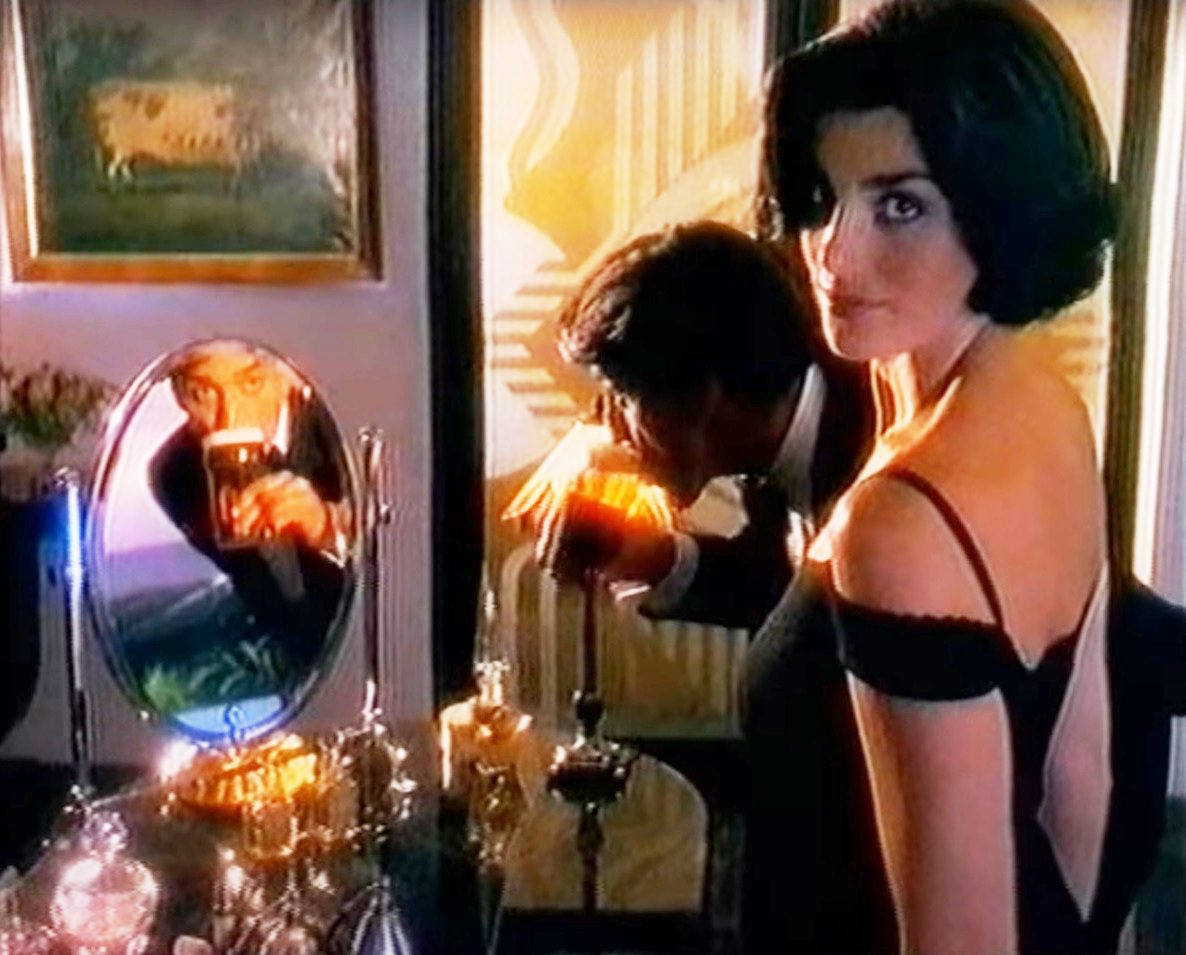 The campaign was about taking the traditional values of ale but blending them with the modern values of lager, while hanging onto the northern roots, developing the humorous content with it, looking at positioning the brand in a much more contemporary way, and with more positive female involvement in it. There were strong female characters counter-posed with these kind of slightly more metro sexual men, before the term was coined really. It was the merging of the old and the new.
Breaking Boundaries…
We didn't really know that we were breaking boundaries. We knew that it was successful because demand for the product, both in the north and increasingly the rest of the UK, was growing at such a rapid rate we were spending a lot of money investing in new plant at the brewery. Production doubled, then doubled again in a very short period to keep up with demand.
We knew it was being successful but didn't realise how kind of radical it seemed to be, in that it was re-defining how beer, ale in particular, was being viewed. That became apparent as the industry itself and the wider society started to take note, and started to identify Boddingtons as something iconic and fairly new. There was a general recognition that this was doing something slightly different .

Madchester, Manto and Gladys Althorpe…
It was around the same time as the Hacienda was huge, and it was all feeding off each other. Nobody really realised it at the time; we were just getting on with our lives. We were one of the first brands to go into Manto on Canal  Street, one of the first modern bars. We were in the Hacienda. We were working in parallel with all these things going on and we were feeding into it as well.
The original Boddingtons girl was Debby Carr who was a model mainly and wasn't particularly an actress at the time. She did the first advert which was hugely successful but we never saw the characters as the same person; they were all separate adverts.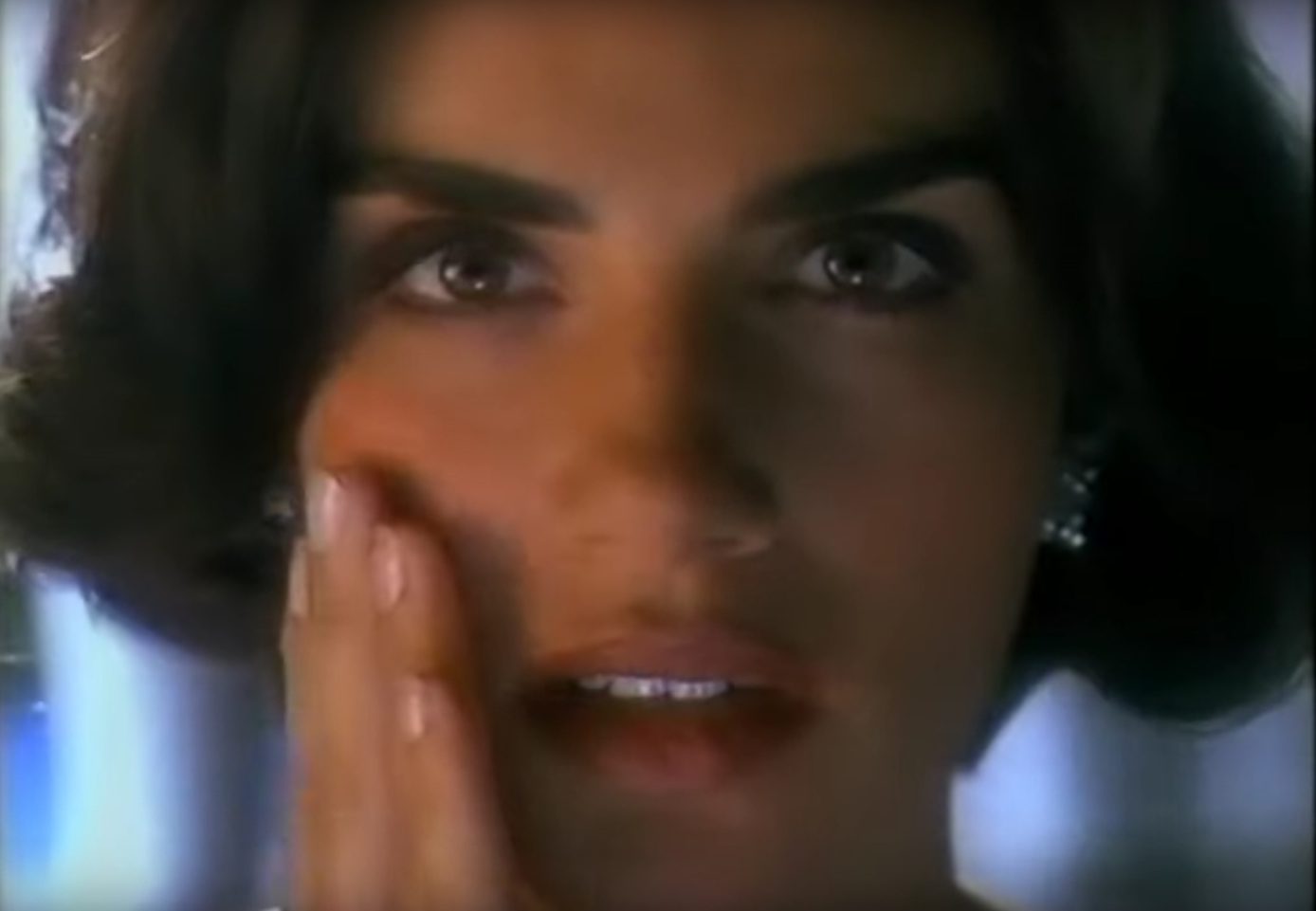 The next commercial had a Venetian feel about it. It was very clever the way it was done. It looked like Venice with a gondola but was actually the River Irwell down near Victoria Station where you've got huge stonework, and the canal just off Oxford Road. It was an amazing thing to do; bizarre but it worked. There was someone who had worked out that, from the right angle, it could look like Venice in Manchester and we made it happen. It was shot over three or four days with an up and coming actress, Anna Chancellor, who was Gladys Althorpe, and later starred in Four Weddings and a Funeral, Spooks and many others..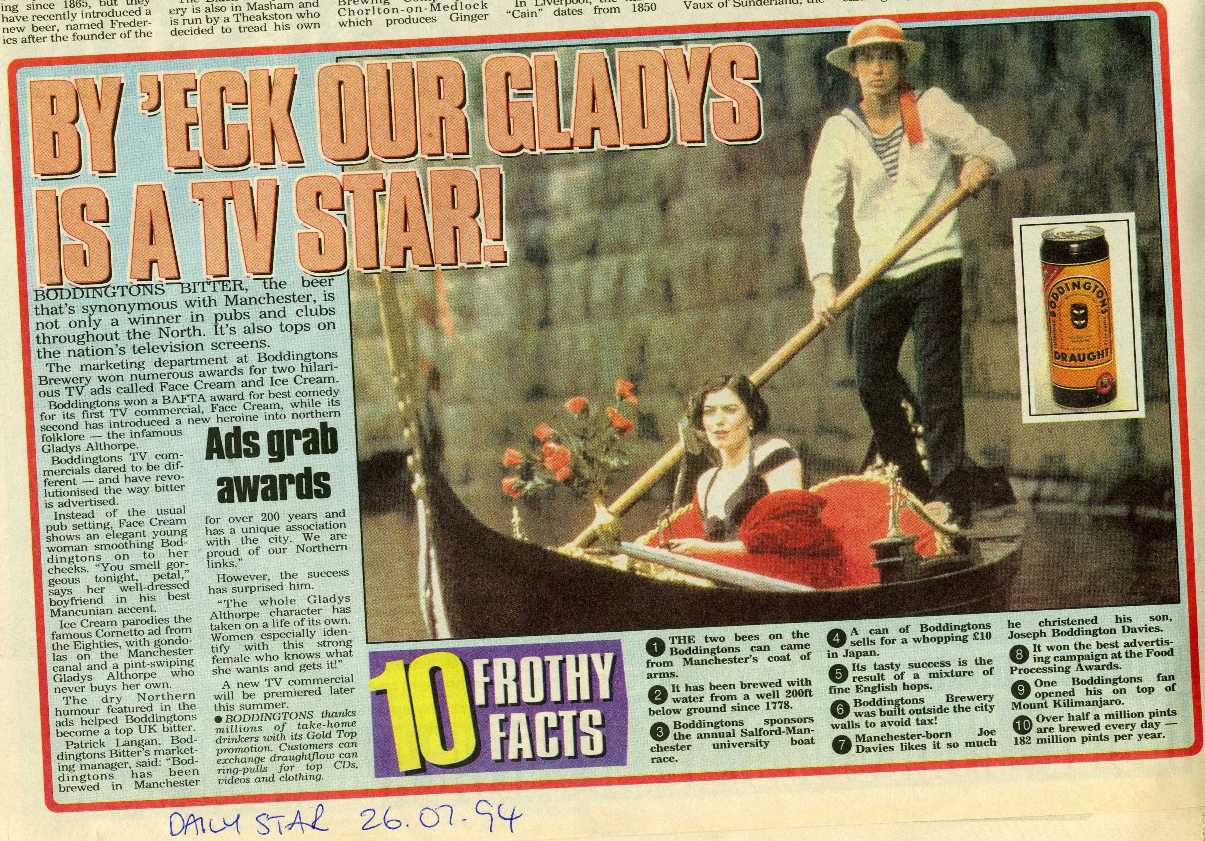 The next advert was set in Blackpool, with the opening sequences actually shot in Miami, which then transformed into Blackpool. It was shot on Blackpool beach in the freezing cold, even though it was June, with Sarah Parish shivering in a bikini. She went onto be a very famous actress in W1A, Broadchurch and Cutting It.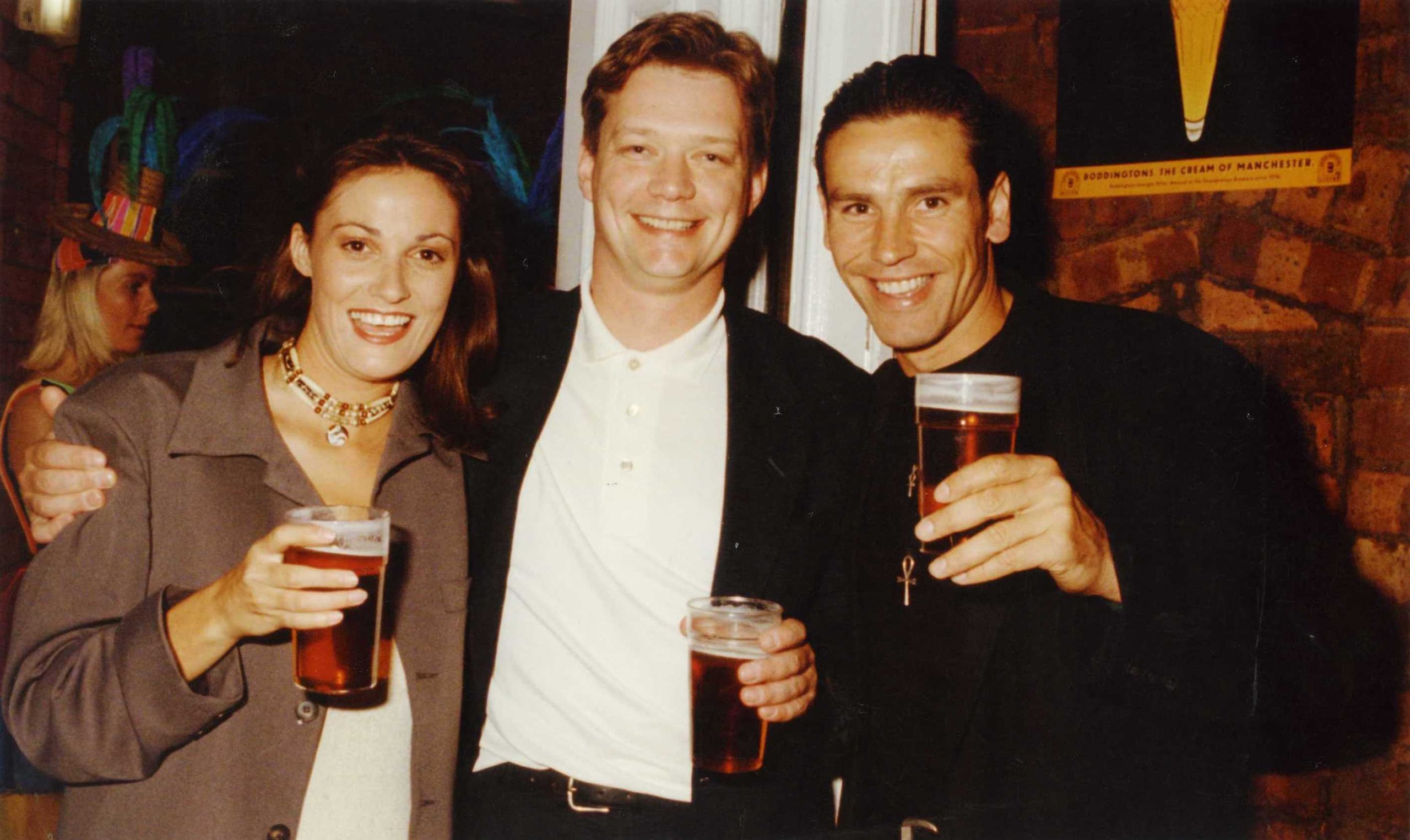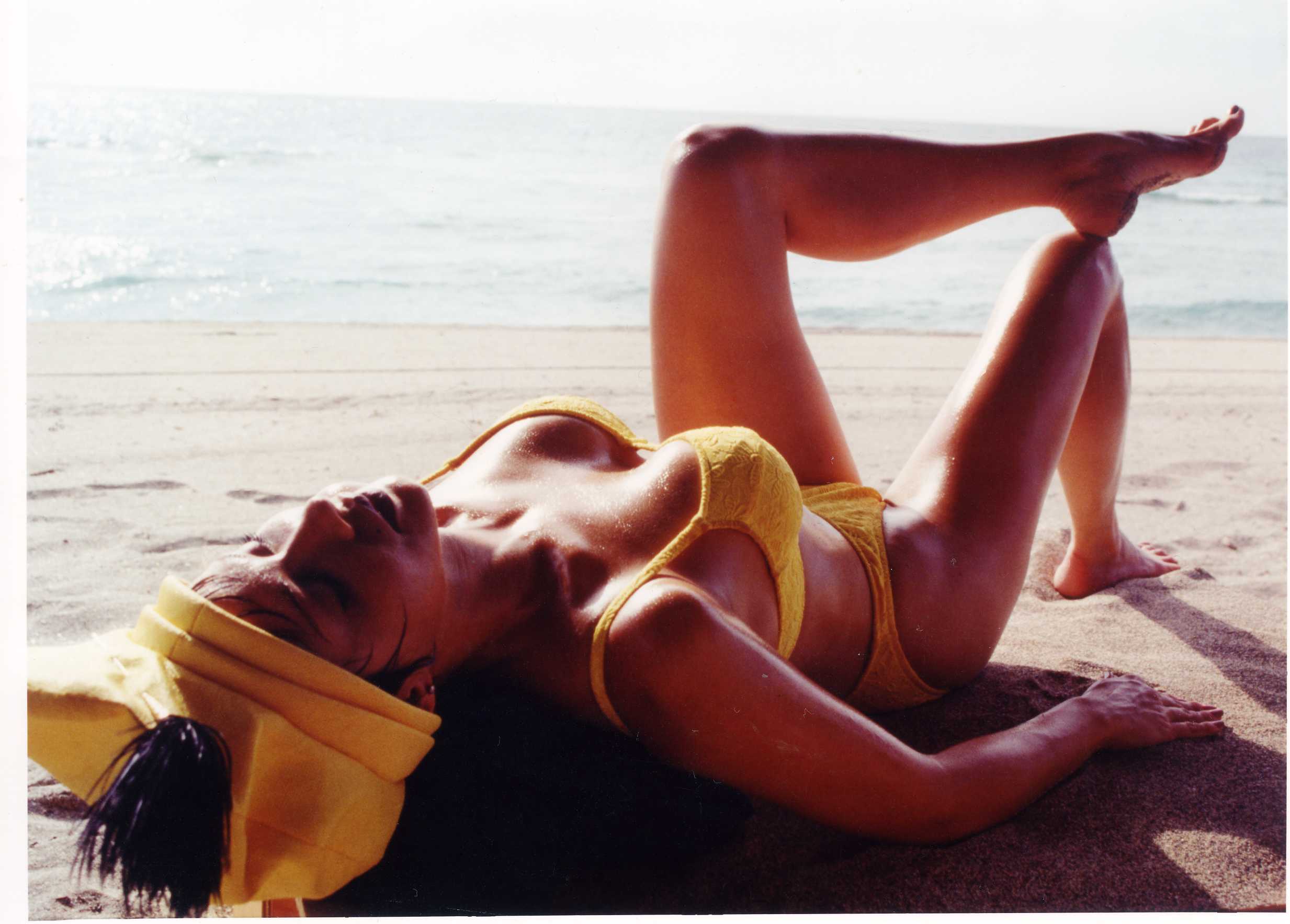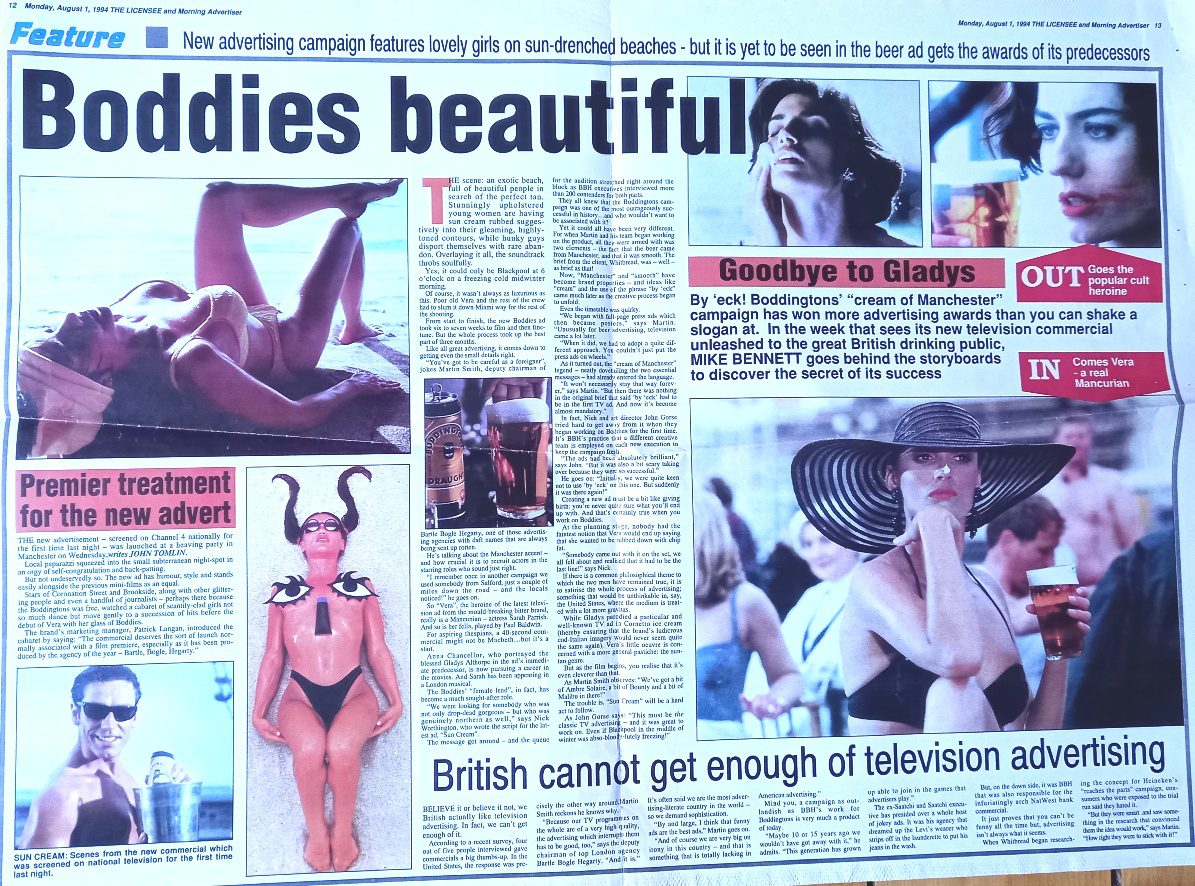 The next one who came along was Melanie Sykes, and she somehow seemed to represent all the adverts. She became famous because, firstly, the adverts at that stage were going national and were getting a lot of exposure on tv, whereas previously they had mainly been restricted to the north and Channel 4.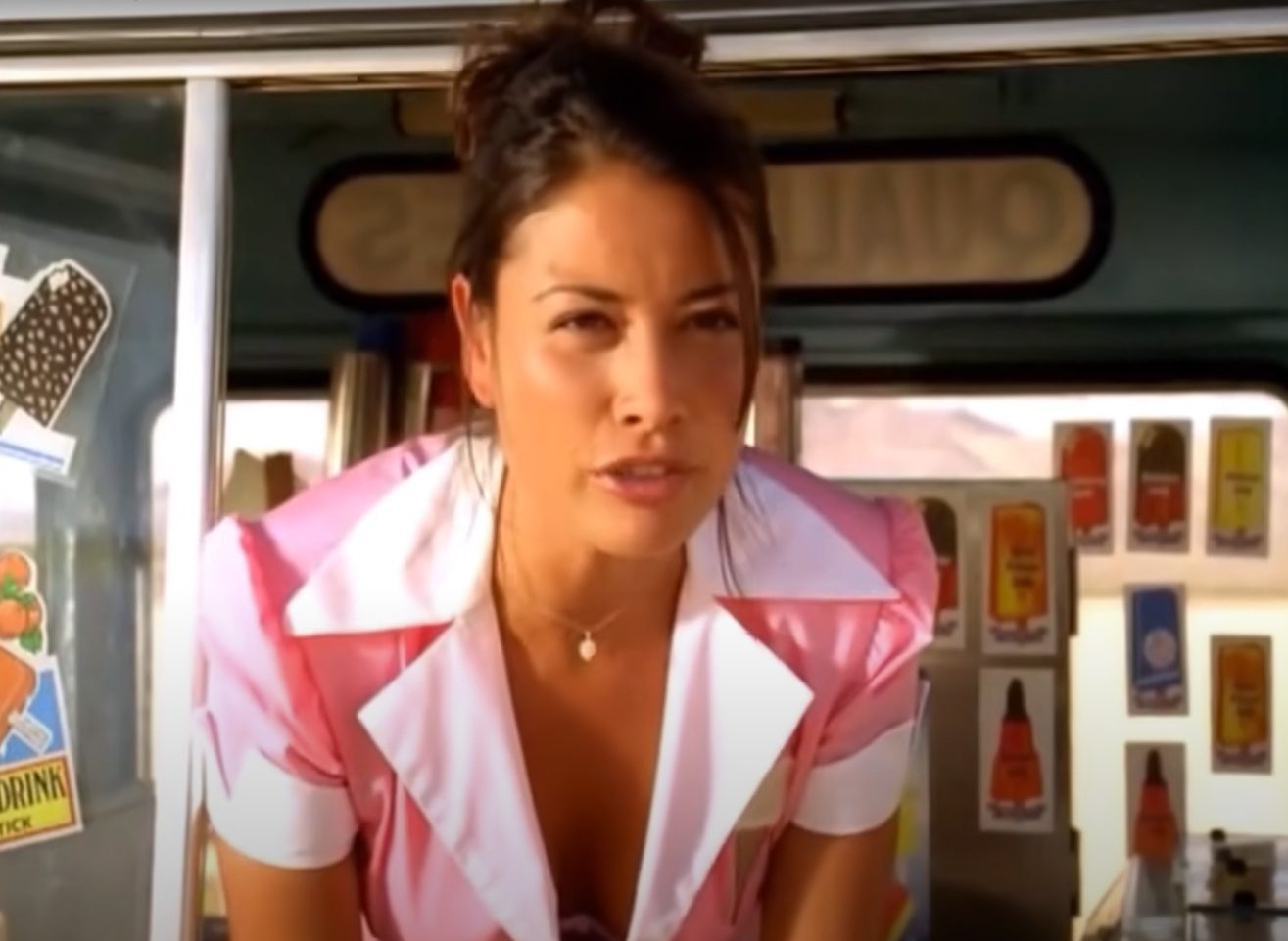 Now the brand was nationally distributed and was getting a massive amount of exposure, so it just caught the public's imagination. Melanie has always gone down as the Boddingtons girl and built a career on that basis. She was a local girl, from Mossley, and she was a great advocate for the brand because I think she took it to heart and actually represented it in more than the adverts. I think she did some personal appearances and things which added to the strong associations with her.
Awards…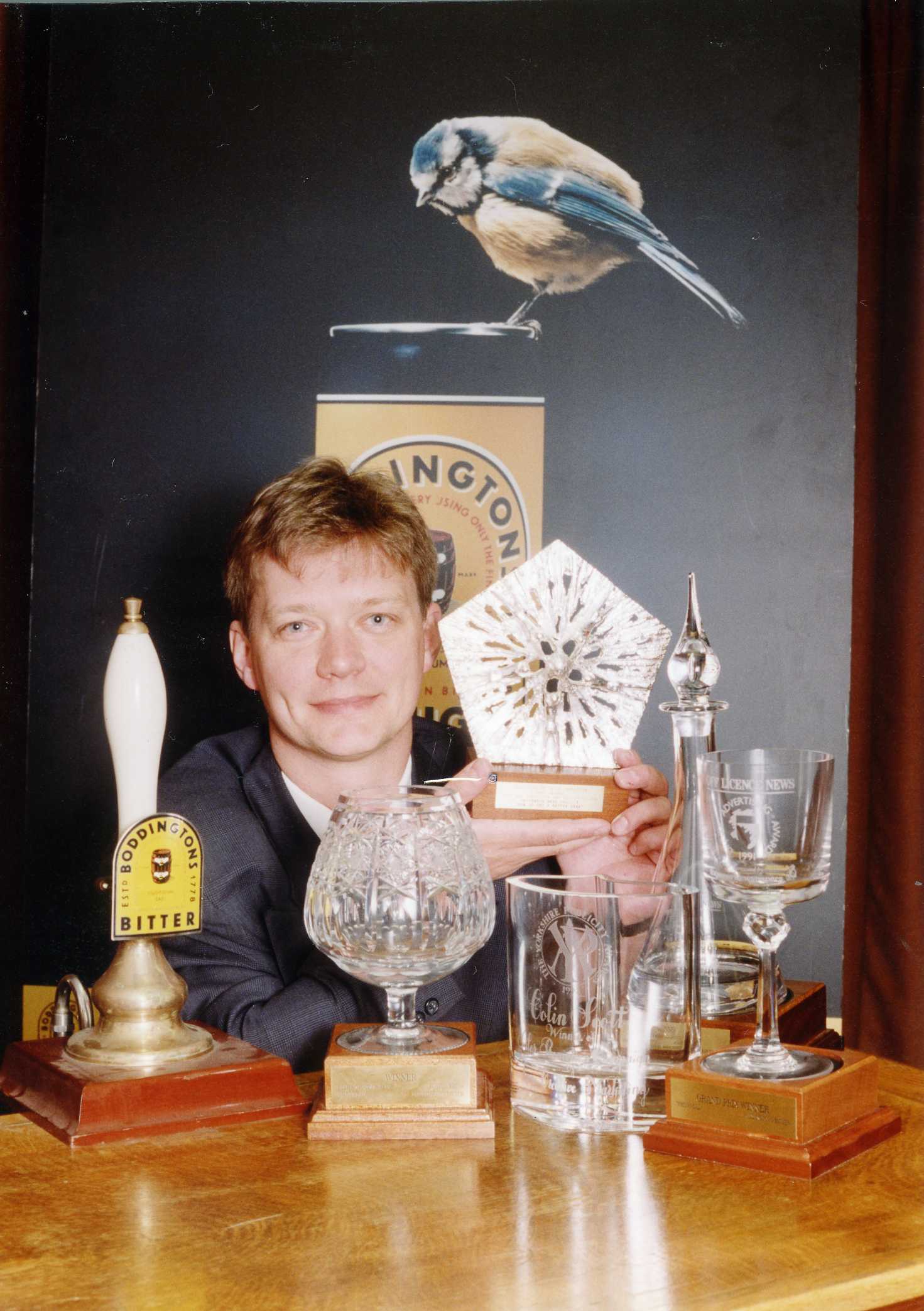 In 1992 or '93 we won fifty marketing awards including the International Practitioners Advertising Award, Marketing Week Brand of the Year and Advertiser of the Year, and we actually won a BAFTA for comedy advertising in '93. Then we won multiple awards both in the advertising and beer sectors. By '94 it was clear that we had done something quite different and radical, quite provocative but commercial. But when we started off it was just experimental, just taking an idea and running with it.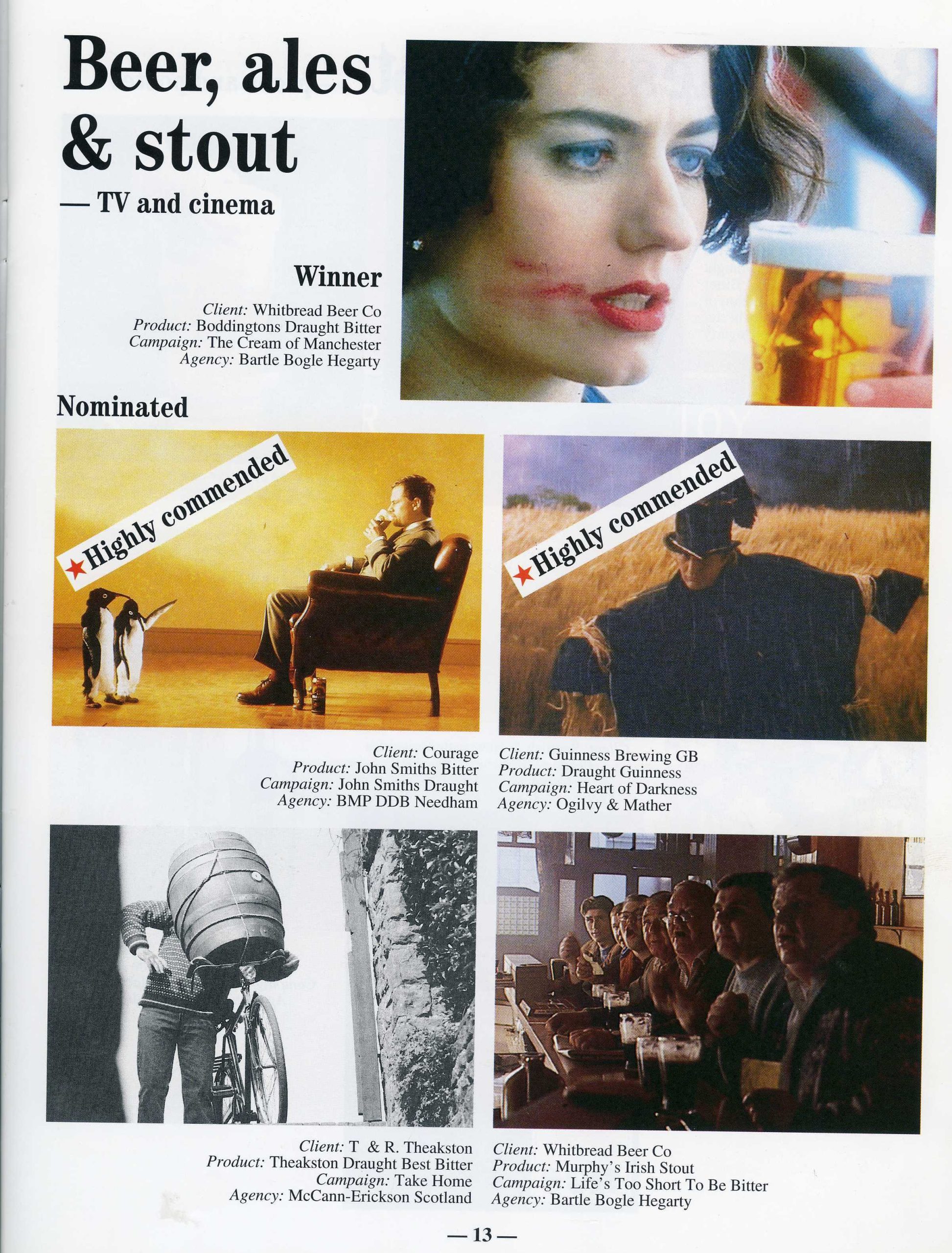 In the early '90s we also started to get a lot of interest from places like the Costas and ex-pat areas like Australia and Canada, so we actively started to market the brand in those areas and took it to the States in '95 where it became the fastest growing beer brand for the next few years. There's an episode of Friends where Boddingtons is mentioned as a great beer…
I am proud of it. For the last few years I've been lecturing in Business at Manchester Met and have used a lot of these ads just to explain who I am. I must admit a lot of the modern day students were a bit flummoxed by them but they do find it humorous at times. At the time it was exciting, fun, every day a new opportunity seemed to be arising.
The Boddies Drinking Culture…
When  I joined it was still a family owned company and then in 1989 Whitbread bought it and wanted me to stay on top keep the northern roots. The Brewers Arms pub at the front of the brewery was built  in the mid-Eighties as a training facility for staff, and there was also a tap in the brewery itself and another bar.
When I first arrived there was a drinking culture, and draymen would start the morning at 7am with a pint, then do their deliveries in motorised drays with tons of beer on the back, and at virtually at every place they stopped they'd have a pint or a half, so by the end of the day they were sloshed. They'd come back to the brewery and have some more at the tap because the beer was free. After work most evenings people would go the brewery tap – but it was a drinking culture generally, in advertising too.
Frankie Howerd, Frank Sidebottom et al…
When I joined Boddingtons, the company had never advertised except on beer mats but they did recognise it was important. The first tv adverts, aired around 1987 involved a man holding onto his pint at all costs  – 'If you don't get Boddies, you'll just get bitter'. It was reasonably successful but then we switched the campaign to an agency who were watching Frankie Howerd and his catchphrase 'Titter ye not' – and turned it to 'Bitter ye not', and so we had Frankie Howerd do a series of adverts based on that. He hated the beer and would spit it out and have a gin and tonic, but he was a great actor.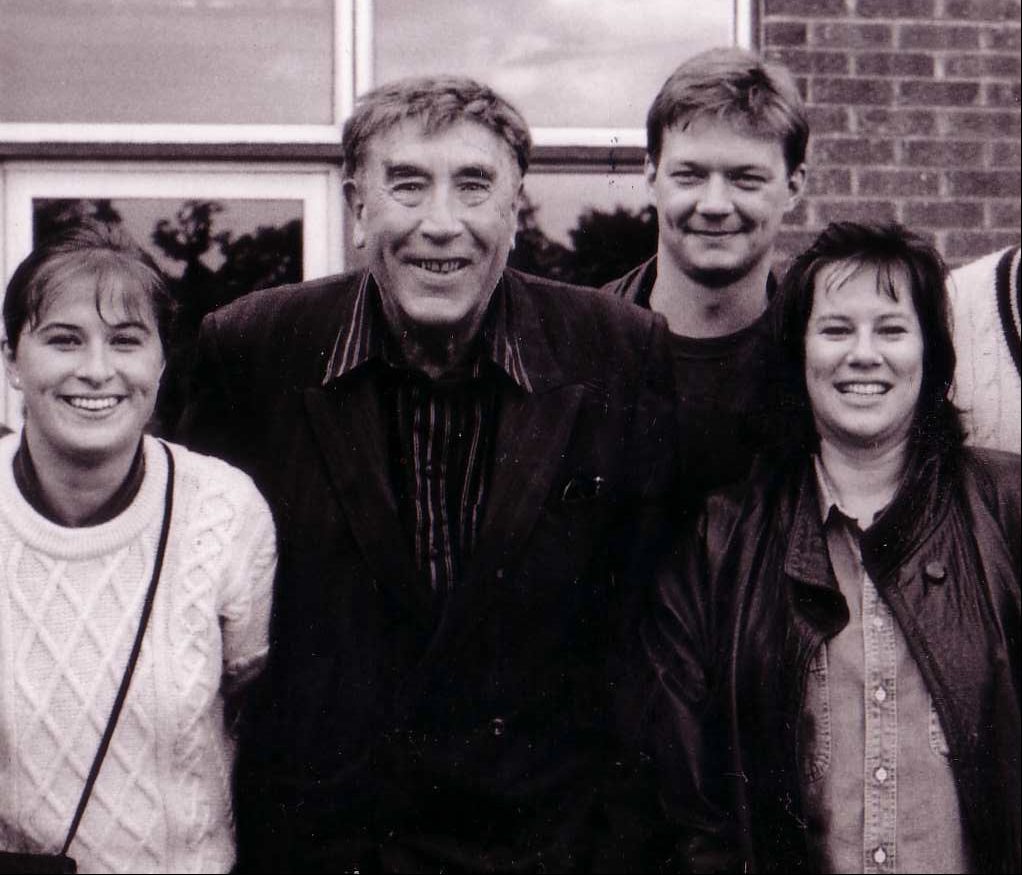 Part of the brief was also to solidify the brand in the North West and to attract a new audience because it still had an older profile before the Cream of Manchester campaign. One of the ways we did that was to sponsor the Boddingtons Manchester Festival in association with Granada TV, and then we had the Dream Tent and a lot of original early stage comedy. We worked on that with Frank Sidebottom, who also did our idents. We sponsored the In The City music festival and took the Dream Tent to the Edinburgh Festival, so we were investing in comedy and the progressive art scene, and riding on that. It was all just part of what was going on at the time. It was amazing.
However, the trade wanted us to sponsor football and horse racing and all the traditional things, but we said 'It's not about supporting the trade, it's about building a new audience for our product and expanding its reach'.  We also wanted to make a statement really that ale was moving away from a man hanging onto his pint in all desperation, to say 'It's a different world now'.
The Boddingtons adverts ran when tv had huge audiences before the internet, so everyone was watching, and the advertising was often considered better than the programmes. It was an exciting time…"
Boddingtons Beer – What is it? Why is it? What did it change? – click here
Those Famous Boddies Adverts – click here