The Unibond First Division North. Mention this league to anyone who's only into Premier League football and they'll be going 'What's that?' …'So, how many leagues is that below the proper Football League?' The Unibond First Division North, previously the Evo-Stik Northern Premier League First Division North and now just the Northern Premier League, is the springboard to the Football League…

From around 2008 to 2014, old famous northern teams that had been expelled from the Football League for one reason or another began their re-birth here – Chester, Darlington, Halifax…and it was the space where former giant killers like Skelmersdale United and Mossley lurked. It was also a place where nouveau riche clubs, like AFC Fylde, began their dive into the big time, where former players like Darren Peacock, Matt Jansen, Garry Flitcroft and Darren Sheridan tried their luck at management …and where fan based alternatives like FC United bathed in their spring of potentiality…The Unibond First Division North was not to be sniffed at.
It took Salford City FC almost a lifetime of 68 years to reach this level via promotions from the Salford City Amateur Football League, the Eccles and District League and the Manchester Football League. The Ammies were promoted to the Northern Premier League as runners up in the North West Counties League in 2008, having previously won the League Cup in 2006...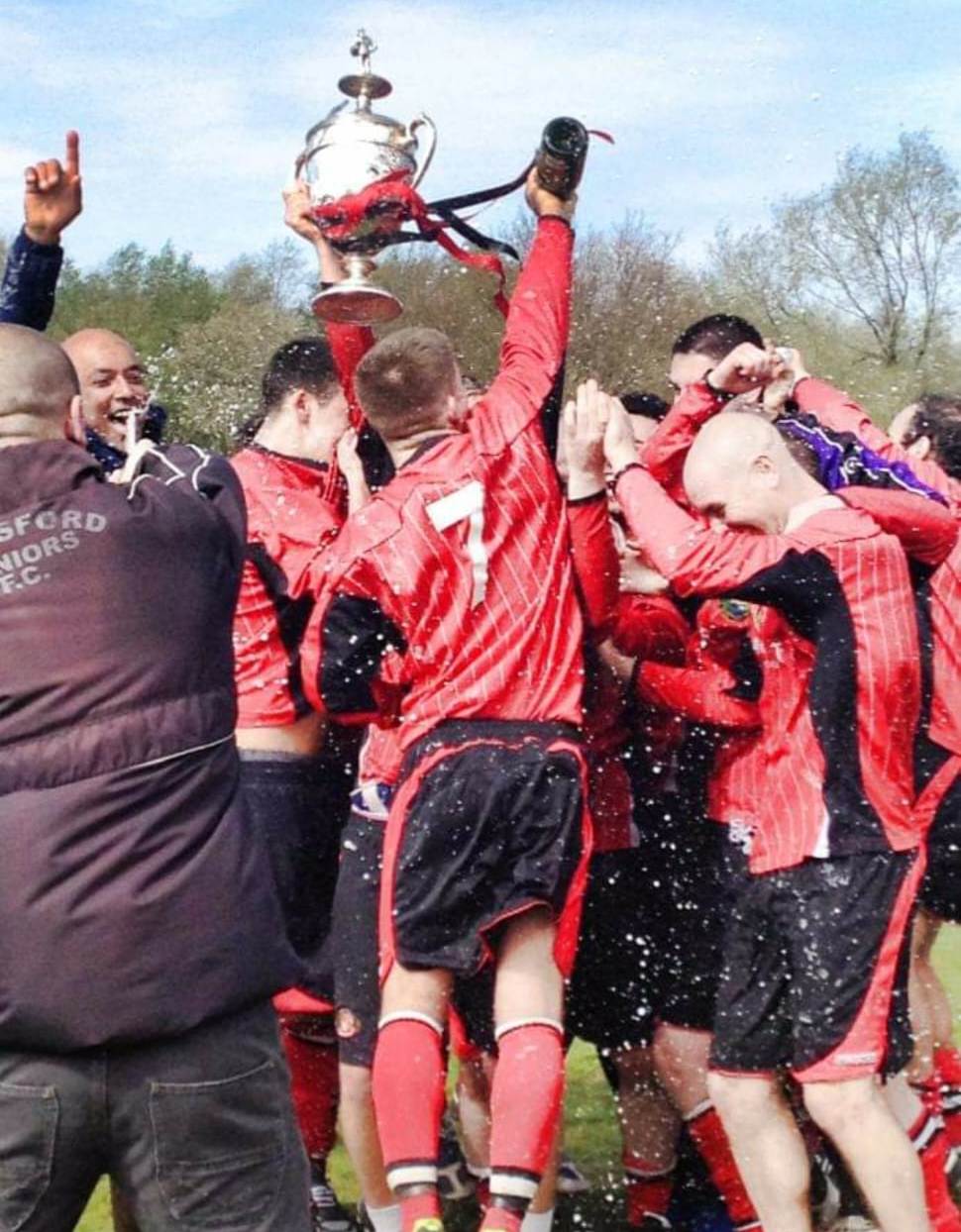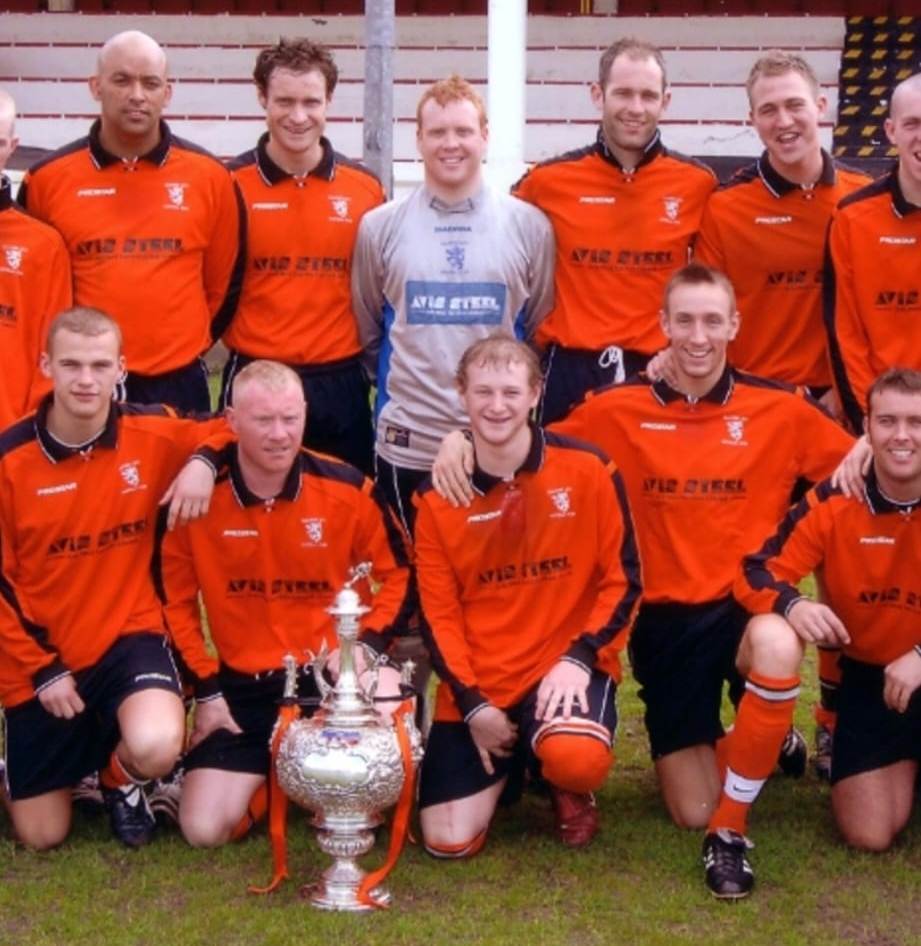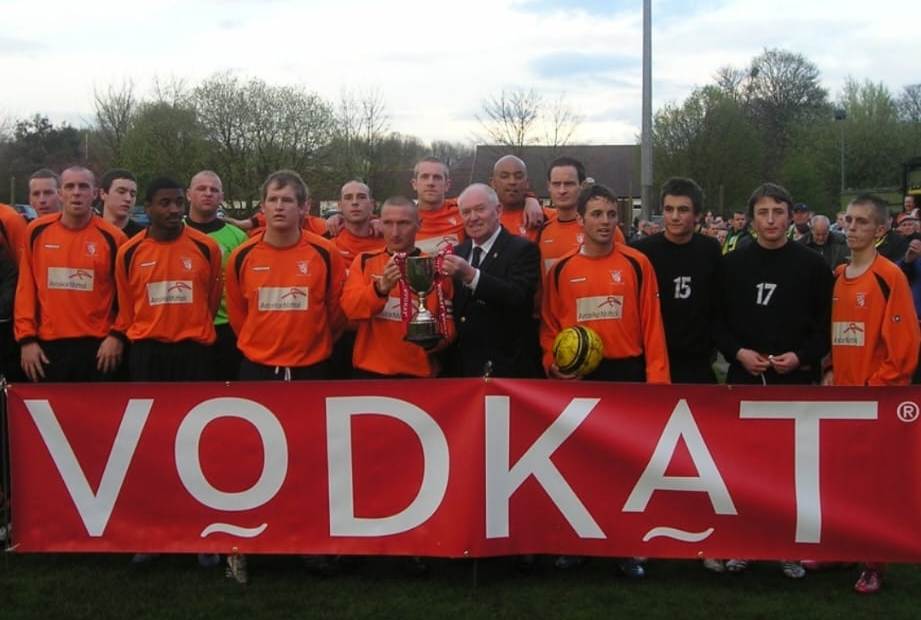 "It was only when it went to two clubs promoted that we got out of it" recalls Salford City legend, Barry Massay, who played in that League Cup winning team and went on to co-manage the club at the time of the Class of '92 takeover…"There was no money there" he explains "Originally the subs didn't get paid but they sorted that out…"
To give an idea of the gap between Salford City and some of the teams they faced, FC Halifax Town came to Moor Lane in 2009 with a squad full of ex Leeds United, Nottingham Forest and Man City players…
"Like Kriss King" the Salford Star reported "Most memorable game? Leeds v Roma …The gulf in resources is frightening – FC Halifax is giving the old Shay ground a makeover, with a capacity of 10,000. Salford City FC has an appeal in the programme for contributions towards the cost of a banner that supporters can flaunt at away games…"
That day, FC Halifax brought around four hundred supporters, outnumbering Salford fans by four to one, as they chanted 'What's it like to see a crowd?'. (Read the match report here)

Salford City could not attract a home crowd of more than 150, with some week-night games getting around sixty fans…including the away support…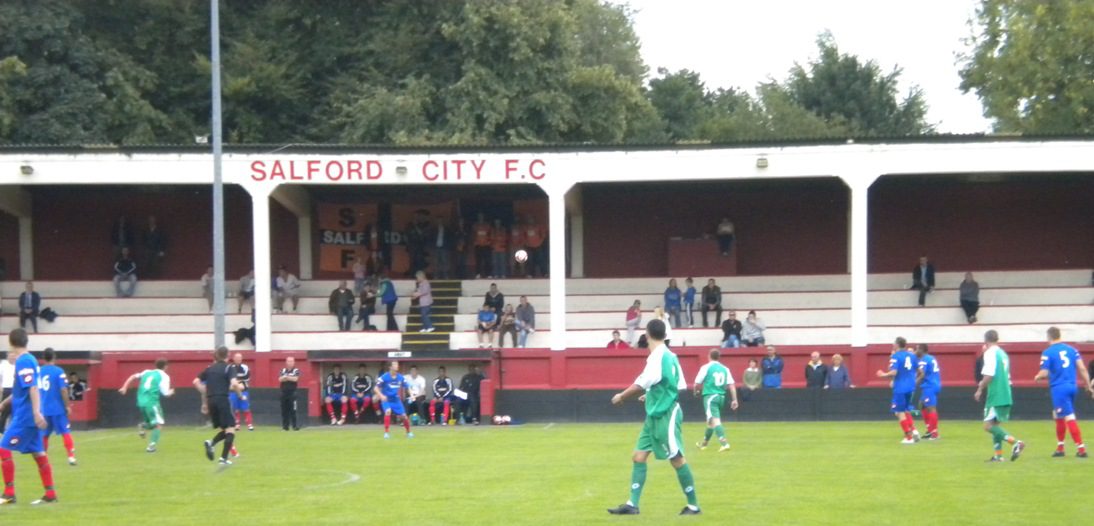 Behind one goal, there were kids playing their own football game, and behind the other goal was a makeshift car park, with spectators wincing as stray shots hit the posh cars. At the half way line on the far side was a small tinned roof enclosure, and on the near touchline was the big main concrete stand from where the atmosphere was created by, sometimes, on a good day, a dozen supporters…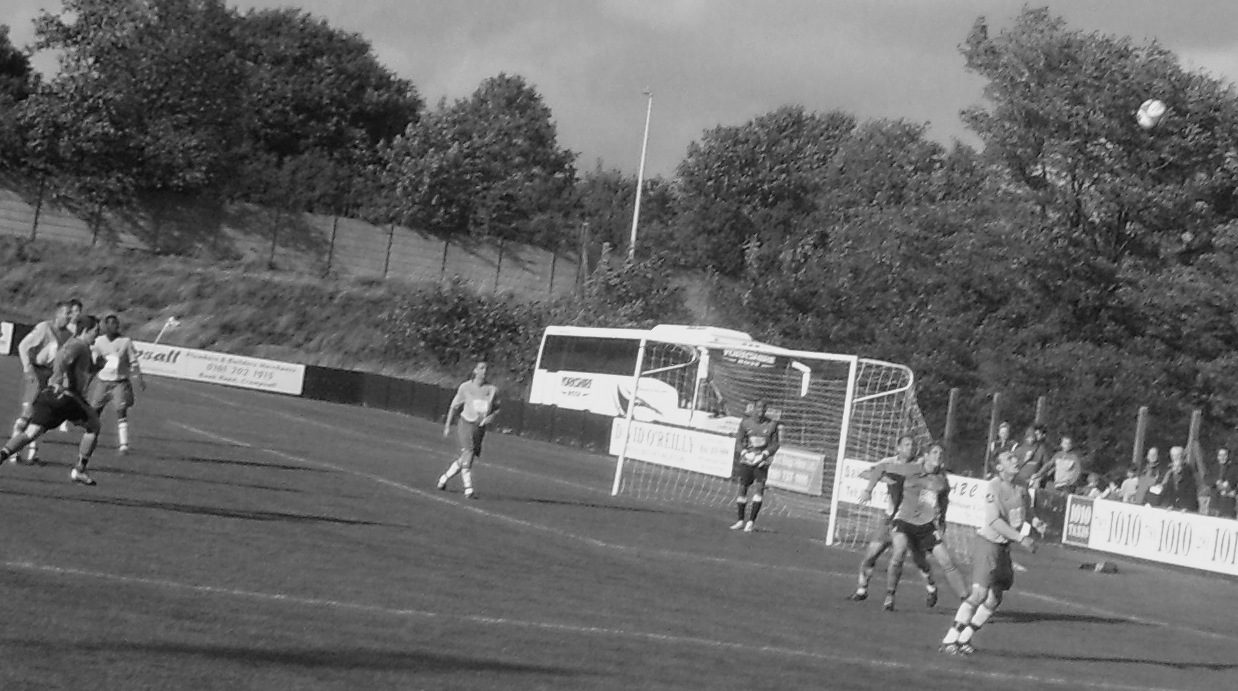 "I loved the old stand" recalls Salford super-fan, Richard Kedzior, who never missed a home or away match for two hundred games before the takeover, created three – yes three – tangerine Salford City FC banners that struggled to find enough fans to flourish them, and led the banging and chanting at the back of the stand…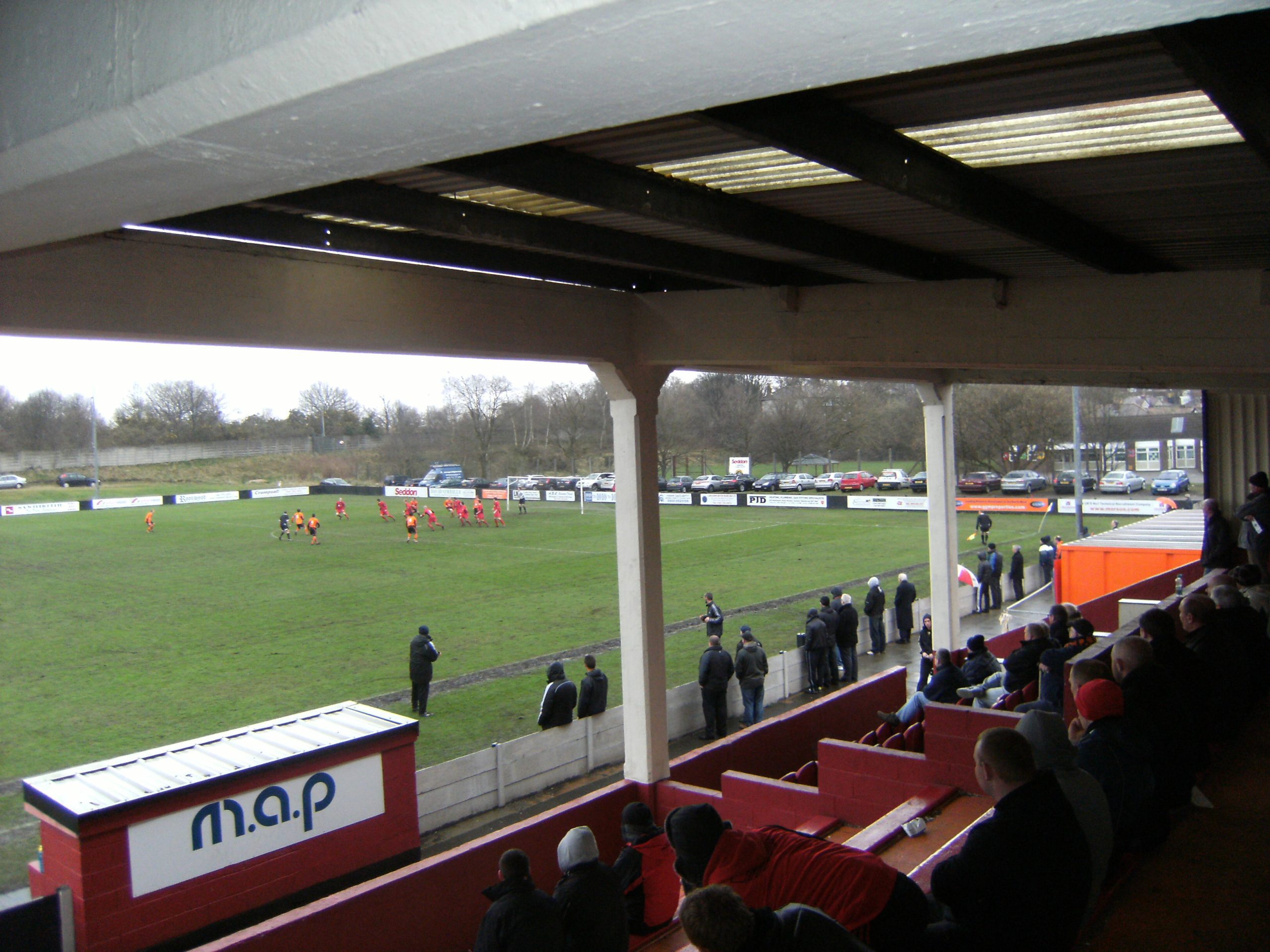 "People thought I had a drum but I was just hammering away on this board with my hand" Richard explains "It was unique, that art deco stand but the facilities underneath it were dire for the players. We loved it because it was ours. It was things like being able to drive into stadium and park behind the goal. You didn't even have to get out of the car; you could put your heater on and watch the game…"
…which, apparently, is what David Beckham did in the North West Counties days when he came to watch his Class of '92 teammate, George Switzer, play for the Ammies.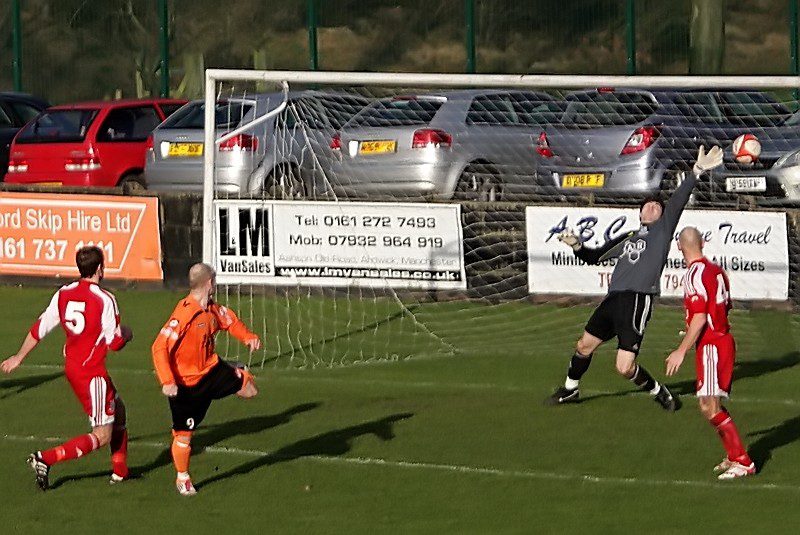 "We used to try and keep the supporters in the club all night so we'd have more wages for next week" laughs Dave Russell, Honorary President of Salford City and head of Newbury Autos "We had some good times. We bought the coach for the team and drove it everywhere but it got pinched from the Kersal pub. All the advertising boards around the ground were from my mates in the motor trade; anyone who did work for me had to have a board…"
If the team played at home twice in a week, they would sometimes have to wear the green away strip because they didn't have enough spare home kits. Meanwhile, replica shirt sales were limited to say the least, while Tony in the souvenir cabin sold home-made cards with pasted on Salford City emblems and home-made key rings with players' photos. Unsold programmes were piled up waiting for the odd ground-hopper to add a few to his collection. There was even a non-selling tangerine umbrella…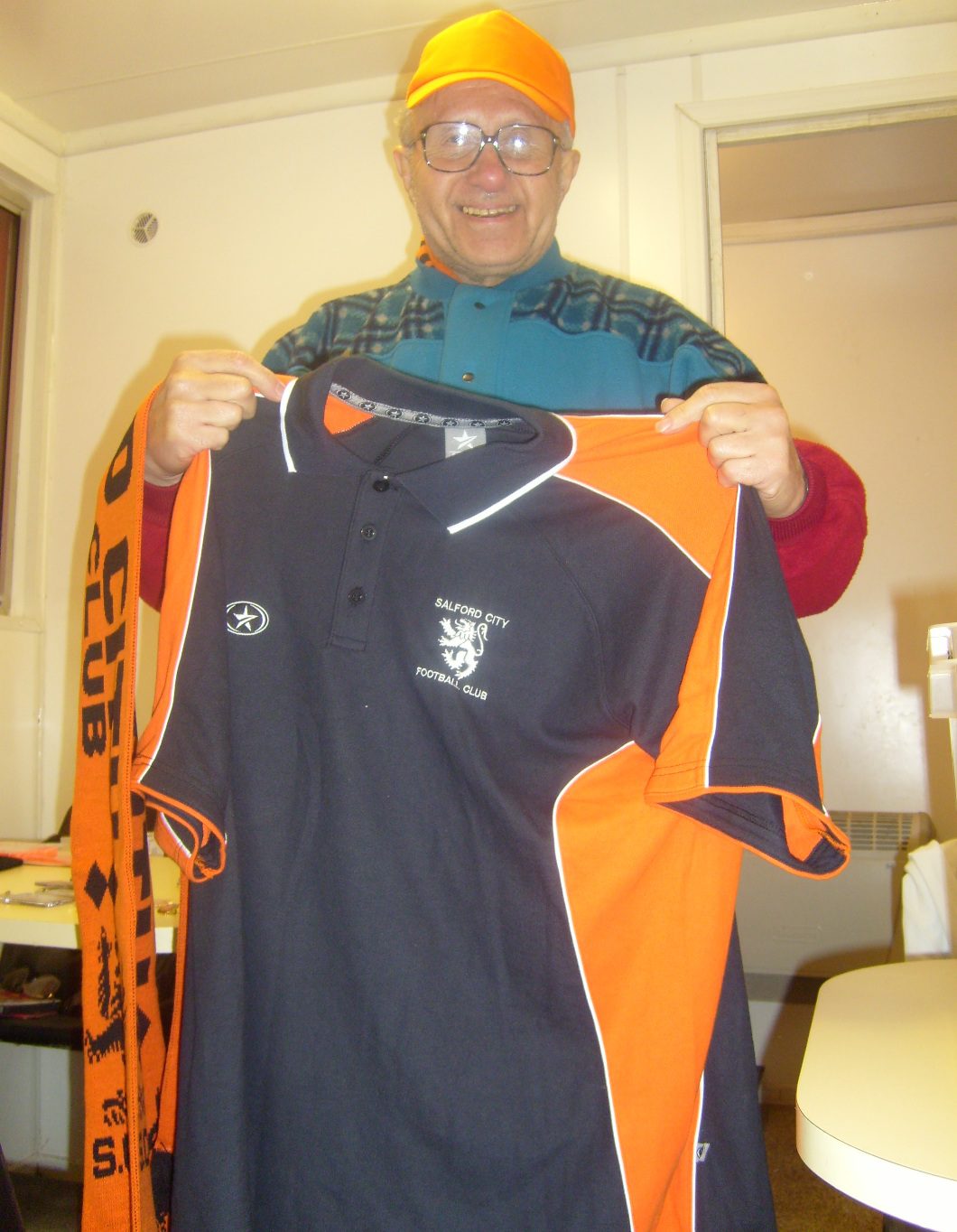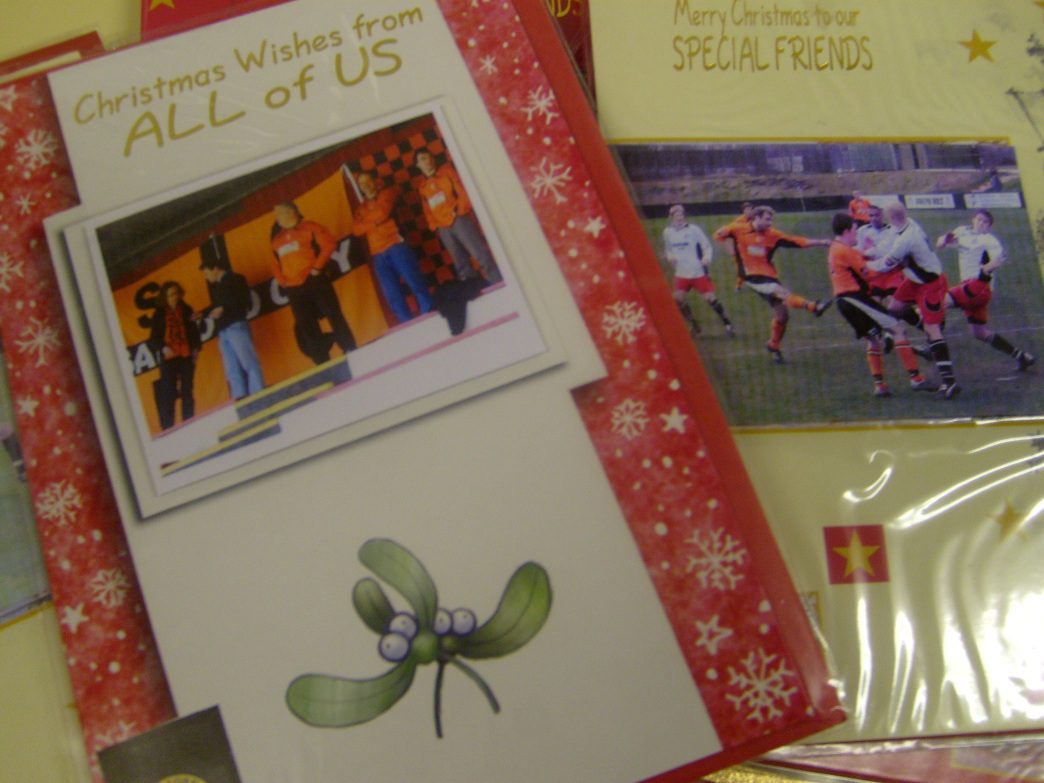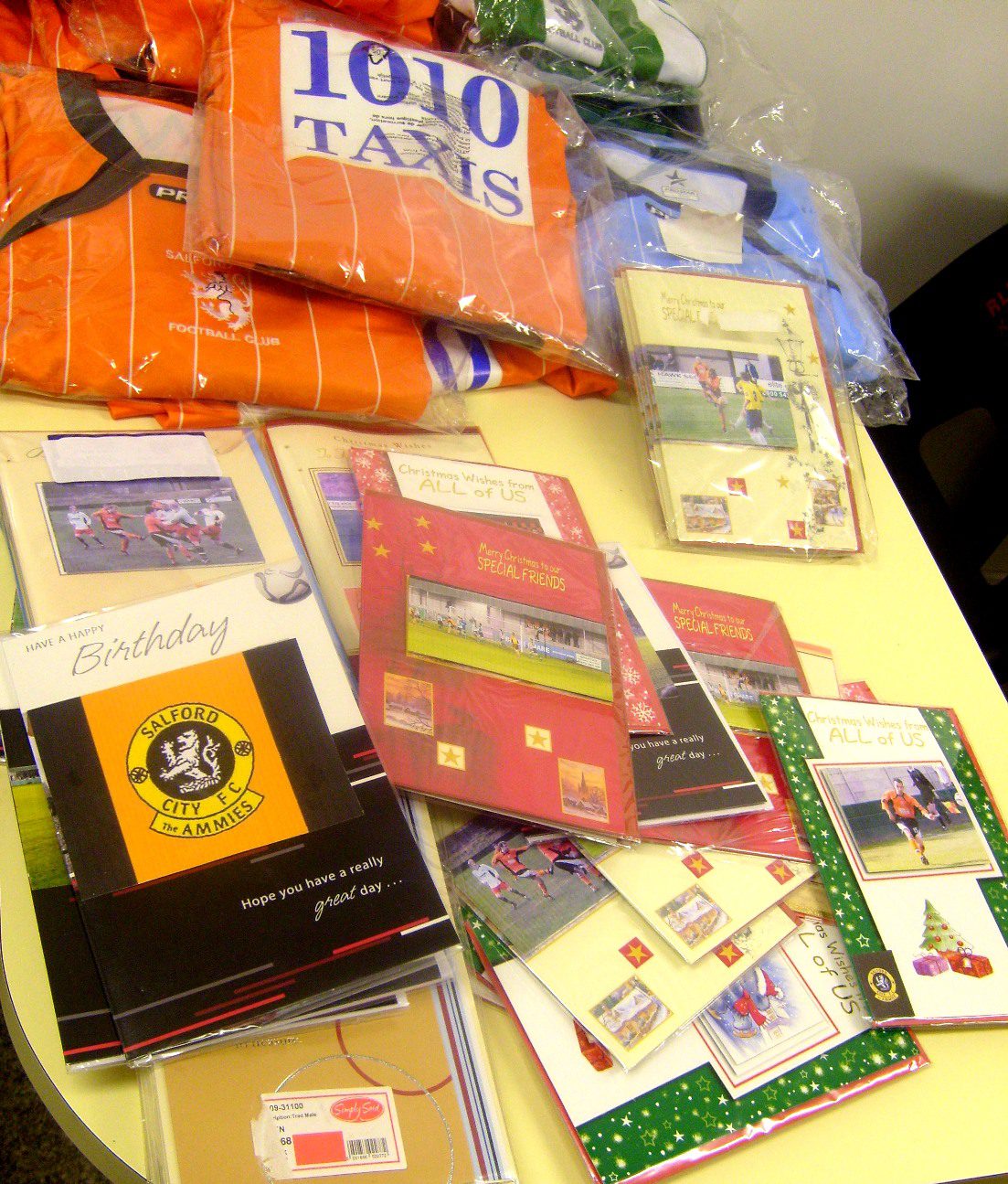 For big games, supporters jumped on the team coach, while players and management shared their after match 'lounge' experience in the clubhouse with fans, and committee members were always thanking people individually for coming to watch.
Opposing supporters were astounded on their first visit to Moor Lane, given the city's reputation at the time…Get this from a Scarborough Athletic Fans Forum…
"…cos I know that with the guns of Lower Broughton and the baseball wielding gangs of Ordsal we are stuck in the middle and i'm not sure where the knife users live…I think we may need to hire a fleet of armoured cars on that day. As an example a couple of local pubs are surrounded with razor wire (to keep out burglars), have steel shutters over the windows (to protect from drive by shootings) and defensive walls of breeze blocks. I think you can say, this is an interesting place…"
What they found was more akin to a village cricket ground, with the historic St Paul's Church landscaping the ground, the heather strewn Kersal Moor across the road and 'gangs' of gentle Orthodox Jewish people walking 'the 'hood'.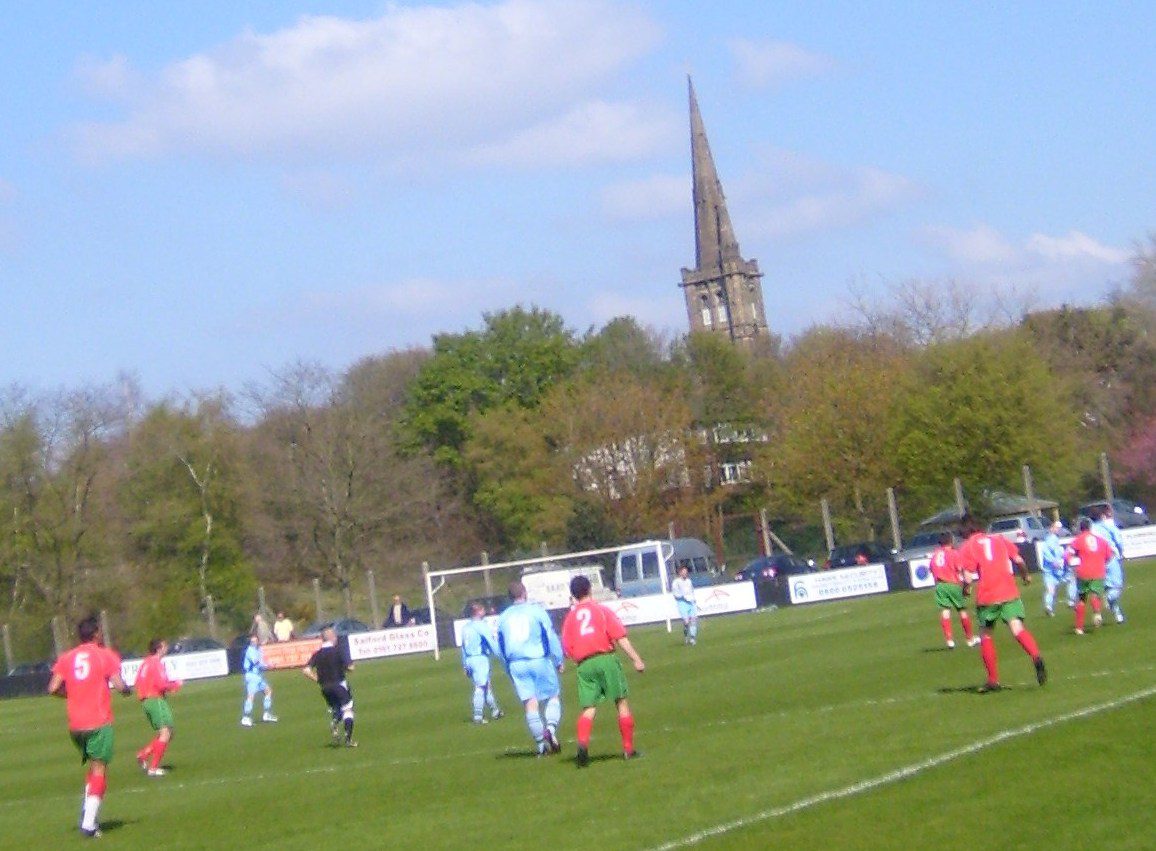 "There's a quaintness about football at that level" says Richard "I was drinking with the committee, there was that feeling of family…In the old days we accepted it for what it was because you had to work within your own means. When the clubhouse burnt down we were operating out of a tiny little shed and there was no beer on draft, it was freezing cold and you had to bang on the tv to get a reception while someone held the aerial outside!"
Indeed, after the clubhouse burnt down in 2009, Salford University students designed a new stand that had room for about fifty people, in a competition judged by trendy developer Urban Splash. The club sold Perspex plaques at £10 each, featuring 'actual cuttings from the playing surface at Moor Lane' to help finance the marvel. It was never going to be built.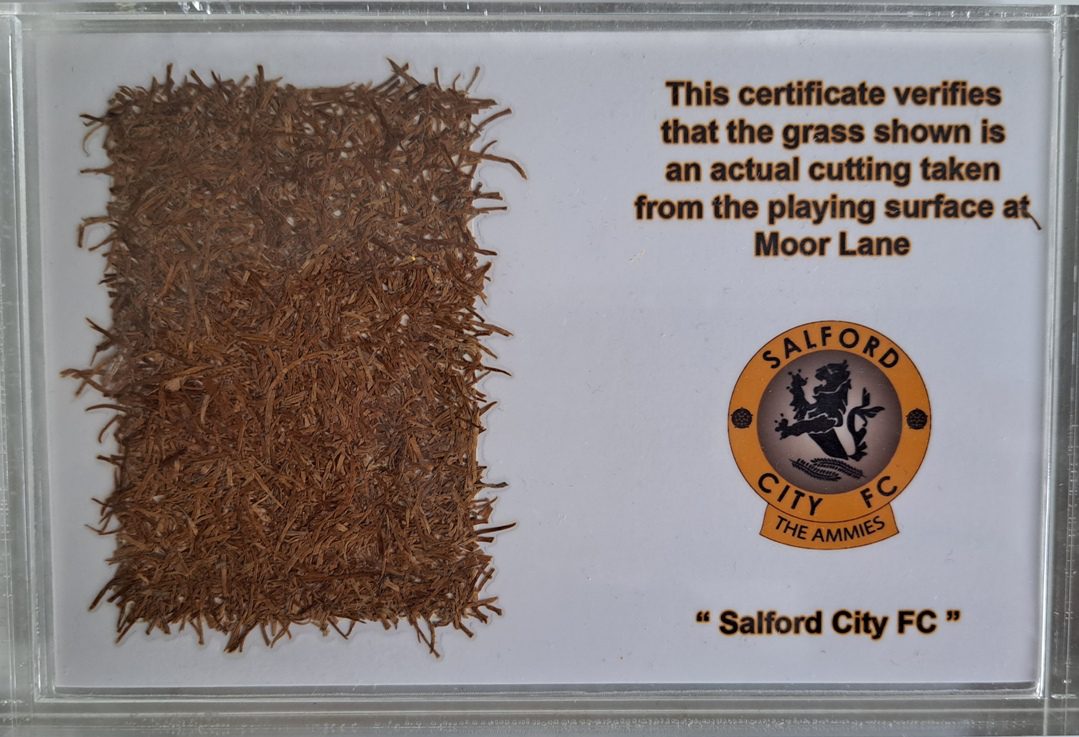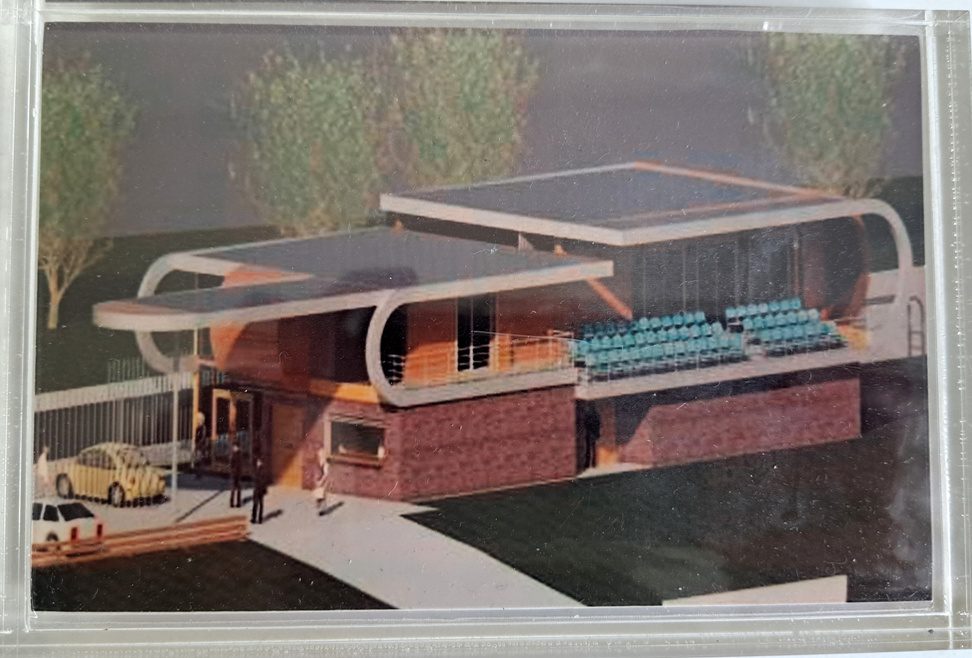 "Other teams had little things that we didn't have at Salford, like when we played Hyde United in the FA Cup they brought out an illuminated substitute board…we sang 'Let's all have a disco!'" Richard recalls "Our dream at the time was to get into the FA Cup First Round, to go through multiple qualifying rounds and play a Football League team. We nearly got there, playing Blyth Spartans in the Third Qualifying Round, before getting beat in extra time away in the replay. The Football League was an impossible dream…"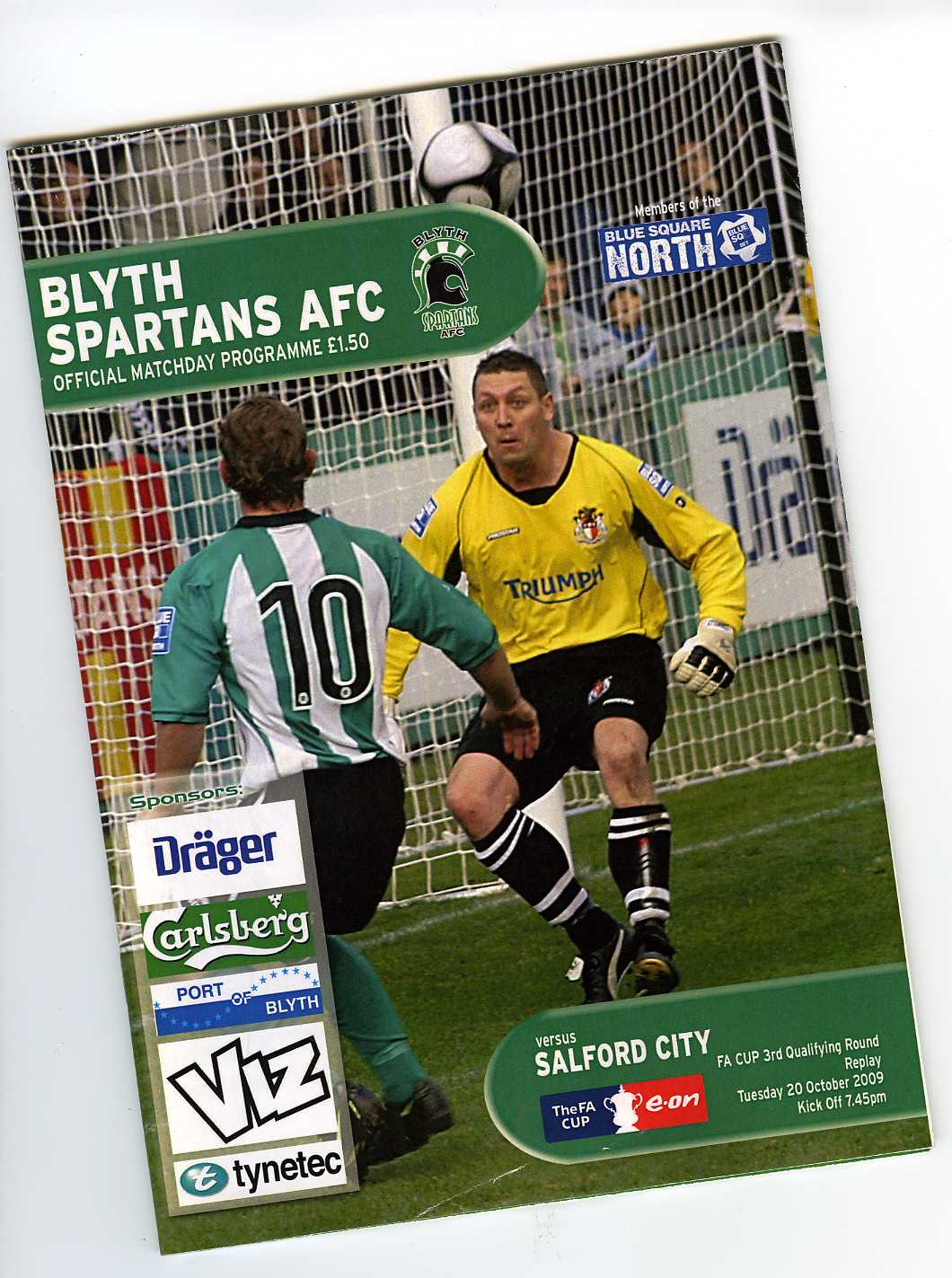 At this time, Adam Boubrahmi used to come with his dad, Carl, to all the games…"It was proper non-league…We knew the chairman, the players…Salford enabled myself and my dad to go and watch local football. We couldn't afford a season ticket for United and it was brilliant when we went. Many memories were made, many memorable away days!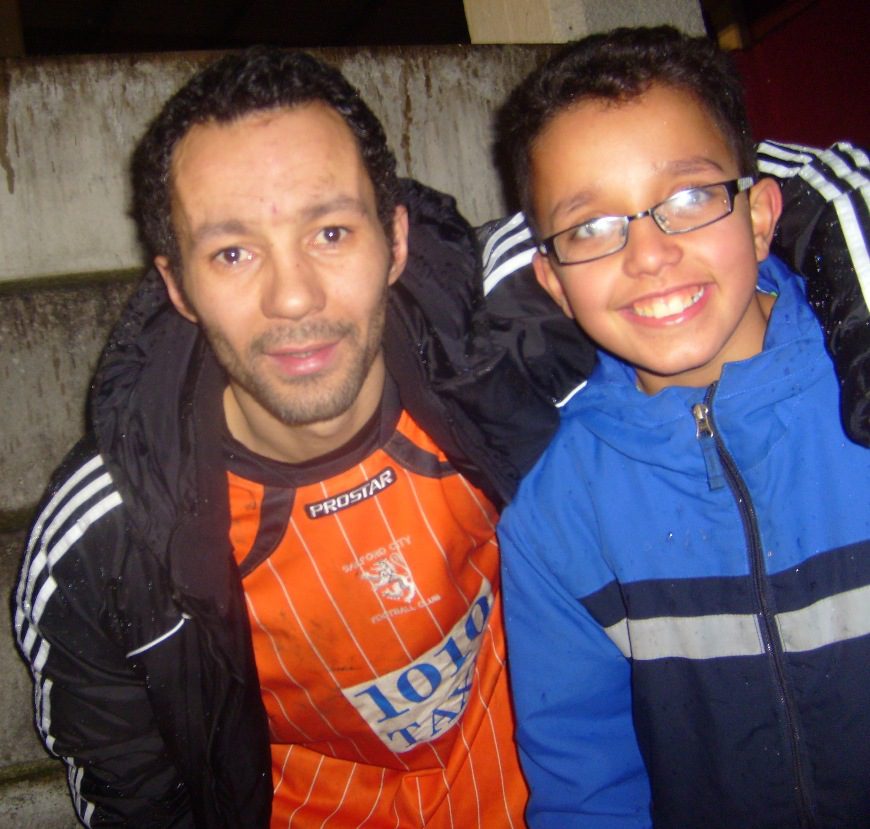 "I was proud to support Salford" adds Adam, who is now 24 "We always wished we could climb a little bit up the non-league; maybe at a similar level to what Alty are today. A yoyo team at the top end of semi-pro…"
Darren Quick, who played centre back for Salford City for two seasons from 1990 and had gone on to play for Accrington Stanley for seven years, came in as Chairman during the latter North West Counties days, and had huge ambitions for the club, but remembers how hard it was…
"I had a business locally and the opportunity arose to get involved at Salford and try and push the club forward with some investment" he explains "It was hand to mouth and struggling…It had no money, no sponsorship, so I was pretty successful getting boards around the ground, golf days and general fundraising. On the pitch, Gary Fellows was in charge and had a great side of predominantly Salford lads – but off the pitch it was challenging."
Once promotion to the Evo-Stik League was secured in 2008, it was challenging on the pitch as well…Before 28th March that season, Salford hadn't won at home at all and were rooted to the bottom of the table…
"We stepped up and really struggled with the standard" Darren recalls "All the permutations were that we were down, and then we changed the manager and went on an amazing run. We went from not being able to win a game, to not being able to lose a game."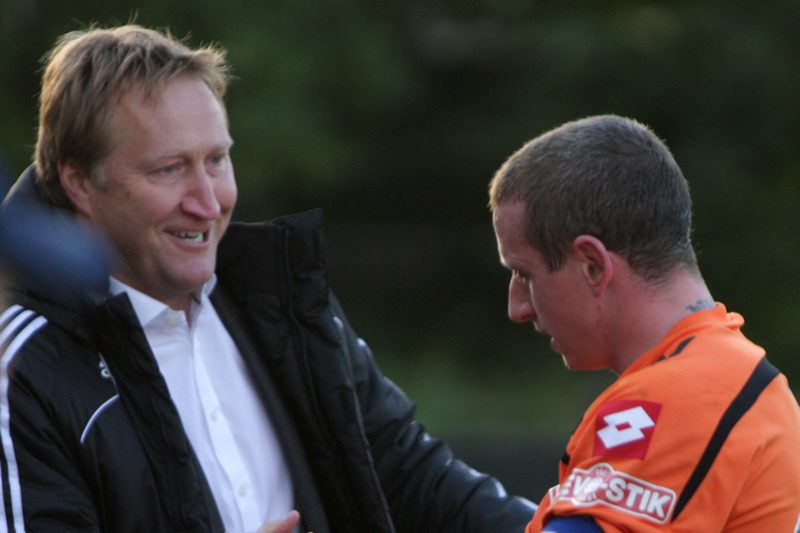 This was the season of The Great Escape when, with the team languishing, Darren and Dave put their hands in their pockets and produced virtually a whole team of new players, including ace goal scorers Steve Foster and Stuart Rudd…
"We were left needing to win away at Garforth Town, and Rossendale had to get beat. They got beat and we won" Darren reflects "We were sat in the back of the car, me and Dave Russell, working the wages out before the game. We'd incentivised a few players with a bonus. We were really rolling the dice to stay in the division."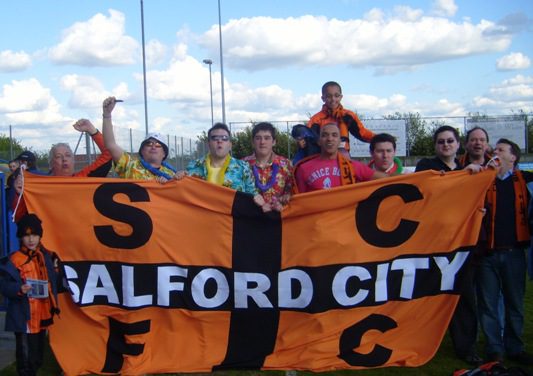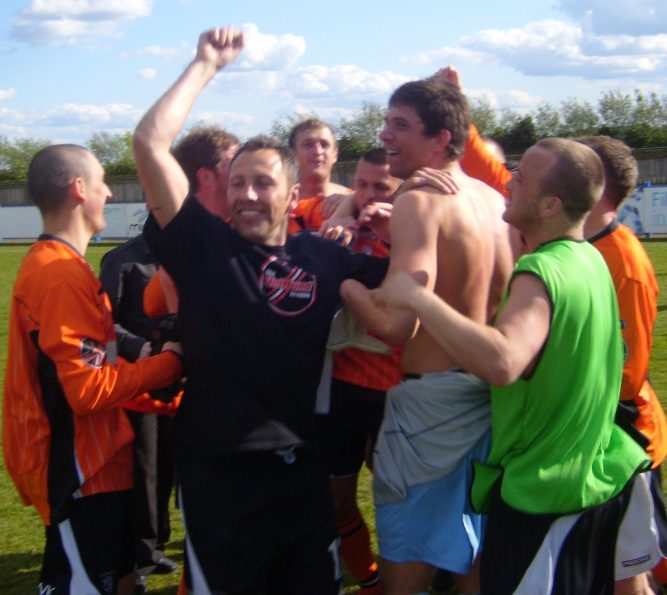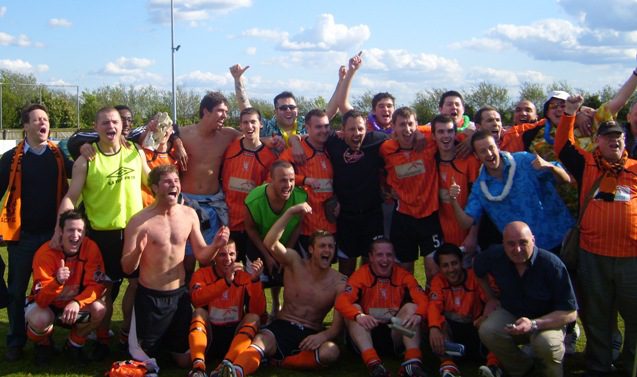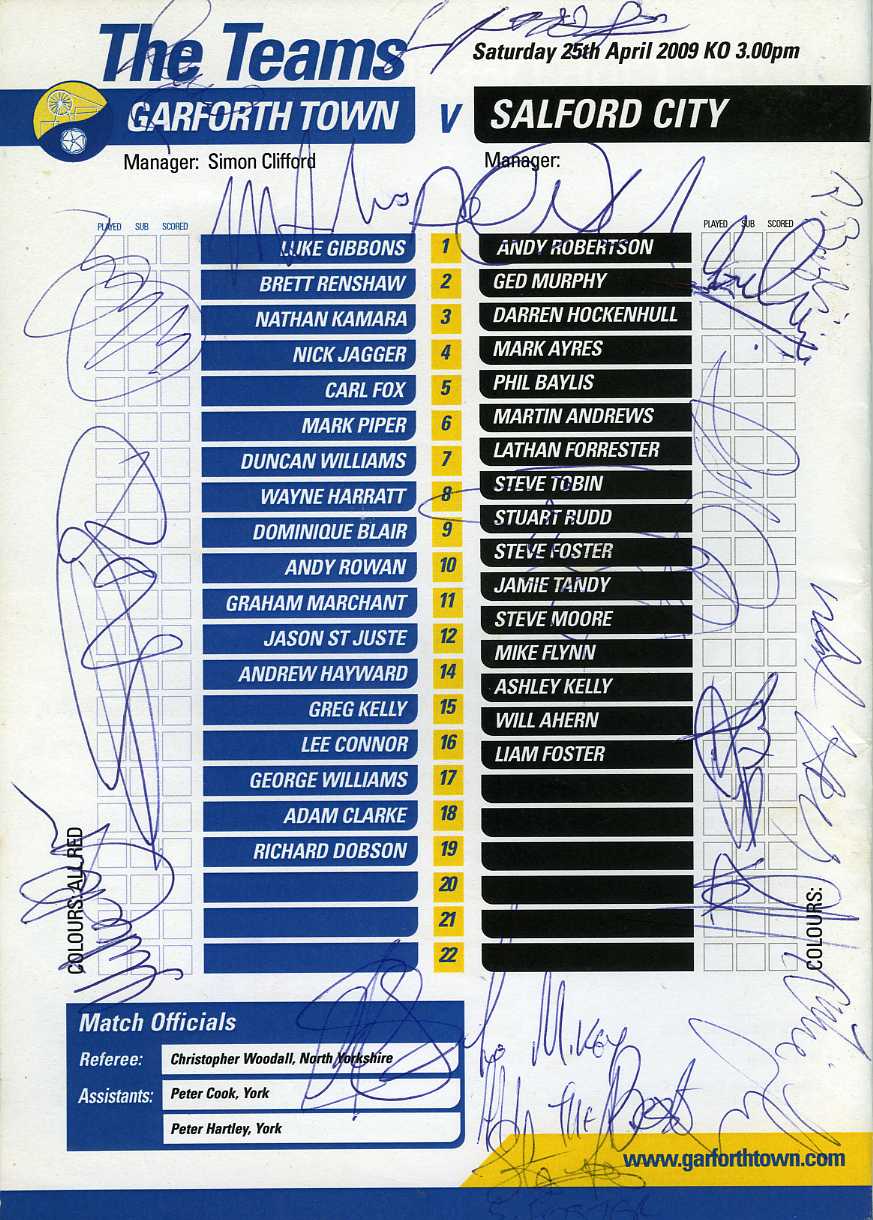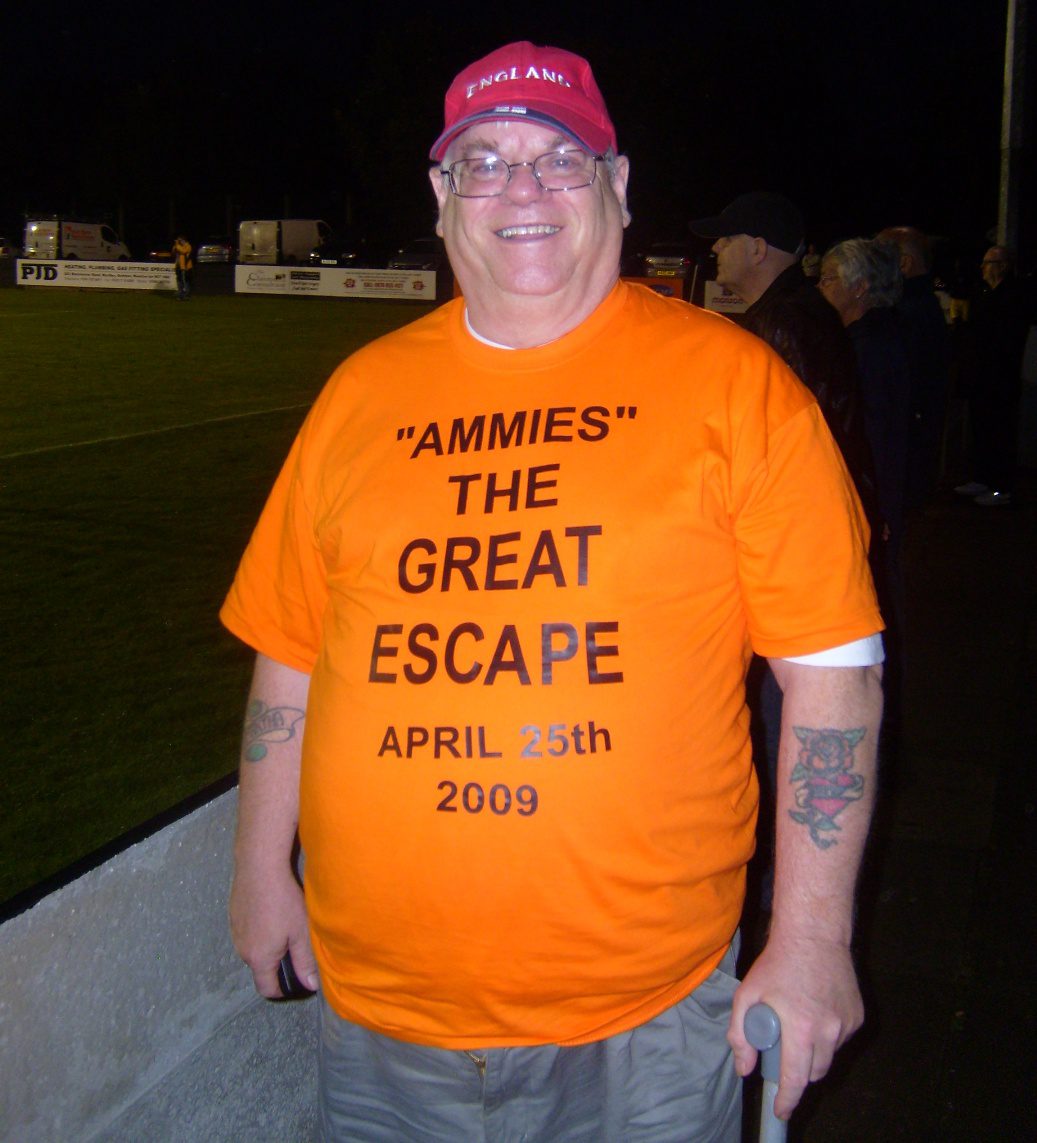 "I was drunk for a week after the Great Escape, with Steve Foster and all the lads" recalls Dave Russell, who, even a few years after the Class of '92 takeover, complete with promotions and FA Cup runs, cited the Great Escape as his highlight in the Class of 92:Out Of Our League book…
"That was the best moment for me at the club because we were dead and buried at the end of February" he said "It takes a lifetime to get into that league, and to drop out of it would have been soul-destroying."
In the same book, Ryan Giggs acknowledges the debt… "You hear stories like that about Garforth and staying up and it makes you appreciate the people, like Dave, who were there before us; they're what makes this club. Without them there wouldn't be a club…"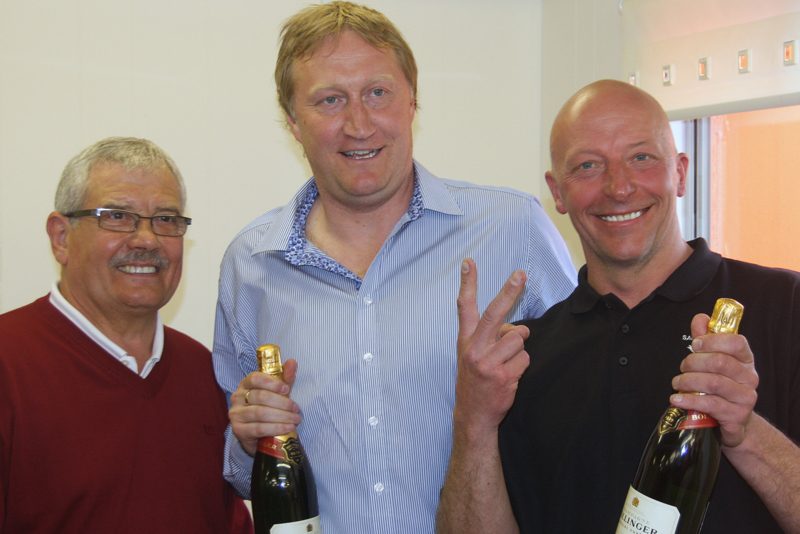 And without The Great Escape, arguably, the Class of '92 would have looked elsewhere for their new enterprise…
"Would they had taken it on if we'd been in the North West Counties 2nd Division with no money?  Probably not" Darren decides "There's no question that the club was in a nice position…four promotions off the Football League, we were well positioned – nice ground, the biggest city in the UK without a professional League team. We built it up, we had a lot of interest…
"I think we sold forty advertising boards at £500 a board which was giving us £20,000 a season" he explains "It didn't look like we were going out of business. I think it would be fair to say that they wouldn't have got involved without the effort the committee put in to push the club, shouting from the hilltops 'We're Salford'…"
Indeed, at the start of the 2010 season, Darren reckoned that another fifty paying supporters would lead to promotion (see here) Those extra fifty fans didn't come and promotion never happened.
However, even after The Great Escape there was never a dull moment, as Darren used to write in his programme notes about supporters 'fastening' and, 'loosening' their seatbelts, and "I'll tell you when to unbuckle them when the time is right!"…
Those seatbelts stayed firmly buckled…In this turbulent but exciting period, lots of not-so-famous brothers of big time players graced the tangerine shirt…
There was Josh Bardsley, brother of (at the time) Sunderland star, Phil Bardsley. Salford City was managed at one point by Darren Sheridan, brother of ex Republic of Ireland international, John Sheridan…and even Enoch Barwauh, the brother of Mario Balotelli, at the time playing for Manchester City, signed up but never played for the club.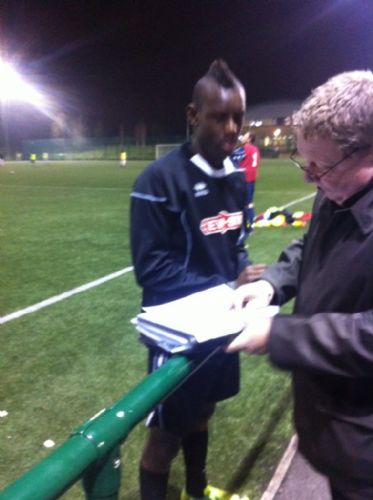 Salford City centre back, Adrian Bellamy, tweeted "Still can't get my head around it, Balotelli's brother trained with us last night ahaha"…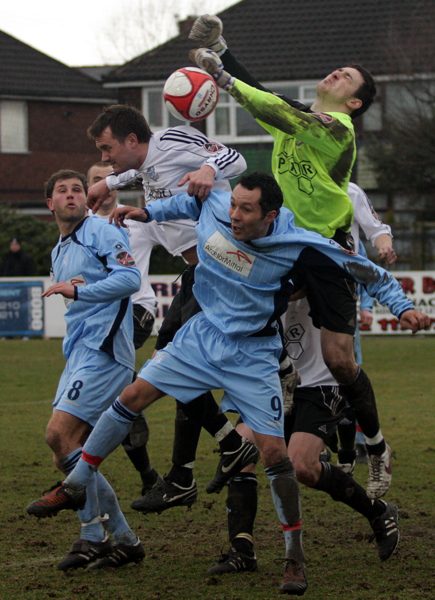 Meanwhile, Rhodri Giggs, top brother of Ryan Giggs, starred as a lethal forward, before becoming player-manager. In 2009, as Ryan won the BBC Sports Personality of the Year Award, Rhodri won the Salford Star Sports Personality of the Year, awarded to the sports person in Salford who has given the most 'attitude and love' on the field of play…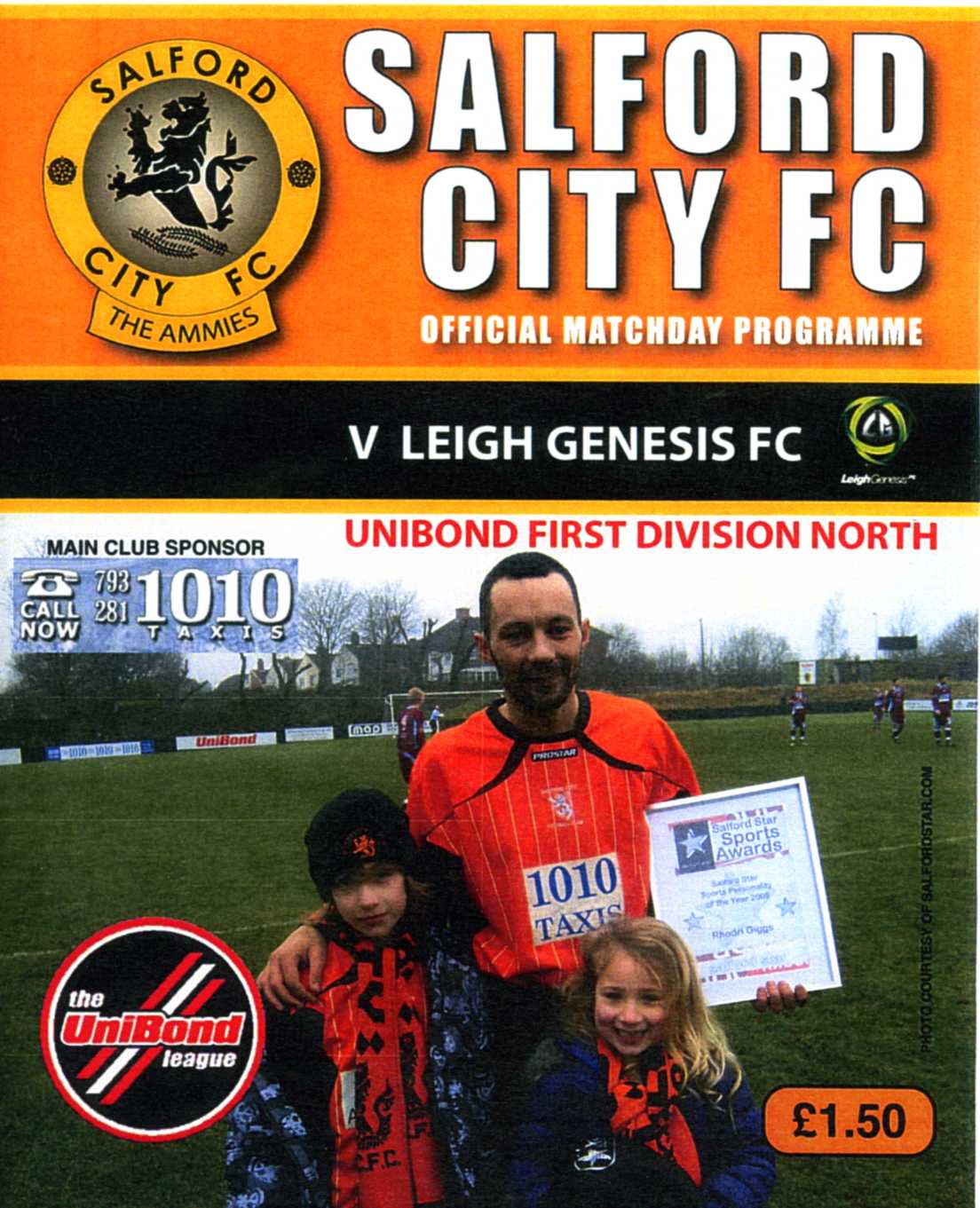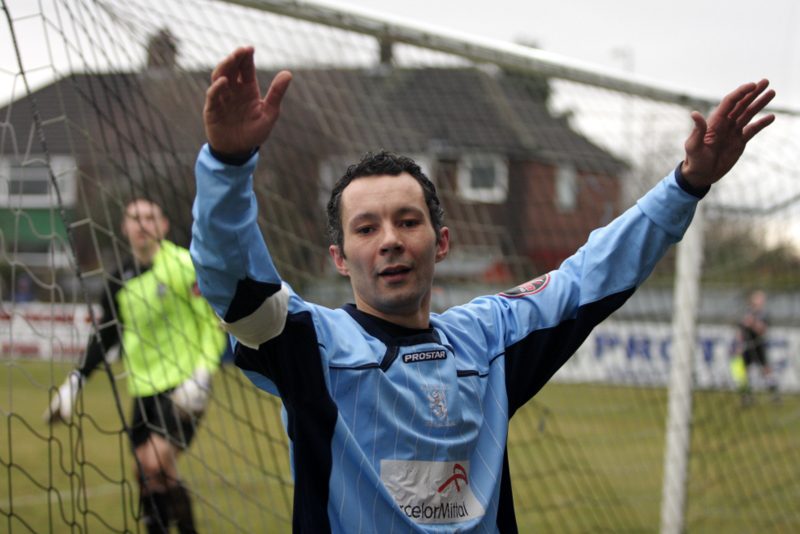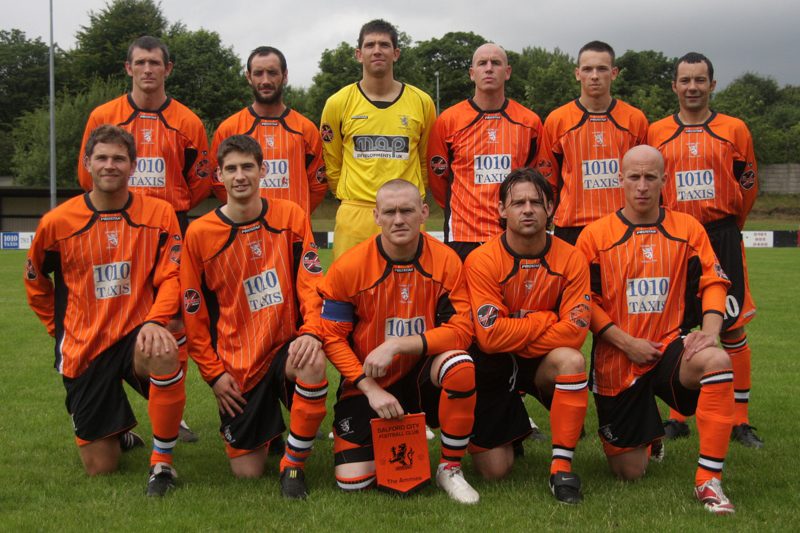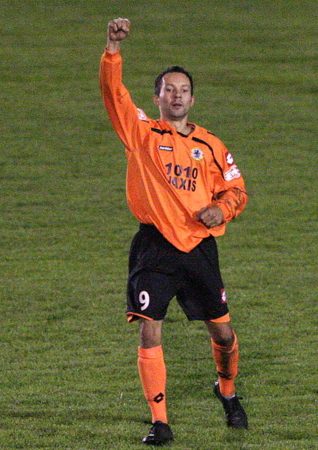 Rhodri, Darren and the fans also starred in the short, silent, very fortuitous, BBC film, Miracle at Moor Lane, in which 'The soul of football seeks sanctuary at Salford City FC'…from 'the monsters of football greed…' The film was premiered at the Salford Film Festival.*
While Rhodri was still managing Salford City, in 2011, the club was catapulted onto the front pages of all the tabloids which exposed Ryan Giggs' affair with Rhodri's wife, Natasha…Three years later, of course, Ryan Giggs was part of the Class of '92 that took over Salford…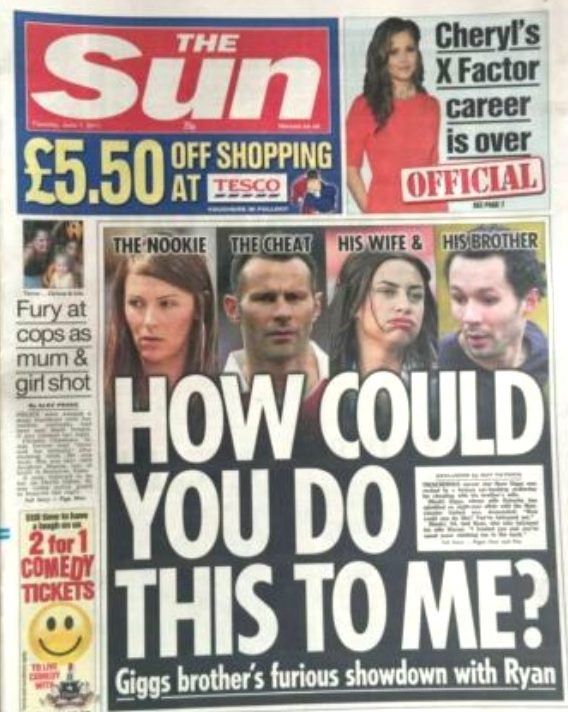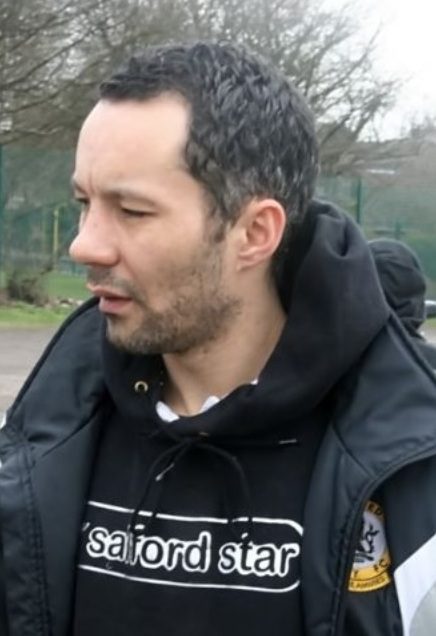 Rhodri departed Salford the following season, and Darren Sheridan had a management spell, calling, in vain, for the city to get behind Salford and come and support the Ammies. At the end of that 2012-2013 season Darren Quick, who had helped build the best teams ever at Salford City, and even had a stint as manager, stepped down as Chairman…
"I left because my lad was playing football, and I had gone as far as I could with it" he explains. "I was getting grief at home, and it was hard work. Karen Baird, who took over as Chair, put her money where her mouth was…"
For the 2013-14 season, the joint managers were Phil Power, formerly of the mighty Macclesfield Town, and Barry Massay, who had scored 46 goals for Salford during two spells at the club, and just taken non-league Hindsford to three successive Manchester Premier League titles before ground issues stopped them entering the North West Counties League.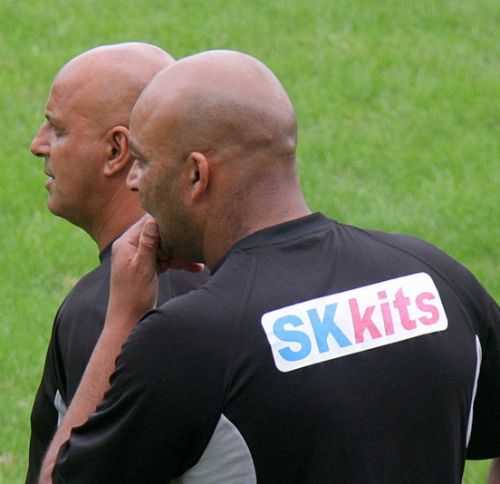 "Dave and Karen put the situation into my head" Barry recalls "Dave thought it would be a good combination, me knowing all the players and Phil being at some of the levels he'd been at. But he couldn't start because of his job, so I took on all pre-season myself.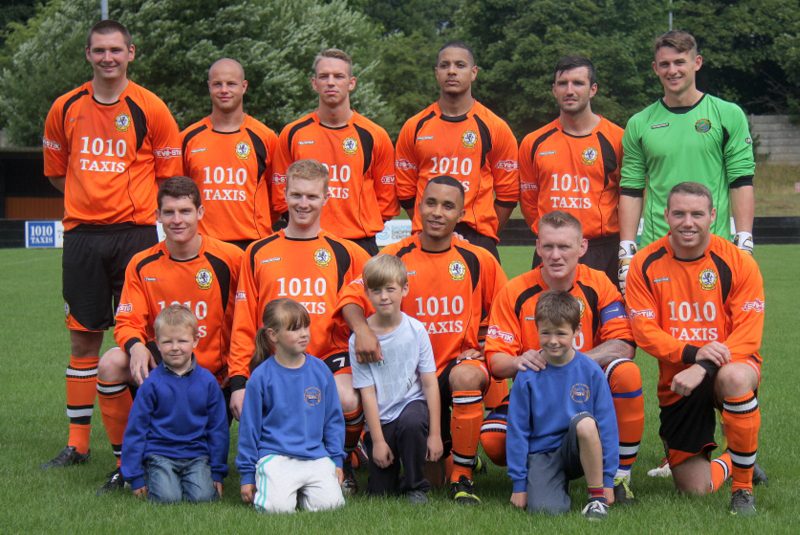 "We had something like sixty new players in pre-season" Barry laughs "and ended up with four players out of them." In came Spanish forward Fernandez Oriol, Yorkshire/Spaniard Eder Ruiz, and crafty French winger Nelson Mota. In non-league, in those days, this was a big novelty, with fans dubbing the team `El Salford'.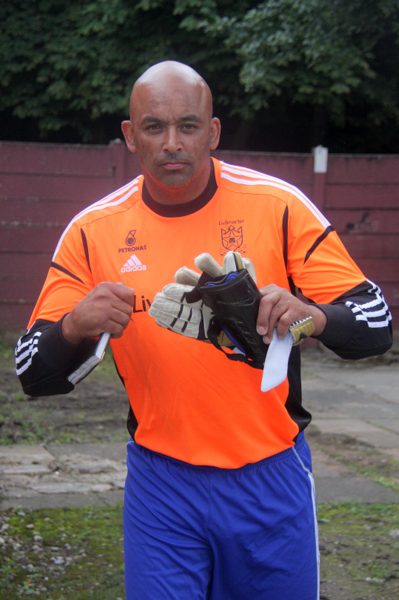 There was also a major Salford core in the team, with eleven local players in the squad…"All our players were on the same wage, £50 a player, but that was all I paid them and no arguing" Barry adds, explaining that he didn't even take wages himself when the team sometimes had to add to the squad through injuries "They weren't bothered about the money, they were bothered about playing for Salford. Money wasn't an issue. It was enjoyable bringing in the kids from Hinsdford."
For this new team, it was a big step up as Salford languished in mid-table. And in the final third of that 2013/14 season news broke that the Class of '92 were to 'invest' in Salford City FC (see here).
"I heard some time before the official announcement was made, I was taken to one side, asked my opinion and I had no objections" recalls Richard Kedzior "I would have followed Salford no matter what league they were in, even if they'd dropped down the pyramid. You follow them irrespective, but that opportunity…I can't believe that any football team would have turned that away.
"It was more sensational because of who it was" he adds "If it had been Fred Bloggs, multi-millionaire who was born in Salford and was living in Spain, it probably wouldn't have made the news that it did. But it was unheard of for a conglomerate of former professional footballers of their stature to be interested in a team that basically no-one was interested in, apart from a hard core support that very rarely exceeded one hundred."
"I was very excited when I heard about the takeover" says Adam Boubrahmi "Salford City had been in a bit of a rut for a couple of seasons. There was a lack of direction, lack of ambition and it was nice to see Salford itself being invested in!
"We didn't think it was possible" he adds "We still enjoyed going to non league; the culture was still good at the club, but we always wanted to take that next step because we thought we had potential to grow as a city and be one of the non league pillars in the north west."
"I think we first heard murmurings of the takeover when we were playing away at Kendal towards the end of the 2013/14 season" recalls long time fan, Mark Percy "I remember being very excited about it all. I'd often thought about Salford, my hometown, having a Football League team. So when the rumours were confirmed, I was buzzing."
"I was in Cagliari in Italy and I read it in the Gazetta del Sport!" says Dave Farrar "Nearly fell off my chair…."
"Mixed emotions" decides Marlene Brent "but best thing for the club going forward…"
"I was excited, the same as the city" says Simon Williams "Everyone, red and blue, bought into it. I used to follow them, as my girlfriend's nephew, Liam Foster, played for them. In those days it was thirty men and his dog…"
"Best news ever, Salford on the map" says Ian Mallone, who now runs Buck's Bar at the club.
But Paul Mac, whose `A View From The Crowd' page had been running in the Salford City programme for a long time, made his opinion known in his column…
"Last week's…story…read more like an act of terrorism from the Gang of Five than a takeover of a small club by a group of multi-millionaires. The proposal to change the name of the club to Salford '92 was egotistical, the move to the white elephant AJ Bell Stadium suicidal…
"…Fears have been assuaged (for now) by the club stating there will be no change of name, colours or ground (for now), but the initial story left me feeling as helpless, unwanted and angry as a Ukrainian living in Crimea" he added "…regardless of any success, without your identity you have nothing…"
Even those fans who were originally thrilled at the prospect of the Class of '92 arriving began to have doubts, particularly with the change of colours from tangerine to red…
Mark Percy recalls that his 'buzzing "soon turned to trepidation with all the changes that were taking place. But I was still happy with it because I'd thought about getting to the Football League a lot and now it was a real possibility. It was like a dream come true."
"There was no reason for me to doubt that it was a good thing in the long run" says Richard "One major objection was the change of shirt. That, still is the one thing that I'm not happy about. At the time, they said that the only reason it was tangerine was that Blackpool had lent us their kit which wasn't true, and that Gary Neville didn't like the colour. I'm still tangerine to this day, and the tangerine flag always goes. But you're not going to turn away that sort of investment to take your club to another stratosphere…You would have been considered mad to even believe that could happen to Salford City FC."
"I had mixed thoughts" says Darren Quick "I was out of it by then. Part of me was  a bit saddened that I wasn't there to work with these people. If you have that money around you, you are going to go places. My understanding is that they cut their teeth in Salford playing at The Cliff, and it was why they chose Salford…although Bury was ready made. I suppose it was because they never had to pay for Salford City. It was free of charge. They never said to me, or Dave, 'How much have you put in over the last seven or eight years, we'll reimburse you?', or offered the committee to retain some shares. But I was out of it at that point. I never dwelled on it and wished the club all the best."
In March, Ryan Giggs, Gary Neville, Paul Scholes and Nicky Butt turned up at Moor Lane to watch probably the worst game of the season, as the Ammies slumped to a home defeat by Curzon Ashton. They left twenty minutes before the end with supporters serenading them… 'We can see you sneaking out!'… (see here)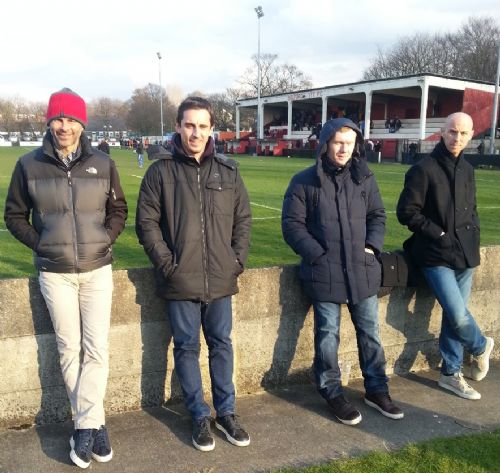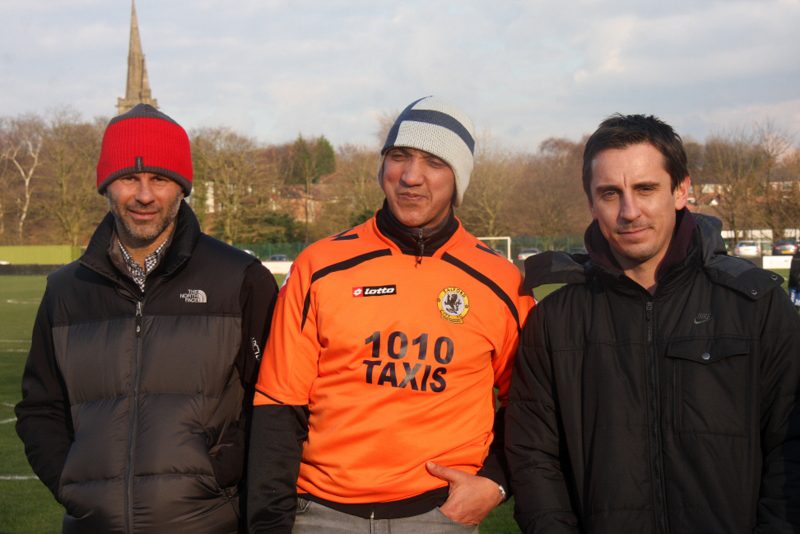 Shortly after, Gary Neville had a meeting with around thirty fans and showed a powerpoint presentation with the Salford City shirt changed from tangerine to red. The city's Thriller-dancing lion crest was replaced by a Lion King style image. Around a dozen hard core fans decided not to go on the Class of '92 journey and never went back…That was ten per cent of the support, equivalent of over five thousand United fans walking away from  Old Trafford if such an event occurred…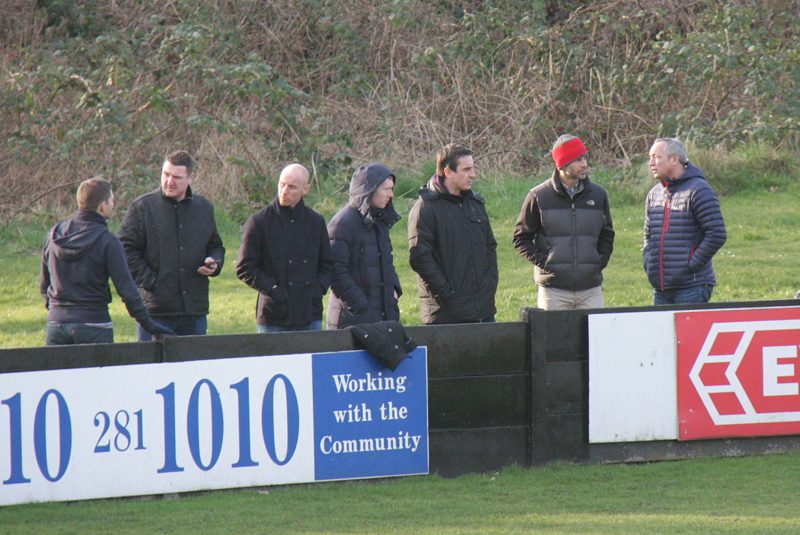 "The  changes came" says Mark Percy "Some good, but some bad such as the decision to change the club badge and colours…just my opinion. That drove some fans away, which was a shame as some people had been watching the Ammies for a long time and decided it was too much change…"
The disgruntled fans were soon followed by co-manager Barry Massay…
"The takeover? I couldn't believe it myself. I thought 'Wow…how is this going to work?" he recalls "I remember getting called in and Karen explained about them taking over. There was a lot of table sitting with Phil and it wasn't right.
"I was looking at what it would be like with a changeover, and do I want to be involved in it, prancing around in front of the cameras?" he adds "I wanted to take on the club I'd always wanted, and I wanted to do it low key. It wouldn't have mattered what I did at the start; it would have always been 'Oh they've bought it'…
"The biggest change was the kit. It did me in a little bit because we were the tangerines – that was the sign of what was going to come…" he reflects "I ended it at the start of the takeover. I actually walked in and resigned. I knew they wanted a puppet and not a manager – I said 'It's not for me, I'm a manager'. I told Karen; I put my resignation in and she said 'Are you sure?' I said 'I'm leaving it to Phil, I can't be a 'Yes' boy'…because that's all they needed at the beginning…"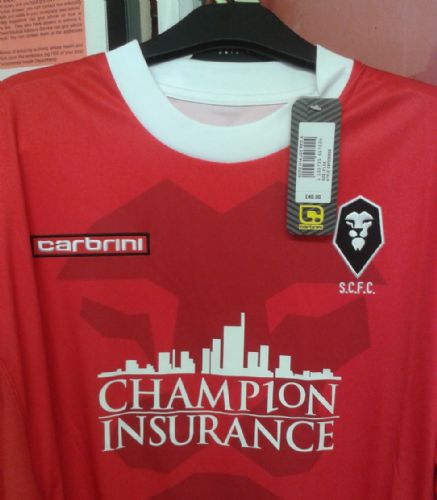 After all the media attention and the ructions in the club, Salford City finished twelfth in the League in that final pre-takeover season.
If some of the long standing fans weren't happy with the takeover, it was nothing compared to the wrath felt in the immediate local community….
Words by Stephen Kingston, who did the awful Salford City FC match reports for the Salford Star between 2009 and 2014 – see here 
For more awful Salford City match reports go to the Salford Star website archive page, choose a month and find a match – click here
There is also a good history of The Ammies on the official Salford City website – click here
See also…

* The Miracle At Moor Lane – How Salford City FC Saved The Soul of Football From The Big Club Monsters – starring Rhodri Giggs- click here

To follow…
The Class of '92 v The Community
Salford City FC SInce The Class of '92 Takeover
The Class of '92: From The Cliff to Treble Champs to Moor Lane – What were they doing on Bury New Road? – click here
The Class of '92 From The Cliff to Moor Lane: Is there magic at work? – click here