It was in October 1997 when a giant 8ft tall badger arrived at The Cliff and confronted players as they were coming out of training. It was captured in this extract from the Daily Telegraph…
"It's a normal day at The Cliff, Manchester United's training ground located in deepest Salford. Beneath the bullet grey clouds the most glamorous players in Europe are filing out in sporty cars that cost more than the average salary of drizzle soaked mums and dads who have waited hours with kids to meet their heroes.
Some players sign an autograph or two from rolled down windows. Others drive straight through the small gathering with more important things on their minds. Then, the strangest thing happens. At the gates an eight feet tall badger appears holding a placard reading 'M.U.F.C. – Most Unfair For Creatures'…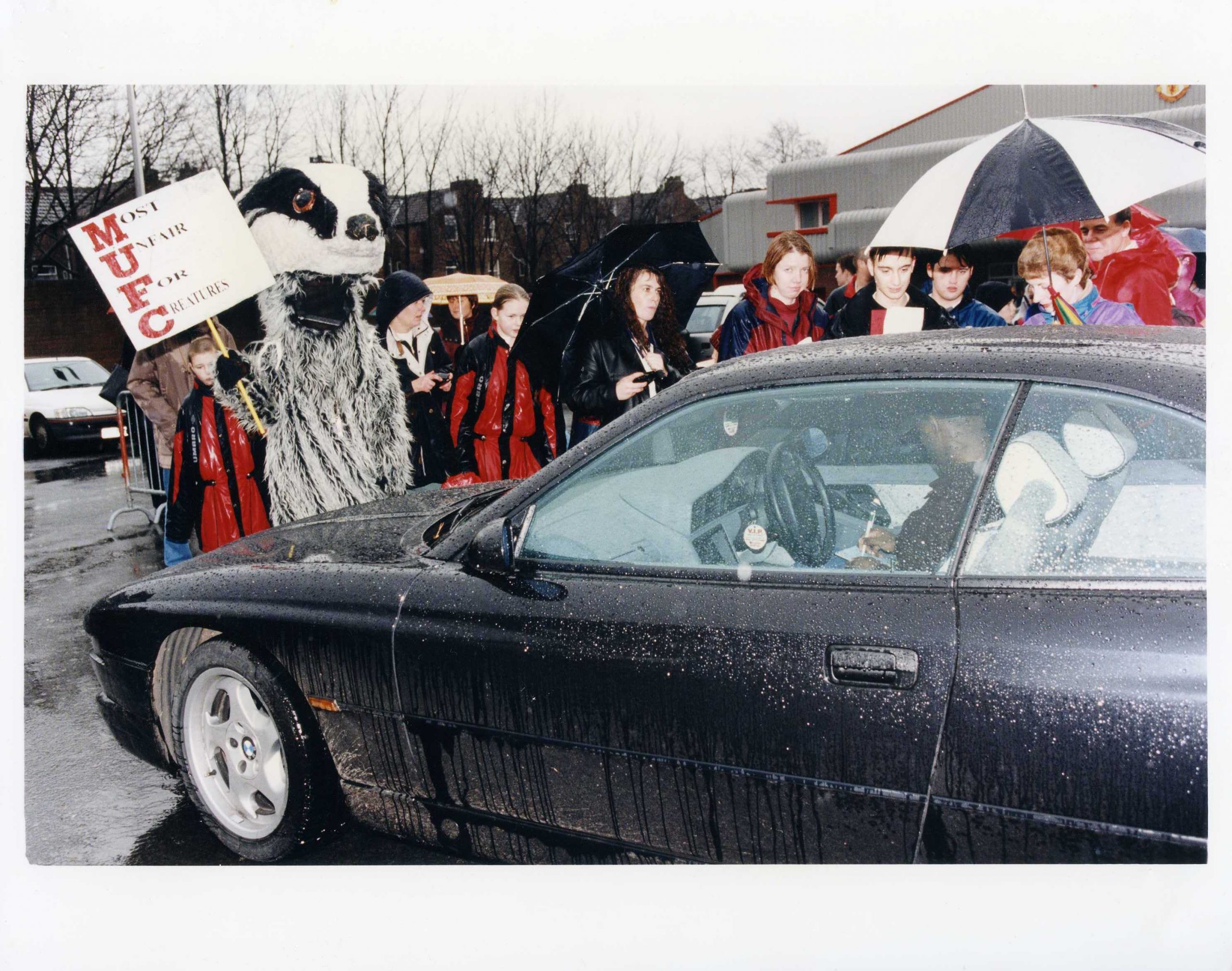 It, er, badgers England striker Teddy Sheringham, sat signing photos in the safety of his Ferrari. What does he think of United building their new training ground on green belt land? "As long as it's nearer my house I don't care" he decides. Politely.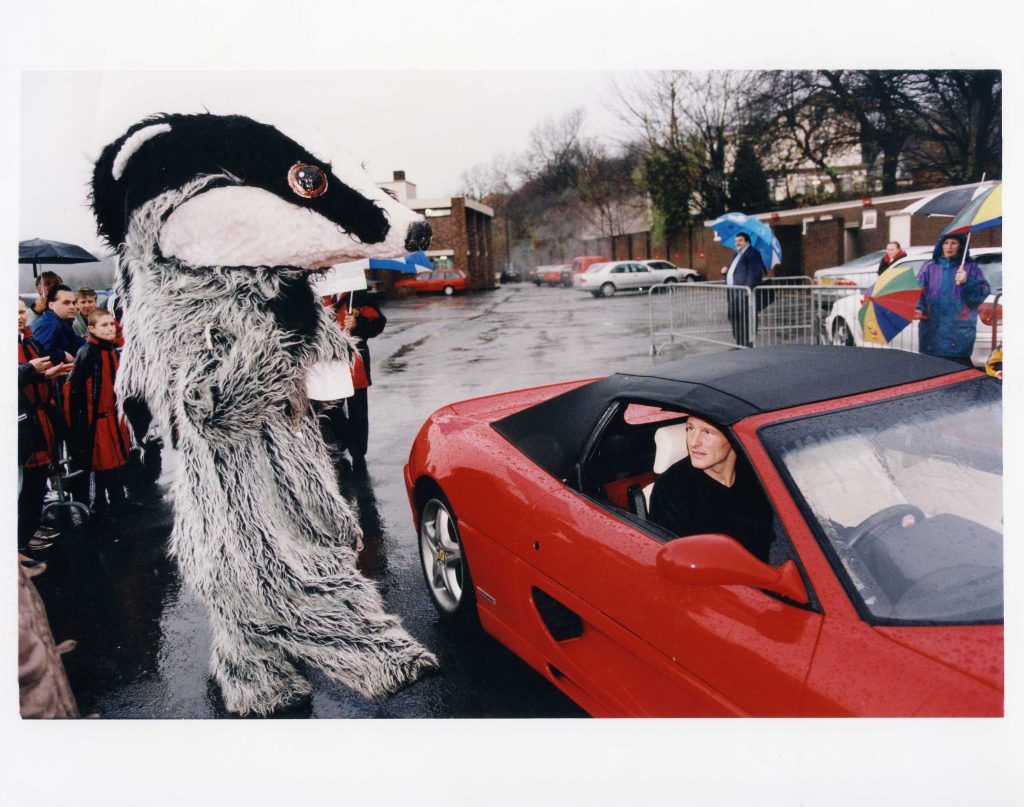 Next out is Ryan Giggs. Does he agree with evicting furry creatures to further United's corporate ambitions? "I don't know anything about it" he mutters, taking a leaflet imploring him not to 'put the boot into Carrington Moss'.
Goalkeeper Peter Schmeichel – a veteran of Manchester City Council's 'green campaign' – panics and almost runs the protesting critter over in an attempt to escape the sort of ear bashing he usually dishes out to his defenders. Startled centred forward, Andy Cole, agrees to give it some thought…
…Here is what most consider to be the most powerful team in the world getting seriously worried by a great big fluffy badger. In the publicity battle, it's the newly formed no-hopers Carrington United 1 Manchester United 0.
The area that United wants to turn into a multi million pound luxury training complex – including 15 football pitches, car parks, running tracks, accommodation and indoor facilities – is currently grade II agricultural land based on Carrington Moss.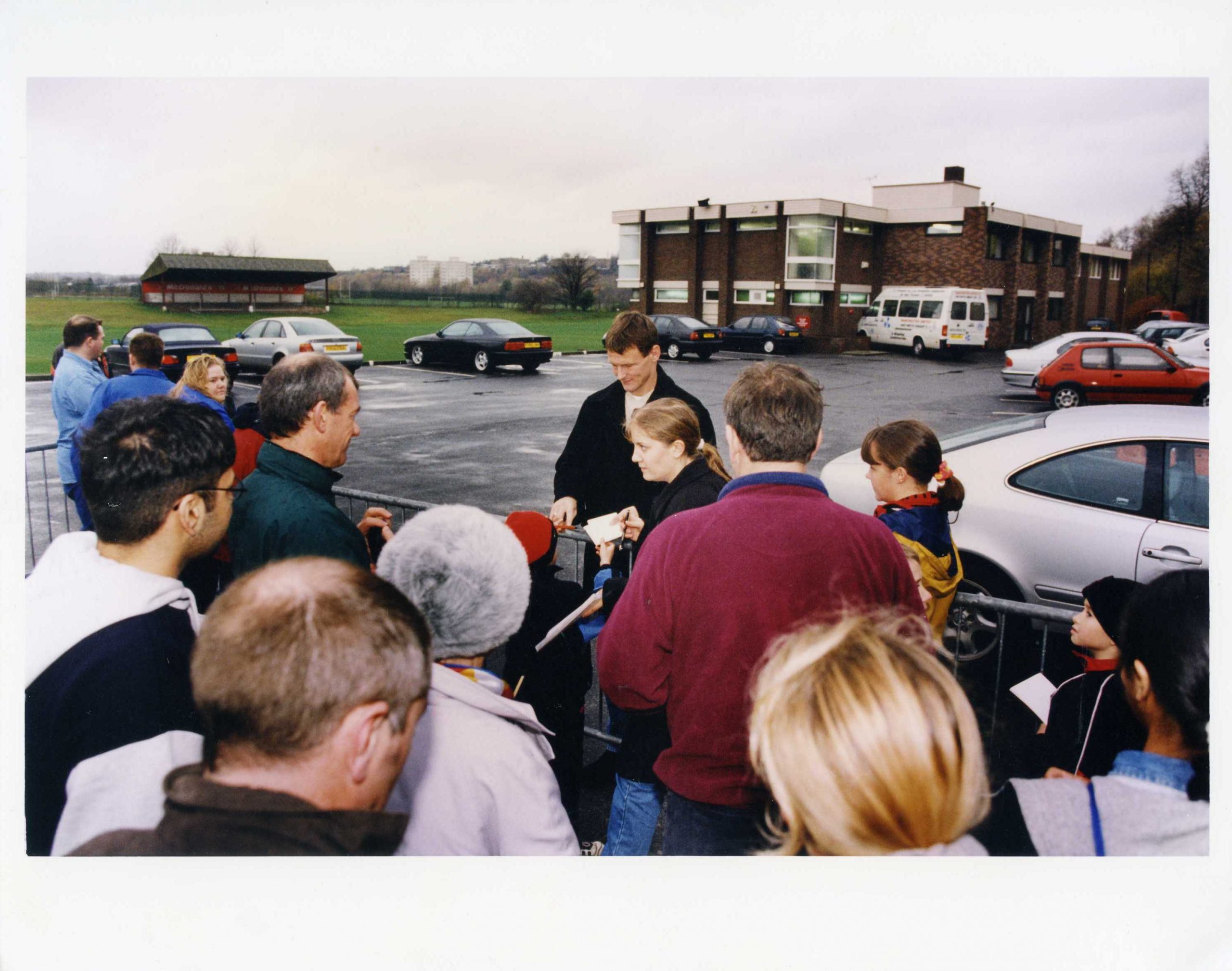 The Moss is wide open land which, if dropped in England's Vale of Evesham, would be pretty unspectacular with its brown tinged views of ploughed muddy soil, hedgerows and bare trees. But placed in the middle of Carrington's huge housing and industrial states it becomes almost an Eden of fresh air and foraging birds, away from the constantly choking traffic of the nearby A56 and the rusty steel skyline of Shell plants and pylons…" (etc)
Three years later, in March 2000, The Times reported from the new Carrington training complex in this extract…
"In the middle of rural nowhere, a scene which could have been lifted straight out of a James Bond movie is unfolding. A group of designer-dressed hunks appear from a huge, shimmering edifice, jump into an array of blacked-out Jeeps and supercars, and attempt to roar off through the checkpoint in the awesome security fence.
Grim looking blokes wearing SPS insignia usher them through the gates, while barking down walkie-talkies, and cameras concealed in lampposts film every move. Welcome to the end of another training session at Manchester United's new £14million HQ. And most of the first team have successfully avoided signing autographs for two fans.
You half expect Sir Alex Ferguson to be sitting in a labyrinth deep within the hi-tech hangar, congratulating himself and stroking a cat. Except that wildlife isn't welcome here either. Workmen are busy all around the site sinking chicken wire to keep rabbits out.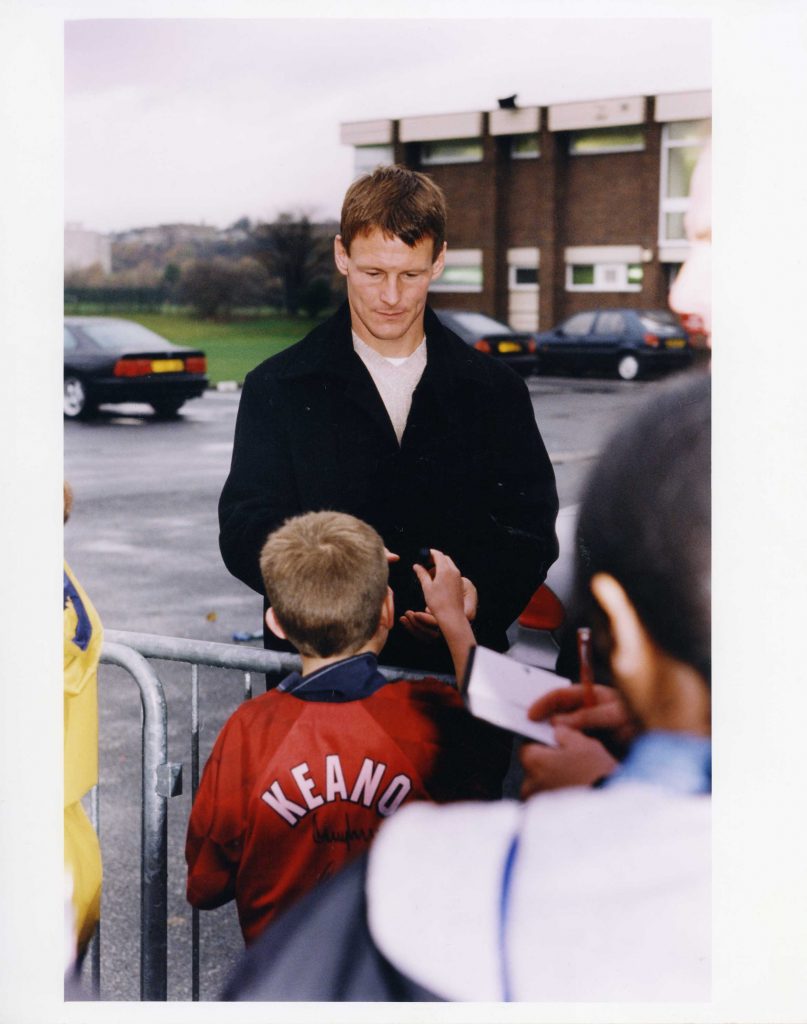 For years, coaching staff at Manchester United have wanted to build a training camp to match the club's undoubted status on both the football and economic playing field. Last year, the team achieved a unique treble by winning the Premiership, the FA Cup and the European Cup, while turnover for the plc topped £110million. In mid-January this year, new facilities were opened in South Manchester at a 70-acre state-of-the-art complex, complete with a full sized swimming pool, sauna rooms, hydrotherapy pool, dietary clinic and restaurant, nine full sized soccer fields, indoor pitches and a £100,000 gym.
It's everything a millionaire player could want and, set in the remote rustic surroundings of carrington Moss, only a few minute's drive from United's Old Trafford stadium. But the transfer from the old training camp in Salford has been dogged with controversy and accusations that the club has finally severed the last link to its grass roots supporters.
Lee, one of the two autograph hunters shivering outside the gates, is clutching a red United 'Euro Winners' shirt that he's just bought for £40 and is expecting to get the players to sign. He's somehow found the hideaway, having come from Wigan via train and two buses to see and meet his heroes. But, after walking for 15 minutes from the main road, Lee was met by an electronic barrier, CCTV cameras and the icy stare of the Special Project Security guards. To prevent him from getting anywhere near the players are two banks of trees and a 3m high fence with a ditch-cum-moat on the other side, while an earth mound rising 4m, topped with wattle fencing, stops him spying on Beckham and co doing their daily stretches.
A call to Old Trafford later in the day confirms that there is "no access for fans to watch the team train at Carrington"…You can, of course, buy the third kit white training shirt from United's Megastore, price £40 for adults and £30 for children. As everyone around the club will tell you, things aren't like they were at former training ground, The Cliff, any more…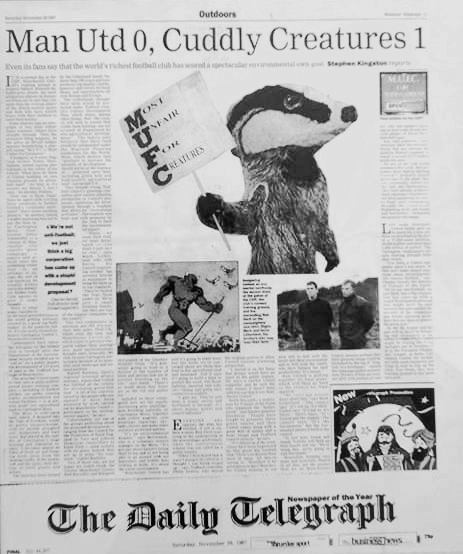 Contrary to popular soccer myth, United do have a huge local fan base, but it tends to be drawn historically from the city of Salford rather than Manchester itself. Set on a hill in deepest Salford, The Cliff has been the team's training ground from around the time of the Second World War. Since then, fans have been able to go along, watch the likes of George Best, Eric Cantona and Ryan Giggs go through their paces and afterwards meet them, get autographs and have their photos taken with their heroes.
No matter how gigantic and hip the club grew, the open-doors policy created an unbreakable bond with one of the most impoverished communities in Europe. As tickets to see United play at Old Trafford became increasingly unobtainable and expensive, parents could take their children to see the players in the flesh, for free, on their own doorsteps…
"That's why United are the club they are, that connection with the local public going back forty years, being at one with them in a downtrodden poor area; that was the charm and the wonderful thing about them" recalls legendary goalkeeper Harry Gregg, a survivor of the Munich air crash in 1958, who saw the rebuilding of the team take shape at The Cliff both as a player and, in later years, as a coach.
"United are a club of the people" he adds "I'm sure they're very proud of their new training ground but they mustn't take away the human side of Manchester United – that's what The Cliff was all about…"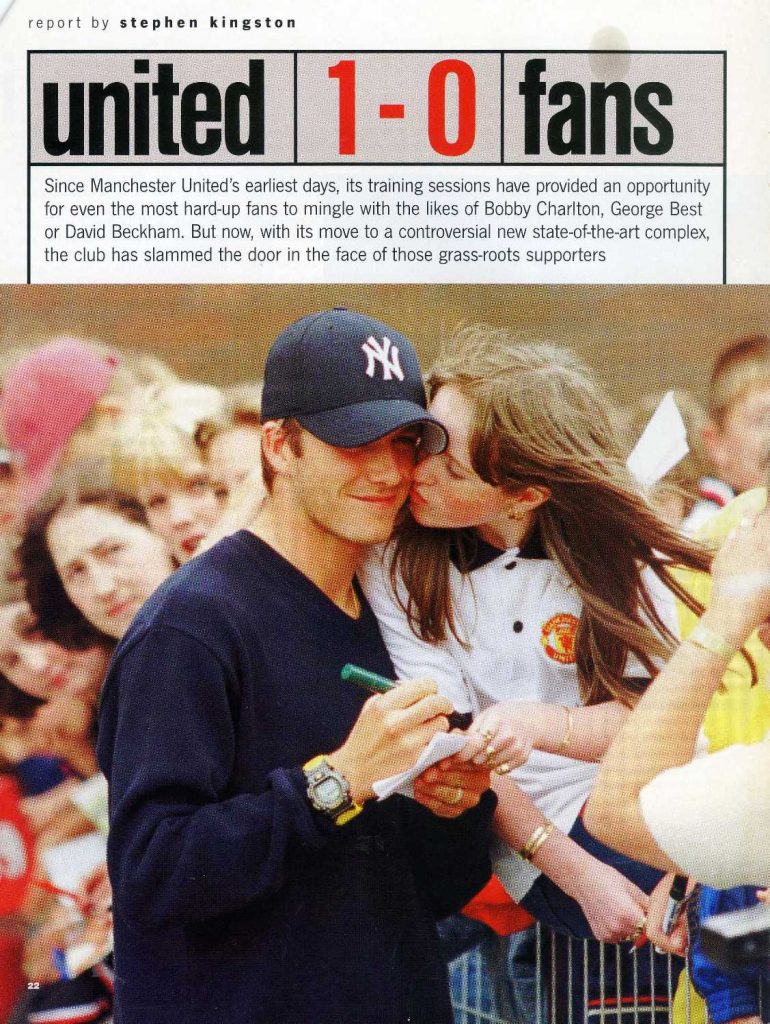 Do you have any memories of The Cliff or photos taken with United players? Please get in touch email: burynewrd@gmail.com or via Facebook: Bury New Road Heritage.
See also:
Manchester United's Legendary Training Ground The Cliff – click here
Inside The Cliff Training Ground – click here
The Cliff – In The Words of John Aston – click here
The Cliff – In The Words of Harry Gregg – click here