During the later years in Manchester, Nico lived in the top flat of a run down house in Prestwich Park Road South, just off Bury New Road, and when Mark and Janet Wraeg bought the house in 1988 they had no idea who the strange German woman was…"She wasn't the chatty type, monosyllabic really, just 'Yes' and 'No' answers" recalls Janet "We didn't know who she was at first, just this mad woman upstairs in the attic. We didn't have a clue; it was only as time rolled on that we realised who she was. She just had a mattress on the top floor, it was an horrendous mess. There were no visitors that we were aware of, although we weren't living here at the time as it was uninhabitable – there was no heating at all, just a 30s gas fire and water coming in everywhere, I mean it really was grim.
"We bought the house in April '88 and it needed fully renovating and lots of building work doing" she explains "We told Nico that this was going to happen and that there were builders coming in who would be smashing walls apart, and basically she just shrugged her shoulders. In fact, when the building work did start she walked down the stairs, said 'Wow'. It was almost meant to be for us this house, it was up for sale, falling down. I said 'I don't care it's just got something'; we didn't even look inside."
They didn't try to evict Nico – "we're not that ruthless" – but Mark says she told them that she was just staying until her travel documents and methadone scripts arrived, and that she was going to Ibiza to see her mum…"She had a bike in the hall and that's what she left with one day" says Janet "I was here with the builders and heard some noise and there she was. She came downstairs with two bin bags, got the bike and walked out of the door to a black cab, and that was the last I saw of her. Six to eight weeks later we found out that she had died in Ibiza."
While clearing out Nico's room, the couple found a letter from January 1988 to iconic French actor Alain Delon, the father of her son Ari. Although he always denied that he was the father, Ari lived with Delon's mother while growing up. The heartfelt letter that Nico wrote to Delon was either never sent or returned…
"I will never understand that you systematically won't speak to me" she writes, asking him to let Ari make a movie, while bemoaning how her manager (Alan Wise) has has taken her for a ride, "who cheated me out of a thousand pounds again"…
"I would love to keep Ari here with me in this big house, big and empty" she adds "It is the right kind of atmosphere to create, composing as well as writing. The house is for sale and costs £55,000. Perhaps by the end of the year I will be able to buy it. Not that I am a materialist, but to simply not live on the street when I am older. There is still much time before I do…"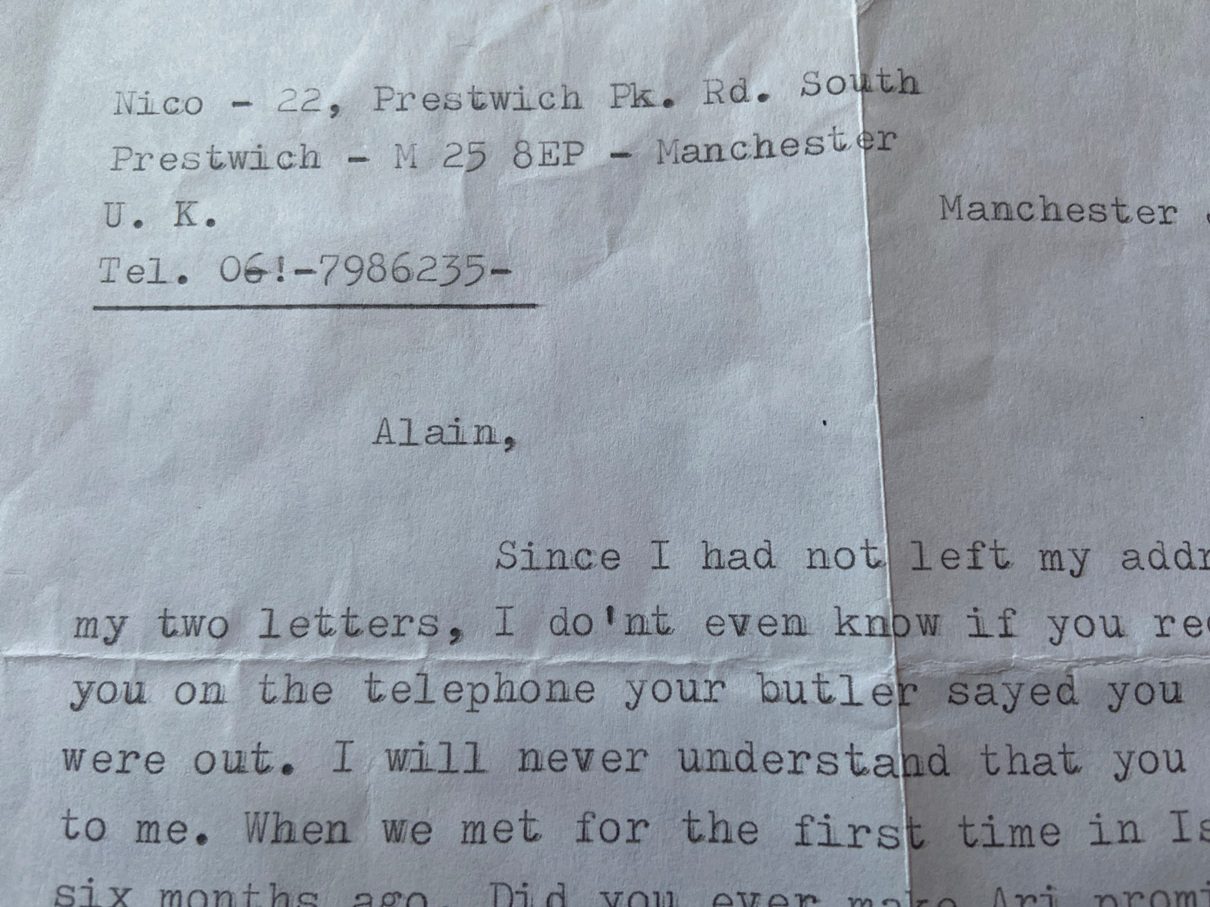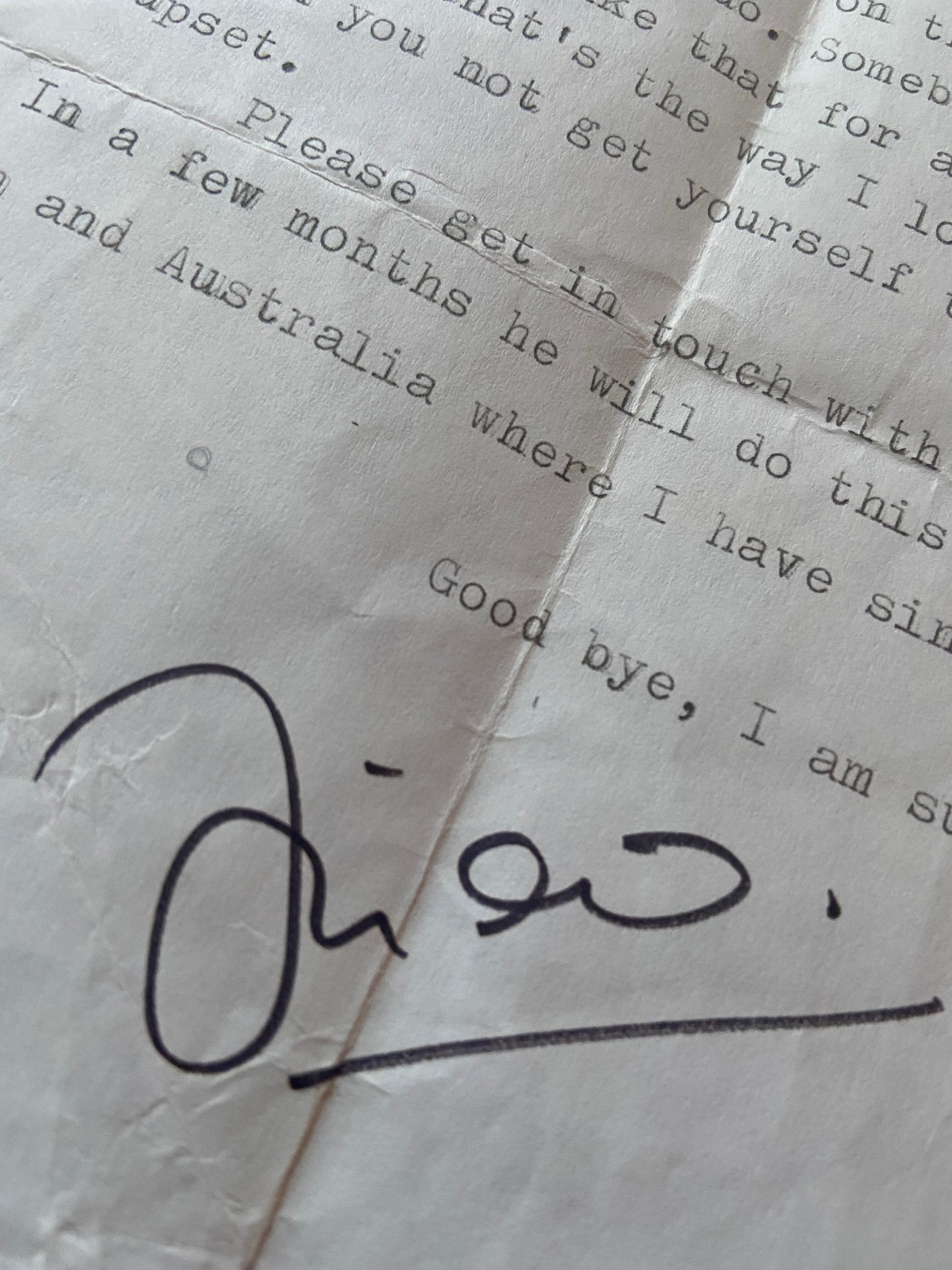 My Mum Was Nico's Driver!
A band/singer called Hann has released an ace song with the chorus…
'1985 to 1987/my mum was Nico's driver/pick her up in Prestwich/off to Yugoslavia…my mum was Nico's driver…'
It's a smart claim to fame set to song with a catchy chorus! "Everything in this song is completely true" states the record company, Wooden Records "All we had to do was rhyme the facts…"
See also:
Nico – who is she, why was she on Bury New Road and what did she change? – click here
Memories of Nico In Manchester: Interview with James Young, author of Nico: Songs They Never Play On The Radio – click here