Who is it? George Best
What is he known for? Being the greatest British footballer of all time. As George once said "If I had been born ugly, you would never have heard of Pele…" The sexy fulcrum of holy Best, Law, Charlton trinity…
What did he change? George Best was the first true footballer pop star, as his image moved from the footy back pages to the front cover of girls' magazines. 'El Beatle', as the foreign press dubbed him, was surrounded by fashion, females and rivers of fizz, as his legend grew and grew and grew. George Best changed football and the concept of 'footballer' forever… "My face was more in pop magazines than it was in football magazines, it really had become larger than life" he said "…It was starting to frighten me because all I really wanted to do was kick a ball around on a football field…"
What was he doing on Bury New Road?
Anyone of a certain age will have seen George Best driving up and down Bury New Road in his yellow sports car or playing snooker and drinking in the bars around the Rialto cinema. He lived for a while in a double town house in Kersal Crag, fronting onto Bury New Road from the corner of Singleton Road, while The Cliff training ground was a two minute ride away.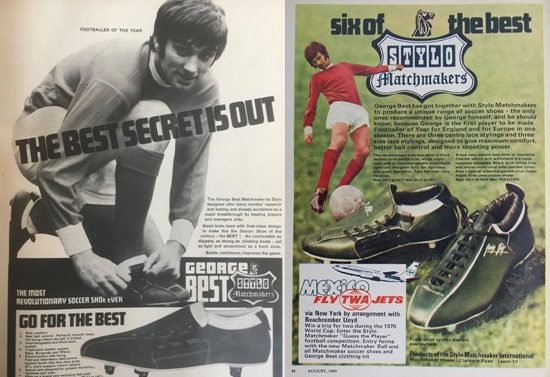 How important is George Best?
"Excellent brilliant artist…" Pele
"I just feel sorry for these little kids at the minute who go and watch Manchester United and see the stars that are there now, and it is a fantastic team but these kids have never seen George Best…and if they had have done I think they would have changed that poll when they said that Eric Cantona was the best player at Manchester United. Not at all…George Best was by a mile…" Sammy McIlroy
"Best was a catalyst for change in how footballers played, how they looked. A poster boy for the liberated '60s as much as Mick Jagger, or Twiggy, he swung through the grim flat cap, post war '50s and onto an Old Trafford stage as the sexiest face in the sexiest club in world football. In that he never let them down" Irish Times
"At the time when he first got in the team, no one had seen his like before: someone who was so small and tough, who would go into tackles, but also had the ability to turn people inside out and beat anyone he liked. George was as good as anyone you will see; he used to embarrass players time and time again…It was paradise watching George play football…" Bobby Charton
"Unquestionably the greatest" Sir Alex Ferguson
"I actually think I was the greatest player of all time, I just didn't play long enough at the top but circumstances dictated that…" George Best
See also: Top Quotes on George Best and By George Best – click here
George Best – My Childhood Hero – click here
Do you have any photos, anecdotes or memories of George Best? Please get in touch email: burynewrd@gmail.com or via Facebook: Bury New Road Heritage.