February 28th 1968, a freezing cold Wednesday evening at Old Trafford for a European Cup Quarter Final game between Manchester United and Gornik Zabrze of Poland, and a crowd of 63,000, largely standing. I was nine years old and this was my first ever Manchester United game, stood in the Scoreboard End with my dad and two uncles, United won 2-0.
I saw very little of the game, other than the two brief occasions when the goals had been scored and my uncles yanked me up and threw me onto their shoulders. The deafening roar, a momentary glimpse of the bright green pitch under the blindingly bright floodlights, the huddle of players around Brian Kidd, the scorer, my first sighting of that shock of black hair, an all too brief snapshot image through the freezing breath of the crowd. It didn't matter I couldn't see any of the game as for 90 minutes I was just beyond happy to be breathing in the same Salford air as my absolute hero, Georgie Best.
The bug had bitten. I slept that night with the match programme under my pillow, catching that unique scent of freshly printed paper that only football programmes seemed to have in those days; in fact, they still do. The image flashbacks, and yes, that shock of black hair, I still have that moment indelibly stored in my memory as though it was only yesterday evening.
I was totally obsessed with George Best, ridiculously so according to my parents, and in today's parlance I would probably have been regarded as 'on the spectrum'. I tried to talk like George Best, walk like him, wished to God I could look like him.
School holidays during the football season were a daily routine for me and my best mate Jud Lucas. A four-mile bus journey on the 95 from Besses O'the Barn to Great Clowes Street, then a short walk up Lower Broughton Road to the crimson red gates of The Cliff, home of the Manchester United training ground. Every day of the school holiday, without fail in rain, sleet or sunshine me and Jud would be there with our Charles Buchan Soccer annuals, poster pages from Shoot magazines, scrapbook cuttings from Saturday's Football Pink, United Review programmes and the treasured autograph books, anything on which to capture a player's hastily scribbled moniker on.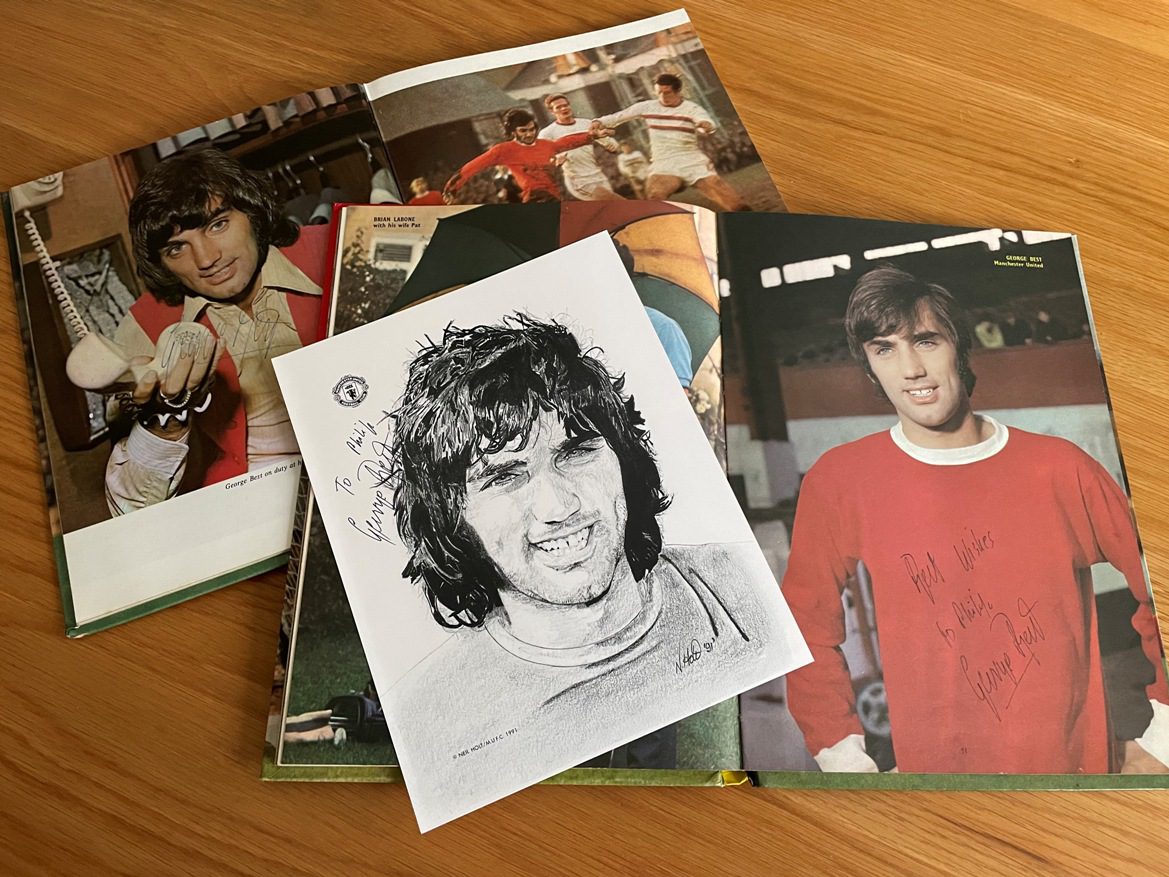 There was always a tussle to get George's signature – Charlton, Sadler, little Johnny Aston, Tony Dunne, even King Denis usually had an uninterrupted walk from the changing rooms to the training pitch, but George always had to struggle to keep walking through the squealing swarm of red and white scarved, pre-pubescent schoolkids eagerly poking felt-tip pens and crumpled magazine photos under his nose. I never failed to bag my quarry, but it was always signed 'GBest', never the full name.
…And then one day, my school being a Catholic grammar run by the De La Salle brothers, had what they called a retreat day when we were given a day off. We were meant to spend time at home doing spiritual reflection on our blessed founder but instead, I decided I'd make the short bus ride to my own shrine at The Cliff, this time a solo visit as Jud went to a different school to me. I was also excited in the knowledge that I wouldn't have to push and shove my way through the usual hordes of kids as they would all be at school.
And so there I was, walking past that bloke on the gate who normally took refuge in his tiny box of an office when the kids arrived; but today it was just me, the place was deserted.
The players began to drive up, Denis in his white jag, Kiddo in his Ford Capri, and then a dark purple E-Type that I knew belonged to George. My mouth went dry as I followed the car to its parking spot, the door opened and out he stepped. There was only me and George now in the car park. He was dressed like he was just going for a night out, tight skinny rib black polo sweater and flared black trousers with purple suede platform shoes. Come to think of it he was probably on his way back from a night out…
I couldn't speak, not even a 'Hi George', nothing would come out of my mouth. I nervously thrust my biro and a George Best Soccer Annual towards him. Strangely enough, I just remember gazing at the two rings he wore on his middle and fourth finger, which had a short chain linking them together. George signed the page that I had opened the book at, which happened to be a nice close up photo of him holding a phone in his boutique. George handed the book back to me, it read, 'Best wishes, George Best'.
I'd done it, I'd got the full signature. And that happened to be my only words to George that day, 'Aw thanks George, it's the full one'.
And on it went, even to this day. I must have by now read every book written by him or about him, watched every DVD or TV documentary on him, and yes, I have been lucky enough to meet him on a number of occasions since those heady schoolboy meetings.
When George passed away on 25th November 2005,aged just 59, I was of course sad, not just for him, but also for his family, his father Dickie Best and most importantly his son Calum. However, the overriding emotion was one of relief. Relief because I knew George would no longer have to ride out the cruel disease of alcoholism in the glare of the public eye.
I watched his funeral live on BBC TV and shed a tear or two, but comforted by the thought that George was at last safely back home in the bosom of his family. The song 'Bring Him Home' sung so beautifully by Brian Kennedy as George's coffin arrived in the great hallway entrance to Stormont Castle still fetches a lump to the throat every time I hear it.
Thanks for being part of my life George, you were and always will be for me, quite simply, 'the best'.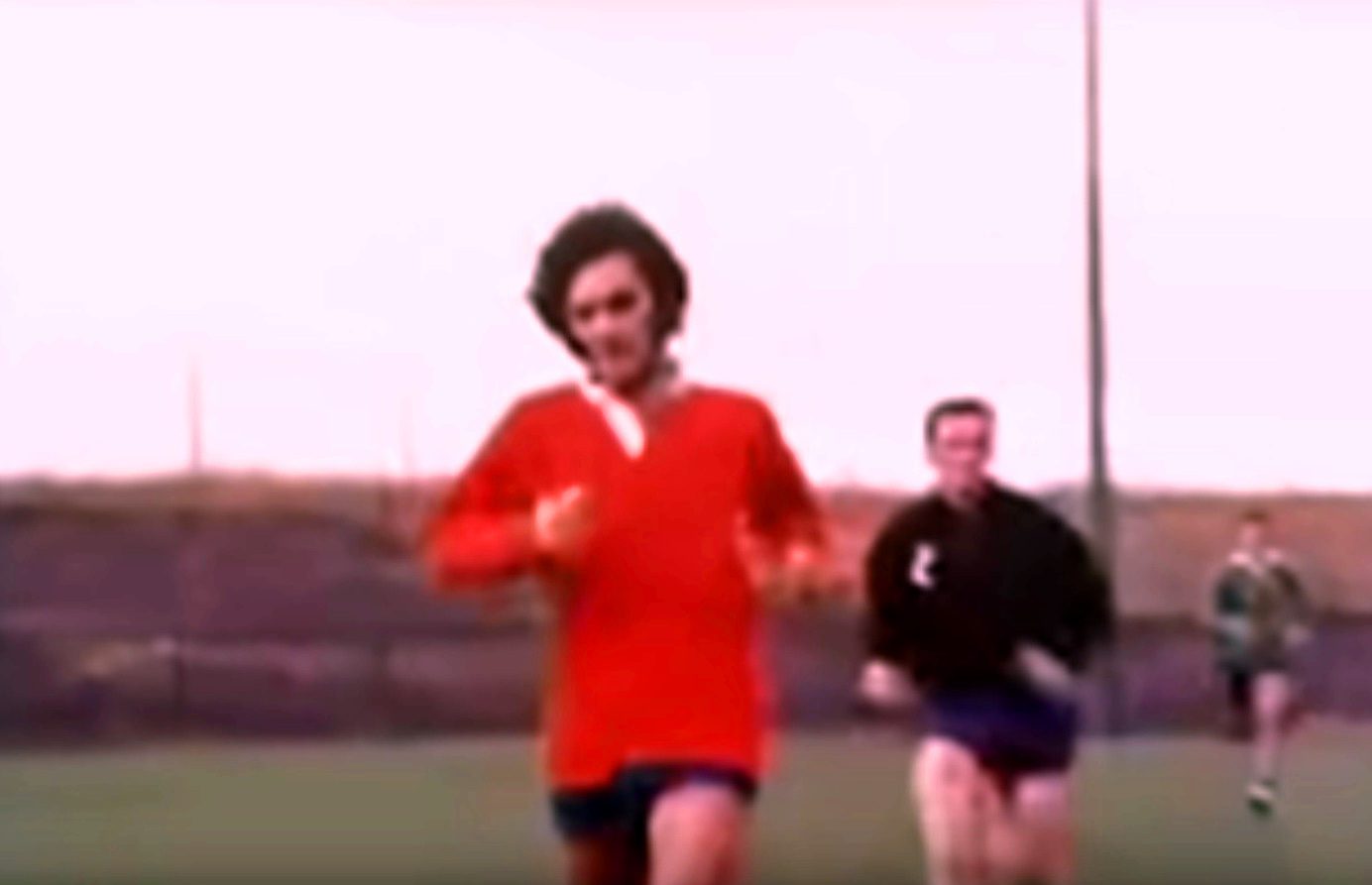 More Memories of George Best
Chris McPhee, now of Canada, shares his George Best memories…
I attended St Philip's junior school on Cavendish Road and would walk home every day through Sedgley Village. At that time there was a petrol station on BNR, about where Lidl is now, and I remember being struck one day by the bright yellow sports car stopped at the pump. This would have been sometime between 1968 and 1970. It was George.
He was happy to chat to us and I got his autograph (one of three times he signed for me) and we went home with a little adventure to tell our families and pals. I guess these days we'd have been picked up at the school gates and driven home, so would have missed a memory that I still have today.
I also met George again at his boutique in Manchester. He and Mike Summerbee were there one day when my mum and I were shopping in town, Again he was so willing to chat and spend a little time with us, such a nice guy. I got his autograph again. I probably got Mike Summerbee's too, but I can't remember! Incidentally, the famous picture of George outside his boutique, used by Paul Weller on his Stanley Road album and now, I think, in the National Archives, was taken by my Mum's cousin Sefton Samuels, a wonderful photographer of Manchester and the North
I also got George's autograph when my grandmother, a captain in the St John's Ambulance, took my autograph book to a Newcastle United v Manchester United game where she was on duty, and all the players (most of the 1968 European Cup winners) including George signed it for me.
The sad end to the tale is that when I left home to go to university in 1978, my mother cleared out my room and one of the items she thought I wouldn't need again was my autograph book! At least I still have the memories…
Josephine Fitzpatrick remembers George Best's first Jag…

George bought his first Jaguar from Sedgley Park Motors on Bury New Road, where I worked. It was white, and it was £920. I had to get the Eternal Bow tea set out and I was sent to the shop for Rover Assorted biscuits for when he took delivery….It was so exciting, the Wernicks were excited too. I was 20 and 8 months pregnant…
See also:
George Best: What was Britain's greatest footballer doing on Bury New Road and what did he change? click here
Top Quotes on George Best and By George Best – click here