Who Is It? Graham Gouldman
What is he known for? Co-founding and co-writing all the 10CC hits, writing hits for everyone, from The Hollies to The Yardbirds, and continuing to tour as a solo artist, with 10CC and as part of Ringo's All Starr Band.
What Did He Change? An attitude that tore up the notion that kids from North Manchester could never be superstars. 10CC, with their own Strawberry Studios in Stockport, achieved everything on their own terms.
What Was He Doing On Bury New Road?
Graham Gouldman lived in Kingston Close, off New Hall Road "until I was married for the first time until my early 20s" he told Salford Star in 2013 "I lived in various other houses but that was the last place I lived in North Manchester. It inspired everything. Broughton was in my blood you know. Apparently there's quite a few famous people who come from Broughton I believe, but wherever you live is bound to influence what you do, so Broughton Park would have influenced me.
"I'm very proud that I lived in Salford and worked in Salford, although we didn't call it Salford, Broughton Park sounded a bit posher" he added "We're all sons of Broughton Park.
"Manchester was unbelievable" he recalled "Every weekend me and my mates would go off into town, and you'd see the Stones one weekend, The Beatles the next, The Kinks the next weekend and the Animals the next weekend. It was unbelievable what was going on. Because of the university town there were lots of clubs and places for people to play so it was an amazing place to grow up."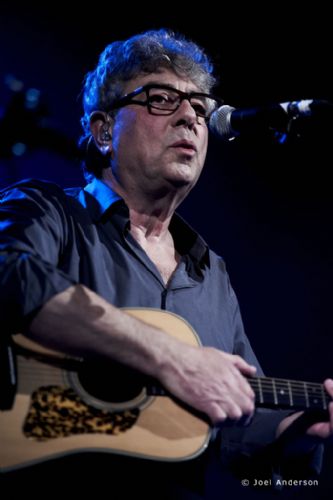 By the age of 19, Graham had already written three Yardbirds songs, For Your Love, Heart Full of Soul and Evil Hearted You, and wrote the huge hit for The Hollies, Bus Stop, in 1966 while riding the 95 bus along Bury New Road, on the way home from work…
"When I'd written most of Bus Stop I was actually on a bus thinking about how the middle eight should go" he told Mojo magazine in 2011 "And this whole, 'Every morning I would see her waiting at the stop / Sometimes she'd shop…' that all came to me in one gush, and I couldn't wait to get home to try it. When that sort of thing happens, it's really amazing. But that's rare. Mostly, you have to do the slog.
"We were supporting the Hollies at Stoke Town Hall, they'd already done Look Through Any Window, and they asked me if I had any songs" he added "So I borrowed Tony Hicks' guitar and went into the toilet with him and Graham Nash – this doesn't sound very good does it? – I played it and they said it was great. They recorded the following week and it was out three weeks later. There were no videos in those days to delay everything."*
Graham Gouldman first formed a Prestwich band called The Whirlwinds in 1963 with Malcolm Wagner, Mo Sperling, Phil Cohen, Steve Jacobson, Bernard Basso and Stephen Pollack. This band later morphed into The Mockingbirds, with Graham Gouldman (guitar), Bernard Basso (bass), Steve Jacobsen (guitar) and Kevin Godley (drums).
Meanwhile, he wrote and co-wrote a string of hits with and for Dave Berrie, Herman's Hermits, Cher, The Shadows, Jeff Beck, Wayne Fontana and Toni Basil. He also wrote Forever Everton, the song still played at every Goodison Park home game, plus The Boys In Blue for Manchester City (with Godley and Creme).
Post 10CC, there were more hits with Wax, alongside Andrew Gold, plus co-writing for Joe Cocker, Gary Barlow, Kirsty MacColl and Chris Difford. Graham Gouldman toured the US and the UK with Ringo's All Starr Band in 2018, and continues to tour, both in a solo capacity and as 10CC, and produce albums, his latest being Modesty Forbids.
For lots more information on Graham Gouldman see his website – click here
* John Cooper Clarke is sure that Bus Stop was written about the bus stop outside his former home on Bury New Road… "Notable among the live acts at the Junfrau were the Mockingbirds, a bunch of Jewish kids from my neighbourhood, including Graham Gouldman, who went on to write songs for the Yardbirds, and Herman's Hermits, and the Hollies' Bus Stop" he writes in his autobiography I Wanna Be Yours "Graham Gouldman lived near Broughton Park, and I'd seen him around. Given his address, I'm convinced that the bus stop in question was just beneath our rain spattered front window; the same bus stop where I stood waiting day after day for the bus that would take me to my place of work in the centre of Manchester. The exact location of the song. If ever there was a personal connection to the pop world, this was it…"
See also:
10CC: Who are they? What did they change? And what's the link with Bury New Road? – click here
Harvey Lisberg: Memories of Bury New Road from 10CC's Super Manager – click here