Shirley Baker had lots to say about her own work and photography in general, while the young subjects of her photography, now grown up, had only admiration for her images…
Shirley Baker In Her Own Words…
'After all, what is history if it is not an imagined past – a collection of facts, which are viewed and interpreted in the light of our own experiences?"
"These are my pictures, they are the observations of one person and they tell only a fraction of the story…"
"I hope, by bridging time through the magic of photography, a connection has been made with a past that should not be forgotten."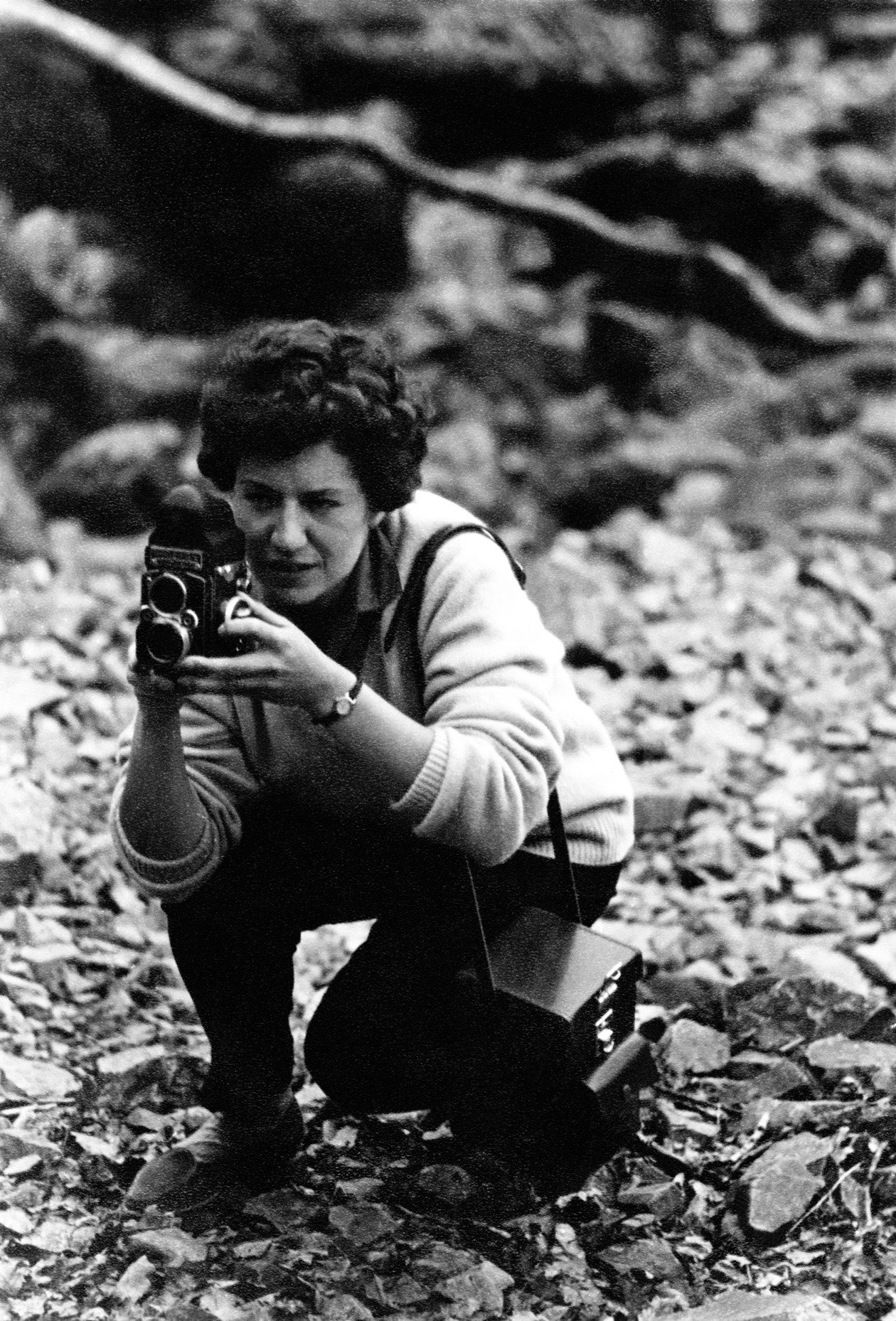 "It has always astonished me how quickly things can disappear without a trace…"
"I didn't live there, so I can't pretend to be a part of it, but in a sense I did feel it was my place, and I became very, very involved with it…"
"Homes were being demolished and families were being uprooted, due to a huge slum clearance programme and nobody seemed to be interested in recording the face of the people or anything about their lives."
"…people thought it was such a potty thing to do."
"I would go every week…a few times a week, I became fairly obsessive I think…I just couldn't leave it alone."
"Nowadays people are working towards something, an exhibition or a book, and they can't imagine just photographing without a particular ending in mind."
"We cannot re-live the past any more than we can revive the dead, but to dismiss photography – or any other record – as valueless, robs us of the chance to learn from earlier times so that we might better understand the present and prepare for the future. After all, what is history if it is not an imagined past, a collection of facts, which we can only view and interpret in the light of our own experiences?"*
"Any historical account consists merely of fragments of the past recycled to form a new or mythical whole. Nevertheless, photographs aid the memory and stimulate the imagination; they provide useful information and give insights into the past unequalled by any other medium – particularly when accompanied by written or spoken words…"*
"I've always thought of it as a kind of recording media…I mean it is. The basic thing I was after…is truth. And this is the sort of thing that has really appealed to me about photography. I know… truth can mean anything, twisted around, but it's a kind of personal truth. Maybe that's more to the point…I mean that a photograph has to be, should be, the truth as the photographer sees it. This is the intriguing thing about photographs."**
*Email to her curator and biographer, Anna Douglas
**Interview with Val Williams for the British Sound Archive 1992
Shirley Baker and the social conditions she documented by her photographic subjects…
For the record breaking exhibition, Shirley Baker: Women and Children; and Loitering Men at Manchester Art Gallery in 2017, many of those featured in the photos as youngsters recalled the background to the shots, including the Williamson brothers, Derek, Peter and Steven, who featured by some steps in Ordsall; a photo that has now become a classic…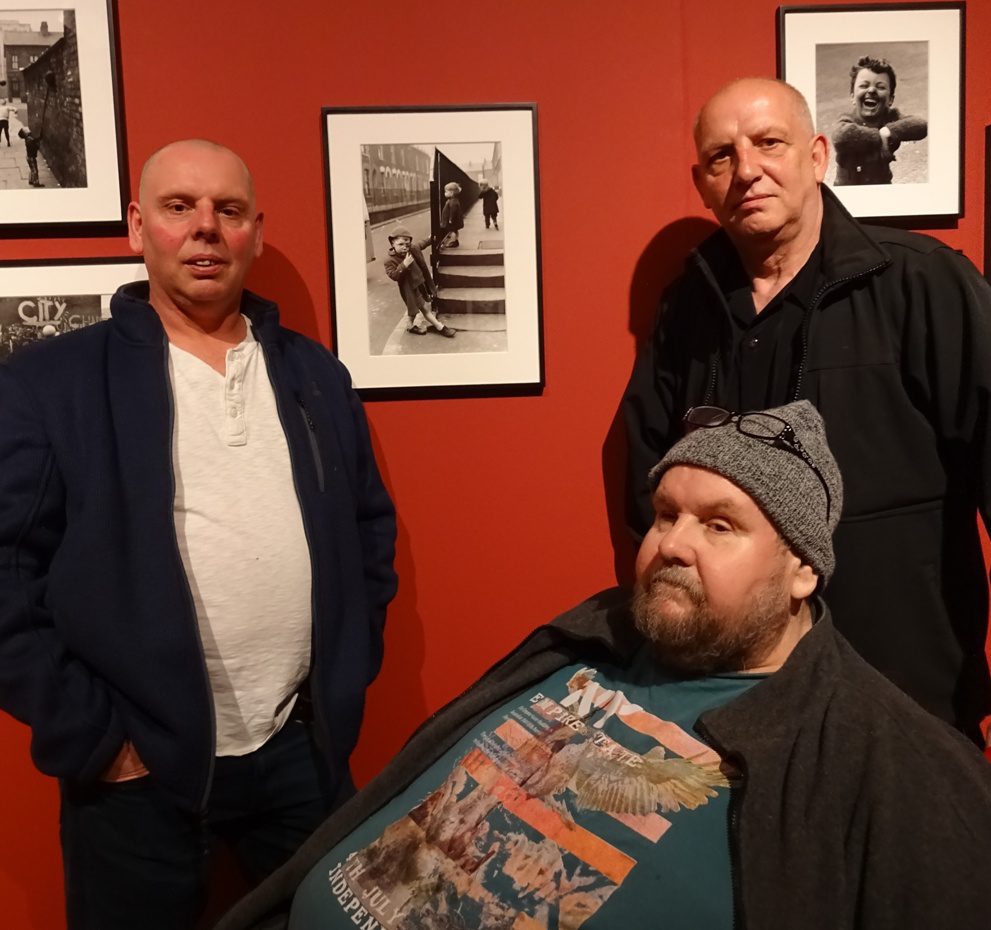 The photo was taken in 1964, and Derek Williamson – seen at the forefront of the photo – clearly recalled it being taken on Gertrude Street, which has now disappeared…"I remember Shirley coming down the street with another man and she asked us to pose for her" he told the Salford Star in 2017 "I'm sure she promised us an ice cream, which we didn't get, because the ice cream van is next to us. We lived about 150 yards from there on Robert Hall Street, where there were ten of us living in a two up two down" he added .
Peter, seen at the back of the photo in long trousers added: "My mum and dad lived downstairs with the baby, and the boys were in one bedroom, top to tail in bed, and the girls were in another. We had an outside toilet and a tin bath…I get asked what was it like living in poverty, but we weren't in poverty because we had what we needed. We had smiles on our faces and if you had a bike you were always busy doing something. Just because you don't have money doesn't mean to say you are poor…"
And Steven explained "It was rich because we loved each other…We'd share toys and presents, and those streets were our playground and our riches. We'd say 'Let's go and play in the bombed houses', or the croft, which was the remains of the bombed houses…."
Peter remembered Shirley Baker taking photos in the area again in the Seventies when all the houses were getting pulled down… "We used to jump off the roofs onto all the old mattresses that we'd dragged out of the houses…It was fantastic. It's only when you get older you realise what danger is. But as kids there was no danger, we'd jump on the mattresses, bounce off and go back on the roof…"
Their playground was taken away when it came time for the brothers' community to be 'cleared' and re-housed in the 'Landings' on Regent Road – and it's at this time that the brothers agree with Shirley Baker's assertion that the photos are infinitely political, as a way of life was destroyed.
"Whichever government was in at the time broke down the areas, to take away the 'riff raff'" Peter insisted "As kids, we wouldn't have known about that but when you get older you realise what was happening…My mum and dad owned our property but they didn't pay them for the house that they took away from them; and then tried to charge them for its demolition. There was no compulsory purchase or anything. They just took the house off them, gave them this other rented house and tried to charge them for knocking it down."
Derek recalled that his parents were glad to get out of the house as it was too small and damp, while the new one was much bigger, but Peter added: "For my mum and dad it was the worry of how they were going to pay the rent…"
The brothers recalled that others, who didn't want to move, were harassed out… "There were two old brothers and the Council used to terrorise them" said Steven "They cut all the gas and electric off to get them out…"
"They never bothered anybody, they just didn't want to move" said Peter… "It was bullying, definitely" added Derek…
"As kids we didn't care about politics" says Steven "It was just about going out on your bike and having fun…."
The three bothers still live in Salford – near the Precinct, in Eccles and in Swinton – but, like Shirley Baker, they realise that it wasn't just bricks and mortar that the Council destroyed, it was a whole working class culture…
"There are still some people who are there and are great, but the way the kids are brought up now…there's no respect like we had in those days" Peter argued "We appreciated everything that we had; and loyal friends…in those days people looked after each other.
"Ordsall is now unrecognisable to us; it's not for me, it's been ruined" he added "In those days it was Salford and people stuck together. Now, because everything has been split up, it's not the same. People don't care about anything because they've lost interest in life as such…"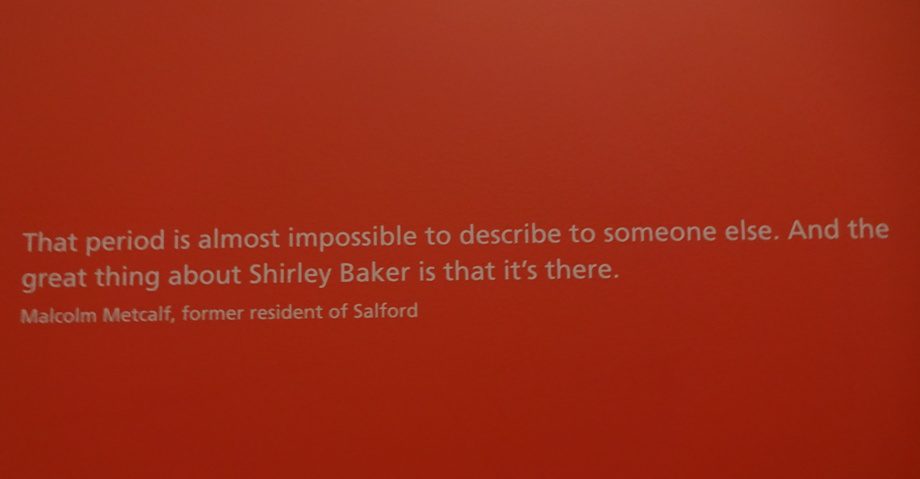 See also:
Shirley Baker – A Bury New Road Icon – click here
Shirley Baker – A Life In Photography: From Bury New Road To World Fame… – click here
Interview With Shirley Baker's Daughter, Nan Levy – click here
Shirley Baker In 2023 – click here