The North Manchester Yiddish Dictionary is to be launched at the Bury New Road Festival on Friday 15th July during two short Yiddish shows by local poet, stand-up, quizmaster and wit Steven Pearlman.
The Dictionary has been compiled by the Alevai Jewish Women's Group for the Bury New Road heritage project, and features over one hundred 'slang' words used by the secular Jewish community, as opposed to the full language spoken by the orthodox community.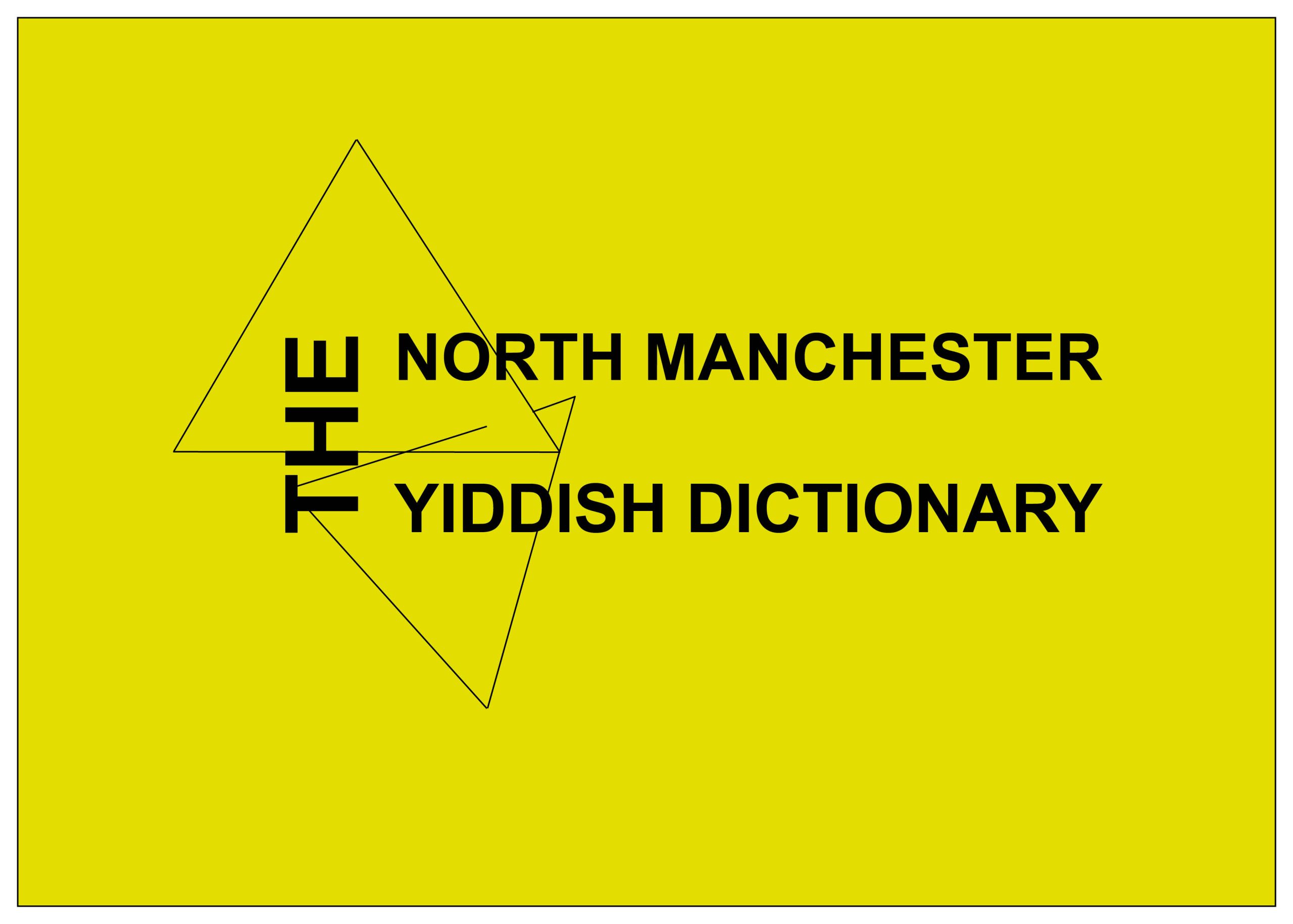 "This is some of the language secular Jewish people still use today to express ourselves in words that can't be said the same in English" says Denise Librae of the Alevai Jewish Women's Group.
Some Yiddish words like 'shlep' have seeped into the common English language but the Dictionary will feature hidden words that few from outside the community will have heard.
The forty page Dictionary will be given away free to one hundred people at the afternoon show (approx 1pm-1:30pm), and to one hundred people at the early evening show (approx 5:45pm-6:15pm)…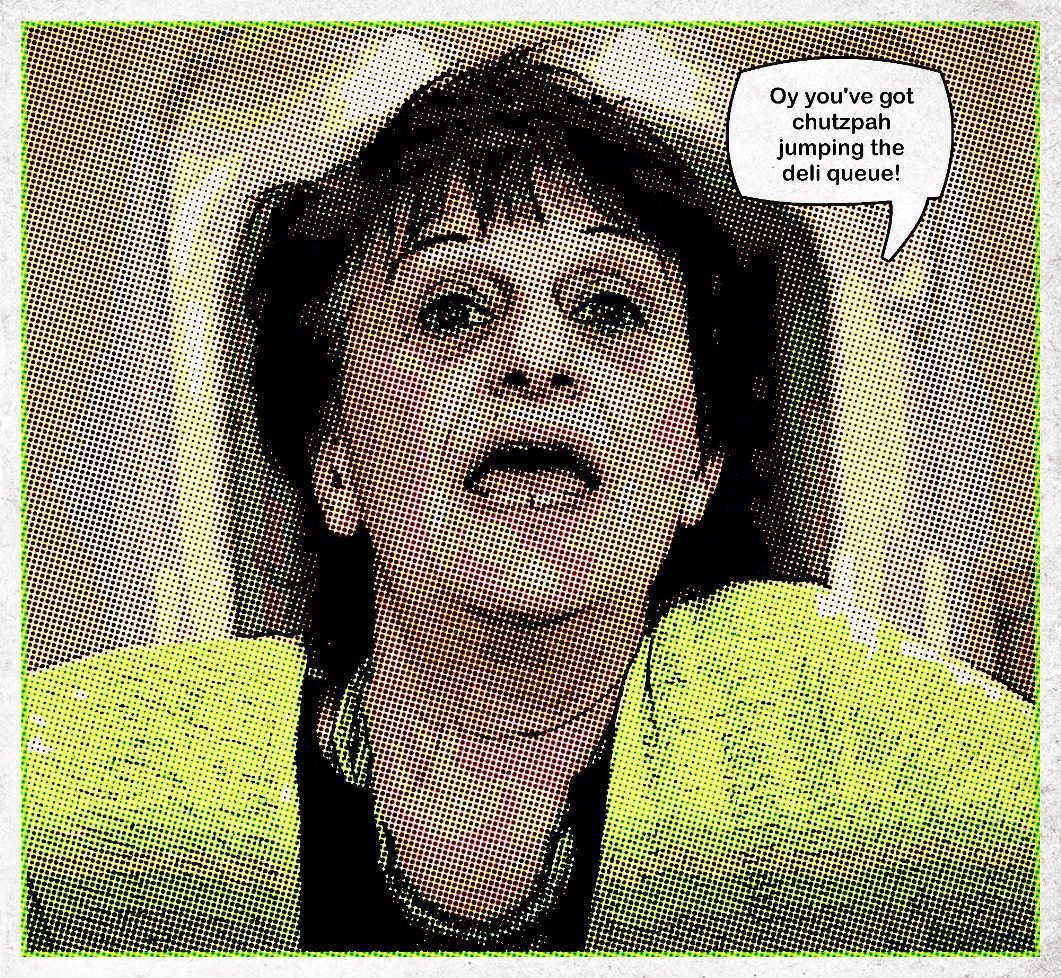 "I'm not a Yiddish expert, certainly not, but I've got an interest in it, like most things" says Steven Pearlman, who will be starring in the shows "I'll be giving a brief history, a quiz on words that have crept into the common culture, like 'schmaltz', plus a section on pronunciation, especially the 'ch' and the 'Oyyyyyy' in 'Oy vey!' and the subtle intonations that can convey different meanings. Then I might do some Yiddish jokes with audience participation and a song that people can join in with.
"It's primarily aimed at non-Jewish people but Jewish people will find it entertaining too" he adds "It's a largely dying culture, spoken more in the very religious orthodox Jewish circle, but amongst the more rank and file Jewish people who I mix with they'll just fondly churn out a few Yiddish words that their parents passed on.
"My mother's mother was from Latvia, and I never understood a word she said but I used to go on a Shabbas to this big old grim house and she'd prattle on in Yiddish some gobbledygook and I'd get a smile and a hug, so it's bringing back memories" Steven explains.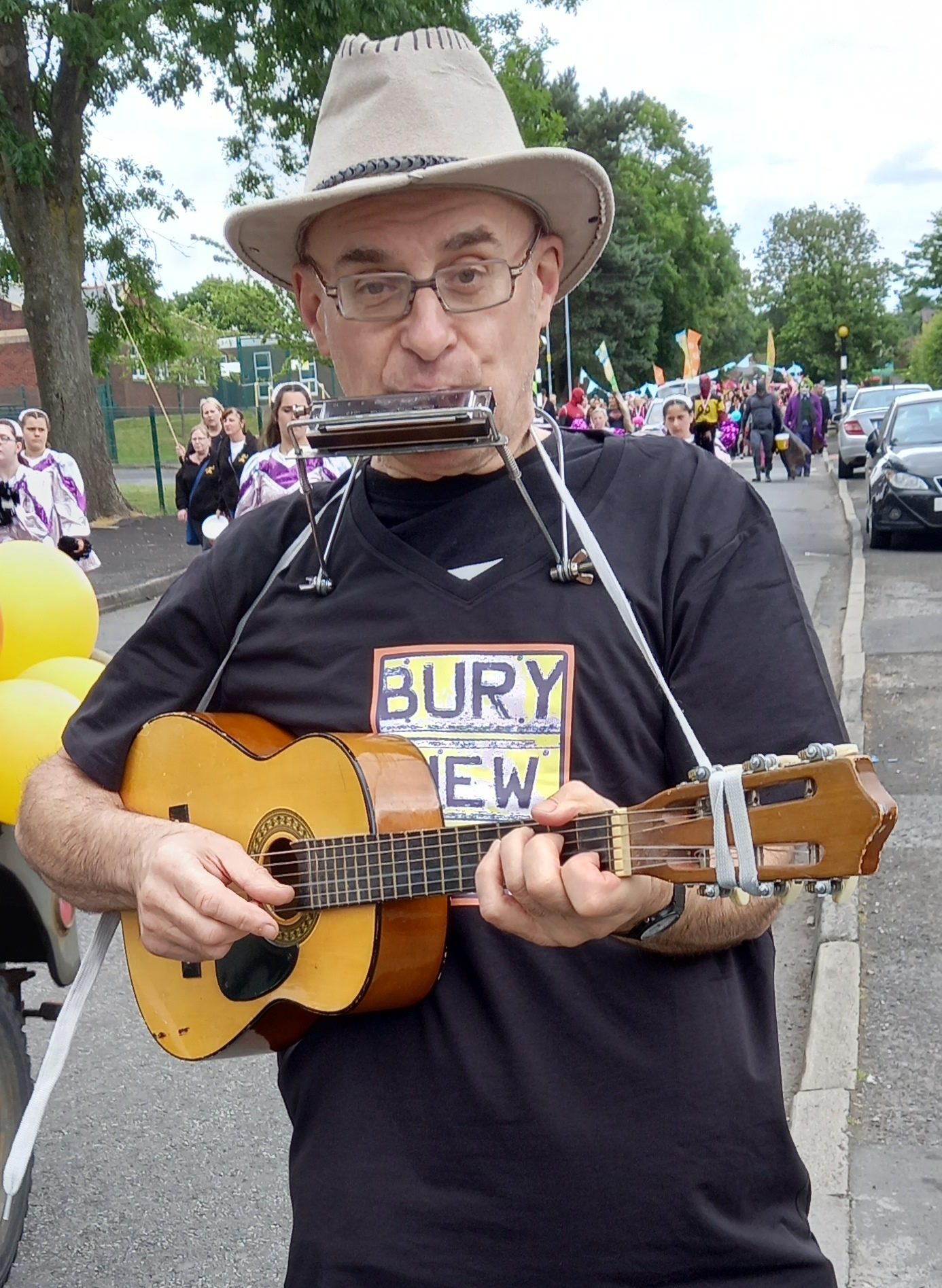 "My dad, who was a semi-pro singer and comedian for sixty years, was steeped in Yiddish culture, and a lot of his humour was Jewish and a lot of his songs were parodies in Yiddish; and the audiences lapped it up" he adds "It's that cosy Yiddish feel that brought people together, and it made people chuckle because most of the words sound funny and they're very evocative. It's very hard to convey to a non Jewish person but that's what I'm going to try and do – the language, the culture, that fondness and that historical background…"
The North Manchester Yiddish Dictionary will be launched upstairs at the Broughton Hub on Friday 15th July at two shows, 1:30pm (approx) and 5:45pm (approx).
The Broughton Hub is situated on Rigby Street, off Devonshire Street, which is just off Bury New Road M7 4BQ, behind the Greek Orthodox Church in Salford. (the Hub has a car park, entrance on Devonshire Street)
Meanwhile, the Bury New Road Festival runs noon-7pm at The Hub (for details see here) and will also include an exhibition of abstract paintings by the Mental Wellbeing Group at The Fed, based on their reactions to the Longfield Centre in Prestwich which is soon to be bulldozed. As part of this process, we developed a special 'Prestwich Palette' of colours based on buildings in the Precinct, so look out for Prestwich Library Yellow, Village Greens Green and Bollard Blue in the artwork…
The Manchester District Music Archive will also be on hand to scan photos and interview people about the amazing events, people and places connected to the Road. Just turn up and add to our archive, together with the Salford Local History Group, whose Paul Kelly will be giving an illustrated talk about Big Tunnels Under Bury New Road (see here).
 Meanwhile, local history collector, Craig Brisbane, will be bringing along his incredible collection of local artefacts, including ancient flint arrow heads found on Rainsough plus other vintage wonders of Salford and North Manchester.
Manchester Fringe Spoken Word Winner, John Darwin, the 'Prestwich Poet', will be performing his laconic verse (see here), while the Strummalongs will be singing songs about Salford and Bury New Road. There will also be an exhibition of the latest Bury New Road portraits by Louise Garman and photos from the Bury New Road archive of Paul Jones.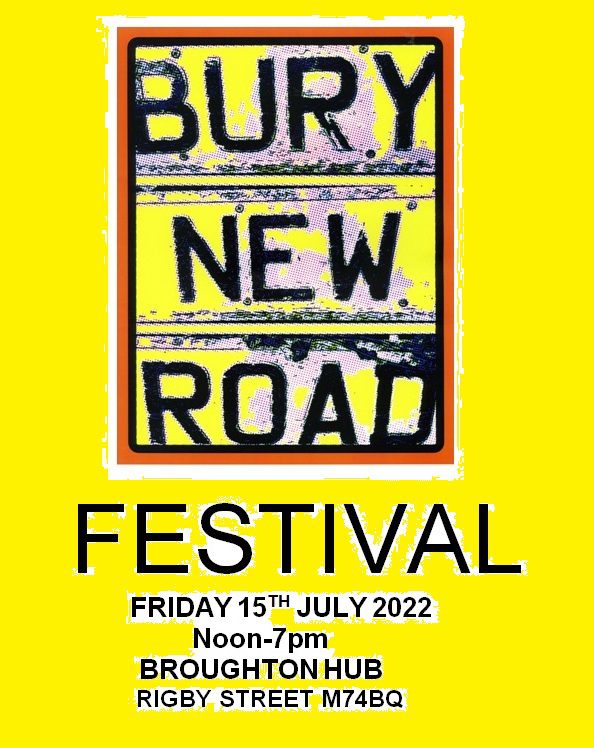 The Bury New Road Project …A heritage project that seeks to point out the amazing people and events that have links to this section of the A56 between Strangeways and Prestwich. We aim to point out the magic, and everyone's welcome to help.
The Bury New Road Project is funded by the Heritage Fund, Granada Foundation and Mary Monson Solicitors, with added support from Salford City Council, Manchester City Council and Bury Council.