John Darwin lives a one minute walk from Bury New Road and is certainly not lacking inspiration for his verse which is enjoying a growing recognition at the moment, having recently won the pre-Edinburgh Festival, Manchester Fringe Spoken Word Award.
"You start writing and develop, and when you write about your local environment it's what people relate to and are interested in", says John
Indeed, there's lots of poets from around Prestwich and Bury New Road. John Cooper Clarke and Tony Walsh are just two of them. And, along with them, John Darwin captures much of the zeitgeist of the place to perfection, particularly contrasting the 'real' Prestwich with the current house price hype…
'In estate agents' bluster it isn't made clear,
They jump from bridges round here…'
These lines about potential suicides at the M60 junction will ring a bell with anyone who knows the area, and comes from an ace poem called Cuckoo…
'They jump from bridges round here,
get blamed for delaying the traffic,
tie blooms to the railings and leave them to wither, to remind us we die if we need to remember.
Three days for the flowers to wilt,
one less in the swelt of the summer;
Deadheads bow brown in a semblance of grief
for the blood and bone bedlam that played out beneath.
They name bars after illness round here,
like it's funny how many go Cuckoo.
In a town full of locals that self-medicate
The CPN made her referral too late.
In estate agents' bluster it isn't made clear,
They jump from bridges round here…'
"It was written really quickly about seven years ago and it's something I've always thought about because when it happens some people get really vexed and say 'You're so selfish…'" John explains "The other thing is that when Cuckoo [the bar and cafe] opened, a friend said they were calling it that because of the hospital, which may or may not be true; but 'cuckoo' is a very local name – Cuckoo Lane and stuff like that. There's a line in the poem 'They name bars after illness' – that may be a bit harsh on them but tough shit…"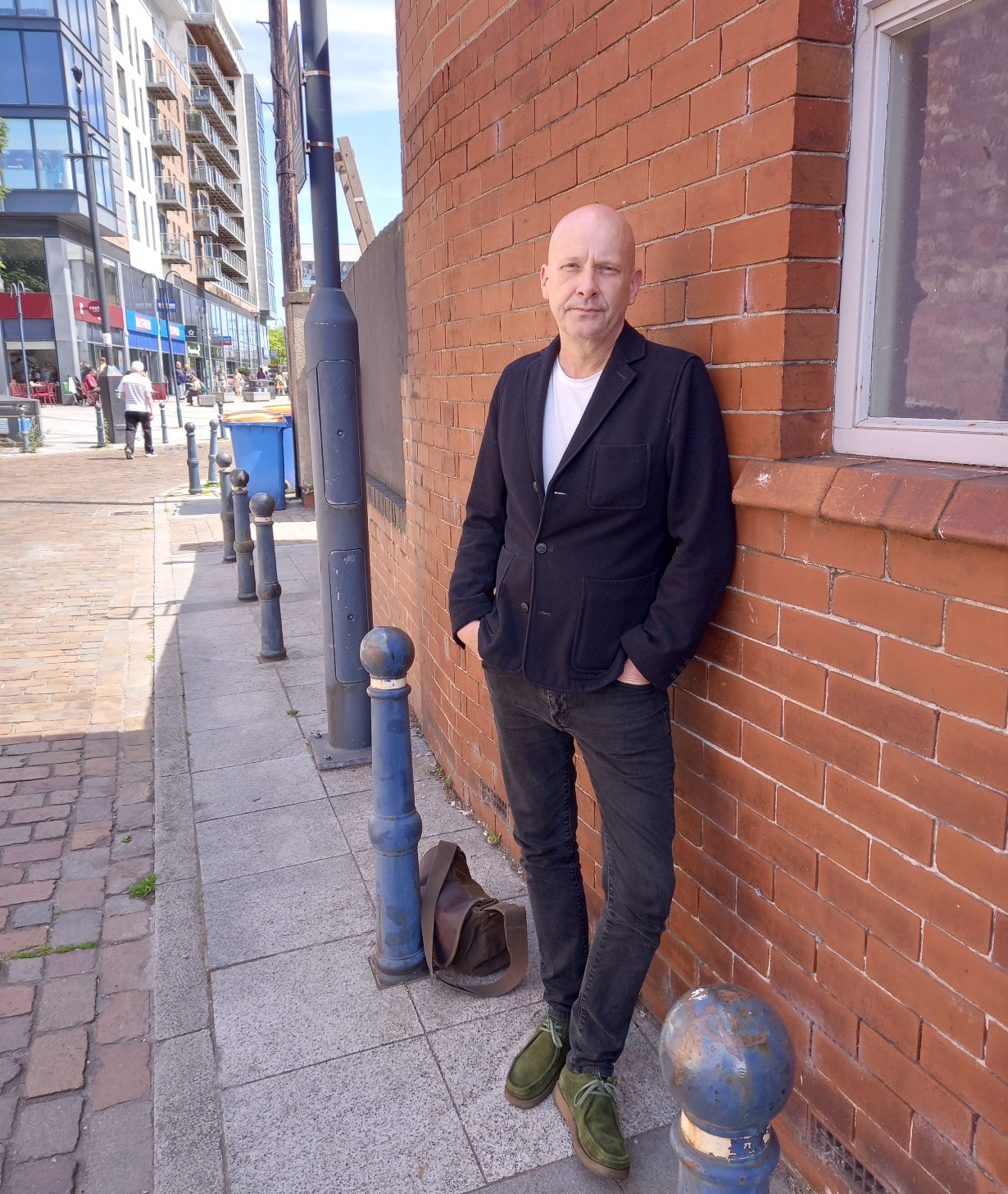 John's reputation is building but he hasn't been doing it that long, blagging his first gig at FC United in 2008…
"I always wanted to be a poet but couldn't be arsed doing it" he recalls wryly "I was in bands and stuff when I was younger but I did nothing creative from 1987 to 2008 when I wrote my first poem. I was talking to someone who was putting on a pre-game show at FC United and was short of an act. I said 'I'm a poet', wrote four poems between the Wednesday and Saturday, and did it."
From then, there have been a growing number of gigs, a book of poems out three years ago and a new collection coming out in the autumn on Flapjack Press, which also publishes Tony Walsh's children's books and Henry Normal anthologies.
Ace film maker James Noir has also created a micro short 'visualisation and reimagining of the epic poetry' of Slim in icy black and white verite.
With gigs everywhere from Newcastle to Colwyn Bay in the offing and a new show to tie in with the autumn book launch, the creative career is set to hit full flow…
"I'm not an ambitious person but I want people to read my poems" says John, who retired early from a job in financial services to concentrate on performing "I'm now a full time troubadour tosspot, spending more time on the poetry and anything connected to it. It's a bright future and I'm looking forward to it."
Isadora
'Turning right from the ginnel
past the petrol station,
mist licked the tarmac
like the devil's tongue.
On the new road,
what appeared as roadkill
was a thrown stole
blown from a stolen car
discarded recklessly
by a Mancunian Isadora.
Four miles south,
the sun peeps over tall buildings.
Barely skyscrapers –
but distance lends romance.
I won't be home for breakfast…'
John Darwin will be performing at the Bury New Road Festival on Friday 15th July at approximately 1:30pm and at 5:15pm at the Broughton Hub
The Broughton Hub is situated on Rigby Street, off Devonshire Street, which is just off Bury New Road M7 4BQ, behind the Greek Orthodox Church in Salford. (the Hub has a car park, entrance on Devonshire Street)
Meanwhile, the Bury New Road Festival runs noon-7pm at The Hub (for details click here) and will also include the launch of the North Manchester Yiddish Dictionary at two shows, 1pm (approx) and 5:45pm (approx) – see here.
There will also be an exhibition of abstract paintings by the Mental Wellbeing Group at The Fed, based on their reactions to the Longfield Centre in Prestwich which is soon to be bulldozed. As part of this process, we developed a special 'Prestwich Palette' of colours based on buildings in the Precinct, so look out for Prestwich Library Yellow, Village Greens Green and Bollard Blue in the artwork…
The Manchester District Music Archive will also be on hand to scan photos and interview people about the amazing events, people and places connected to the Road. Just turn up and add to our archive, together with the Salford Local History Group, whose Paul Kelly will be giving an illustrated talk about Big Tunnels Under Bury New Road (see here).
Local history collector, Craig Brisbane, will be bringing along his incredible collection of local artefacts, including ancient flint arrow heads found on Rainsough plus other vintage wonders of Salford and North Manchester.  The Strummalongs will be singing songs about Salford and Bury New Road, and there will also be an exhibition of the latest Bury New Road portraits by Louise Garman and photos from the Bury New Road archive of Paul Jones (see here).
The Bury New Road Project…A heritage project that seeks to point out the amazing people and events that have links to this section of the A56 between Strangeways and Prestwich. We aim to point out the magic, and everyone's welcome to help.
The Bury New Road Project is funded by the Heritage Fund, Granada Foundation and Mary Monson Solicitors, with added support from Salford City Council, Manchester City Council and Bury Council.