Recently, I was idly scrolling through one of the several Facebook groups dedicated to The Fall, when I came across this post:
Is this the right stats for The Fall?
29 years
31 studio albums
22 live albums
24 Peel sessions
49 members
The quick answer was 'No!' After I'd responded with my own list of Fall albums (more on which later), I discovered that this request had been posted by someone from the Bury New Road heritage website, who wanted to make sure that their Fall information was correct. An admirable aim, no doubt, but one that's decidedly tricky to achieve. In fact, the only one of the statistics above that would be greeted with universal agreement by any set of Fall fans would be the fact that the group recorded 24 sessions for John Peel. 1
If you have at least a reasonable working knowledge of Mark E Smith and The Fall and the group's most notable characteristics, then you may wish to skip this paragraph. If, on the other hand, you read the opening of this article and thought, 'What the hell is he banging on about?' then I shall endeavour to explain concisely…
The Fall were a group from Prestwich who were formed in the late 70s and had a long and varied career that ended with vocalist and sole constant member Mark E Smith's death in 2018. Although their music is often described as 'post-punk', it varied hugely over the years, whilst always remaining somehow, indefinably and unmistakeably The Fall. They released dozens of albums, played hundreds of gigs and went in and out of fashion in a cyclical manner.
Smith – commonly known as 'MES' – was known for his complex and often impenetrable lyrics, inimitable vocal style, disdain for the music industry, music press and musicians themselves (The Fall went through a lot of them), his fondness for drink and drugs and his frequently (although not consistently) curmudgeonly demeanour.
But why is it so hard to come up with those 'right stats' for The Fall? To find out, we need to start at the beginning…
In 1975, Mark E Smith and his girlfriend Una Baines – at that time living in a flat on Kingswood Road, just off Bury New Road – were introduced to Martin Bramah and Tony Friel. The four of them, inspired by their love of the Velvet Underground and The Stooges, became determined to form a band. Impetus towards this end was provided by seeing the Sex Pistols perform at Manchester's Lesser Free Trade Hall in 1976. 2 Inspired by the punk DIY ethos, they decided to put vague ideas into practice, and in May 1977, The Fall (named after Albert Camus' 1956 novel) performed their first gig.
For that first performance, the group had recruited a drummer called Steve Ormrod: that was to be his sole appearance. Marc Riley (of Radio 1's Mark and Lard fame and now BBC 6 Music broadcaster) became The Fall's fourth bass player when he was promoted from roadie the following year. By the time Martin Bramah quit the group in April 1979, Mark E Smith was the only original member left; from this point on, MES was undoubtedly in charge and setting The Fall's direction. In these events, we find the root of what many see as one of the defining characteristics of The Fall: the 'revolving door' membership of the group caused by the dictatorial Smith hiring and firing musicians on a whim…
…Except that this isn't entirely true. Over the course of the Fall's lifetime, only eight members of the group were actually sacked. The majority quit. Long-serving bassist Steve Hanley, for example, walked out after he, drummer Karl Burns and guitarist Tommy Crooks had an infamous on-stage physical altercation with Smith in New York in 1998. In 2006, Ben Pritchard, Spencer Birtwistle and Steve Trafford, tired of Smith's unpredictable behaviour (which included pouring beer over their tour manager whilst he was driving the tour bus) jumped ship during a US tour. Several others walked because of disputes over song writing credits and royalties. It's also worth noting, however, that over the last ten years and half-dozen albums of The Fall's career, the line-up – notwithstanding the departure in 2016 of keyboard player/vocalist and Smith's third wife Eleni Poulou – was largely stable.
Nonetheless, you can't get away from the fact that a lot of people were in The Fall at one point or another. At times, it seemed as though if you hung around the pubs of Prestwich long enough, you might blink and suddenly find yourself on stage with a guitar having to knock out a hastily learned 'Mr Pharmacist'. 3 What is tricky, however, is to pin down a definition of what it means to be a 'full member' of the group.
This is because, over the course of The Fall's long and complex history, a veritable cast of thousands (or dozens at least) made a hugely varied range of contributions to its weird and wonderful story. Sure, there were quite a few who were unarguably 'full' members of the group: the aforementioned Steve Hanley, bassist for 19 years and to many the very essence of the 'Fall sound'; his brother Paul, who played his first gig in the middle of his mock 'O' levels and occupied the drum stool for five years; Brix, MES's first wife, who brought a bit of glamour and pop sensibility to the group's most commercially successful period in the mid/late-80s; Dave Bush, whose synths and sequencers were a key feature of The Fall's early 90s material; Simon Wolstencroft, christened 'Funky Si' by Johnny Marr, who drummed from 1986 to 1997; Julia Nagle, who along with Smith was all that was left of the group after the New York bust-up; Pete Greenway, Dave Spurr and Keiron Melling, the backbone of the group throughout its final decade. But with many others, it's not quite so clear.
At the other end of the spectrum from Brix and the Hanleys are a collection of musicians who made only the briefest of appearances in Fall history. Paul Bonney – an unlikely choice given his background with The Australian Pink Floyd Show – played twice as part of a dual-drummer line-up in 2016. Ruth Daniel, Nick Dewey and Chris Evans went one better, all appearing for one night only. Support band drummer Evans filled in for Spencer Birtwistle when the latter was stuck in traffic; Dewey was given only a couple of hours to prepare for The Fall's slot at the 1999 Reading Festival, regular drummer Tom Head having walked out after a violent clash with MES. Arthur Kadmon of Manchester post-punk band Ludus contributed no more than a few seconds of guitar to 1982's Room To Live. In The Fallen (a book by Dave Simpson in which the author set out to track down all the ex-Fallers 4) there is even a page devoted to Stuart Estell, an audience member who was handed a guitar and did his best to play along to 'Industrial Estate' at a gig in 1998.
What really makes the number of Fall members a challenge to identify though, are all those who fall (ahem) somewhere in between. Steve Davies played congas on the group's debut Peel session and filled in on drums while Paul Hanley was taking his exams in the summer of 1980; Dave Tucker played clarinet on 1981's Slates and one of the Peel sessions; Kenny Brady's violin and Charlotte Bill's flute and oboe featured on record and on stage in the 90s. Some had roles that were hard to define, such as Smith's long-time friend Ed Blaney, who at various times contributed guitar, backing vocals and acted as the group's manager. Then there were those who were not musicians but still made vital contributions to the Fall story, such as Kay Carroll, whose no-nonsense management style played a key role in establishing and securing the group's independent, uncompromising attitude, and Grant Showbiz, whose production work spanned most of the Fall's career.
So if we can't come up with a definitive count of who was in The Fall, then surely we can at least decide how many albums they made? No such luck…
This is not simply because of the sheer size of the group's back catalogue, which by my reckoning currently includes 53 compilations and 76 live LPs 5 and may as well, in musical terms, be the dictionary definition of 'daunting'. Even leaving aside the labyrinthine world of cobbled-together 'Best Of's and vinyl reissues of dodgy live bootlegs (something that isn't unique to The Fall, of course, although it's rarely seen to quite the same extent), Fall fans cannot even agree as to whether there were 31 or 32 studio albums. Not only can they not agree, but the topic is a source of heated, sometimes even fractious debate.
The source of this dispute is the 1981 release, Slates. Widely regarded as one of The Fall's finest moments, it was – in its original form – a 10" record with six tracks and a total duration of just under 24 minutes. Whether or not it should be regarded as an album rouses remarkably strong feelings amongst the group's fanbase. On the Fall Online Forum, for example, discussion threads that merely touch on Slates are frequently diverted into lengthy discourse concerning its status. The press release at the time called it a '10" 33rpm single release'; others have described it as an EP, a maxi-single or a mini-LP; many hold that its brief duration is no barrier to its categorisation as an album, given that some famous records of similar length – Dylan's Nashville Skyline (27:41), for example – are generally regarded as full albums. 6
 But why, you might reasonably ask, does anyone care so much (or indeed at all) about any of this?
I could easily pen another couple of thousand of words pondering this question, but put simply, the Fall were a unique group. 7 They produced a body of work that is all at once diverse, frustrating, intriguing, uneven, inspiring and remarkable. Like 'classic' and 'genius', the word 'unique' is bandied about far too easily in music journalism – but it is notable that, despite the odd bit of influence spotted in any number of bands over the last few decades, none of them ever really, truly sound like The Fall. And most Fall fans will tell you that – a small selection of brave attempts aside – not even the most talented artists ever produce a properly decent Fall cover.
So, to answer the question I posed myself: the reason that it matters to so many whether Slates is an EP or an album, or whether there were 35 or 56 or 78 Fall members (or whether MES sings 'plastic' or 'elastic' on the 1980 single 'How I Wrote "Elastic Man"', or whether or not the cover of the Levitate album is a homage to Trout Mask Replica, or whether Bend Sinister was mastered 1% too slowly) is that a unique group bred a unique fanbase.
My book about The Fall, You Must Get Them All, tells the story of the group framed around the extraordinary music that they released over their forty-year career, none of which would have existed without the talent, creativity and dedication of Mark E Smith and that extensive cast of musicians. But it would also have been impossible to create the book without the contributions of the fans who posted gig reviews, scanned articles, noted references in films and TV shows or penned passionate defences or acerbic rebuttals; the people who go on caring about this crazy, incomparable group.
Steve Pringle is the author of the Fall blogs The Fall in Fives and You Must Get Them All, as well as various other articles about the group. His book about The Fall, also called You Must Get Them All, will be published by Route Publishing in 2022.
1. The 97 tracks that The Fall recorded for Peel are compiled in a 6xCD boxset, The Complete Peel Sessions 1978 – 2004, a release that – in a rare example of consensus – all Fall fans would agree is an essential purchase.
2. The Pistols played on 4 June and 20 July. It's likely that nascent Fall attended only the second of these two performances (only about 40 people attended the historic first gig), but as is the case with so much Fall-related history, it's not 100% certain.
3. The Fall were renowned for refusing to play 'oldies' – most setlists consisted of new or even unreleased songs. Their cover of Californian garage-rock band The Other Half's 1966 single, however (which reached no. 75 on the UK chart in 1986), was rarely off the setlist, clocking up over 400 performances.
4. The most notable ex-member that Simpson was unable to locate was Karl Burns, who had four separate stints as drummer between 1977 and 1998. His whereabouts remain a mystery.
5. And by no means everybody agrees with those two figures: but if we went into that properly, this article would be at least double the length.
6. Whatever camp you identify with, one thing is factually inarguable: due to the BPI's rules at the time regarding price and song numbers, Slates qualified as neither a single or an album, and as such basically did not exist commercially.
7. You may have noted that I refer to The Fall as a 'group' rather than a 'band' throughout. This was Mark E Smith's preference (although he himself wasn't always consistent in his terminology): "It's like when you play Jools Holland – they're all [cue withering disdain] 'bands' and they've all been to music college. They've all studied to be in a 'band', they've all got degrees to be in 'bands'…to me a band's like, 26 musicians. The Fall's different. The Fall's a group."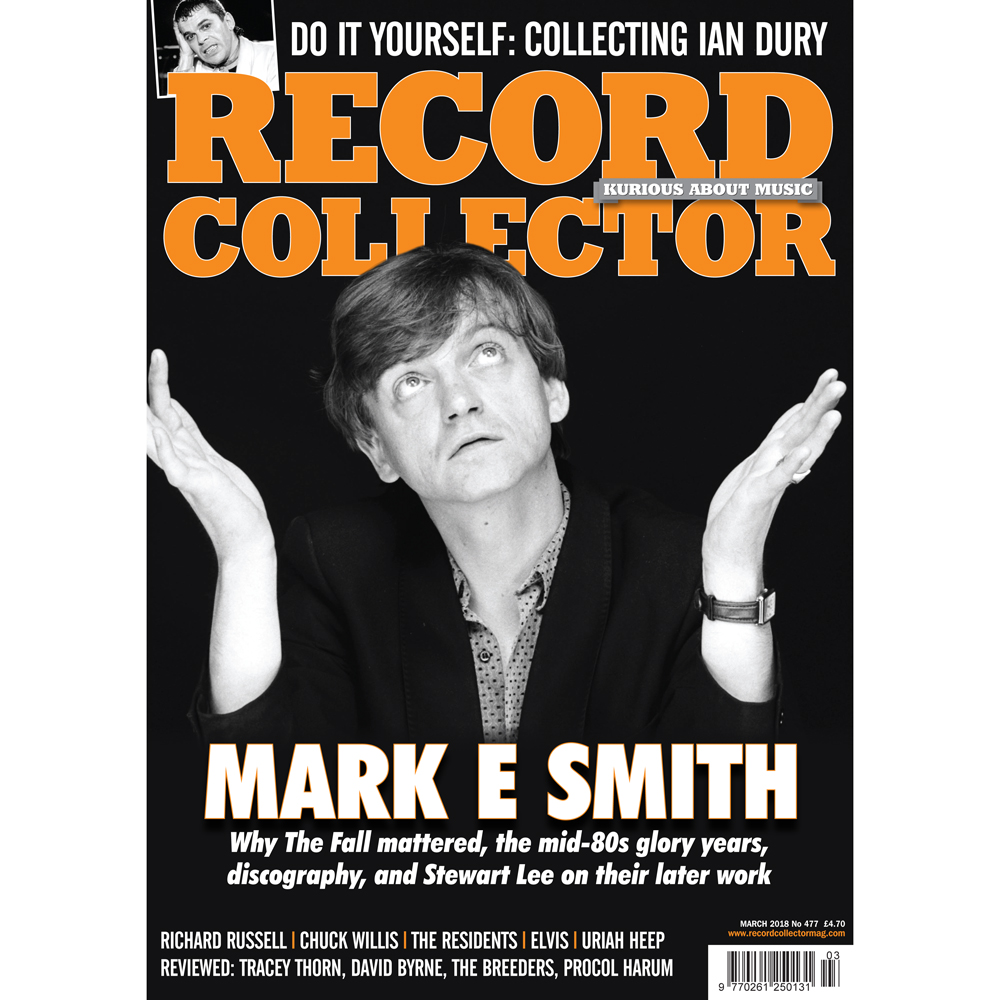 See also…
Mark E Smith – Who is he and how important is he? click here
Top Quotes On Mark E Smith – click here
The Fall Walking Tour of Prestwich – click here 
Mark E Smith and Me – by Manager, Collaborator and Friend Ed Blaney – click here 
Una Baines on The Fall, Prestwich Hospital and that Prestwich Energy – click here