For two days in September 2021, fans of The Fall from all over the country came together for a walking tour of Mark E Smith-land led by ace Fall fans, the two Robs…
Meeting by Prestwich Tram Station, the tour began with a stroll to Our Lady of Grace Church on Fairfax Road, which featured on the sleeve of the single How I Wrote Elastic Man/City Hobgoblins, complete with a huge goblin sat on the roof of the place next door, which has since been demolished…
Next up was the major photo opportunity next to the great Mark E Smith mural by Akse P19, on the side wall of the Chips @No8 fish and chip shop, off Clifton Road, a few yards from Bury New Road.
On the corner of Bury New Road and Clifton Road is an accountants which apparently was the setting for The Fall track, Psykick Dancehall…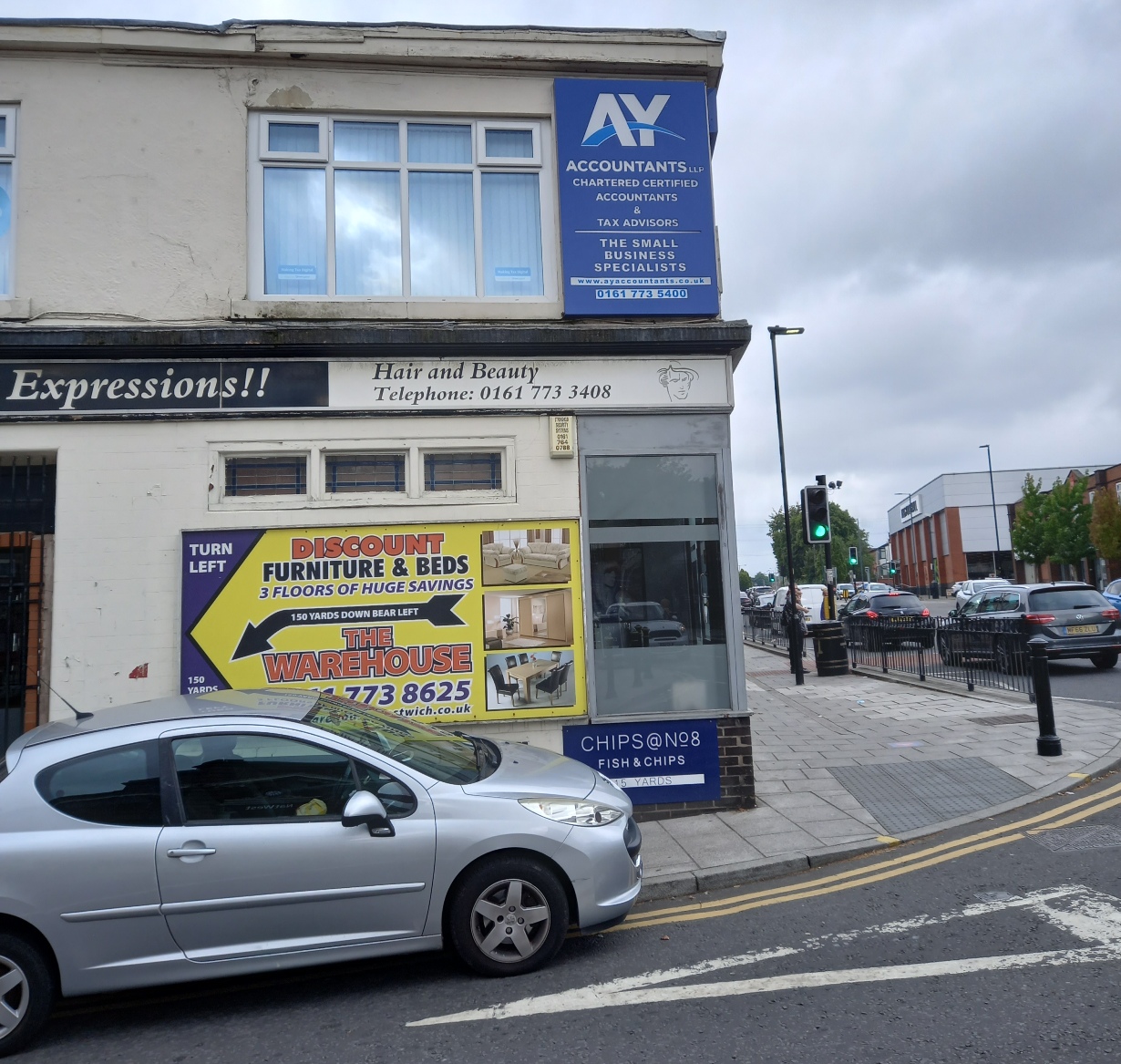 Fall manager, Kay Carroll, revealed that her mum opened a psychic centre at the site, which had originally been a dance studio… "So I wrote this song about this dancehall, which does sort of exist in Prestwich…or doesn't anymore…they were going to have a disco with no music. Just old psychics, you know, like 50-year-old women" Mark E explained in an interview.
My garden is made of stone
There's a computer centre over the road
I saw a monster on the roof
Its colours glowed on the roof
Round the corner
Is quester psykick dancehall
Step forward for
ESP medium discord
Here they have no records
They know your questions about no words
Just bumble stumble to the waves
Twitching out to the waves
Clock it! Clock it!
It's quester psykick dance-hall
Never bored with
ESP medium discord…
From here there was a brief walk to 15A Kingswood Road, Una Baine's old flat almost opposite the Post Office, where The Fall was born. Una worked as a psychiatric nurse at what was then Prestwich Hospital, which accounted for many such references in Mark E Smith's lyrics.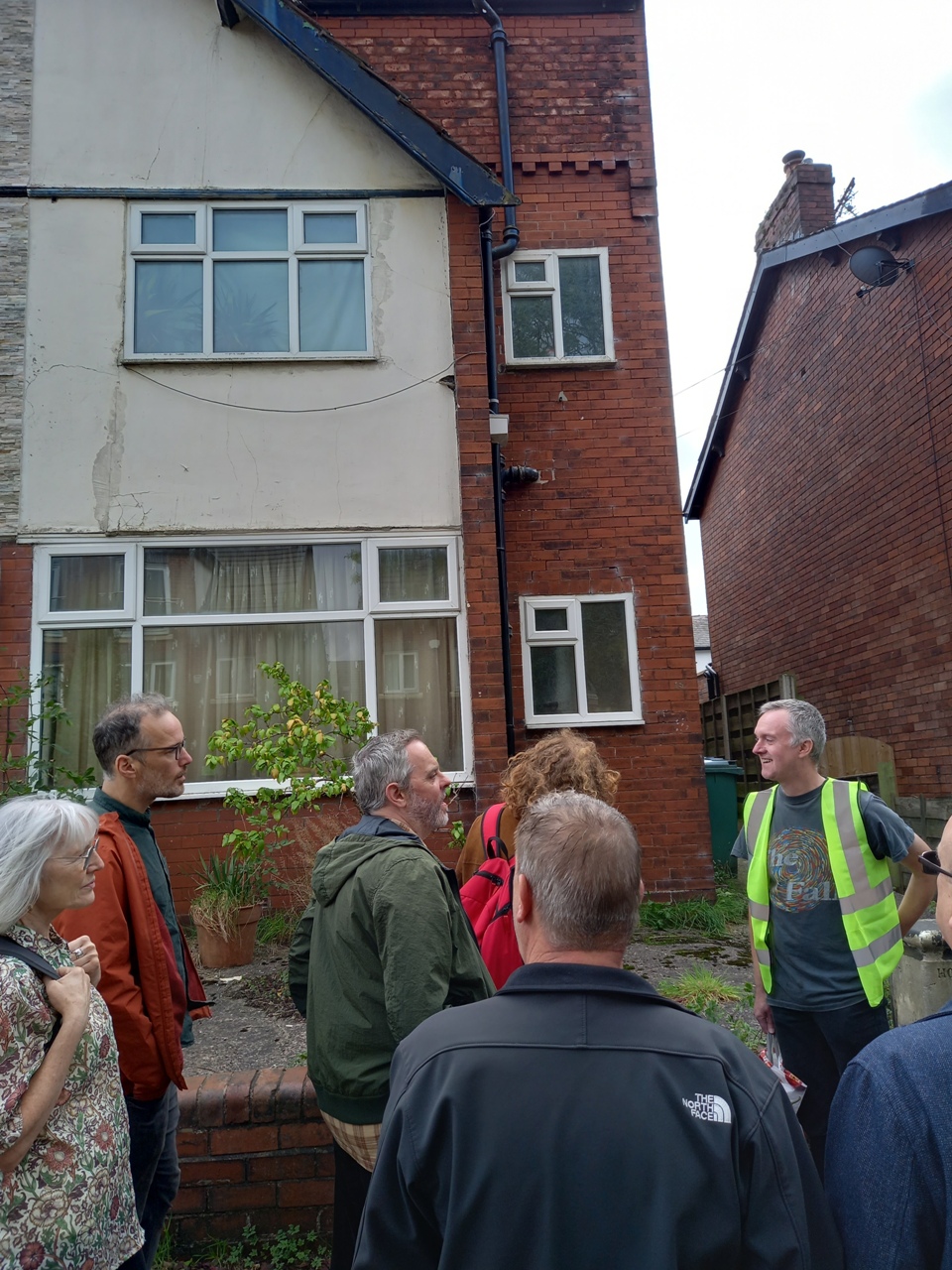 Back in Prestwich Village, it was a walk via all the pubs where Mark E drank…The Wilton Arms, now Cafe Istanbul and Roy's Bar, was the setting for Rebellious Jukebox; the Foresters (still there) was a constant for Mark, the Railway and Naturalist was another haunt, and the Red Lion, where Mark and Brix sat in the alcove for the video of Wings, was a watering hole not to be missed. The snooker table that featured in Michael Pollard's shoot here has now gone but you can pull over a table and chair and sit in the same alcove.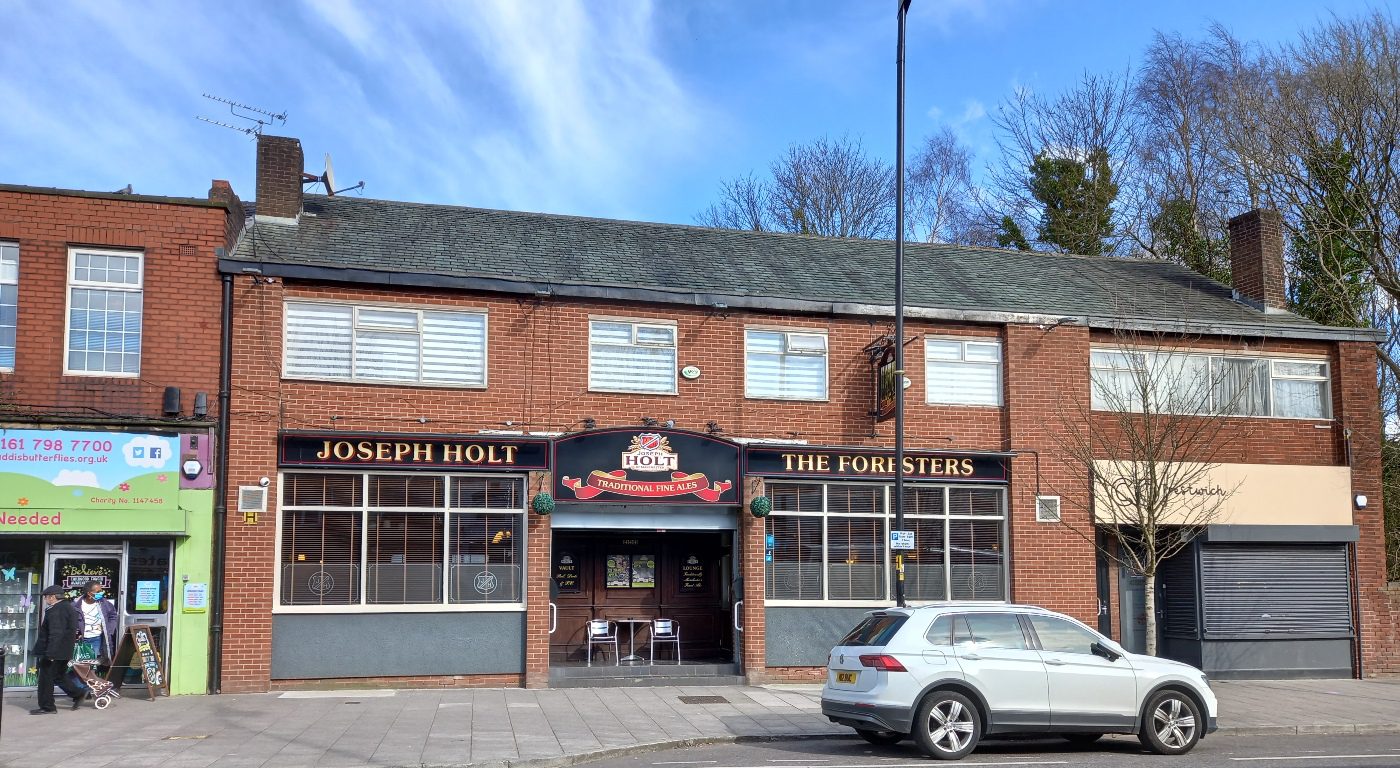 From here it was onto Church Lane, past the former site of Graveyard Studios, where The Fall, as well as Joy Division and loads of other local bands recorded (for full details see prestwich.org), and to the Prestwich Clough graveyard at St Mary's Church, as featured in the track Jawbone and the Air Rifle...
'The rabbit killer left his home for the clough
And said goodbye to his infertile spouse
Carried air rifle and firm stock of wood
Carried night-site telescope light
A cemetery overlooked clough valley of mud
And the grave-keeper was out on his rounds
Yellow-white shirt buried in duffle coat hood
Keeping edges out with mosaic colour stones…'
Michael Pollard's notable Fall photoshoots were again re-created, firstly in on the steps leading up to Bury New Road from St Mary's Flower Garden in the Clough, and then in front of the giant war memorial cross in front of PADOS on the corner of St Mary's Road and Rectory Lane, just across from the flat where Mark and Brix lived for a while.
Sedgley Park, where Mark lived on Winchester Road (see gallery and management statement), the George pub (now Sainsbury's) where he drank and the post office on Kings Road where his mum worked, were all omitted for time and distance reasons, so it was onto the Ostrich pub on Bury Old Road, where Mark drank, and then to the Woodthorpe pub, also on Bury Old Road, where the video for Ghost In My House was filmed.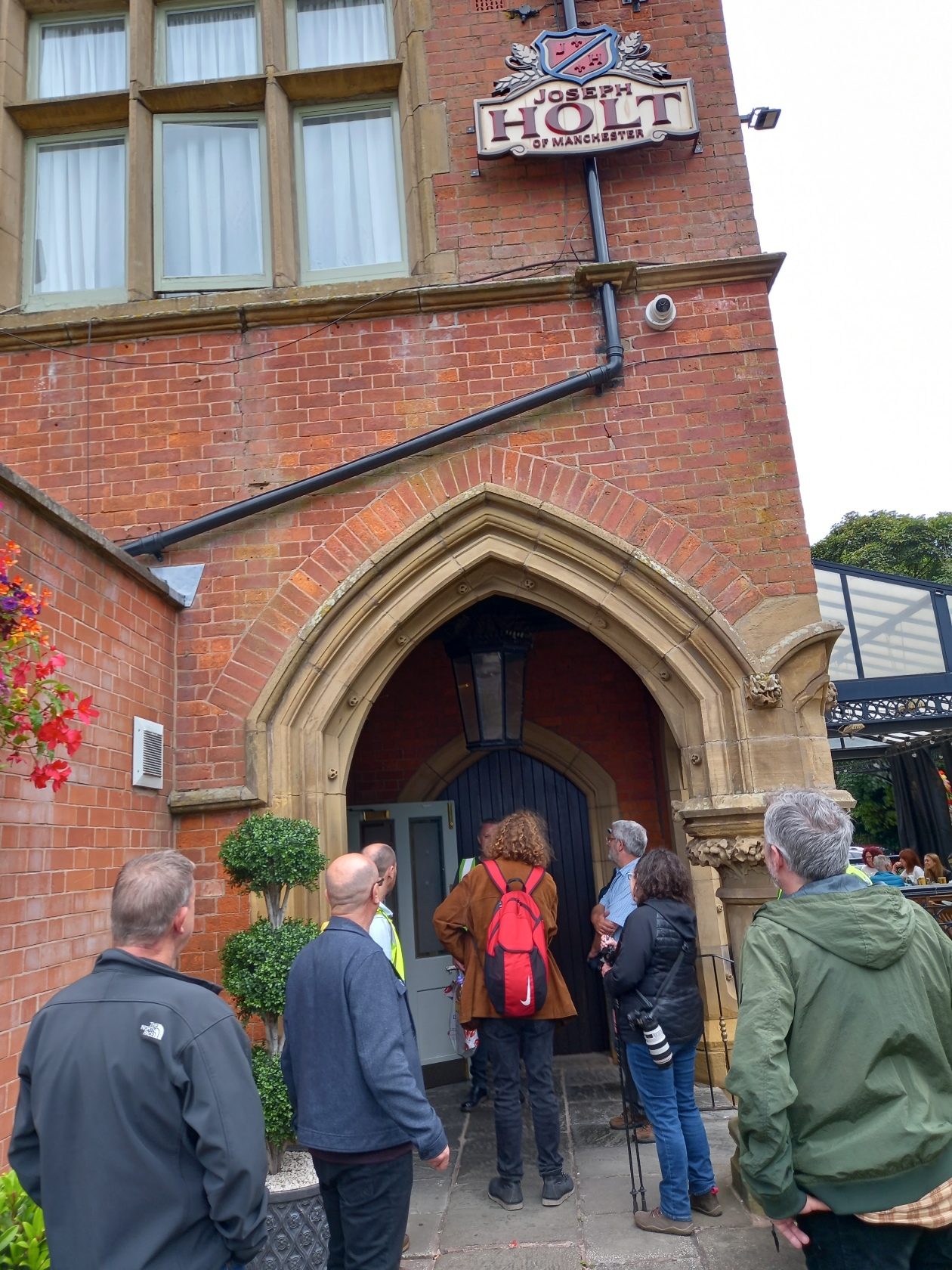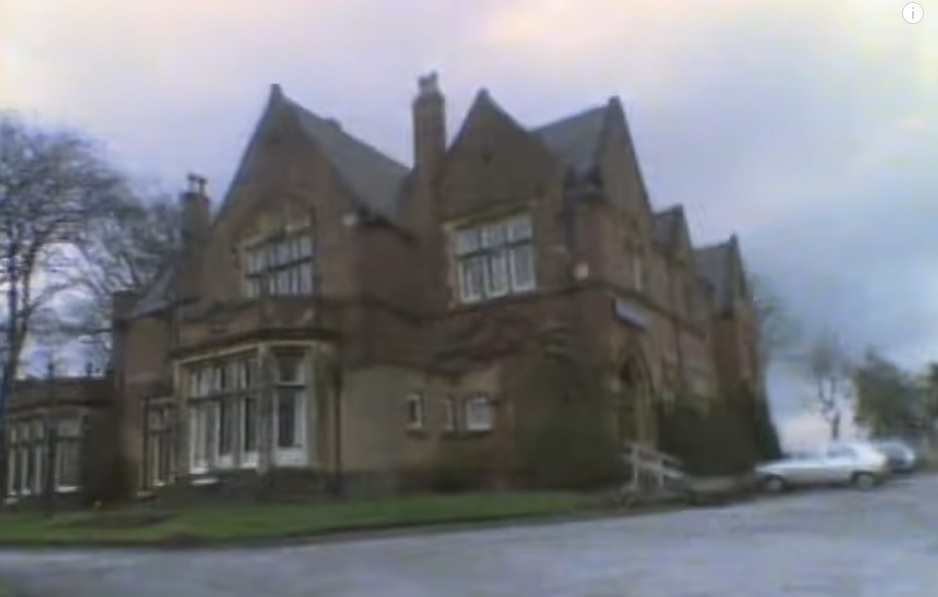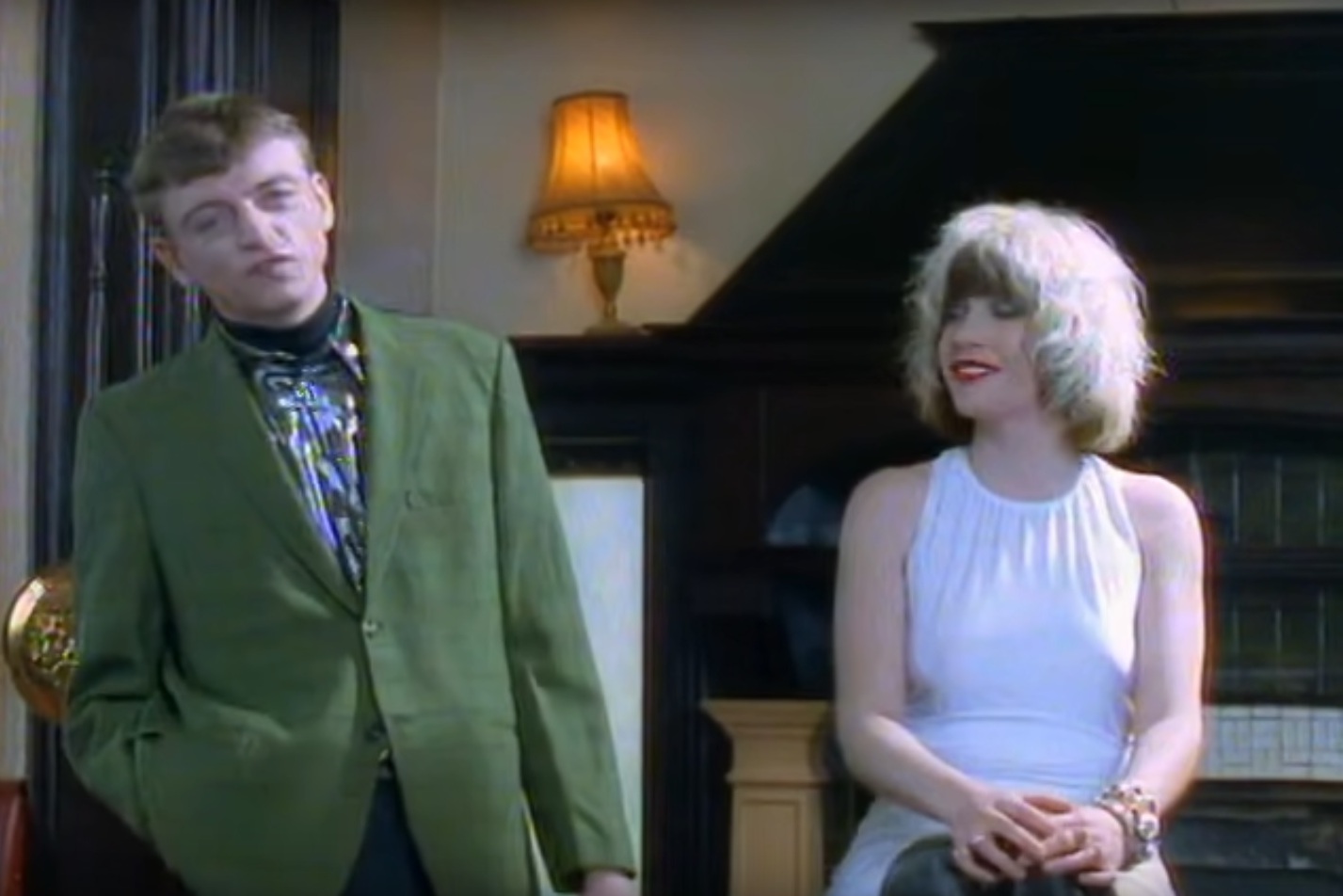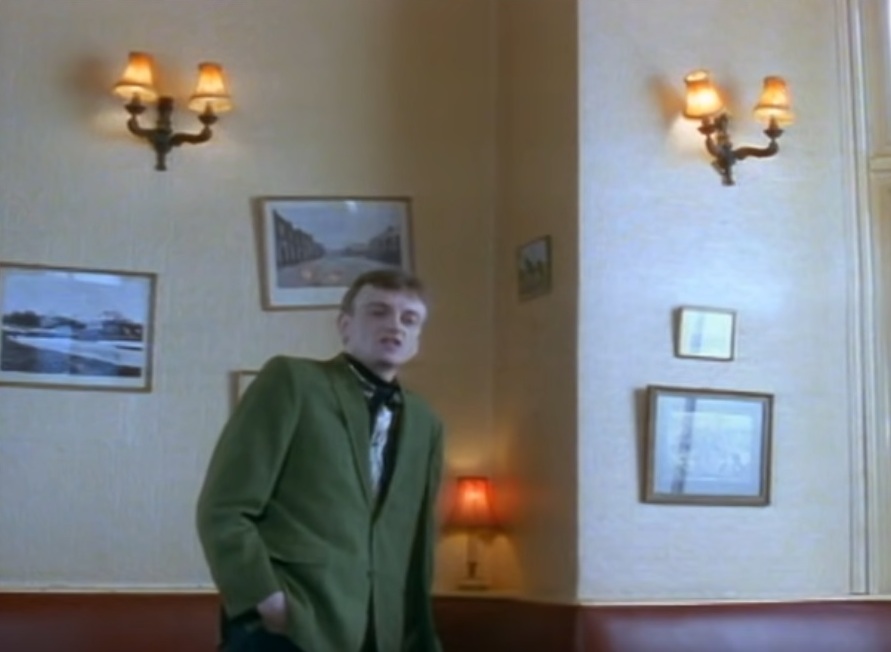 From here it was onto the Heaton Park boating lake and an old tree stump that featured in Pollard's photoshoot for Cruisers Creek.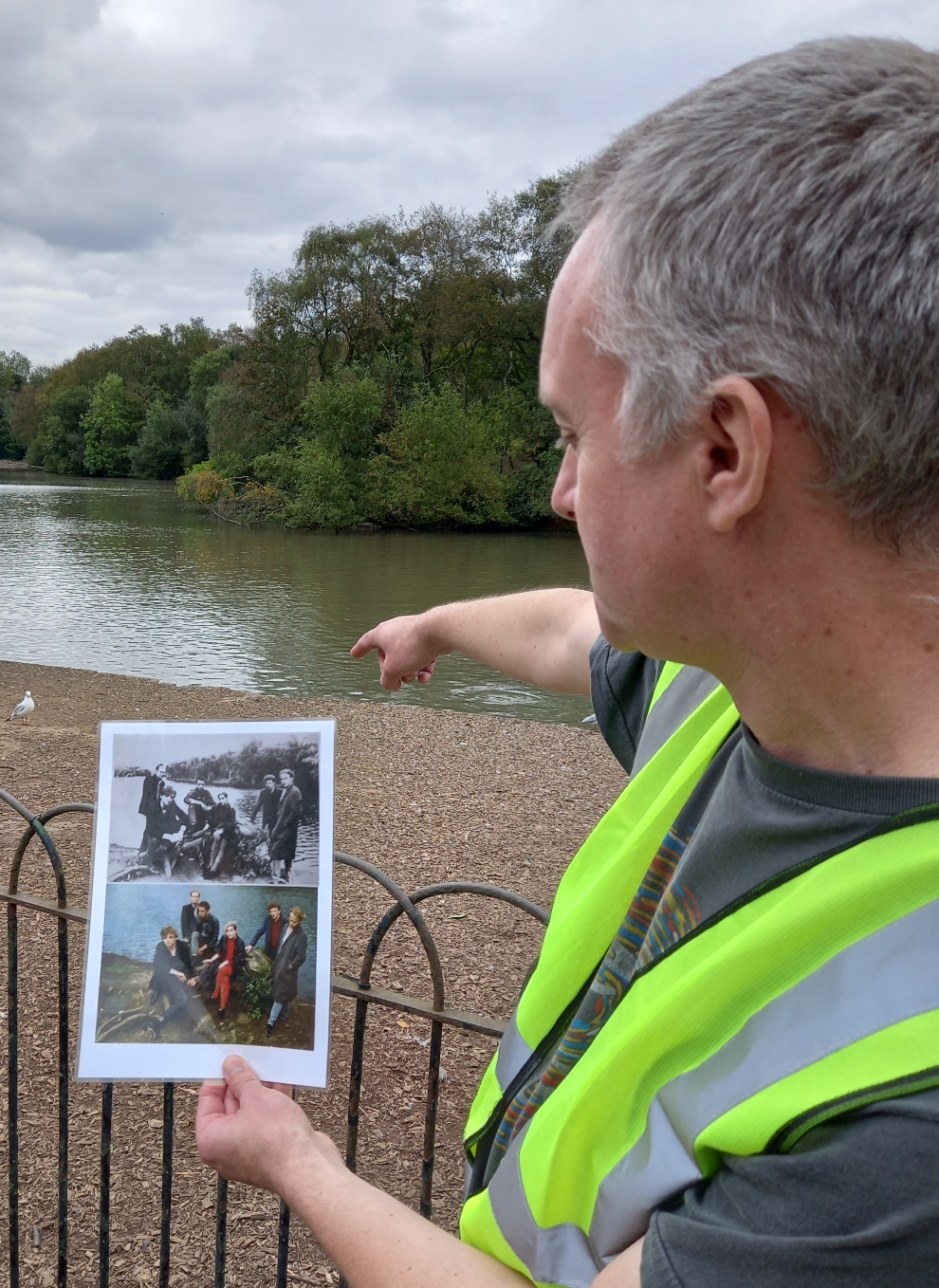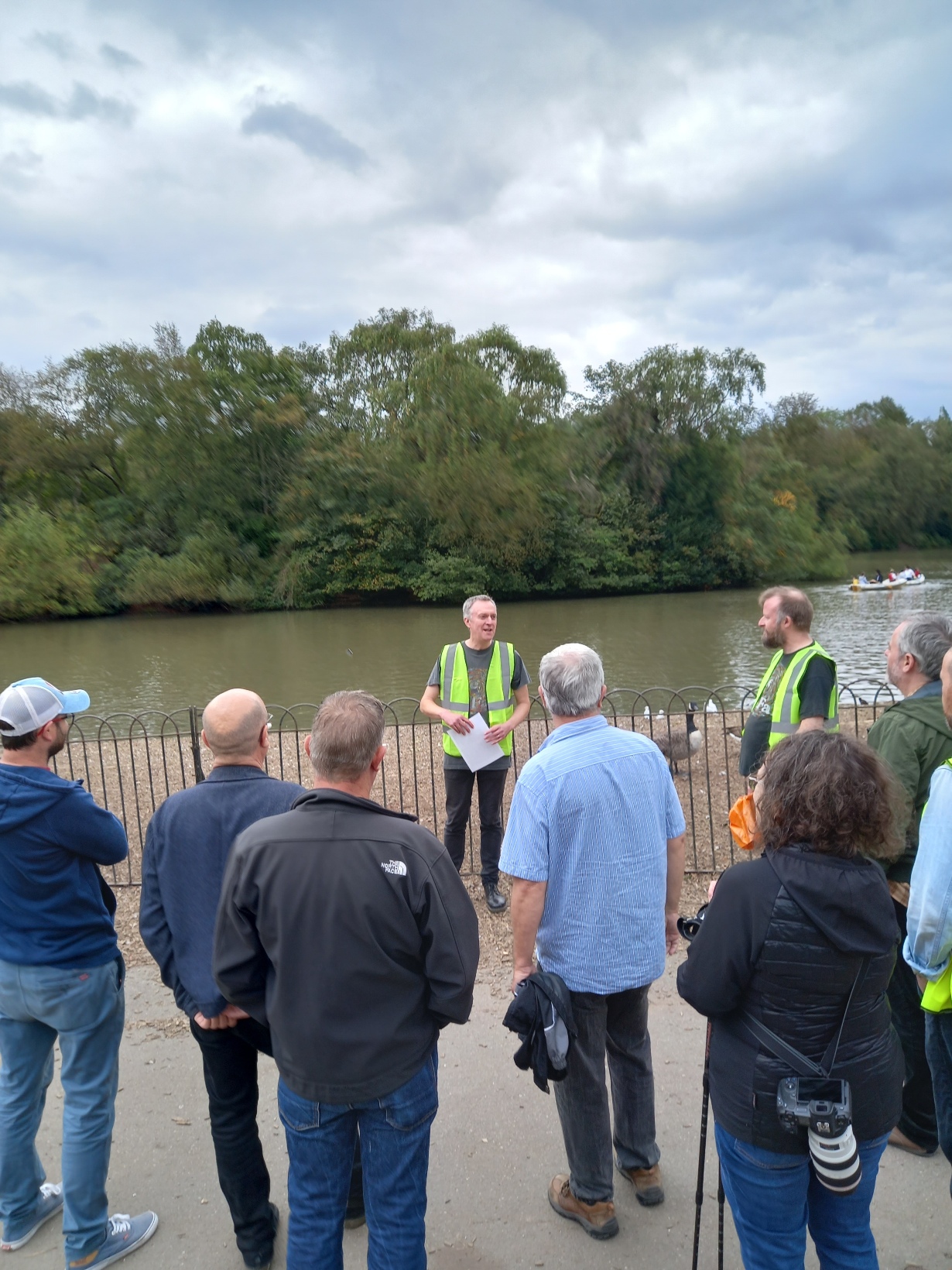 From here, the tour concluded with a tram ride to the outskirts Manchester centre where the cover of The Fall album This Nation's Saving Grace was shot. Compare and contrast ever changing Manchester….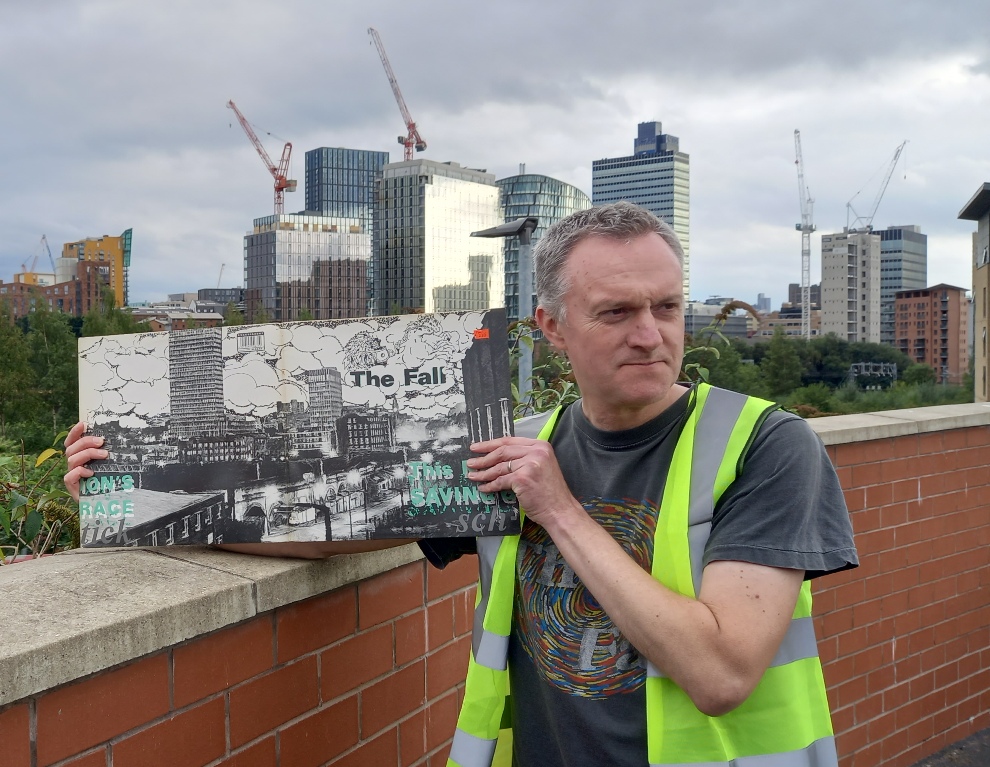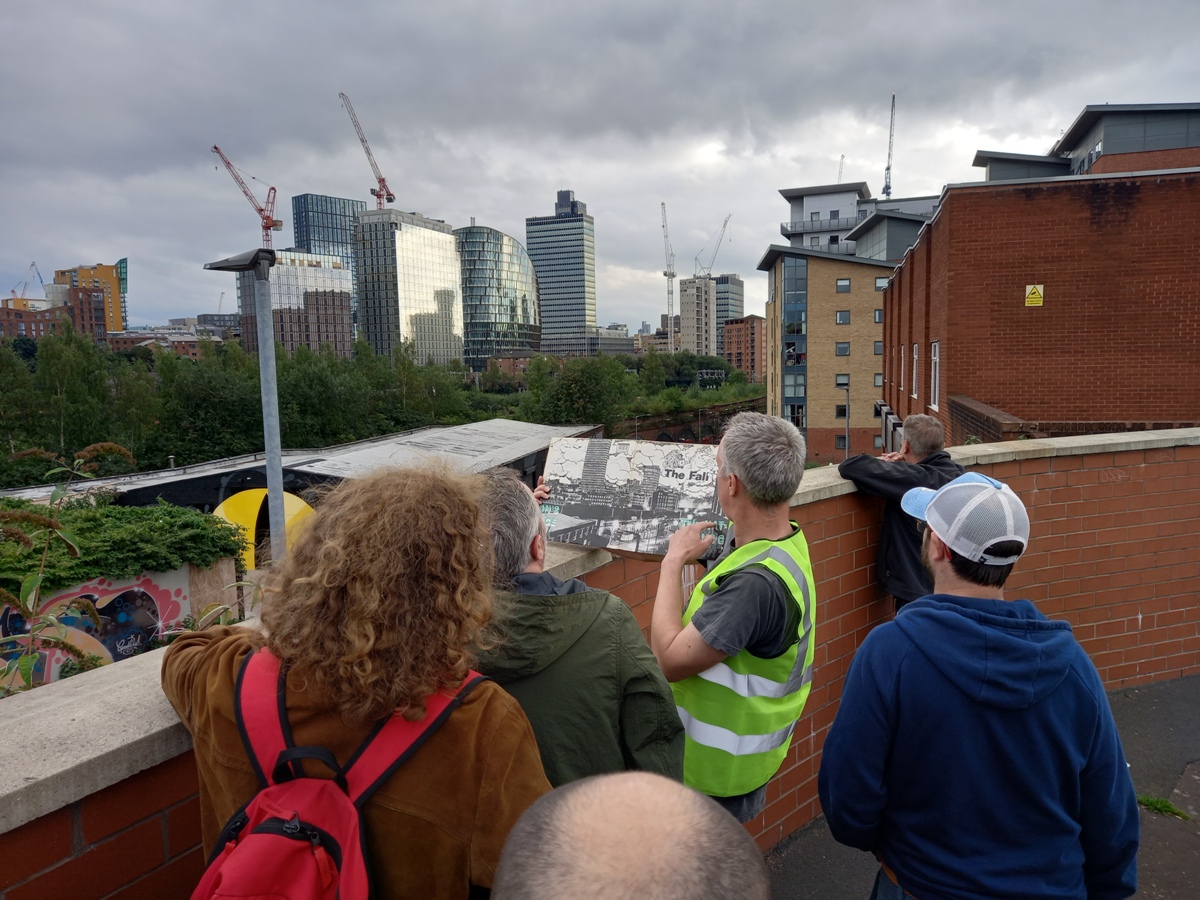 Meanwhile, Prestwich, Manchester and Salford featured in lots of videos and photoshoots with The Fall – from the Crumpsall synagogue on Cheetham Hill, to the Strangeways Prison Tower, and the columns of the old Manchester Town Hall and the lions in Heaton Park…it really is 'spot the local haunt'…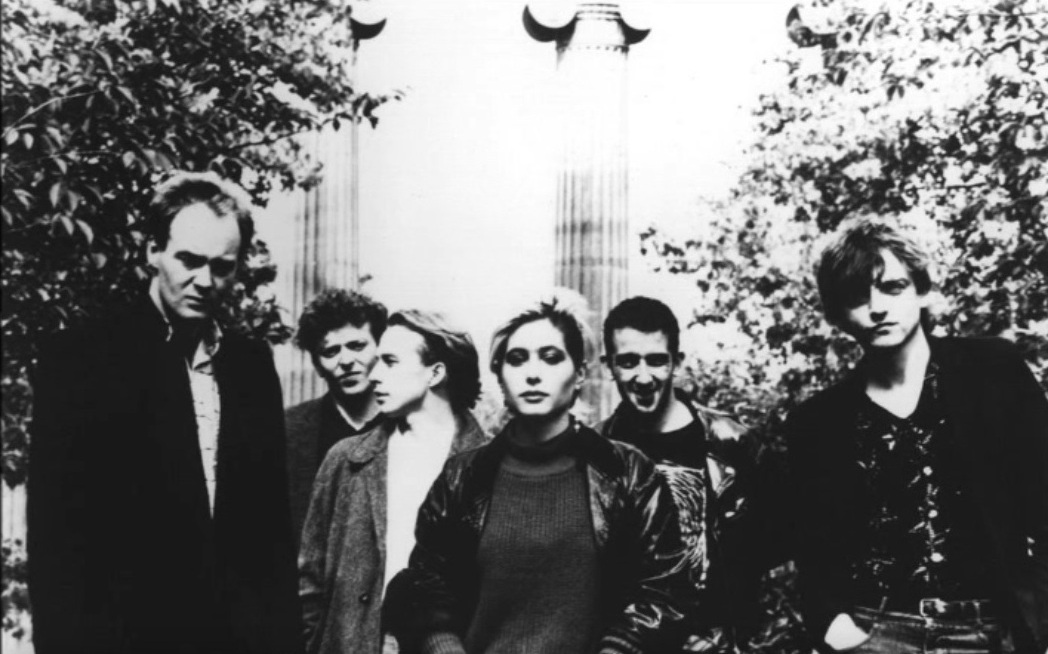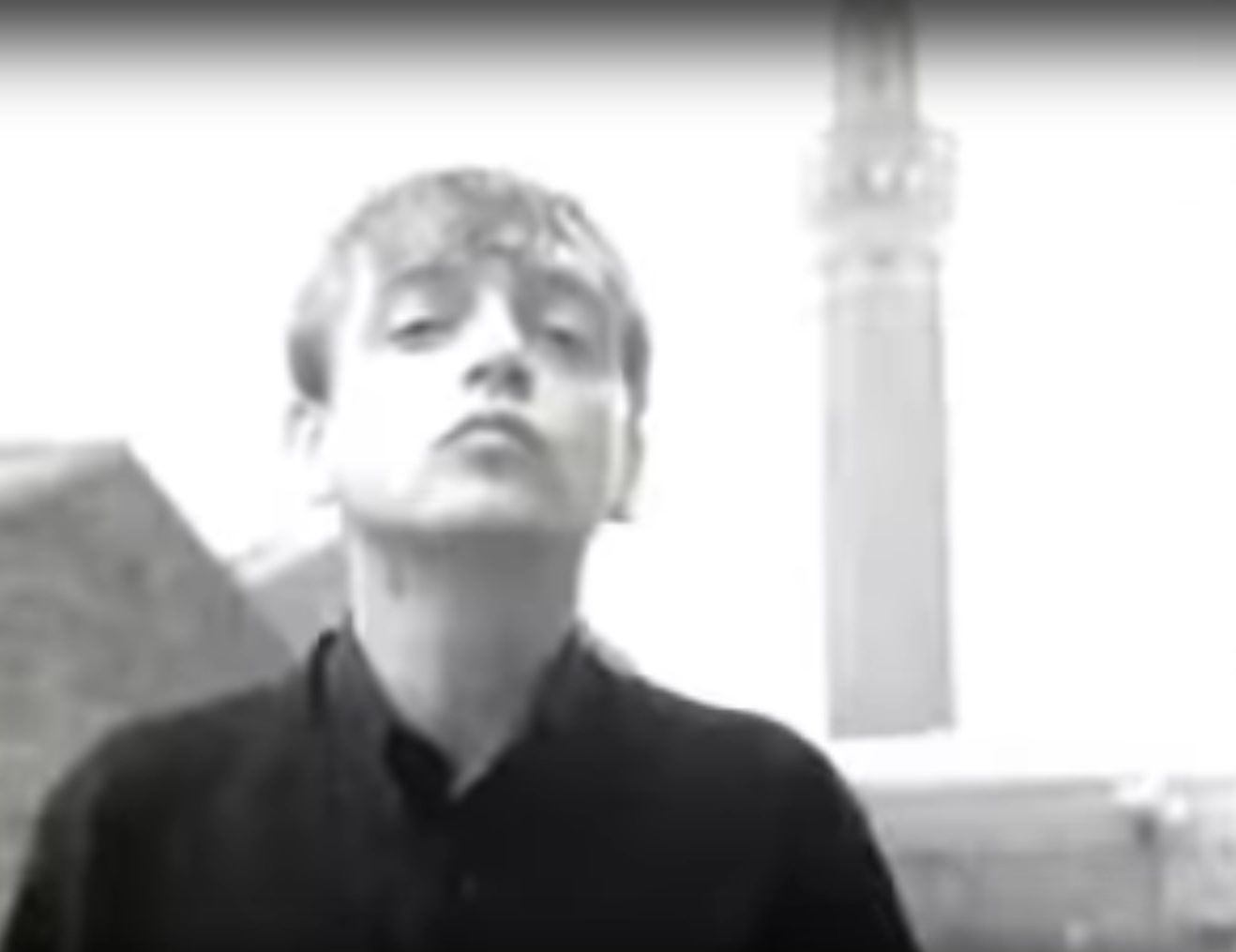 Photoshoot photos courtesy of Michael Pollard – for more details see his website click here
Also see Rob and Rob's In The Footsteps of Mark E Smith – click here
For loads more info on The Fall see also Excavate: The Wonderful and Frightening World of The Fall by Tessa Norton and Bob Stanley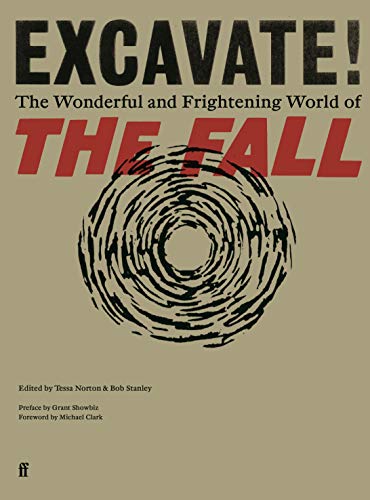 Also see…
The Fall and Mark E Smith – who is he and why is he so important – click here
Top Quotes on Mark E Smith and by Mark E Smith – click here
The Fall – how many albums? And how many members? – click here
Mark E Smith and Me – by Manager, Collaborator and Friend Ed Blaney – click here
Una Baines on The Fall, Prestwich Hospital and that Prestwich Energy – click here