12 Things About Bury New Road: Part Five
Who is it? William Sturgeon (1783-1850)
What did he change? Everything. Sturgeon devised the first electromagnet which was capable of supporting more than its own weight in 1824, and, involving his electromagnets, invented the first practical electric motor in 1832, plus the commutator, a crucial part of electric motors. Basically, and to cut out the science behind it, anything that rotates electronically owes a debt to William Sturgeon – hairdryers, cars, washing machines, MRI scanners.* His experiments and observations with high flying kites also led to the invention of the lightning conductor.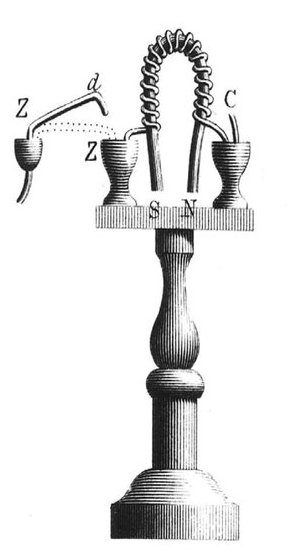 What was he doing on Bury New Road?
William Sturgeon didn't do his inventing on Bury New Road. He was born in Whittington in Lancashire, joined the army until age 37, then founded the Woolwich Literary Society and by 1837 was living  on the Old Kent Road in London. He moved to Hulme in Manchester in 1840 to take charge of the Royal Victoria Gallery of Practical Science but the institution closed a few years later and he made his living lecturing  In 1840 Sturgeon moved to the 'clear air' of Prestwich after an attack of bronchitis, to 13 Wash Lane, which is now Clifton Road. And is also now the car park at the back of the Nat West bank in Prestwich Village on Bury New Road.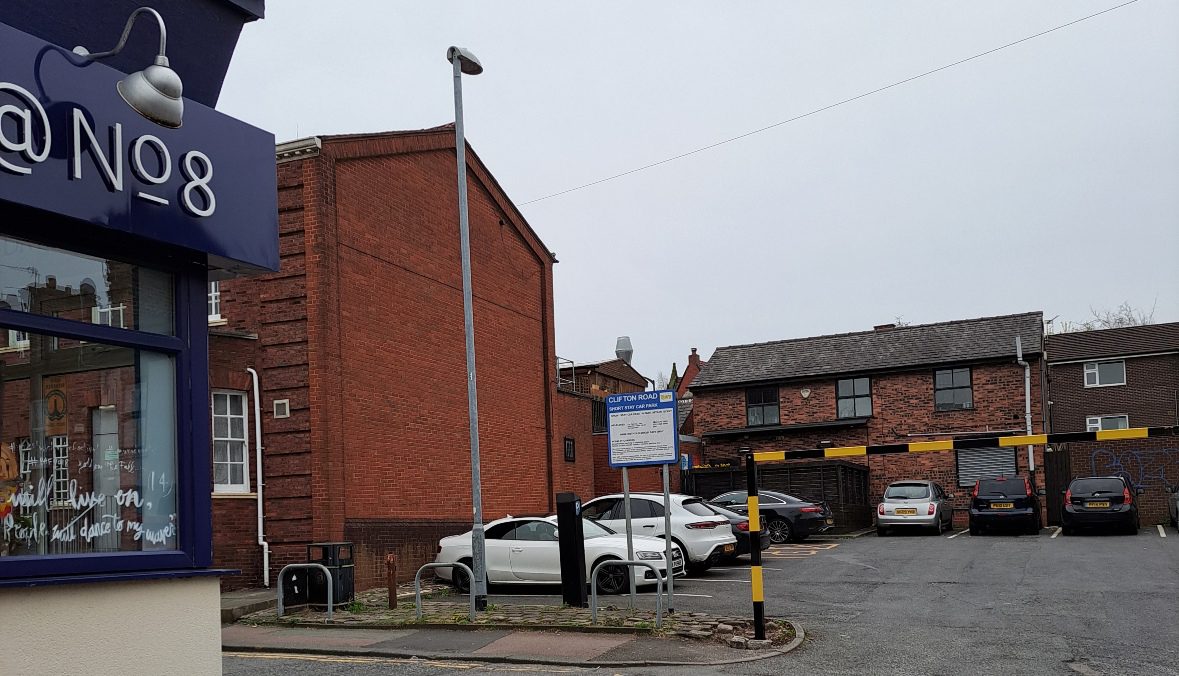 Sturgeon also spent some time recovering in Kirkby Lonsdale. Just before Sturgeon died in 1850, he published, from Bury, his collective work of Scientific Researches, sponsored by patrons, including Michael Faraday, as he never made any money from his inventions.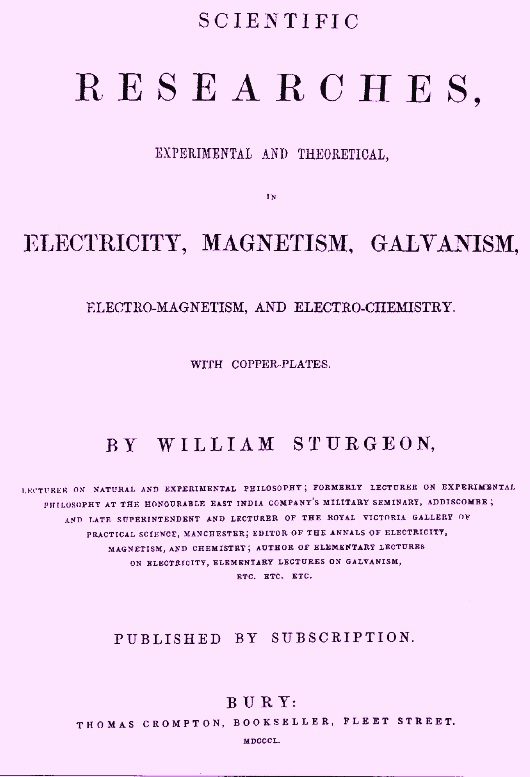 William Sturgeon is buried in St Mary's Churchyard, Prestwich, his funeral attended by James Joule, while his Grade II listed gravestone states simply 'The Electrician'…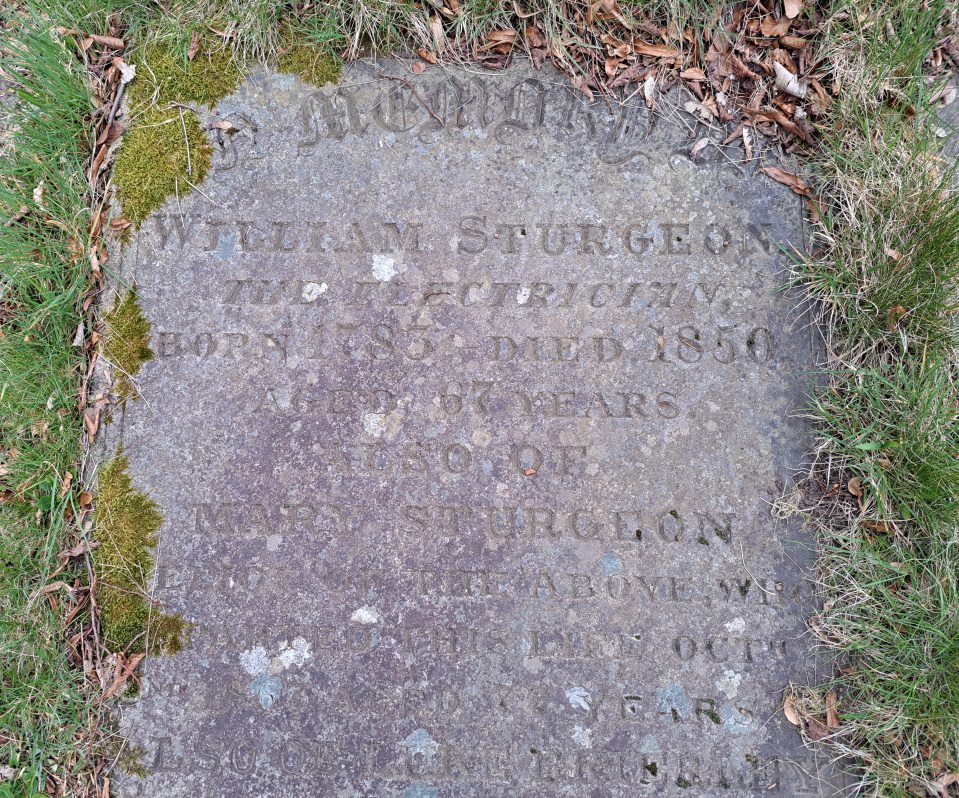 Well, very important actually… "Faraday was the first to demonstrate that the interaction between magnetism and electricity could give rise to rotative motion" writes David Dew-Hughes in Archaeology UK "Henry devised an oscillating machine, by alternately switching electromagnets at the opposite ends of a beam, which were repelled by stationary permanent magnets. But there can be no doubt that it was Sturgeon who first showed how these phenomena could be harnessed in a machine capable of doing useful work. He must therefore be recognised as the true father of the electric motor…
"Considering the importance and originality of his contributions to science and engineering, it is quite scandalous that his only memorials are a notice in a Kirkby Lonsdale hostelry, a marble plaque in Kirkby Lonsdale Parish Church, and a recently installed blue plaque at the site of his birthplace in Whittington" he added "No scientific unit is named after him, no equation, effect or law, no piece of apparatus bears his name…
"Had Sturgeon more foresight or commercial acumen, the patenting of his electromagnet alone would have ensured that he died a rich man" Dew-Hughes added "Iron-cored electromagnets, or solenoids as they are commonly but erroneously known, feature in many items of technology, electric telegraphs, washing machines and dishwashers, automobiles and many more regarded as essential to modern life…"
*There is a really good science video explaining all plus more details on William Sturgeon at www.prestwich.org.uk
See also:
12 Things About Bury New Road
Part One: Babes In The Wood, The Rarest Moth and Broughton Zoo – click here
Part Two – The Lost Pyramids of Broughton and The House That Jack Built – click here
Part Three – The House of Venus, Kersal Toll Bar and the end of Marks and Sparks – click here
Part Four – Recognition Comedy Born On Bury New Road with Al Read – click here
Part Six – A Philosophy of Life on Bury New Road: Ralph Waldo Emerson, the father of American Literature and Self Help Lifestyle, in Salford – click here