Here's a dozen things about Bury New Road that people might not know about, beginning here with three for starters….Babes In The Wood, the world's rarest moth and the Broughton Zoo…
Babes In The Wood – The panto and story of Babes In The Wood is reputedly based on a true event that happened just off Bury New Road in the 14th Century…
 Back in 1374, 14 year old Roger Langley and his sister (no-one seems to know her name) escaped into the woods around Prestwich Clough to evade the 'villainous' Robert de Holland, who took over their inherited manor.
Records from Agecroft Hall show that he stormed the manor "with many others assembled with him, armed in breast plates and with swords, and bows and arrows" and "by force took possession of the said lordship of the duke, in defiance of the Sheriff, and to the contempt of the Lord Duke".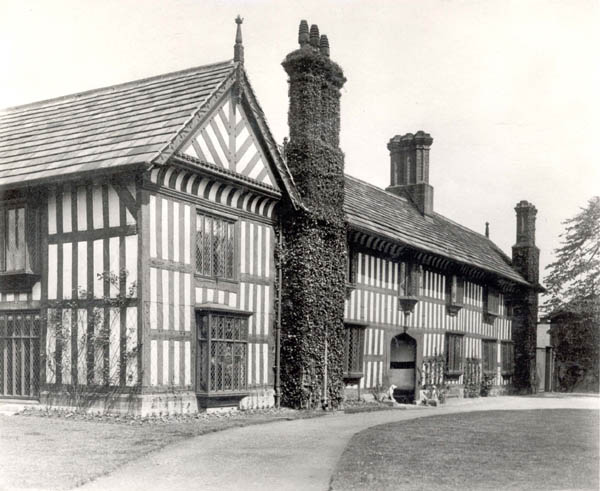 Their mum, Lady Joan de Langley, was grieving the death of her husband, Sir Richard de Langley in the French Wars, and had left the kids in the wardship of John of Gaunt, the Duke of Lancaster and third eldest son of King Edward III. Lancaster's mates, apparently, looked after the 'babes in the wood' until the Duke rescued them, and legend has it that a subsequent John of Gaunt Window in Agecroft Hall was a tribute to the help that the Duke gave to Roger.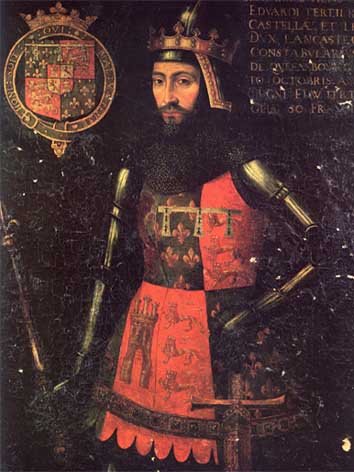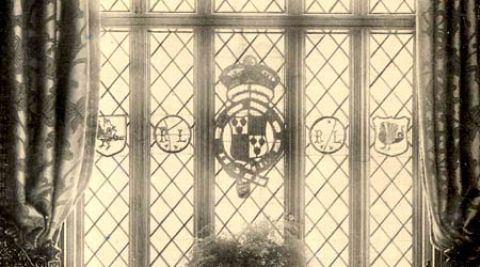 Researcher, Susan Bradbrooke, has noted that the Prestwich manor that the siblings escaped from was probably not Agecroft Hall in Pendlebury, Salford, but somewhere else near Prestwich Village, but the original documentation in Latin dealing with this event is still in the archives of Agecroft Hall*, which was taken brick by brick and re-built in Richmond, Virginia in the late 1920s.
This original Babes In The Wood story was first documented in the book, The Dark River: the Irwell by Cyril Bracegirdle, although authorities in Norwich claim that the story is about its own 'babes in the wood'.
You can see more about the history of Agecroft Hall and this legend at Prestwich.org.uk and at the *Debbi's Museum website and at the Agecroft Hall website . The story is also recounted in the heritage centre in Prestwich Library.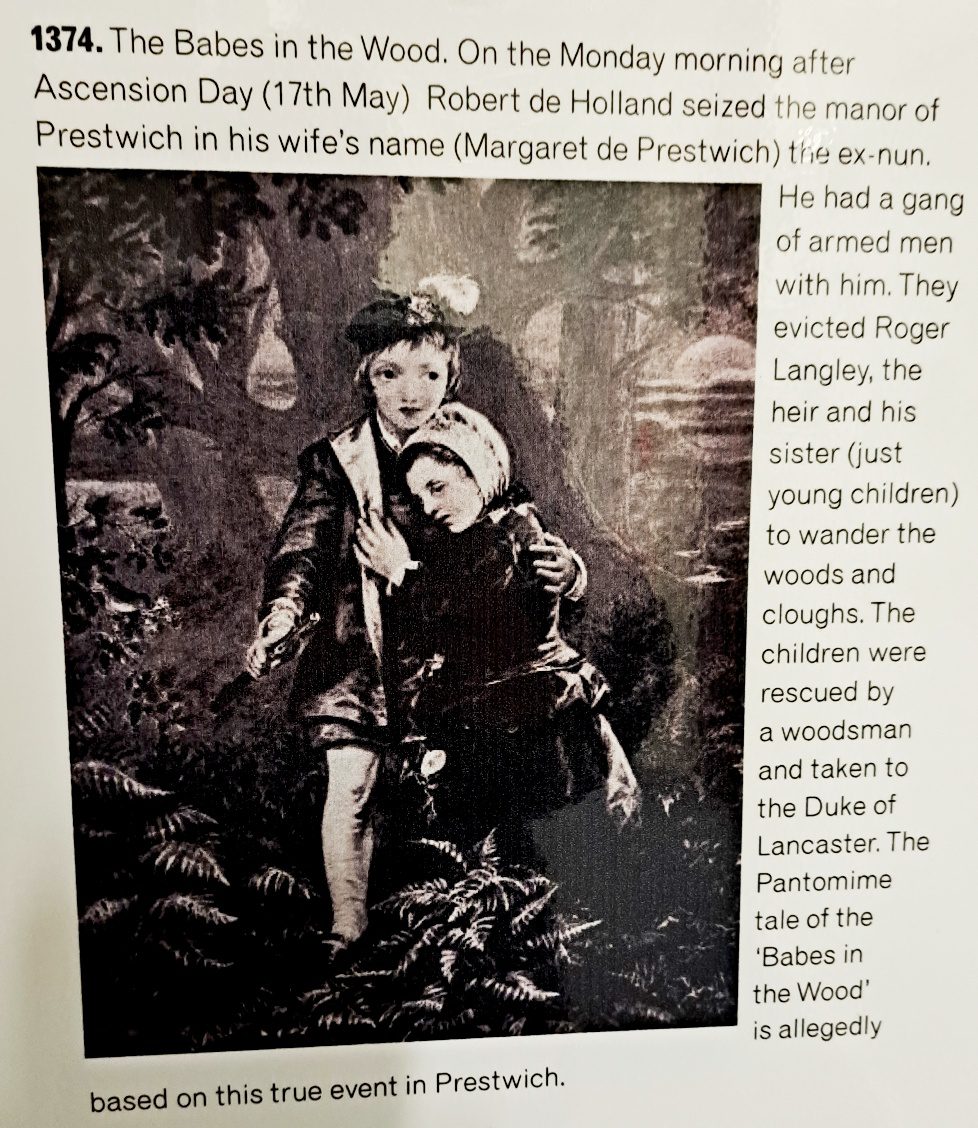 The Mystery of the Unique Kersal Moor Moth – The rarest moth found off Bury New Road…
Kersal Moor is home to lots of myths, legends and happenings. But the 'Manchester Moth' is one of the strangest. It dates back to June 1829, when textile worker and amateur bug hunter Robert Cribb discovered some beautifully marked yellow and orange moths fluttering around a hollow alder tree growing by Singleton Brook at the far end of Kersal Moor.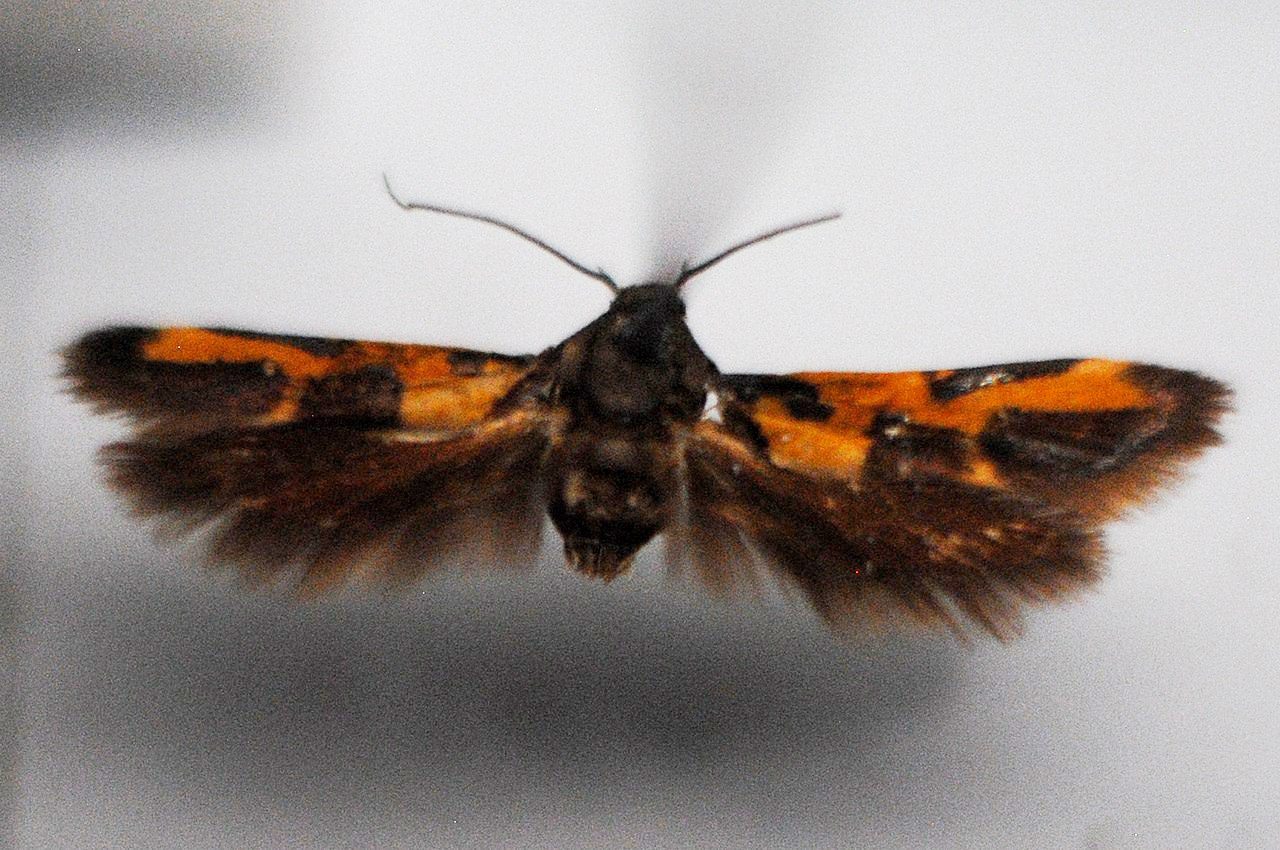 He collected a dozen of the species, and, in later days returned to amass a collection of fifty more specimens. Trouble was, no-one knew what kind of moth it was or where it had come from. Another bug collector, R Wood, got one of Cribb's moths and sent it to eminent London entomologist, John Curtis, who also hadn't seen the like of it before and added the 'Manchester tinea' to the list of British moths, naming it after himself and Wood, who he thought had discovered it…Pancalia woodiella Curtis, later updated to Euclemensia woodiella .
When other bug collectors went looking for this ultra rare moth, they couldn't find it and it was thought to have become extinct (probably because Cribbs had nicked them all and pinned them to a sheet). A collector, Samuel Carter, from Manchester, had previously obtained two of the moths from Cribb and pressured him to sell him the rest to him for fifteen shillings. However, Cribb had pawned the box of specimens to the landlady of a local inn, who had burned them when he hadn't repaid a debt, so there were only three specimens of the moth left in the world.
Manchester Museum had two of them, following Carter's death in 1865, but swapped one of them for two thousand other specimens of moth with Lord Walsingham, and it is now in the British Museum of Natural History. The third specimen was bought by  Victoria Museum in Melbourne when it purchased the John Curtis collection.
No-one ever saw one of these moths again, either in England or Europe and it was presumed to be extinct and a major mystery within bug circles.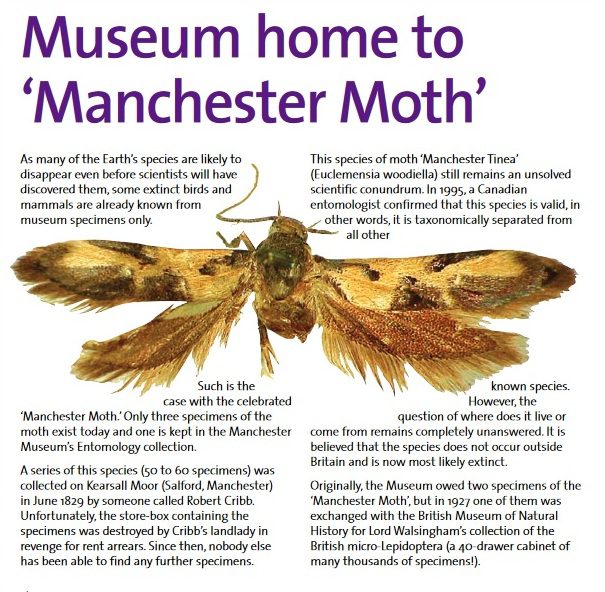 However, in 2013 Valie Burgh, an American photographer, took a photo of a similar moth in the Johnson Wildlife Centre at Austin, Texas, which experts suggested was the same E. Woodiella that had been found on Kersal Moor. They reckoned it had got to Salford, via imported oak bark than was used in the nearby tanning industry.
That may, or may not be true. But the Manchester Moth, found in Salford, is still regarded as one of the rarest extinct moths in the world, with only three specimens left…
"Euclemensia woodiella, the Manchester tinea (or Manchester moth, since it does not belong to the Tineoidea), is a yellow and brown British moth. It is regarded as extinct, and is known from only three museum specimens…" Wikipedia
See more at The Insect Collector's Forum – click here
Broughton Zoological Gardens – in 1838 the short lived Broughton Zoological Gardens opened by Bury New Road…
Today the area is full of Jewish orthodox schools, centres and synagogues but back in the 1830s the 15 acre site between Northumberland Street and Broom Lane was part of a get-rich-quick scheme by the Reverend John Clowes who lived at Broughton Old Hall and wanted to wring his land for all that it was worth.
The idea was to attract the wealthy to build mansions on his land, and at the centre would be a Public Pleasure Ground and Zoological Gardens that would be one of the wonders of Greater Manchester, rivalling and bettering Belle Vue which had also just opened.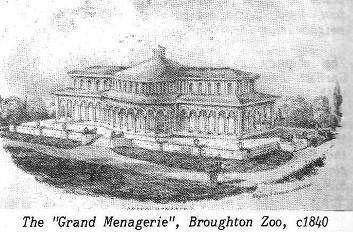 The Broughton Zoological Gardens opened on 31st May 1838 on land leased from Clowes and £2,000 worth of animals were brought in as an attraction. There were lions, monkeys, a kangaroo, a zebus, leopards, polar bears, rhinos, camels, an alligator, some bears, a porcupine, silver foxes, a coatis, raccoons, wallabies, dingos, llamas, a guanaco, exotic birds and waterfowl…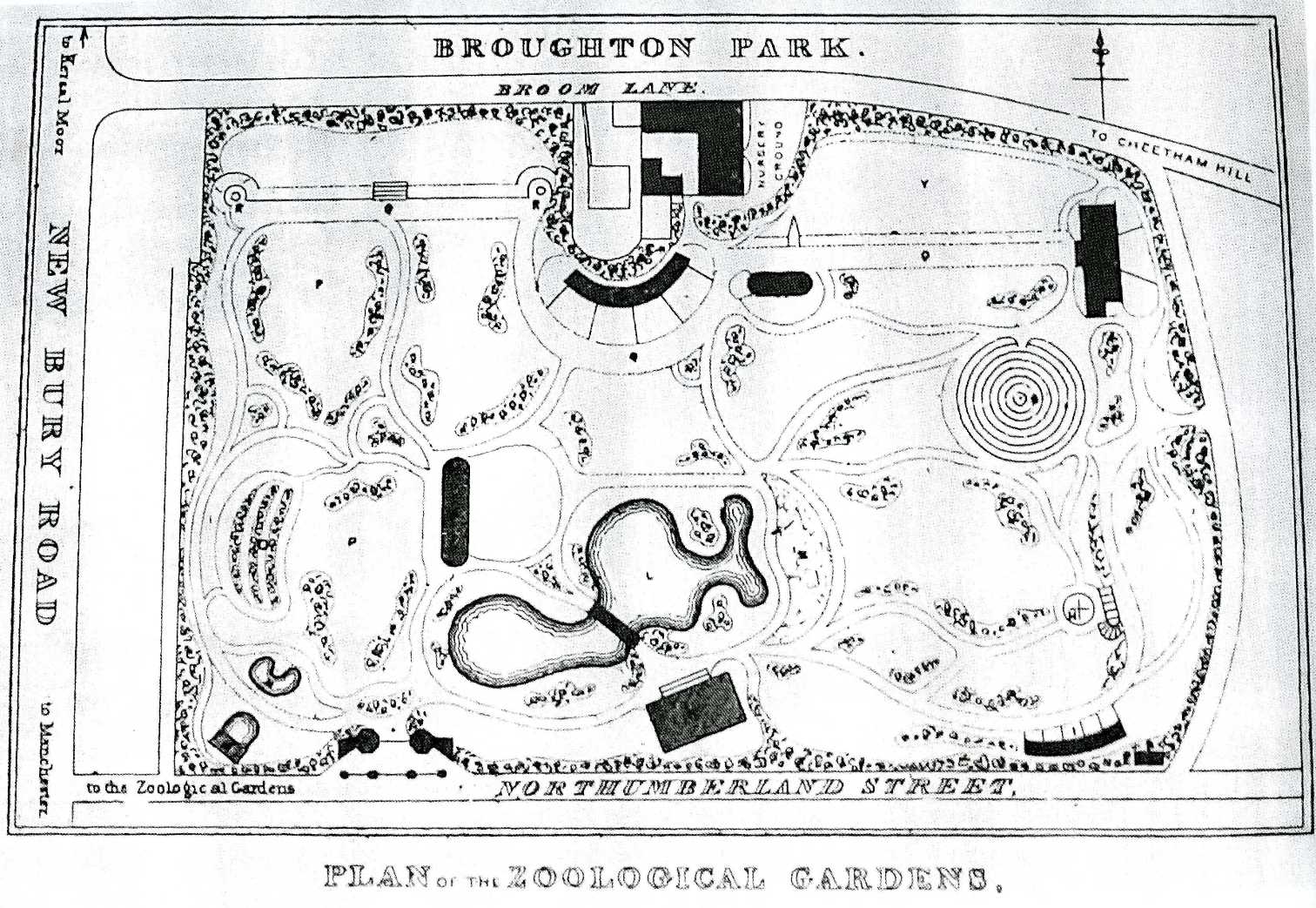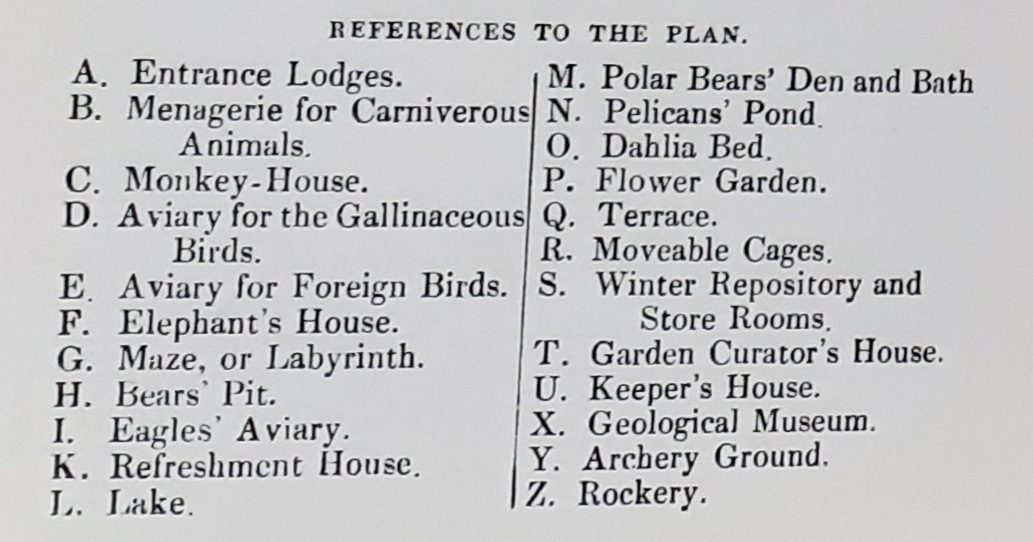 From when it opened in May until October that year, there were 42,000 visitors paying a shilling (5p) entrance. However, the attraction lost bucket-loads of money for a variety of reasons. With the zoo being on land owned by the Reverend, he didn't want it to open on Sundays; people had less money to spend on luxuries due to a manufacturing crisis in Manchester, and a railway had opened in Longsight making it easier for people to get to Belle Vue.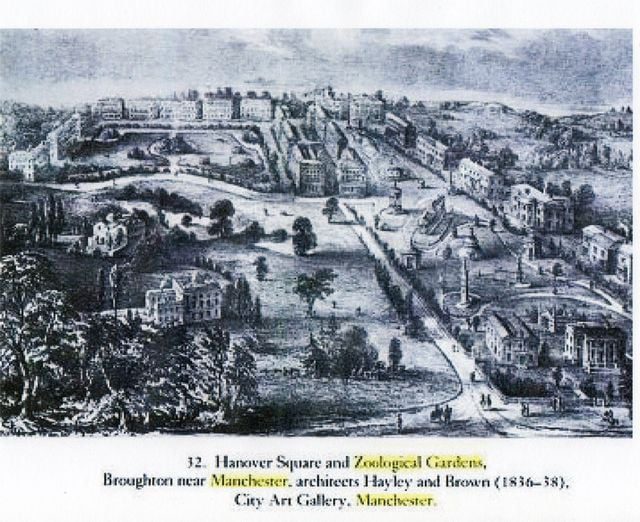 The Zoo was in debt upwards of £2,500 and Broughton Zoological Gardens closed in 1842, after just four years, with all the animals either auctioned off or given away.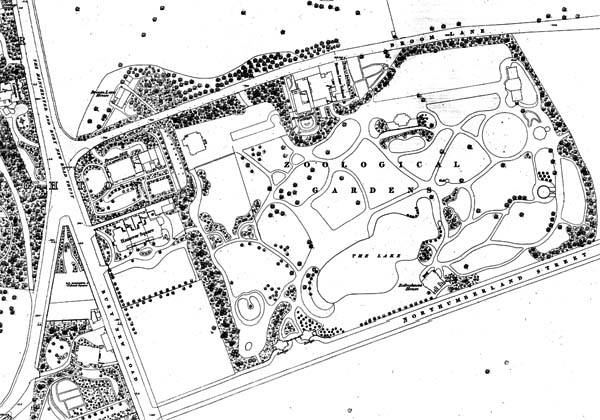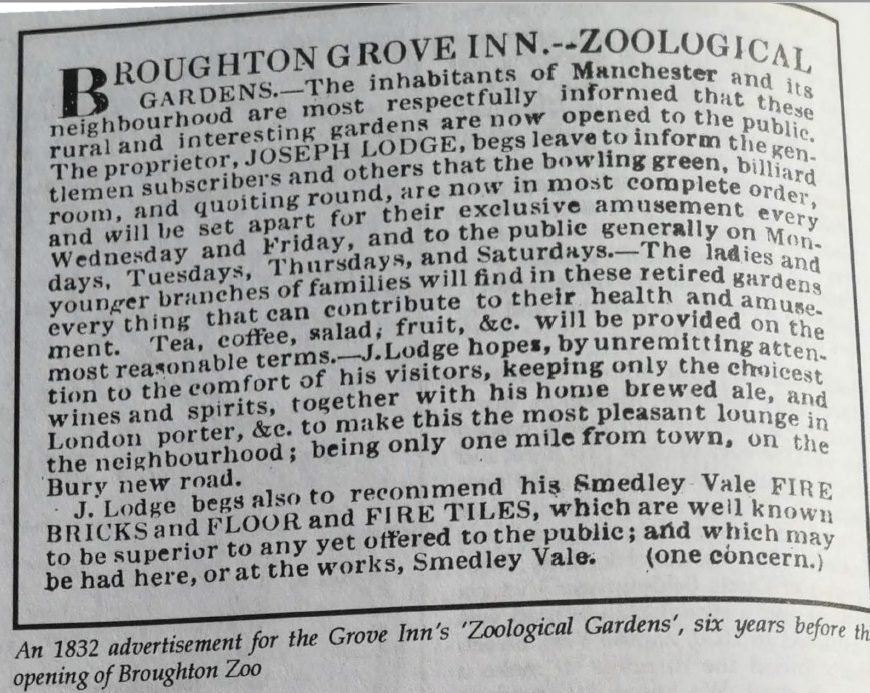 See also:
12 Things About Bury New Road…
Part Two – The Lost Pyramids of Broughton and The House That Jack Built – click here
Part Three – The House of Venus, Kersal Toll Bar and the end of Marks and Sparks – click here

Part Four – Recognition Comedy Born On Bury New Road with Al Read – click here
Part Five – The Inventor Who Changed Everything: William Sturgeon – click here
Part Six – A Philosophy of Life on Bury New Road: Ralph Waldo Emerson, the father of American Literature and Self Help Lifestyle, in Salford – click here