For portraits 1-10 – click here
For portraits 11-20 – click here
For portraits 21-30 – click here
For portraits 31-40 – click here
50. Philip Youles
Has owned Youles Motorcycles on Bury New Road since 2000, originally based at 294 Bury New Road, then in a unit further down the Road where Money Clothing is now, before building the current state of the art base in between the two…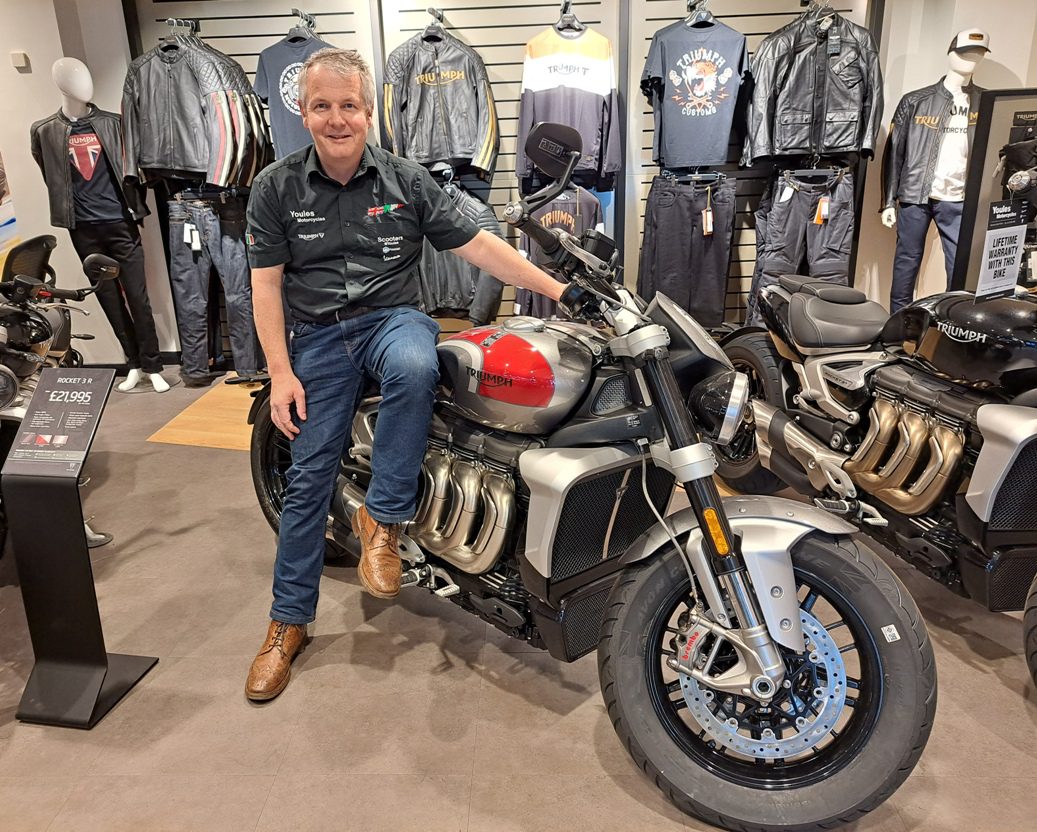 "We bought 294 Bury New Road from a travel agent just as they were knocking down the Rialto for McDonald's, and we did three of four years there, before moving down Bury New Road where we had the end unit to sell scooters. Then, the Triumph franchise became available and we built this from the ground upwards, as the first new build Triumph dealership. They love the fact that you come out of Manchester and it's just there.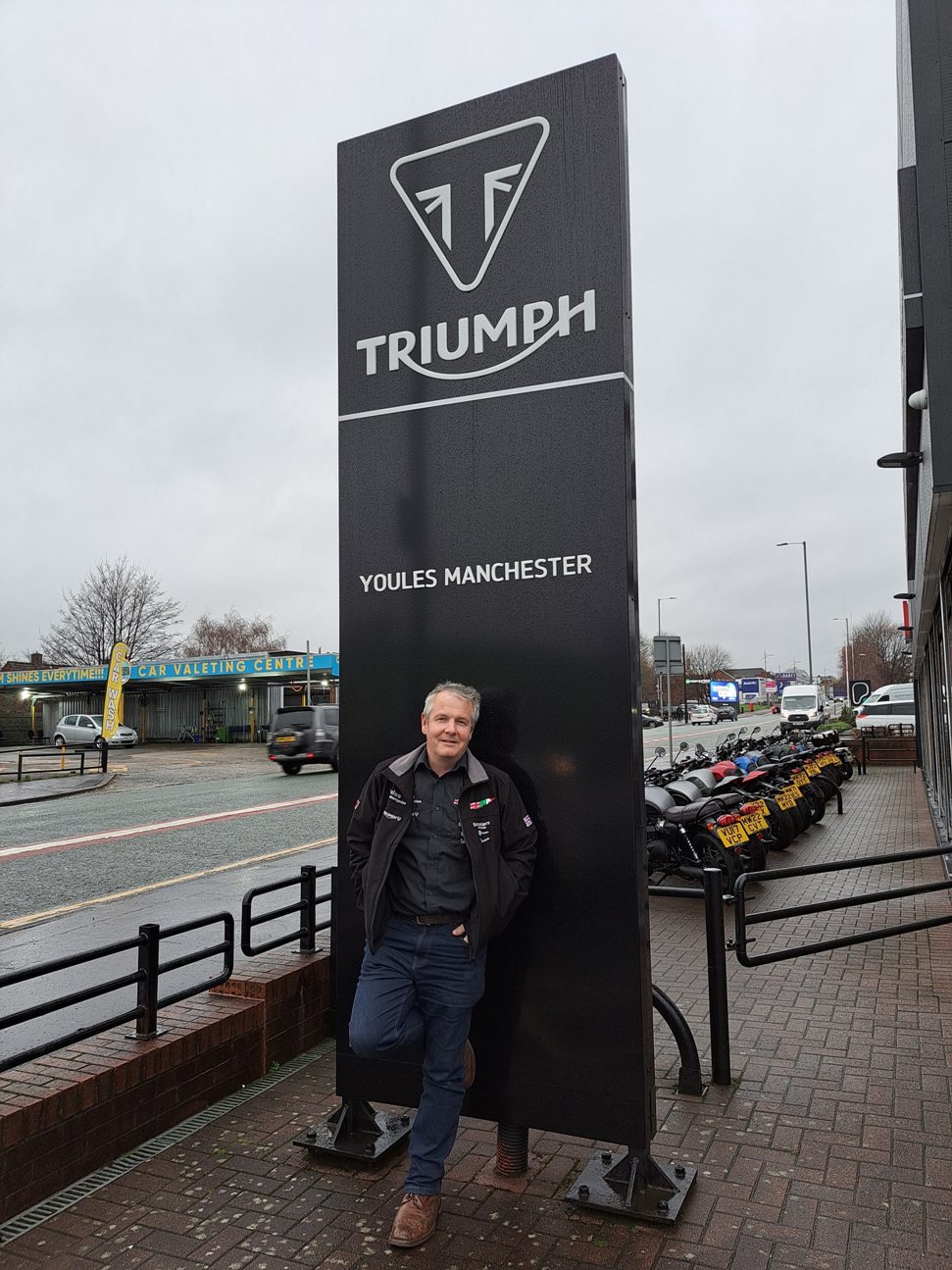 "We've sold around 8,500 bikes since we've been here, and the diversity of the customer base is incredible – I've got a customer who has an oil exploration business and a house in Monaco, and others who haven't got a penny to rub together. Motorcycling is a thing that transcends all boundaries, you can have a barrister in here talking to someone who is almost unemployable and potters around on a canal boat with a hippie lifestyle. It's weird. If you've got a motorbike somebody will always talk to you if you take your helmet off and you're on a bike; it doesn't matter what you look like, you get all sorts of people…"
What does Bury New Road mean to you?
"It's got a vibrancy about it; it's an old Roman Road, and I imagine it's changed massively over the years but it's always been an edgy part of Manchester. There's an energy here, that's what I like about it.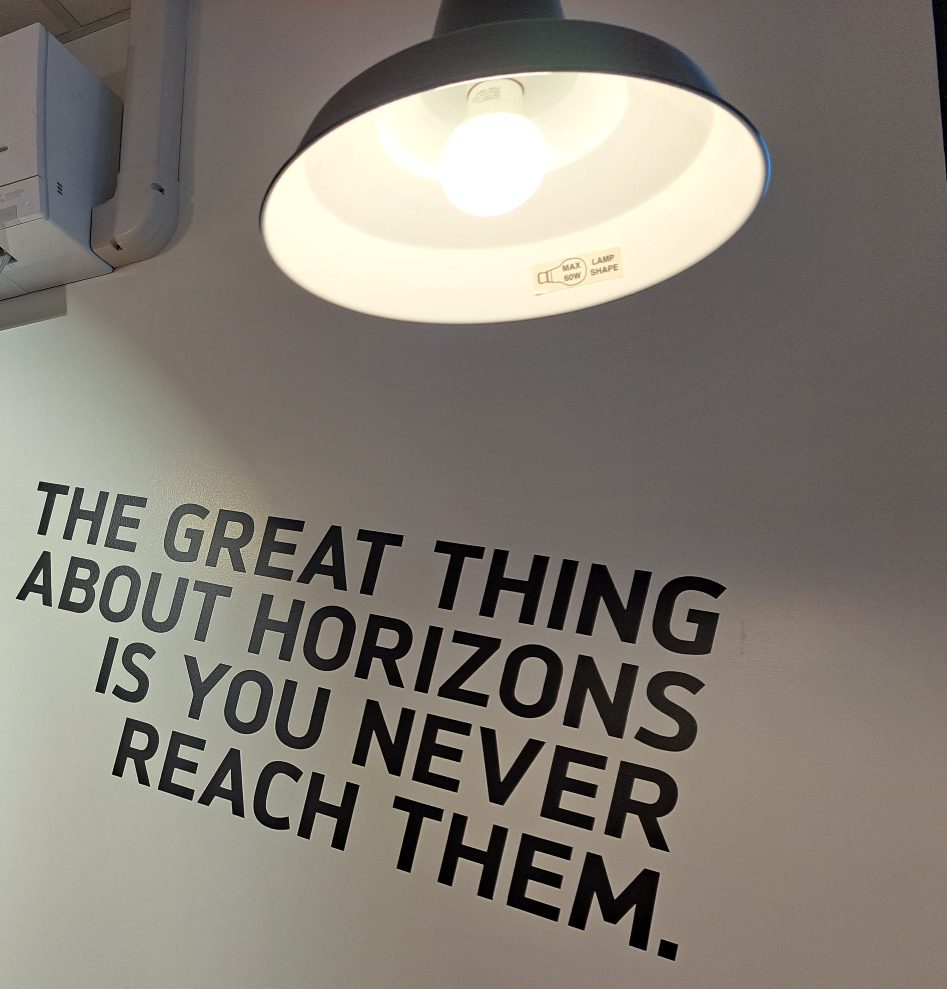 It's also convenient, very near the city centre and the motorway, and well connected. I was told that it's the seventh busiest road in the UK, and I've only once ever come down as the only vehicle. It was the day that the Prime Minister closed everything down for Covid. It was also quite eerie when the riots were on in 2011. We brought the bikes in and the car dealers were moving their cars inside; there was a very funny feeling in the air, although it didn't really happen here. In the main people are wonderful, it's a lovely place, it's been good to me. I've always found good staff and made friends along the way…"
49. Stephanie Lamb
Has worked for Bury Library Service for 39 years and is now Community Library Supervisor, working from Prestwich Library amongst others in the borough…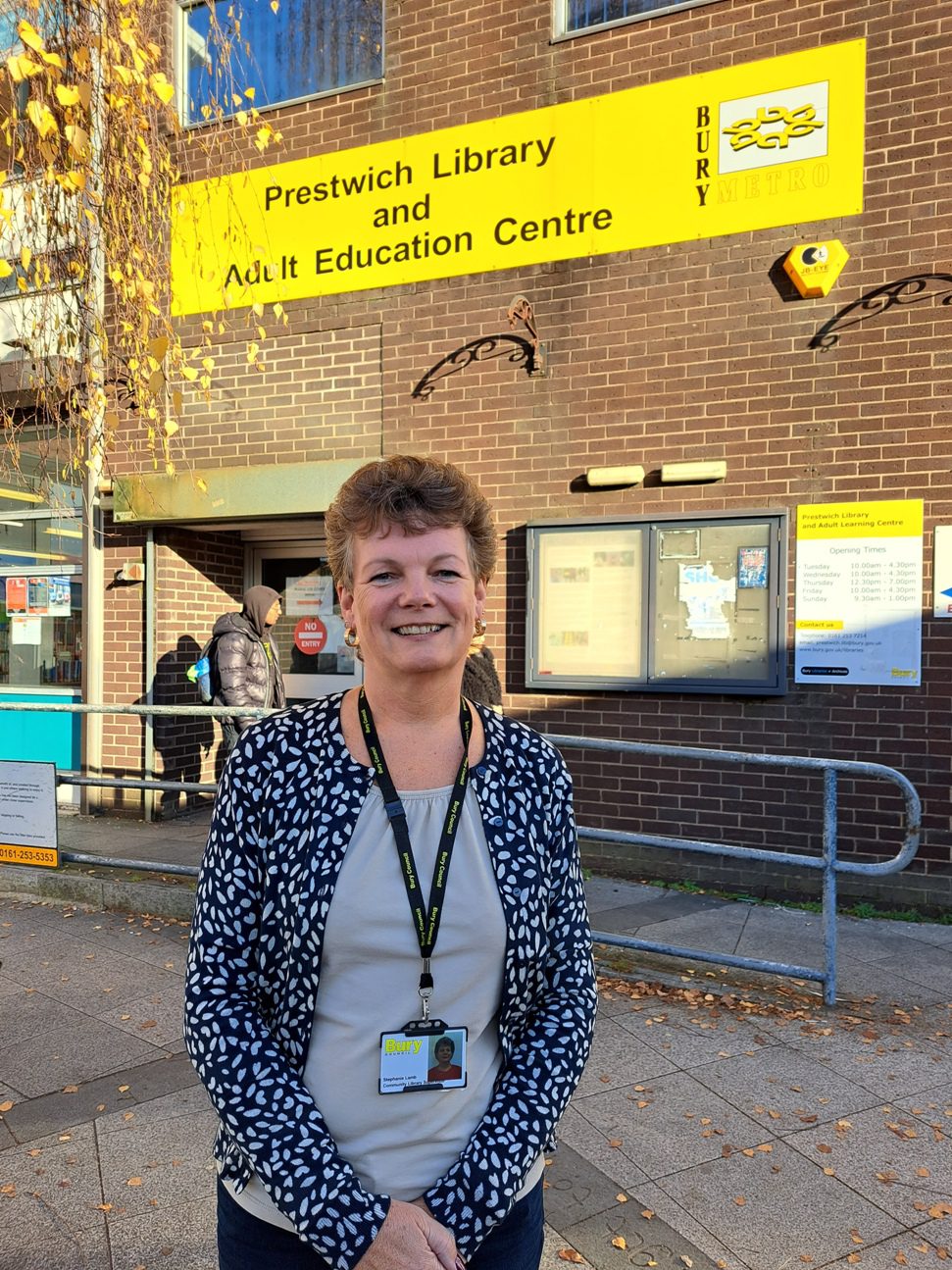 Prestwich Library is soon to be bulldozed as part of the Village makeover, will you be sad to see it go?
"I'm not sure exactly when it's coming down and it probably won't be for a couple of years yet. I've been coming down here for thirty years and I think this area is ready for regeneration. We have been promised a new library in the past, about thirty years ago and there were big plans to move into a combined leisure centre and library, but now we're finally moving forward to get something new and fit for purpose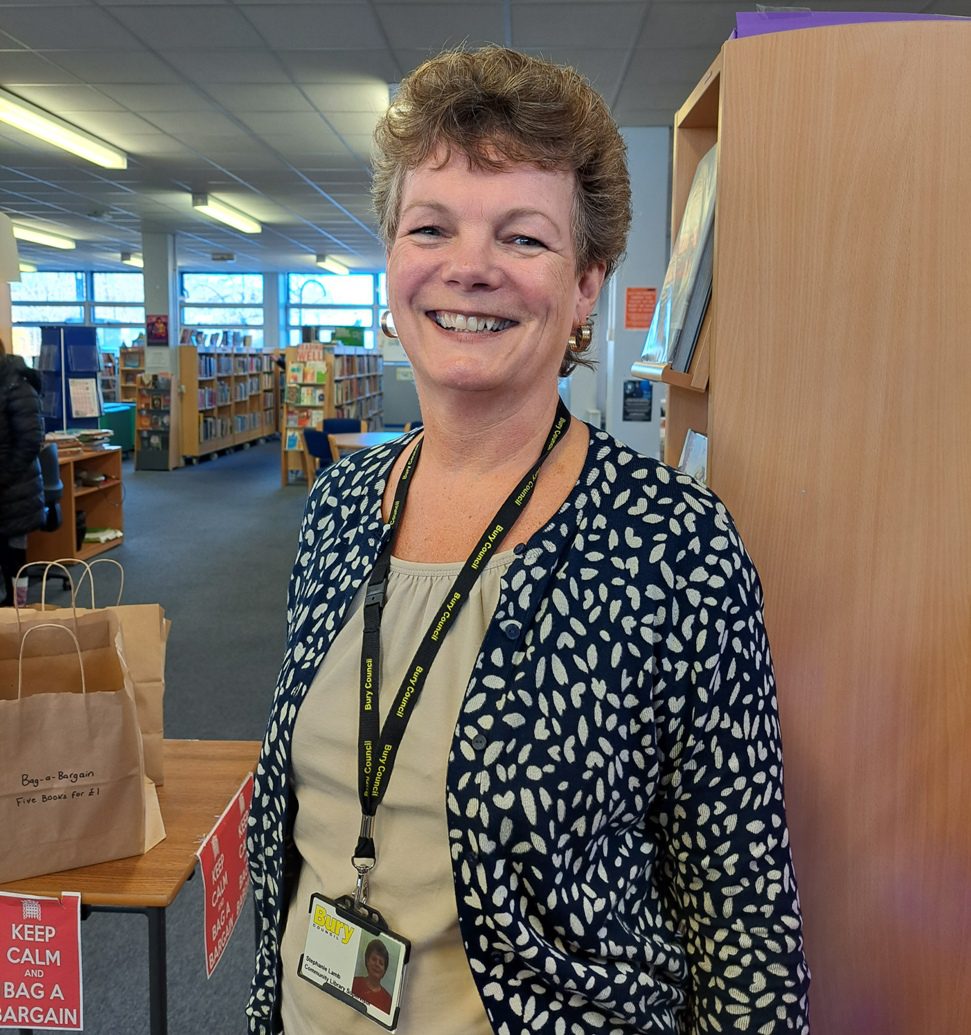 "It's ready to go. Things are breaking, the roof's leaking, the electrics go out and the pigeons are finding their way into the building flapping around, so it will be lovely to have a new building."
What does Bury New Road mean to you?
"Prestwich is such an interesting area. I think it has a much more eclectic and bigger population than any of the other locations I work at and I like coming here for the shopping and the eating out.  When I go into Manchester, I go on the bus down Bury New Road and that enables me to look out of the window and watch everything that's there, because when you're driving you don't notice things. I like seeing the diversity of the people who live around here and what's going on. And there is a lot going on!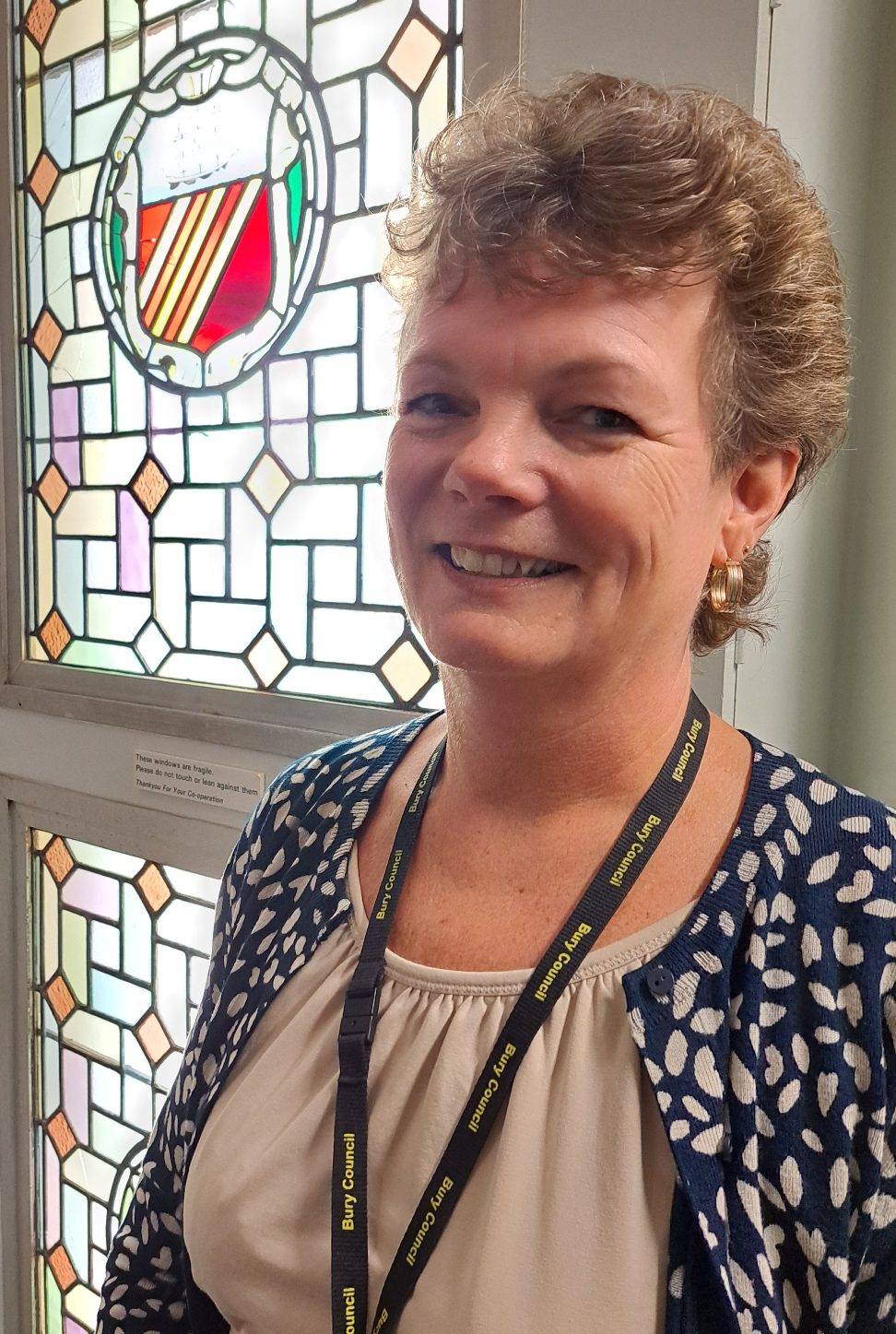 "For me, it's the place that connects everything. I come down here to work and travel along the Road so for me it's a journey of life, and you can stop off and have a coffee or buy a new car on the way. There's all sorts. You can see the world on Bury New Road!"
48. Janine Hurley and Karen Hadgett
Have owned Creative Calm Studio on Bury New Road in Prestwich Village for six years, although both have been teaching yoga in the area for years – Janine originally teaching mainly pregnancy and post natal yoga with the old Sure Start centres, and Karen working for 15 years all over the area, from a space St Gabriel's Church off Kings Road, to the Creative Living Centre in Prestwich, to the church hall on Church Lane.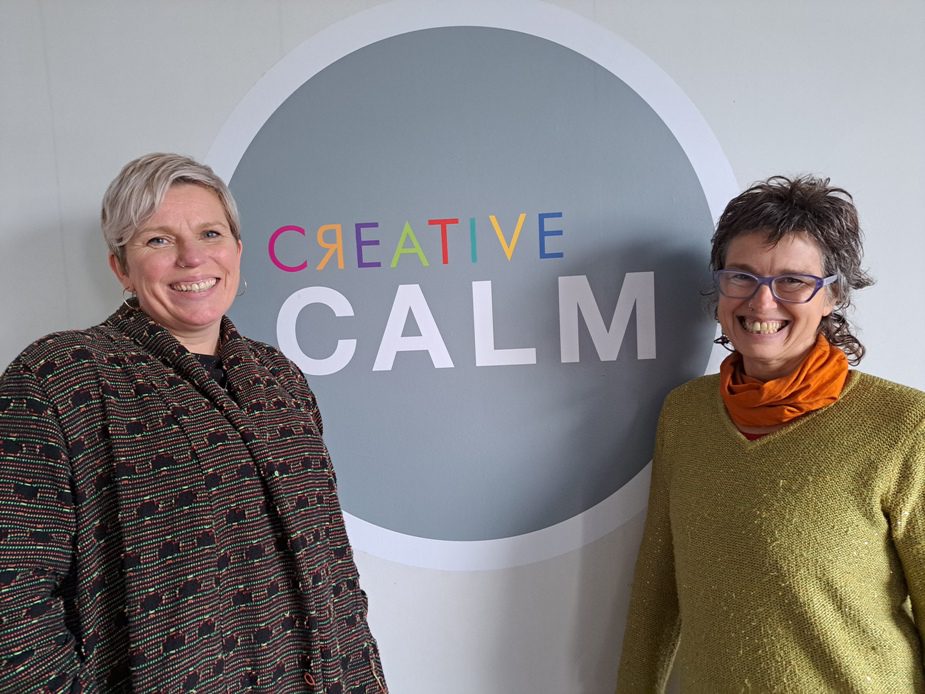 "This place is a collective of some of the best teachers, we think, in the area" says Janine "Everybody has their own classes, markets them and is fully independent with different styles as well. We do a lot of pregnancy and post natal yoga, and at the opposite age we do a lot of back care and things like that.
"The approach we do is therapeutic, so we have people who have had a lot of life issues happen to them, and we work very much to bring people back to their bodies in a way that's safe and comfortable" she adds "People tend to come here for a really good land, ground and chill. The world's too fast – and I'm really fast so I do it just to catch up with myself really!"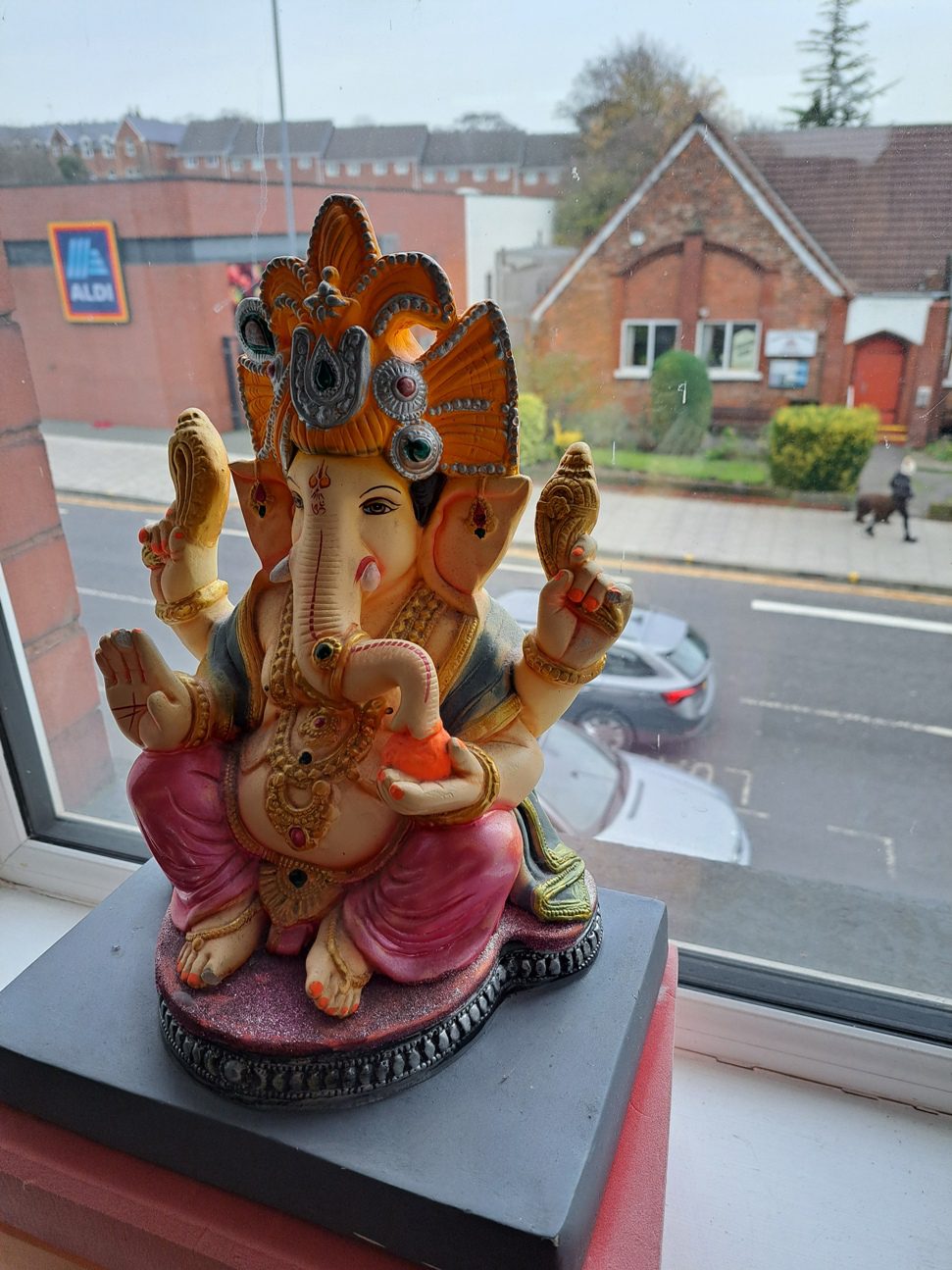 And Karen adds that "we get a lot of people coming for beginners classes. We tend to appeal to people who really want to spend time with their bodies and be a little bit slower. We are, like, a really nice grounded practice…"
What does Bury New Road mean to you?
"We're really part of this local community, and being on the high street in this way is really important for us" says Janine "We looked for a space and we saw this derelict building above Jennie's [Platt]. It was supposed to be for two flats but we changed it into a yoga studio, and we were the first yoga studio in Prestwich….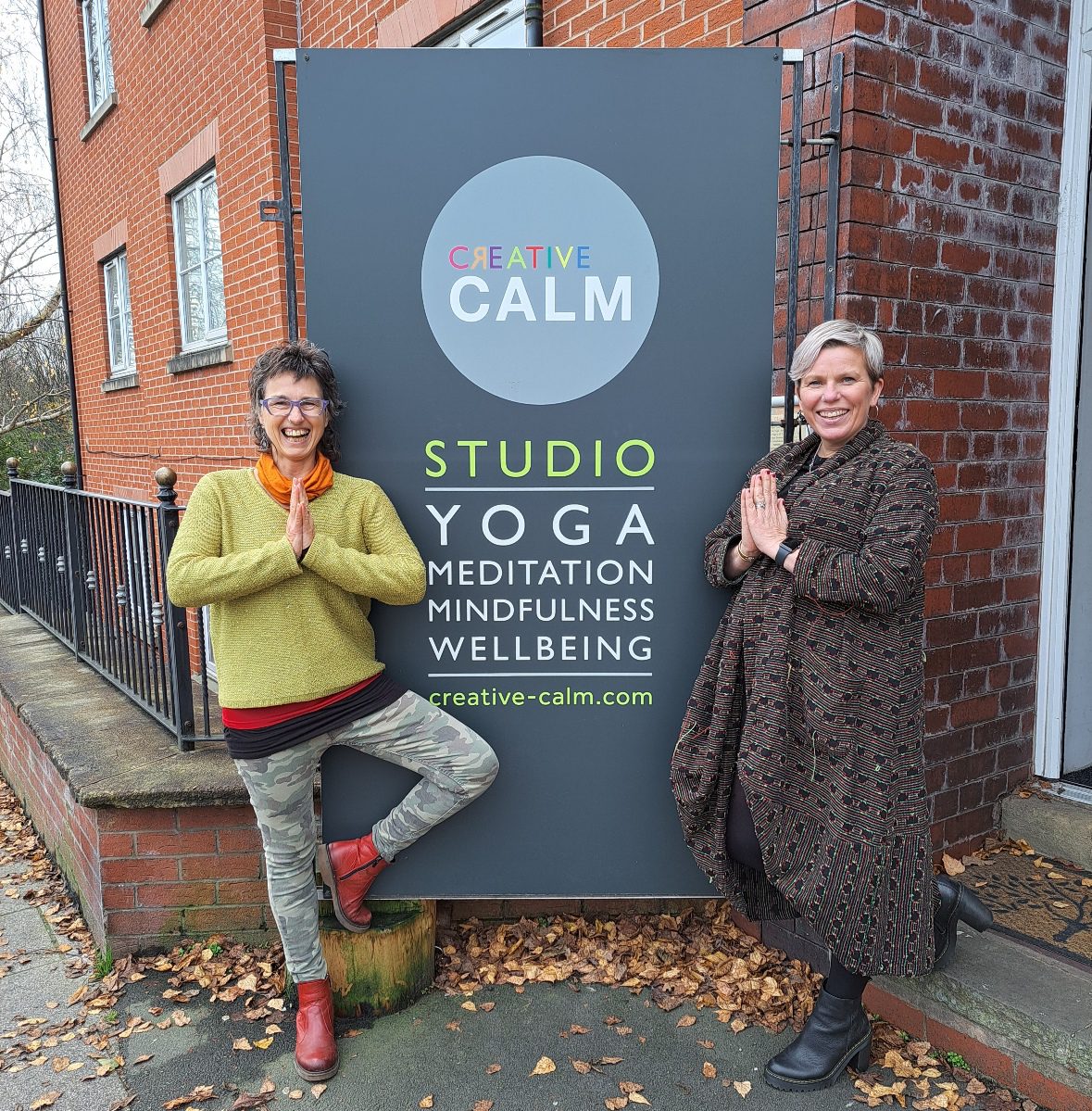 "For me, Bury New Road is innovation, dungarees, variety…how many high streets have so many independents?" she asks "There is a little bit of an energy on this road that keeps that going. There's just something here…there's something very militant about this road…"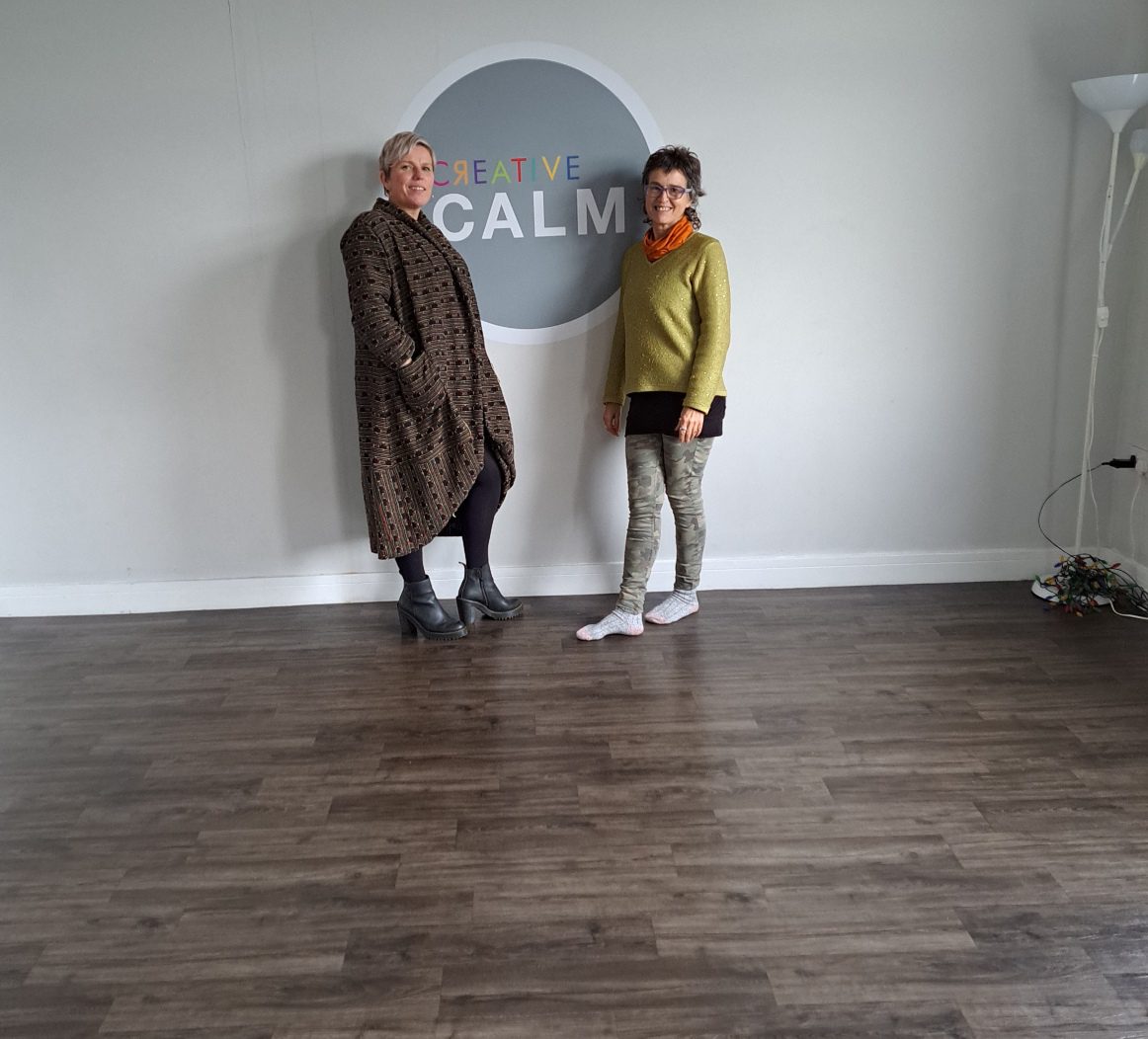 "For me it's a physical lifeline from the city centre and out" adds Karen "It's also a lifeline for people in the community with all the different offerings. And the fact there's so many different people in this community offers a lifeline to people to be part of the community no matter what your background…It's a lifeline…"
47. Jaynie Powsney
Set up JStar Academy Of Performing Arts in the Phoenix Centre just off Bury New Road in 2009, and opened the current studios on Warwick Street, off Bury New Road in 2013.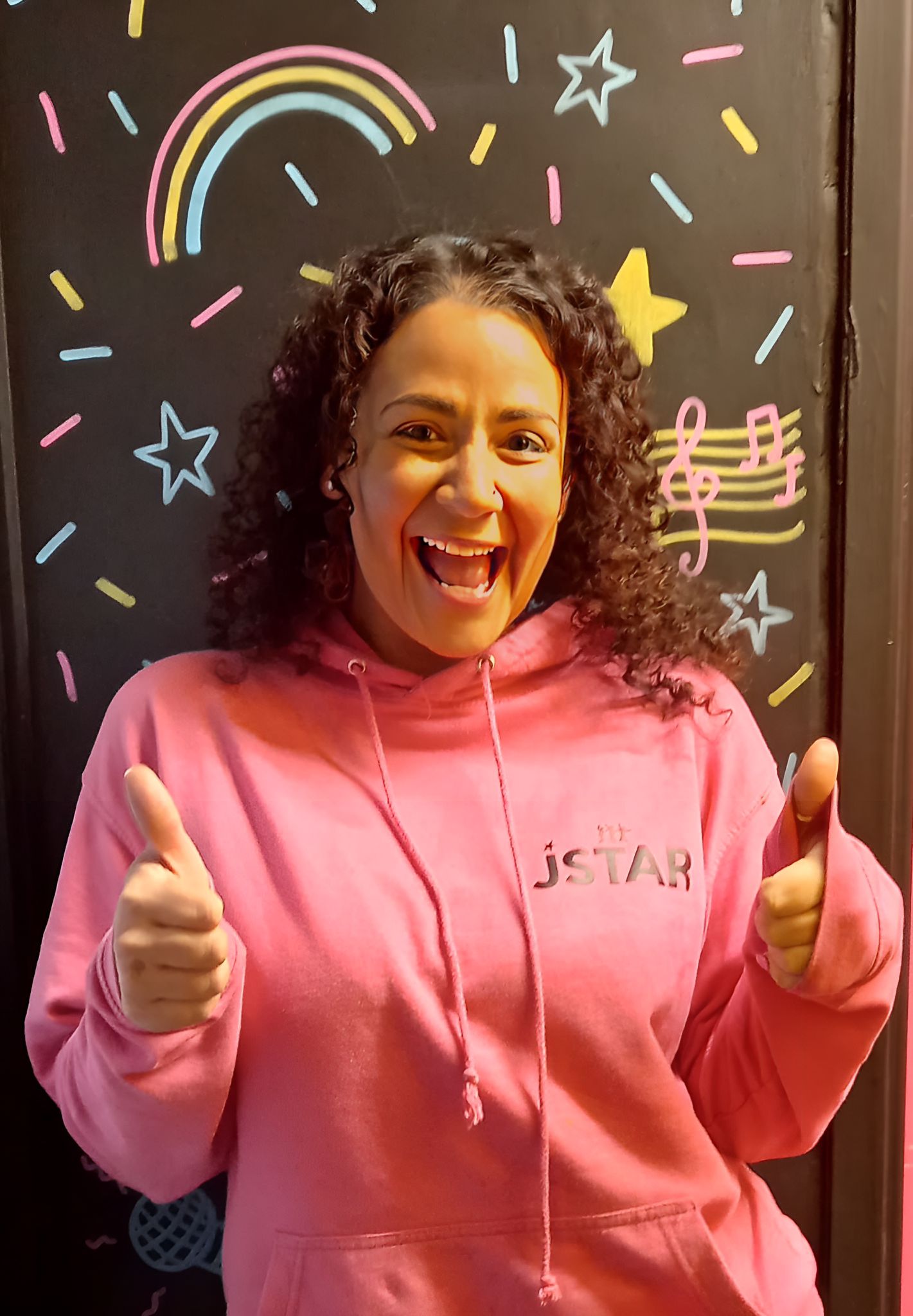 What does Bury New Road mean to you?
"I've been brought up going to the Prestwich Carnival every year, and Bury New Road is just the heart of the community. It's vibrant, friendly, welcoming and full of northern-ness, if that's a word. It's warm but modern, like it's coming up with the times. I'm aware of all the culture and I'm really proud to be in the heart of such a creative place…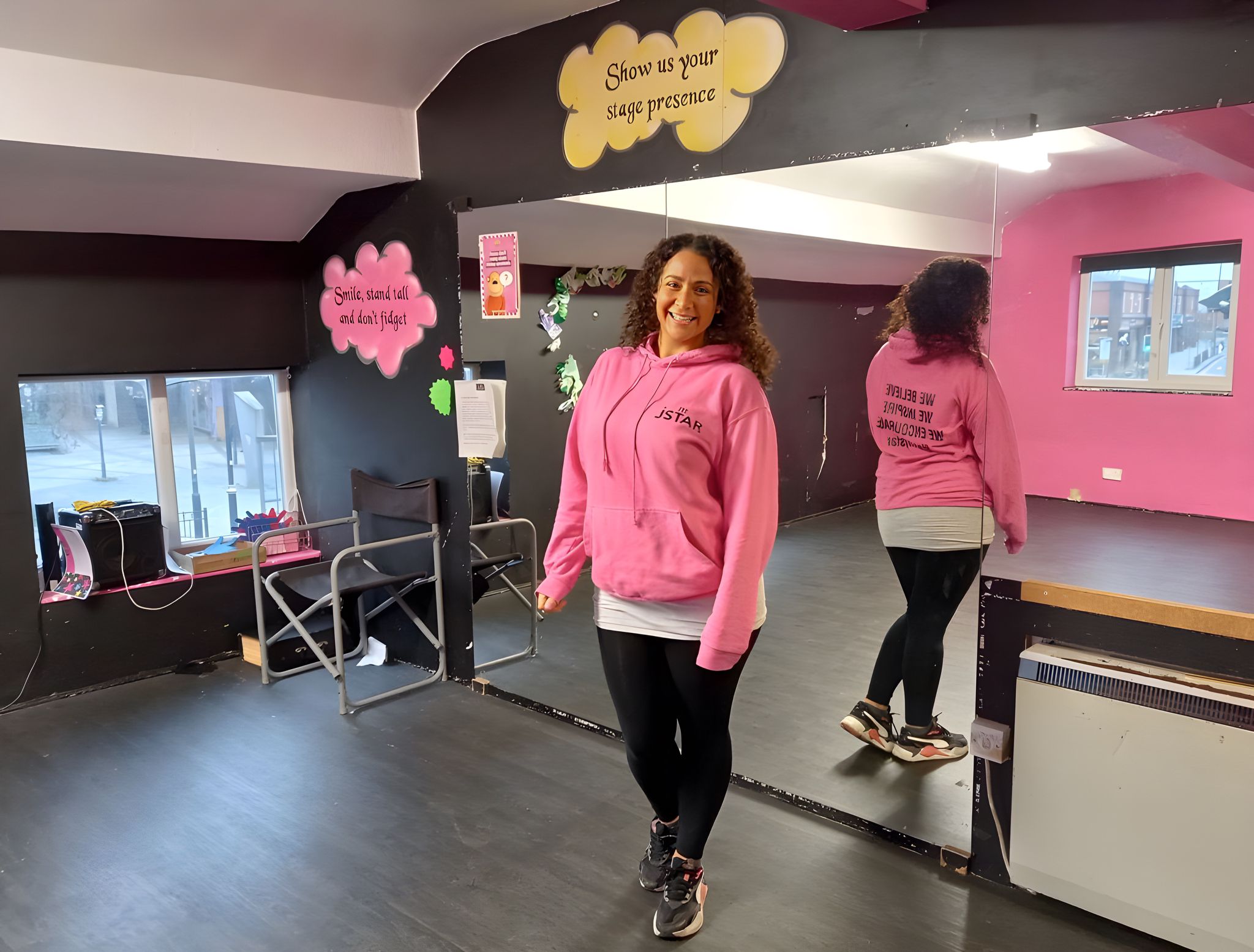 "Here, we have babies right through to adults. We do musical theatre, street dance, contemporary, drama exams, we're a casting agency for tv and films, and do parties and exhibitions. We're really involved with everything community and host Prestwich Summer Festival on Warwick Street with the Anatolian Grill each year, when we have a big street party."
46. Jane Black
Lives just off Bury New Road in Prestwich and was councillor for St Mary's Ward from 2012 to 2021, and ceremonial Mayor of Bury between 2018 and 2019…
What does Bury New Road mean to you?
"It's the area where I used to wander about. I grew up in Sedgley, went to Stand Grammar and Kings Road school so I would often travel down Bury New Road, and I remember all the old shops…the Co-op, Sedgwicks…Ralph Suttton's hardware store…I did work away, study away and travelled but I came back to settle in Prestwich near the centre of the Village.
I am aware of lots of the history and culture of the Road – my daughter has done some work with John Cooper Clarke's agency, I went to school with Lol Creme's sister, and my cousin went out with Graham Gouldman. Her daughter, Laura, married his son, Louis, so we had an impromptu 10CC plus gig at their wedding. My father, Bob Black, who had a barber shop in Lower Broughton, was also a jazz drummer in the era of Joe Loss and all those band leaders.
At the end of my Council life I became a Cabinet member for Arts and Culture, and I think people don't realise the value to the local economy when talking about cutting arts venues and so on. The cultural economy is huge, and the year I was the Mayor here I was involved in the Prestwich Arts Festival which is a lovely example of how a group of local people can have a vision and make it happen..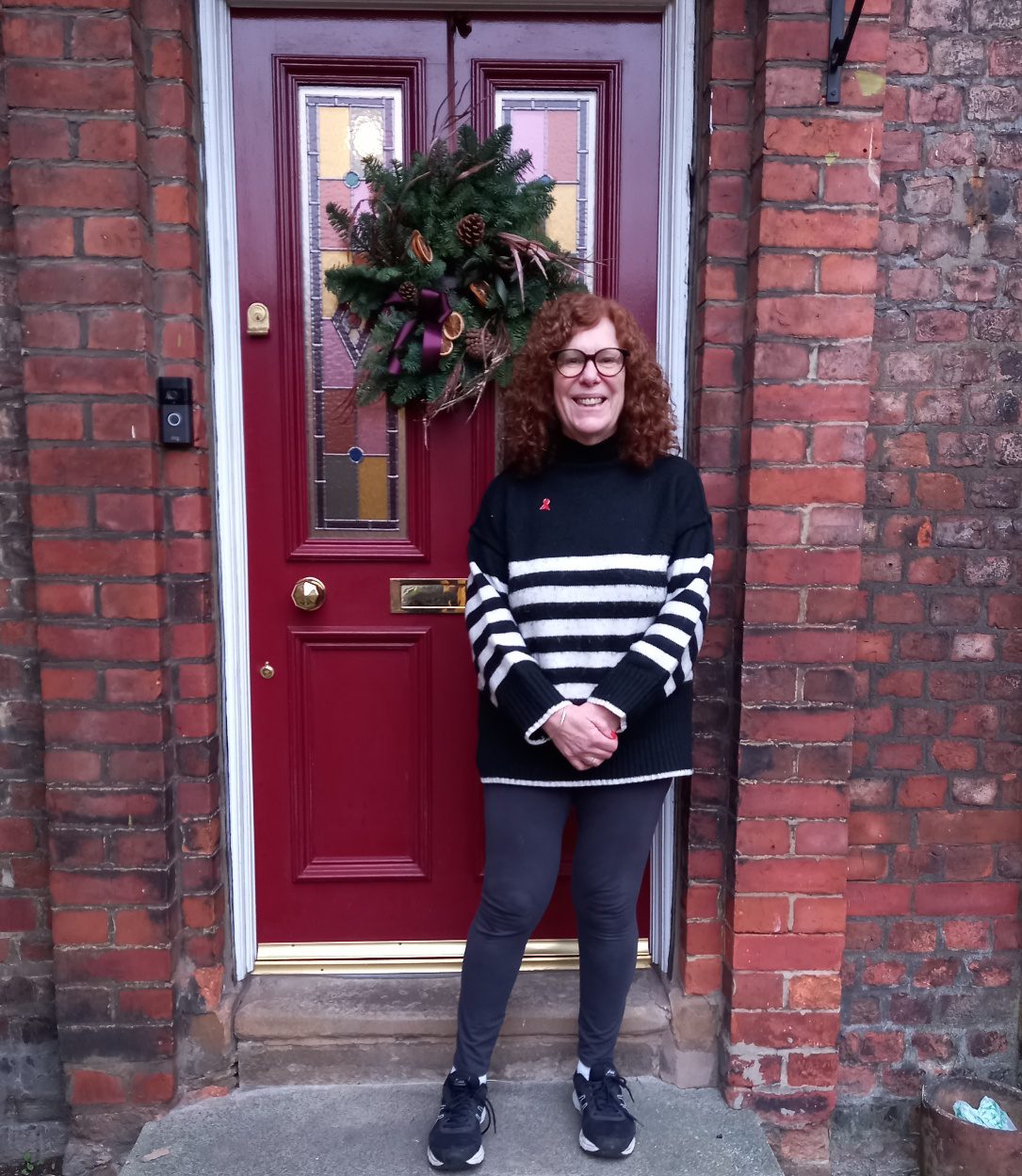 My understanding is that the work that was done a few years ago on Bury New Road, when we did what we could with the money we had, improved traffic flow. The road improvements have also helped encourage new independent businesses to open up. As as a resident, having people race through your neighbourhood in cars isn't all that neighbourhoods are about. I think that Prestwich is becoming that sort of place where you can walk to things that you need.
If you look, there are a lot of lovely little cafes but equally there are all sorts of other little places and there's now a really good Village Business Group. There's a spirit now, and I think there's an energy and a will to do things collectively that I don't think was there before.
There are a lot of good people in Prestwich who make things happen and groups like Clean Team Prestwich, Prestwich Environmental Forum and Incredible Edible have done lots and lots of things.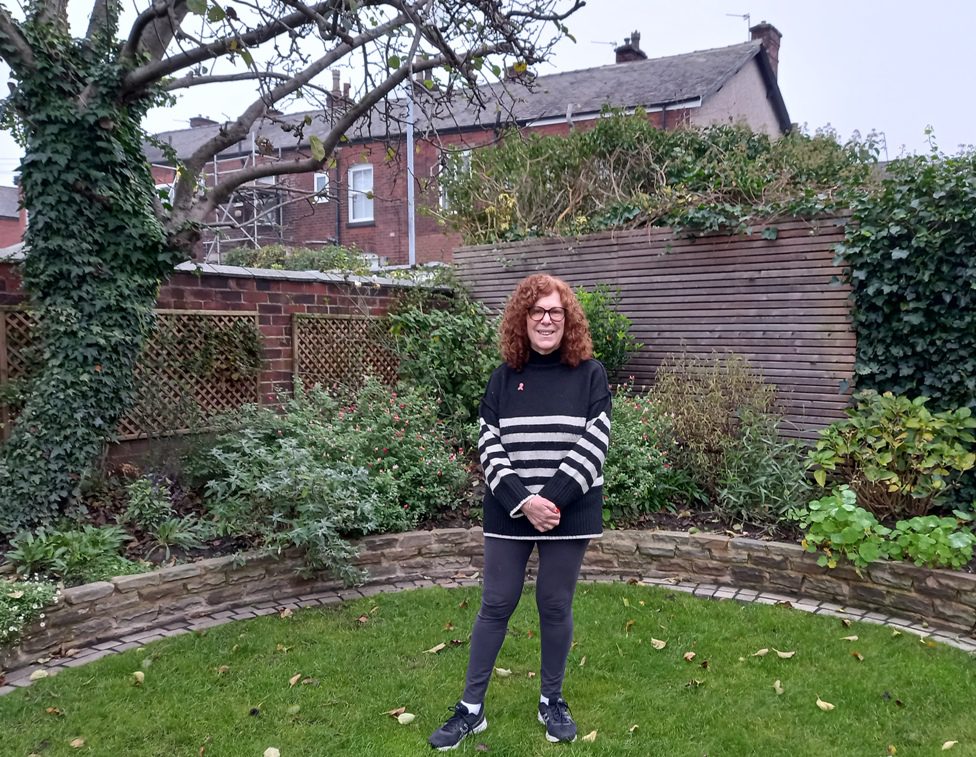 For me, Bury New Road is a growing, changing urban setting. I never quite thought that I would end up living in the area where I grew up, because you like to think you'll be a bit adventurous. But I ended up coming back from London for a job up here, years later met my husband, had kids and somehow I'm still here. In that sense it's my home.
I must admit, I used to feel 'Oh I'm still living in Prestwich', especially when you meet people you haven't seen in years, but I'm very pleased with the way it's developing. We always have these fantasies but for me, now, I'm not planning to go anywhere…"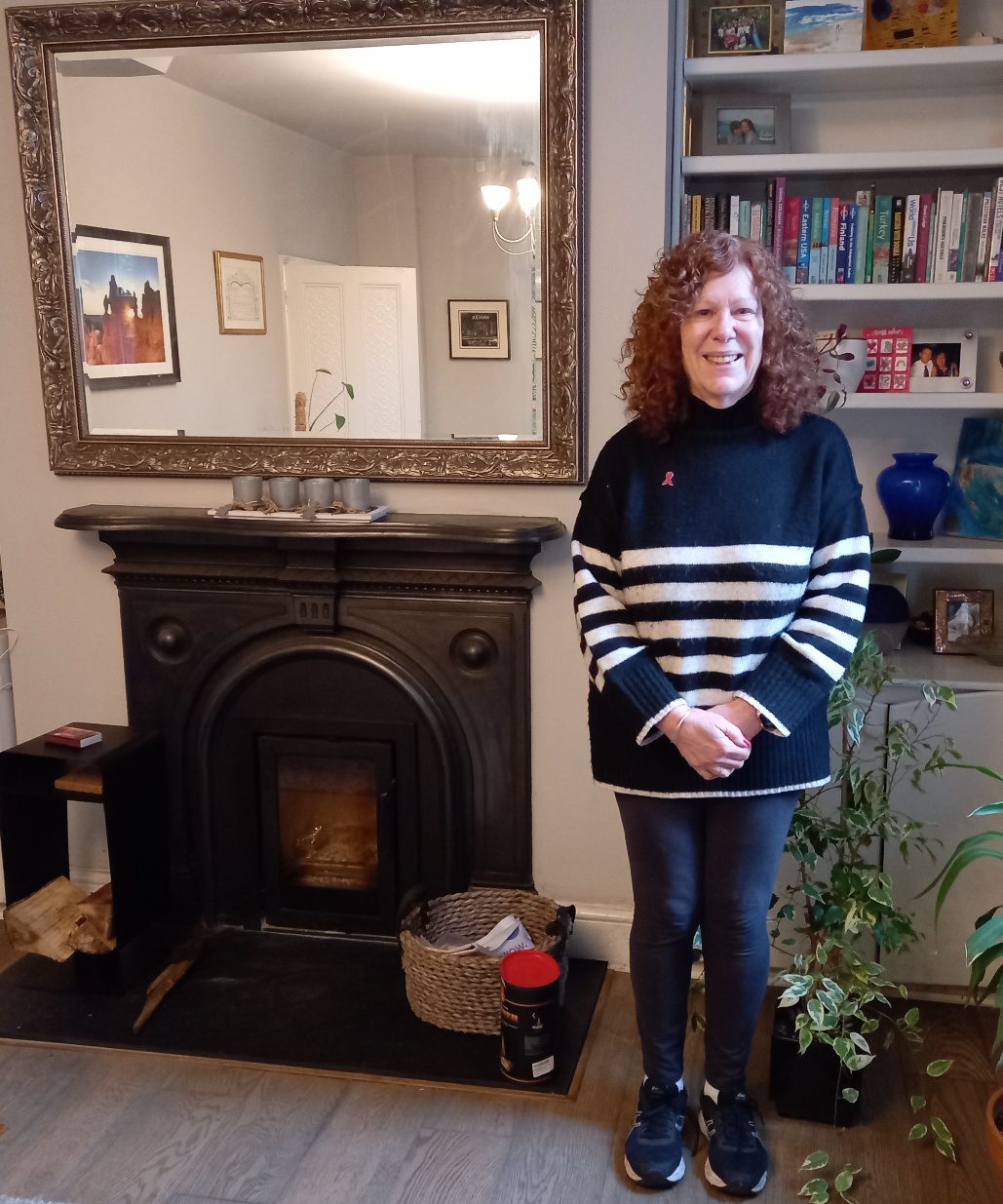 45. Father Dimitrios
Has served at the Greek Orthodox Church of the Annunciation on Bury New Road for ten years…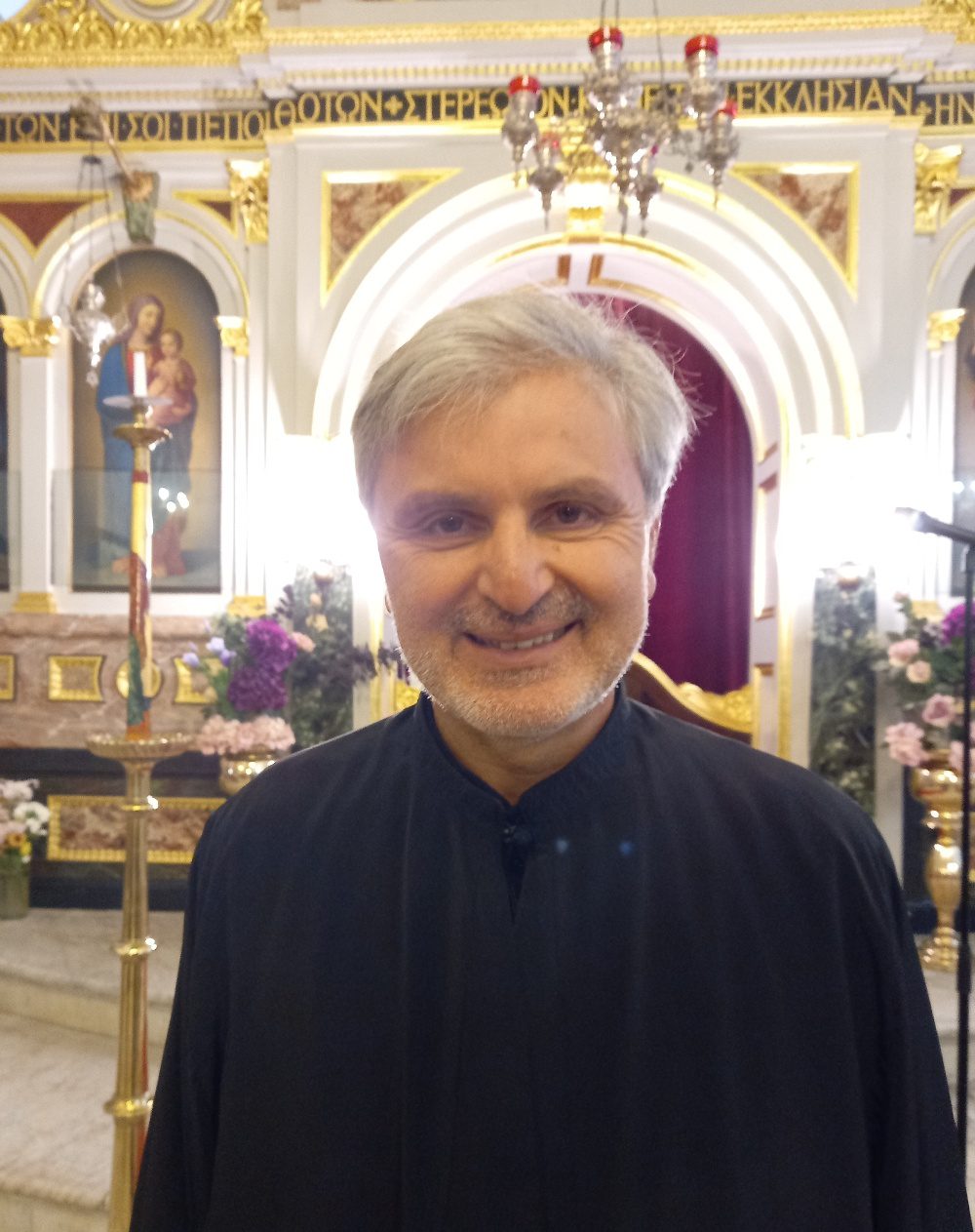 Apart from HMP Manchester, you have the most spectacular building on Bury New Road…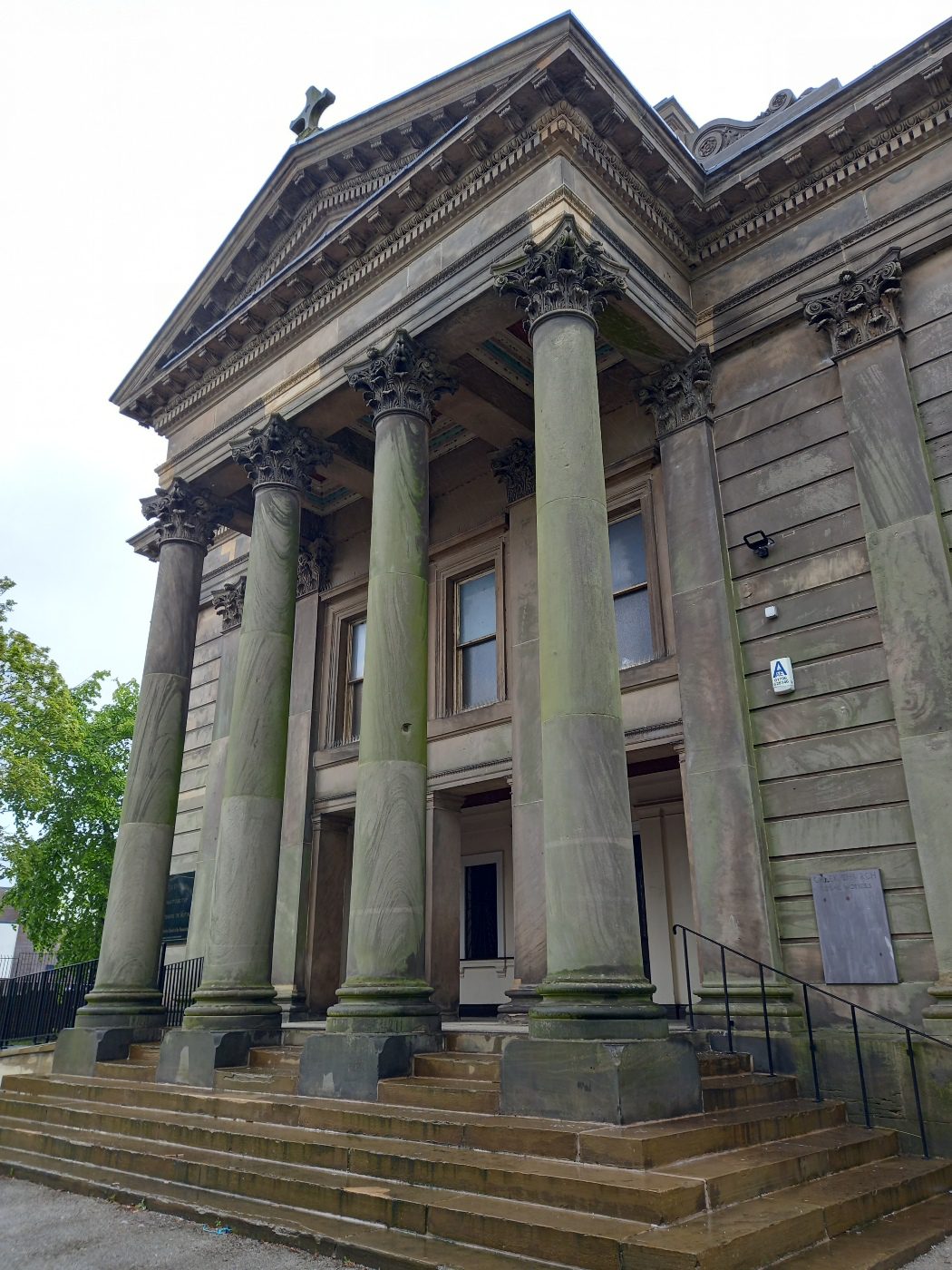 "We're very proud, although to keep the building is very expensive and now we have restoration works costing £80,000 for a very simple job. The Church is Grade II listed and we have many restrictions. This was the very first Greek Orthodox Community Church in the UK, established by Greeks from the Aegean island Chios in 1861. Some of them were ship owners, and the community was linked to the quays in Liverpool and Manchester, via the Manchester Ship Canal, and some had shops in Manchester. They were wealthy people, and this place was suburbia at the time, and they built the church here. There was not a very big Greek community – maybe two hundred – but very wealthy.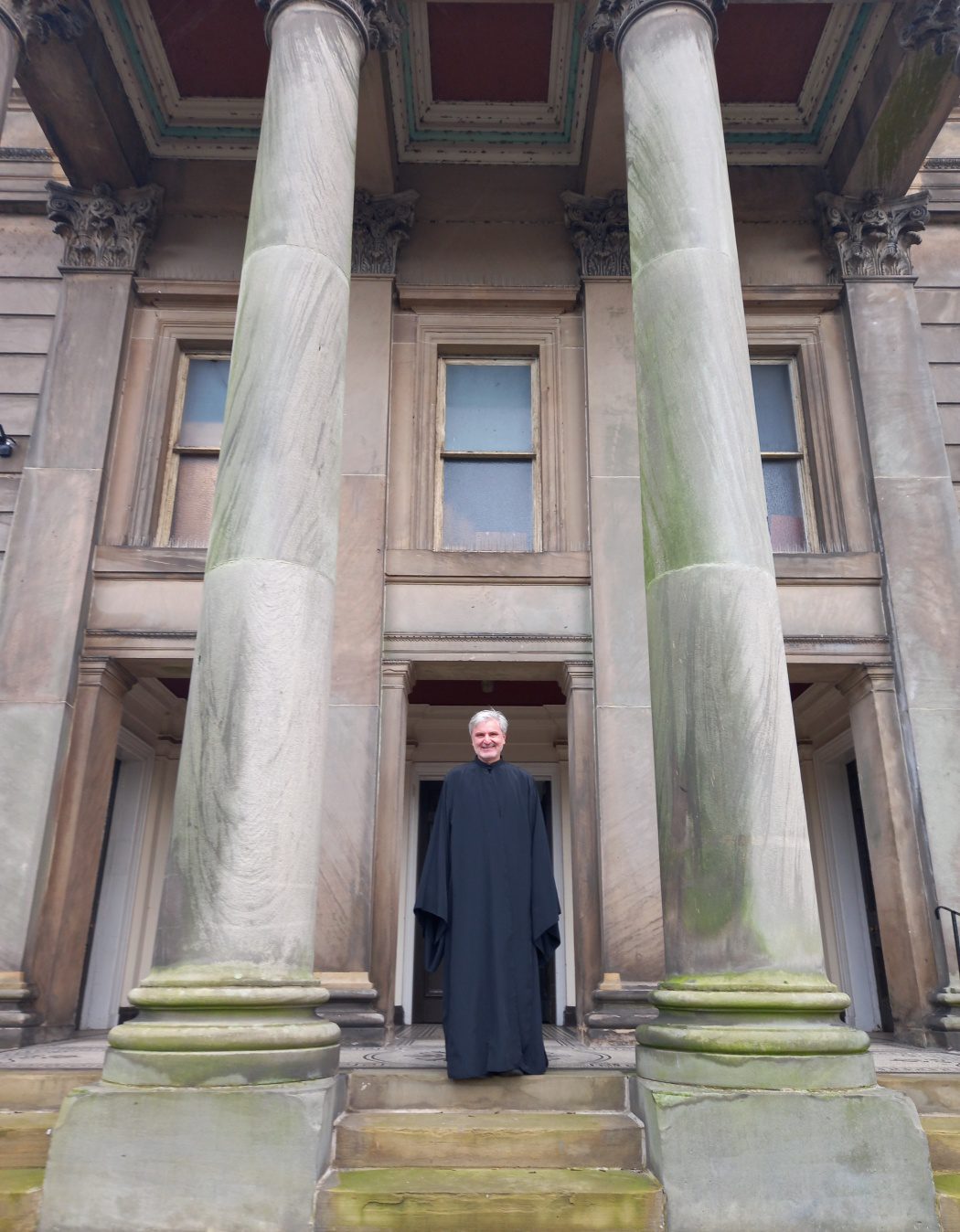 "The neo classical buildings were based on ancient Greece, and the Acropolis was a temple. In Europe the 19th Century neo-classical buildings are based on this idea.  The first community disappeared, and then came the Cypriot Greeks in the late Forties and Fifties and then the community revived. Now we have Greeks, Romanians, Bulgarians…it's multicultural now, and we do around fifty per cent of the service in English. The community is very widespread and come from Sale, Old Trafford, Oldham, Bury, Blackburn and Warrington.
The icons on the iconostasis are typical in a Greek orthodox church. 'Icons' is a Greek word. The painter [Theodoros Vryzakis] was living in Munich and the community ordered him to paint here. It was very expensive at the time."
What does Bury New Road mean to you?
"It's the Road where I do my everyday work in Prestwich or Whitefield, and it is a place where I live. You have Jewish, Christians, Anglicans and Greek Orthodox as well. We have plenty of synagogues at the back of the Church and my flat is at the back so I can see when they celebrate things like Succot. It's a very nice to be with them. In this area everyone is orthodox! Even the Christians are orthodox!"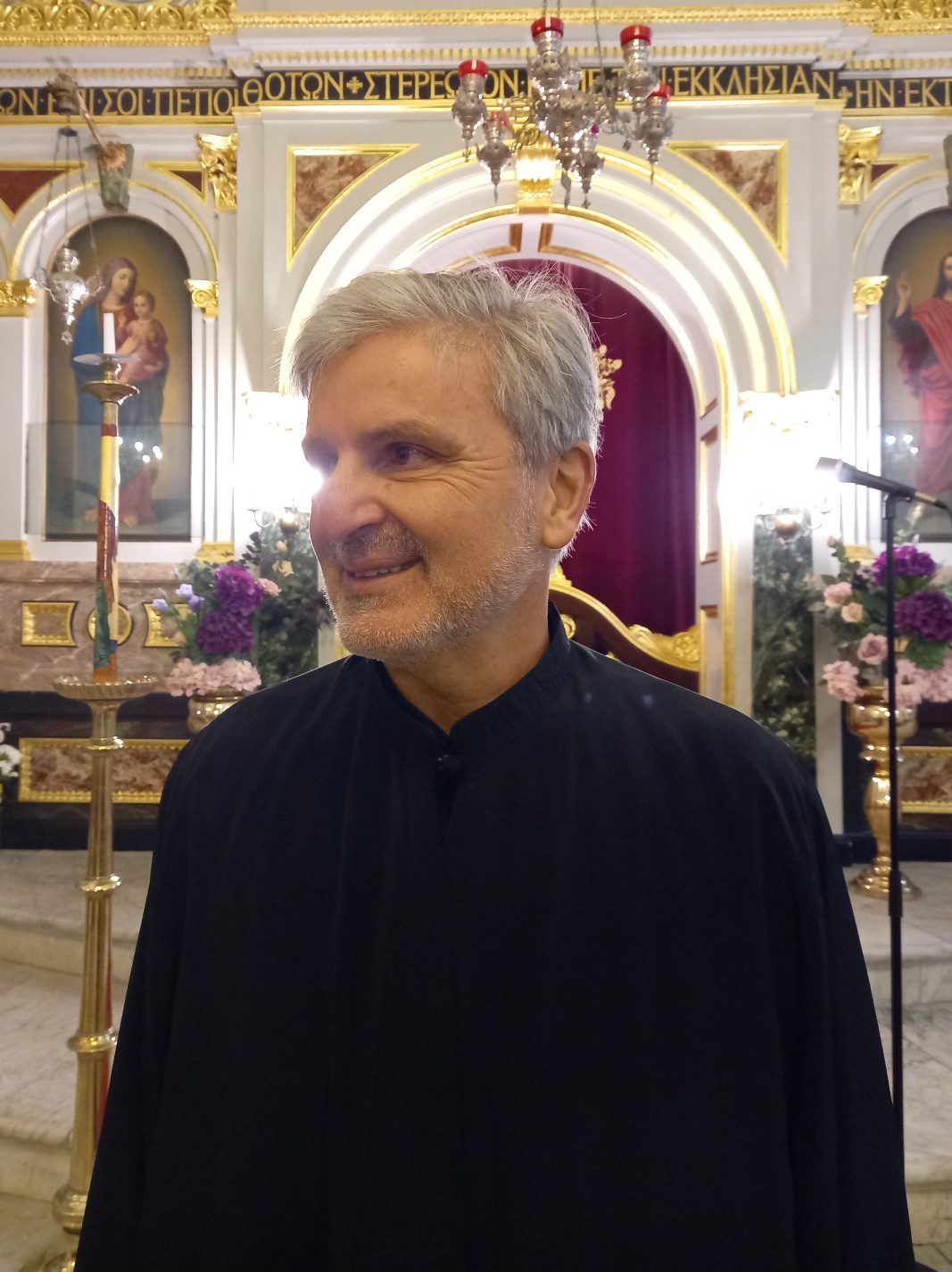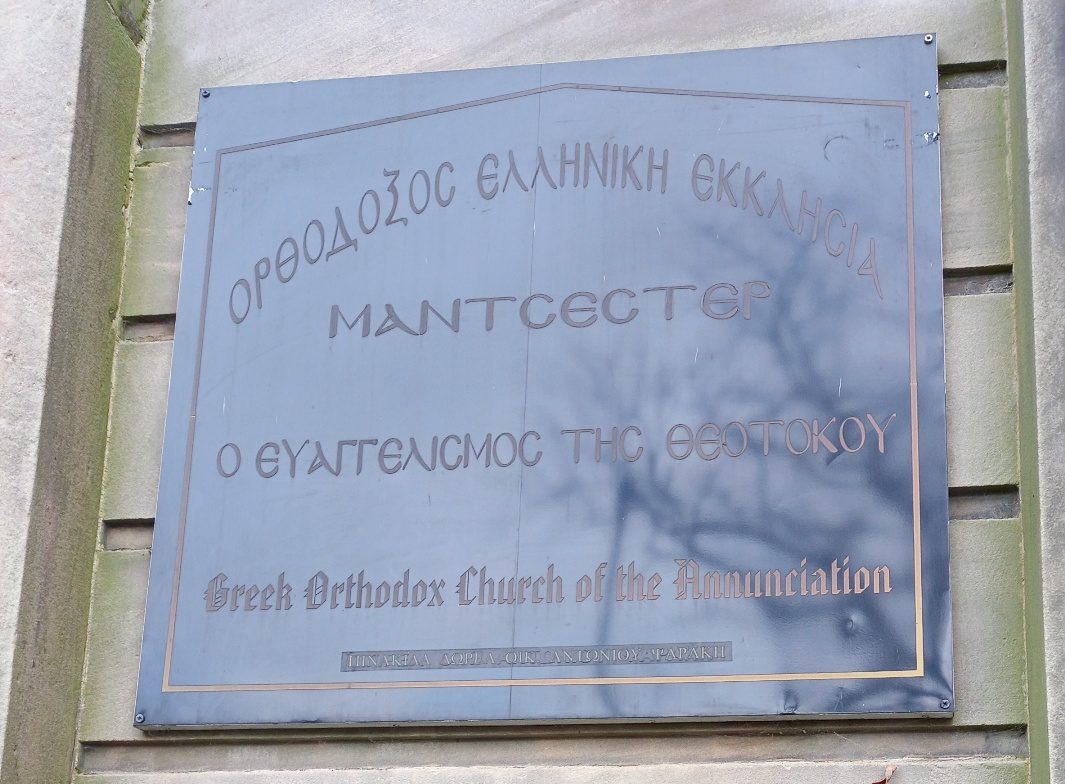 For more history of the Church – click here
44. Tom Sneesby
Has owned the Grape to Grain, in Prestwich Village, since summer 2016…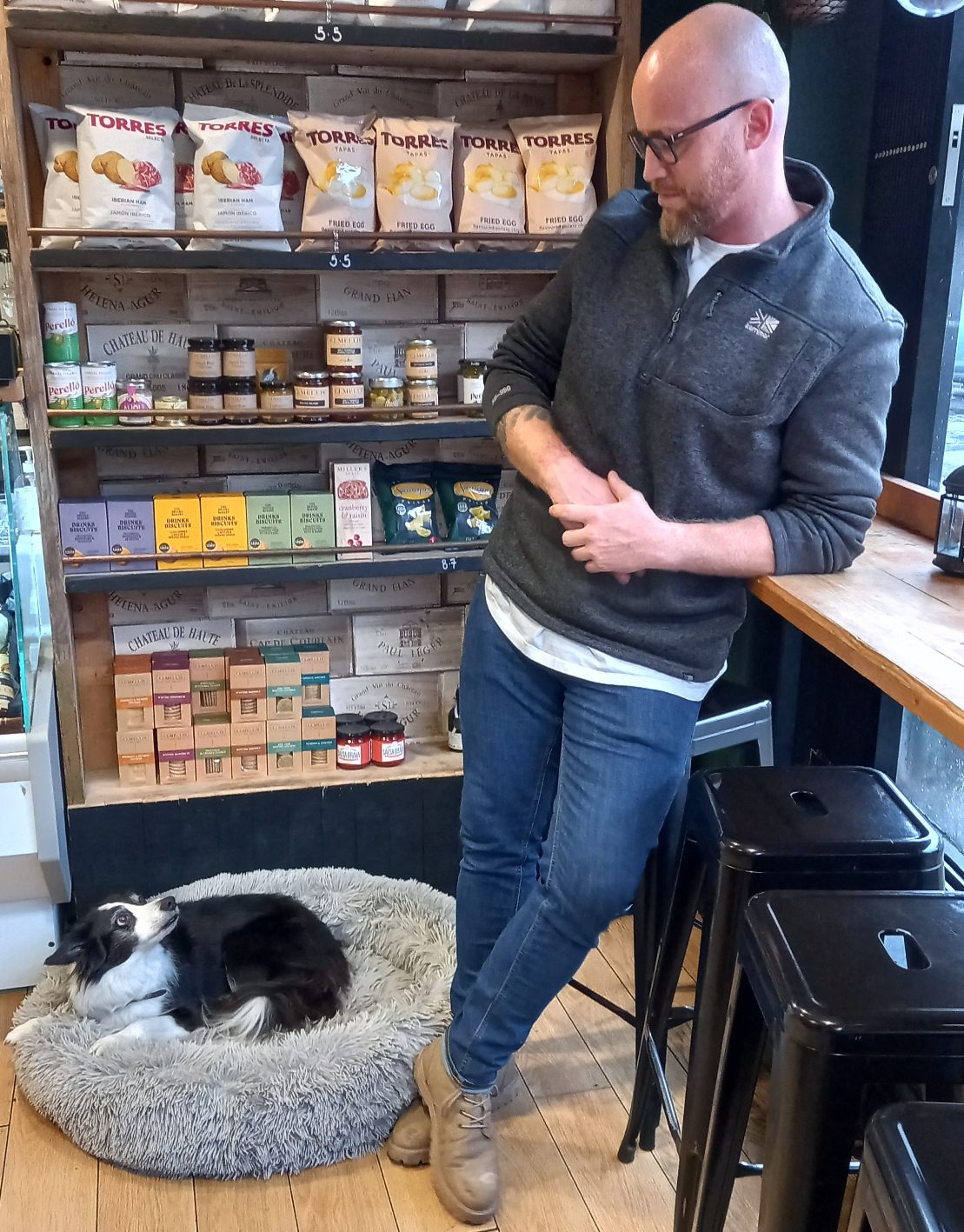 What does Bury New Road mean to you?
"I lived on Bury New Road in Whitefield, and also lived briefly above Chips@No8 which has the big Mark E Smith mural on the side of it, and I know about John Cooper Clarke. These are hugely important and talismanic symbols.
A friend of mine, Barry, who was a big part in creating this place up until very recently, was running a little Christmas pop-up on this site, and when I went to a lovely bijou wine shop in Glossop I thought 'The people of Bury New Road are crying out for wine purveyors, gin slingers and cheese aficionados', and we were proved kind of right.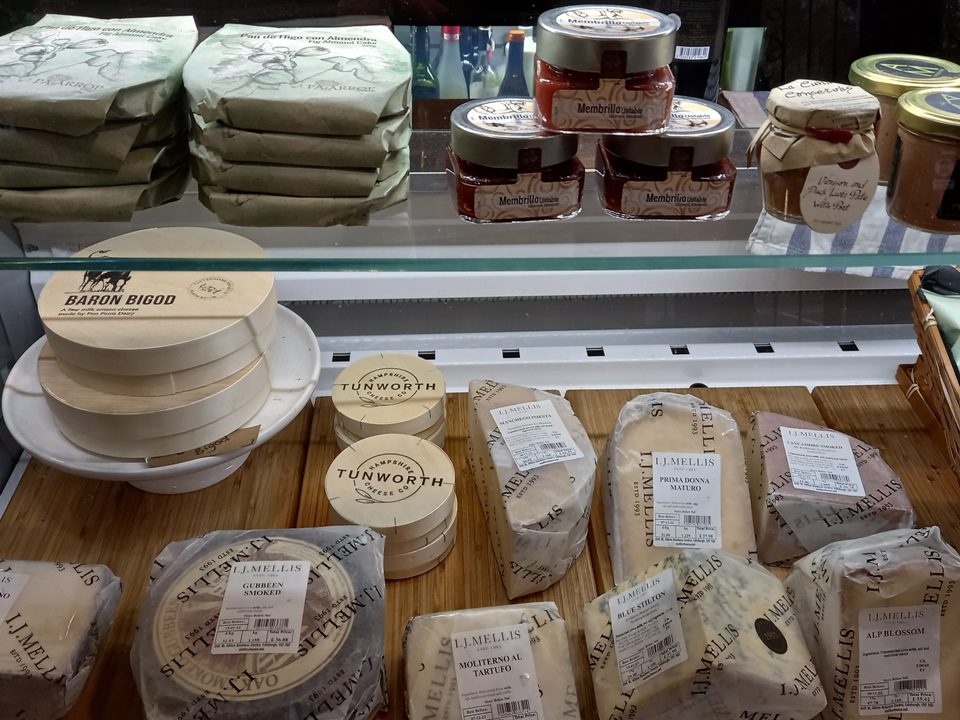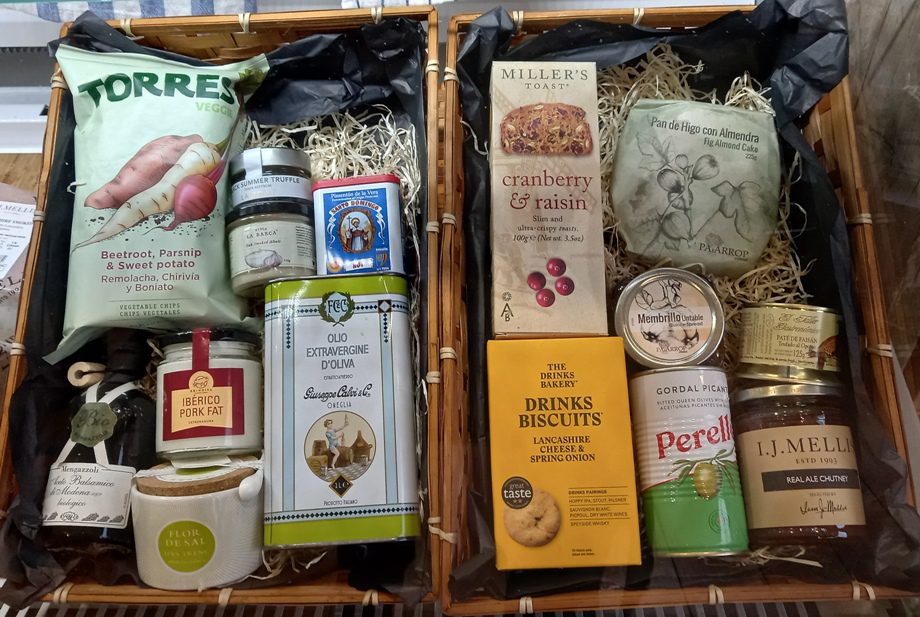 The best thing about Grape to Grain is this constantly moving, kind of, wall decoration…the bottle designs are all beautiful and it's tactile; you can come in and it moves with you – and I thought 'That would sit well on this constantly moving road'.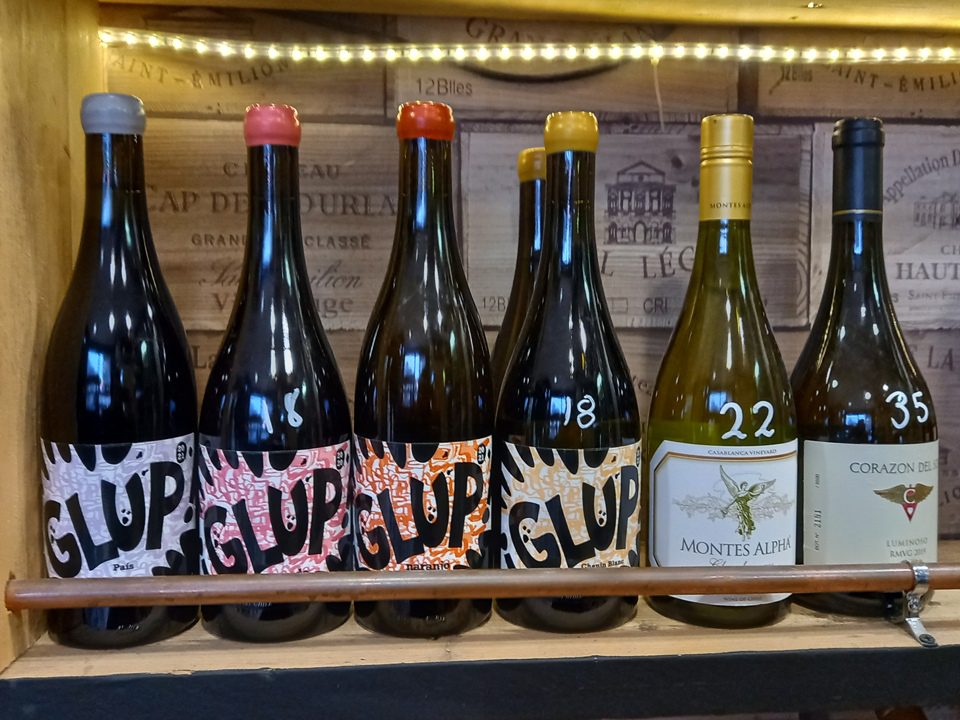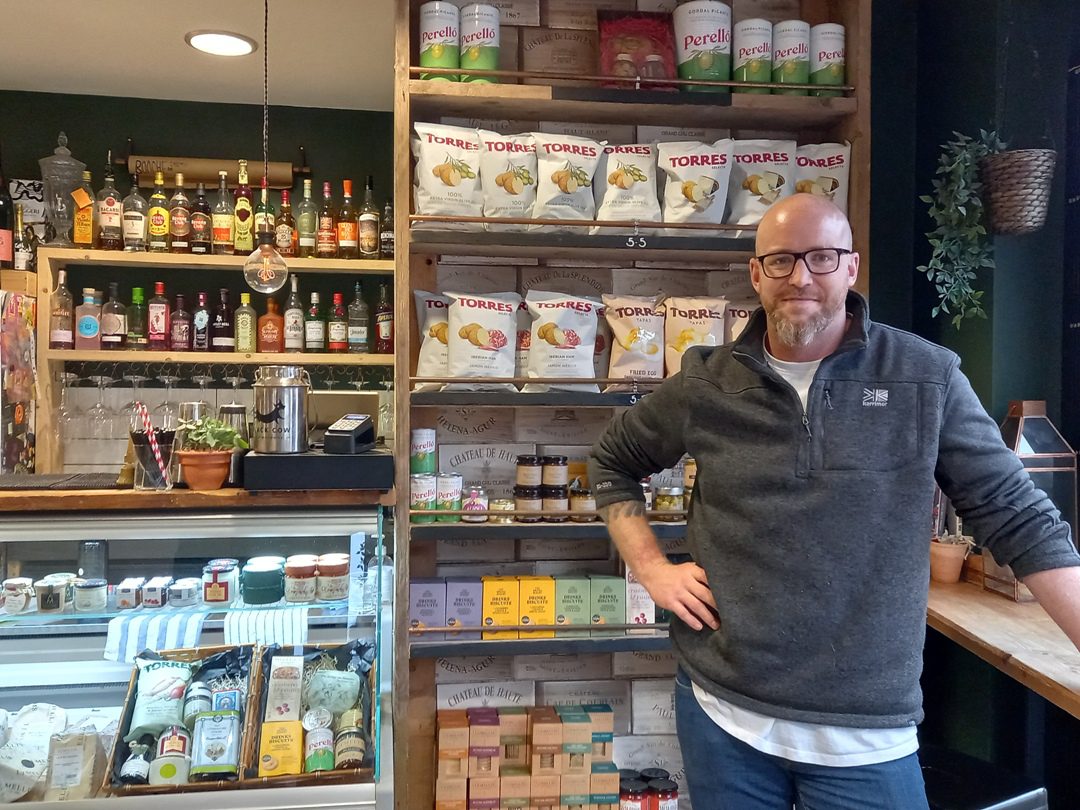 We did quite an effective job in socially engineering our base. We naturally appeal to people who are in stumbling distance from home but then, over the lockdowns, we started to do online tastings, where we would deliver wine to people and meet online. There would be a Glastonbury-like scramble for tickets in that we'd release tickets at 3pm on the Monday for the Friday and Saturday, and by 3:05pm they'd be sold out. But we socially engineered them to only drink really good wine. So now they'll come in having experienced these great wines that we'd put in front of them and ask for those wines by name.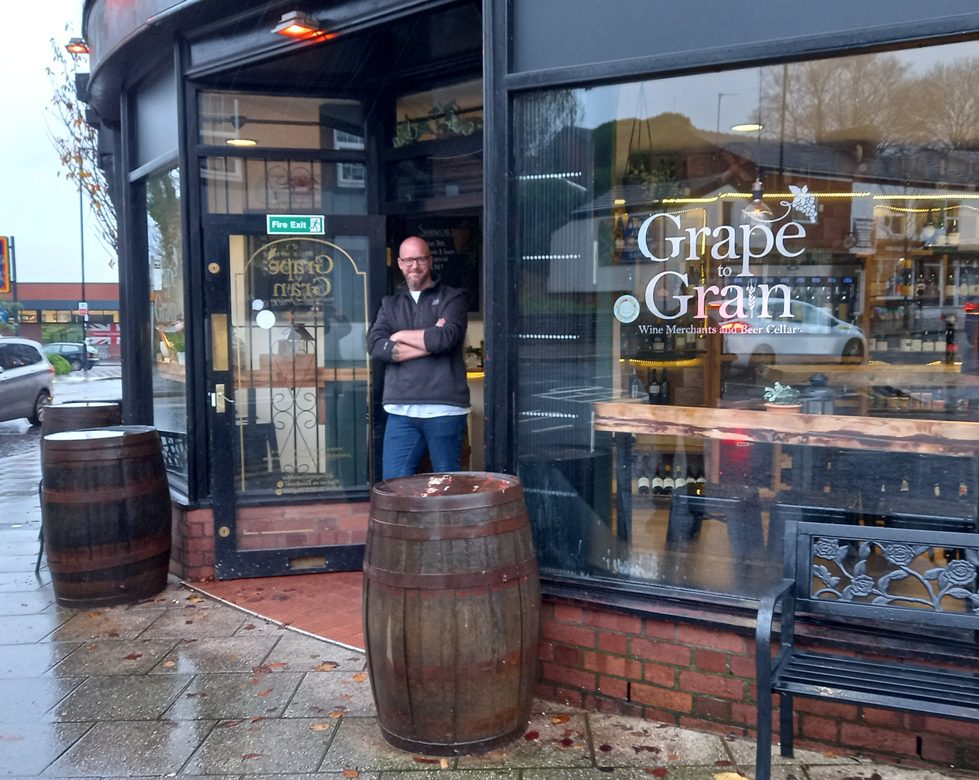 There's a naturally local element to everything we do, and people who come to us also frequent our friends at All The Shapes, Nonas or Cuckoo which is fantastic, a rising tide raises all ships…but the locality doesn't mean they are local yokels. They are the face of an international city, Manchester, encapsulated by the international road of Bury New Road.
I came up to go to Salford University, so I'm an import into Manchester which means I have the ability to look at it as an outsider. And as an outsider looking in, there's this incredible loyalty and pride in where you're from…Prestwich and Bury New Road has been 'the next Didsbury' for the last 25 years. But, hello, it's just Prestwich…"
43. Ian Creek
Current President of the Prestwich Hebrew Congregation, or The Shrubberies, also Life Vice President…
What does Bury New Road mean to you?
"To me, it's part of the community, it's the main artery. You come off the motorway and everyone drives down Bury New Road. Each time I drive along there's always something different – a new shop, a new restaurant…it changes.
My primary school was the Jewish Day School across the Road, so it's so much part of my life. One set of my great grandparents lived on Bury New Road in Strangeways, just before Waterloo Road, and they lived there until it was a compulsory purchase, while my sister lives just down the Road near the fire station; so it's ingrained. And I live just off Bury New Road.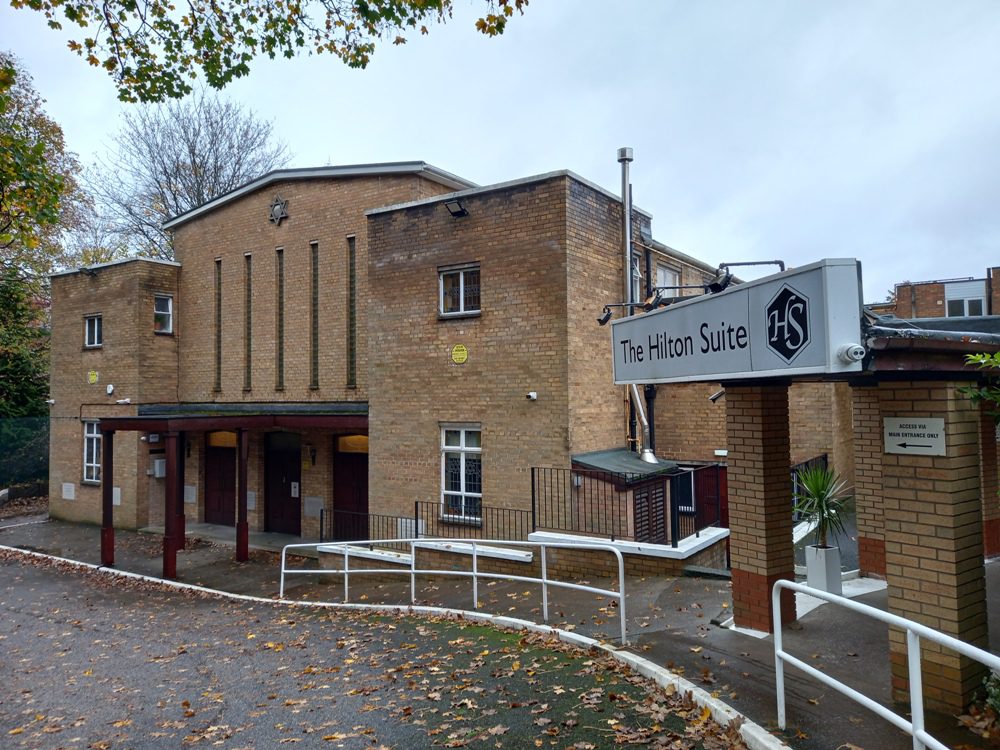 This building was erected in 1961, and before then they used what is now the Holstein Hall which was built in 1947. The shul itself started in 1937, so it's 85 years old. The original building was a big old house called The Shrubbery which was more or less here, and, at one point there was a World War 2 fire station next to it.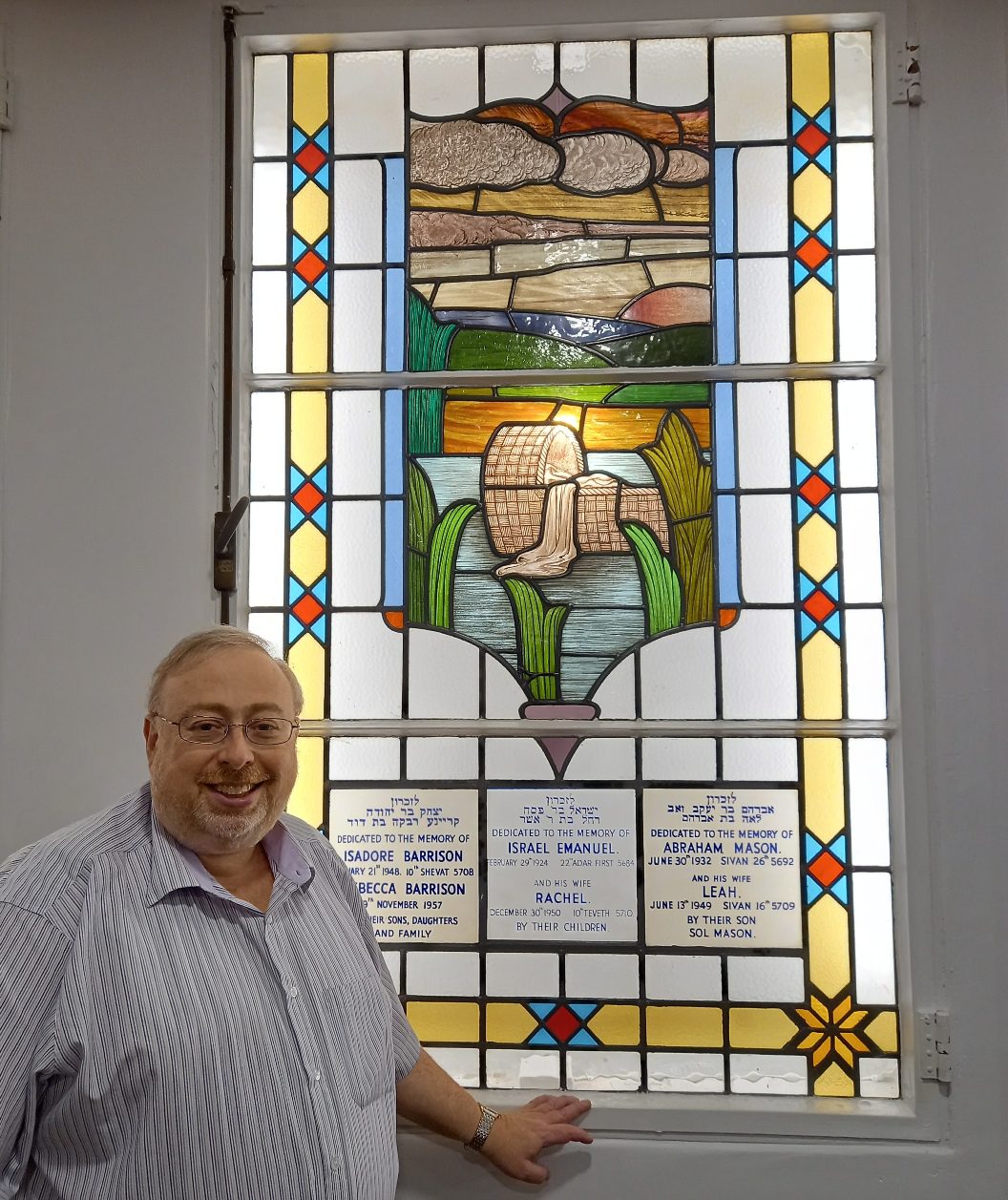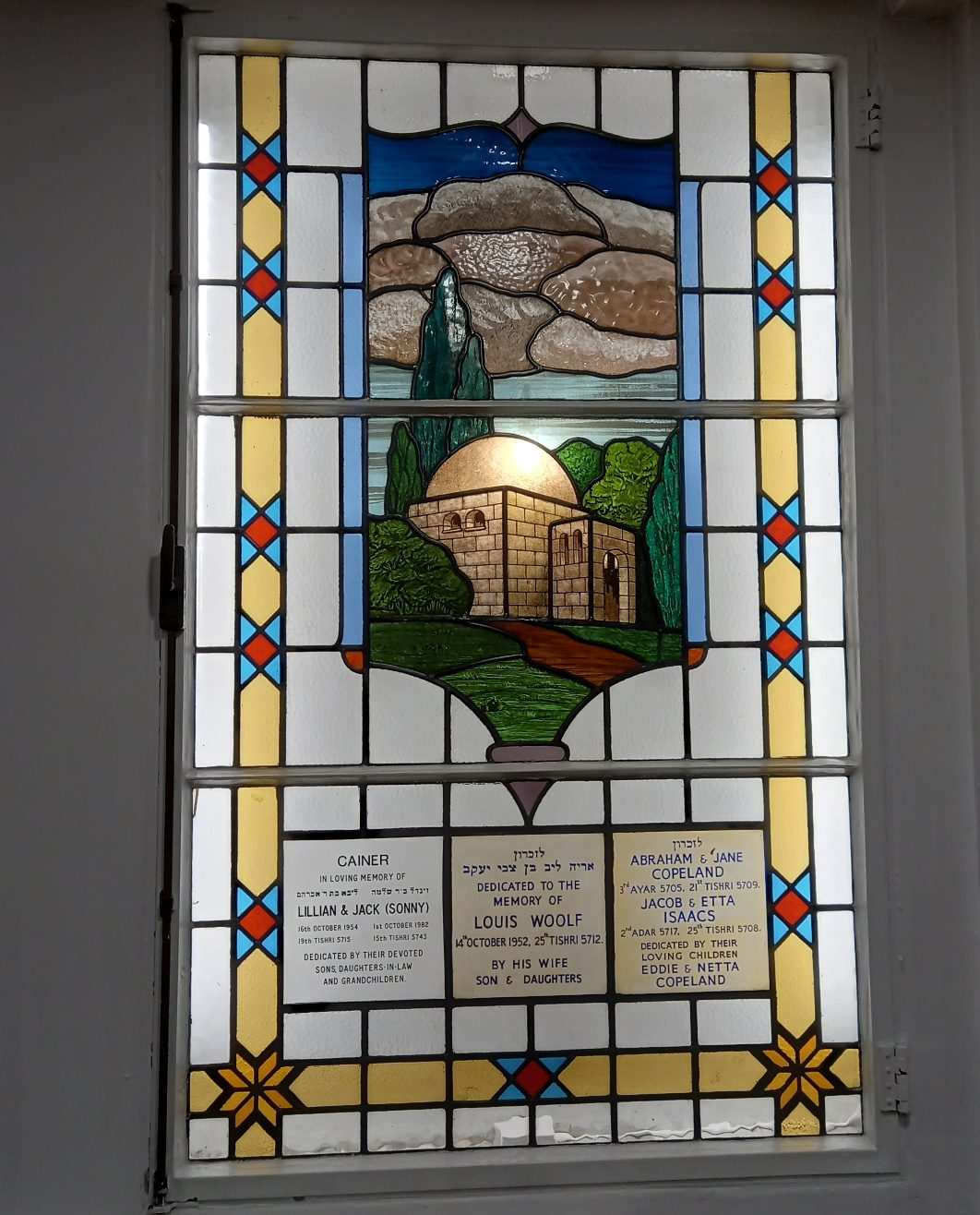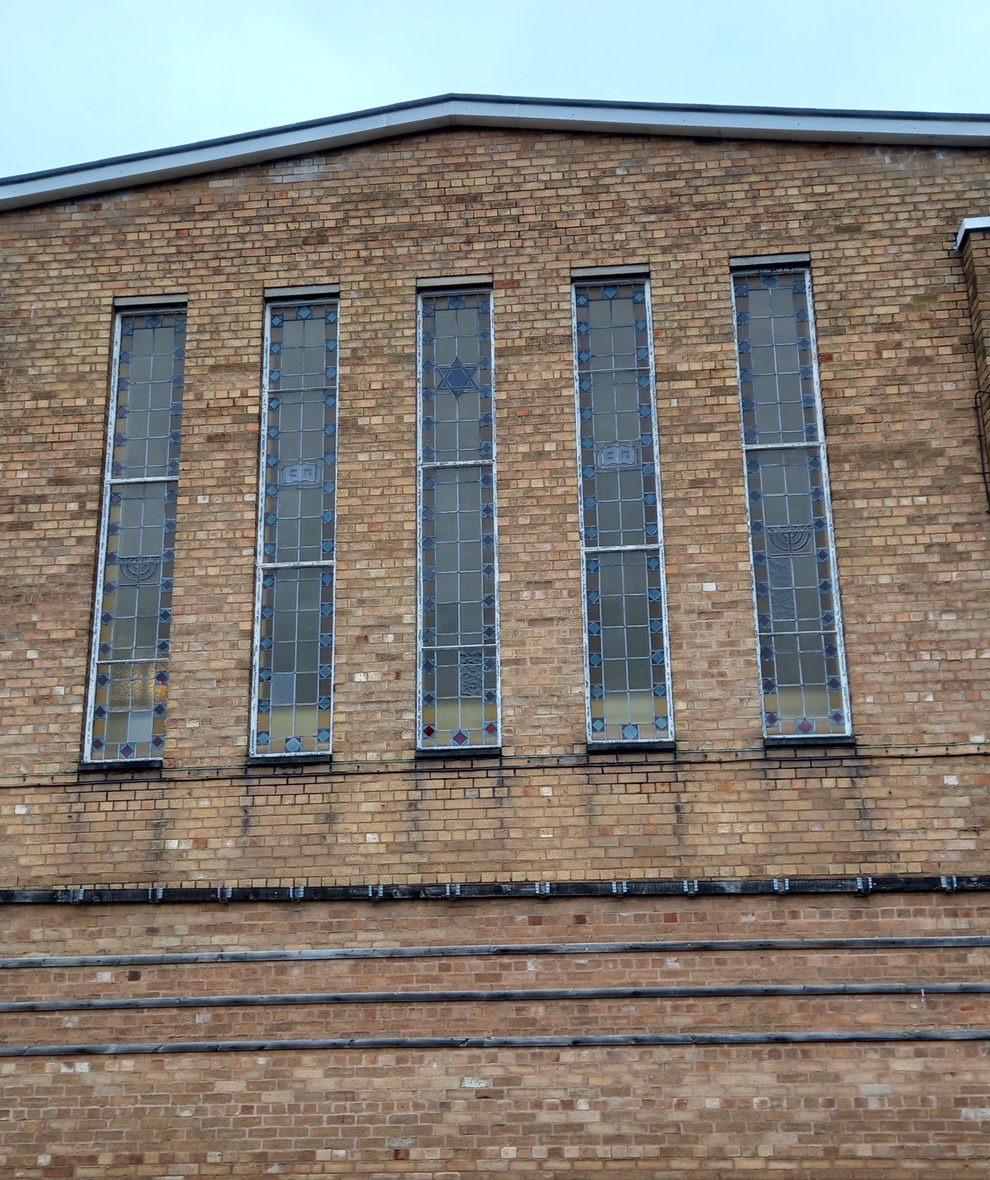 I've been connected with the shul all of my life and I'm now 53. My grandfather, Rabbi Gurdus, was the first rabbi here for 42 years and I'm the longest serving executive member…It's so much a part of the community, even if people haven't been here for a service they may have had a function on at the Hilton Suite. I'm sure most people have been here at least once…"
42. Laura Murton
Has run three tattoo studios in Prestwich Village since 2013, including the pertinently named Sorry Mum, before opening Lux Tattoo in 2019, titled in honour of her son.
What does Bury New Road mean to you?
"Being a bit selfish, it's great for business, and it's been amazing for the past ten years. It's home, I can't fault it, and it's interesting to say the least; there's everything going on here. I like the fact that everything you need is on the one road, ranging from the tattoo studio to the Jewish community down the Road. We've had a lot of Jewish clients which astounded me but I just love it. When you're from Prestwich it is what it is, home. I enjoy it.
Customers come from all over. Charlie, who now works with me, used to travel five hours by train to get tattooed by me, and the guy being tattooed on the couch has travelled four hours today.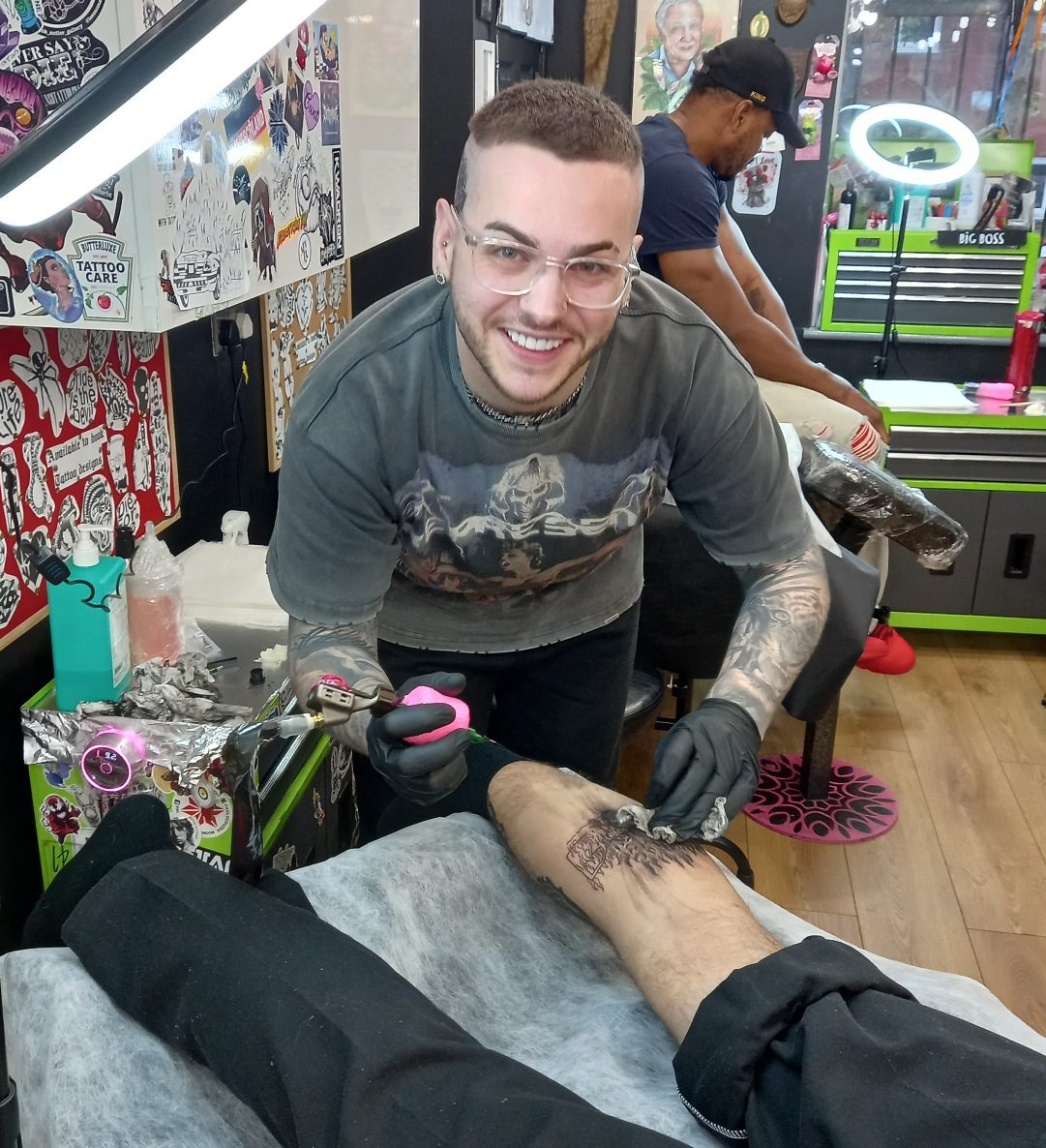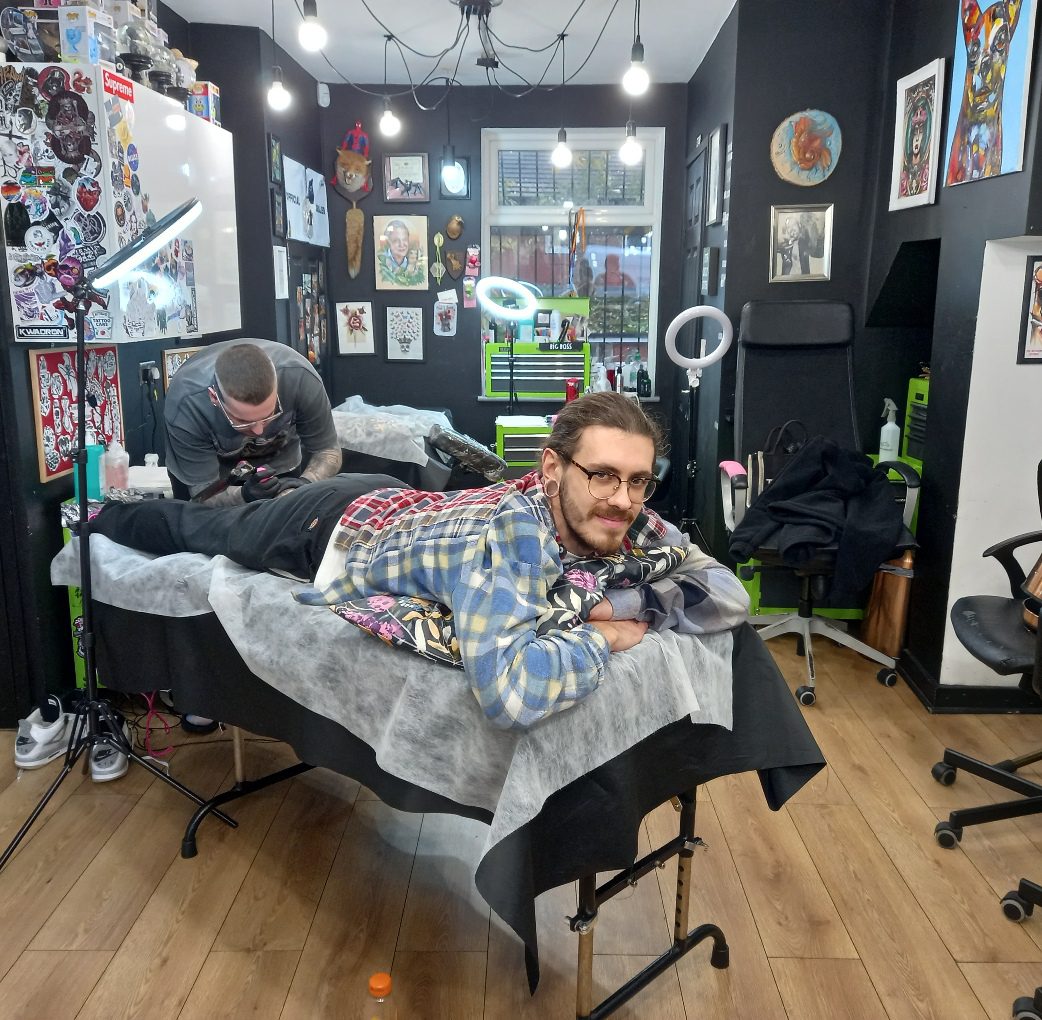 I grew up in Prestwich, have lived here most of my life and I recently bought a house five minutes away from here so I'm not going anywhere!"

41.  Hamza Shakoor
Has owned House of Brands on the Strangeways stretch of Bury New Road for around four years…
What does Bury New Road mean to you?
"It's got the best of both worlds, it's got the history behind it and obviously it's got the location close to the city centre, it's got everything – the Bronx of Manchester, I would say!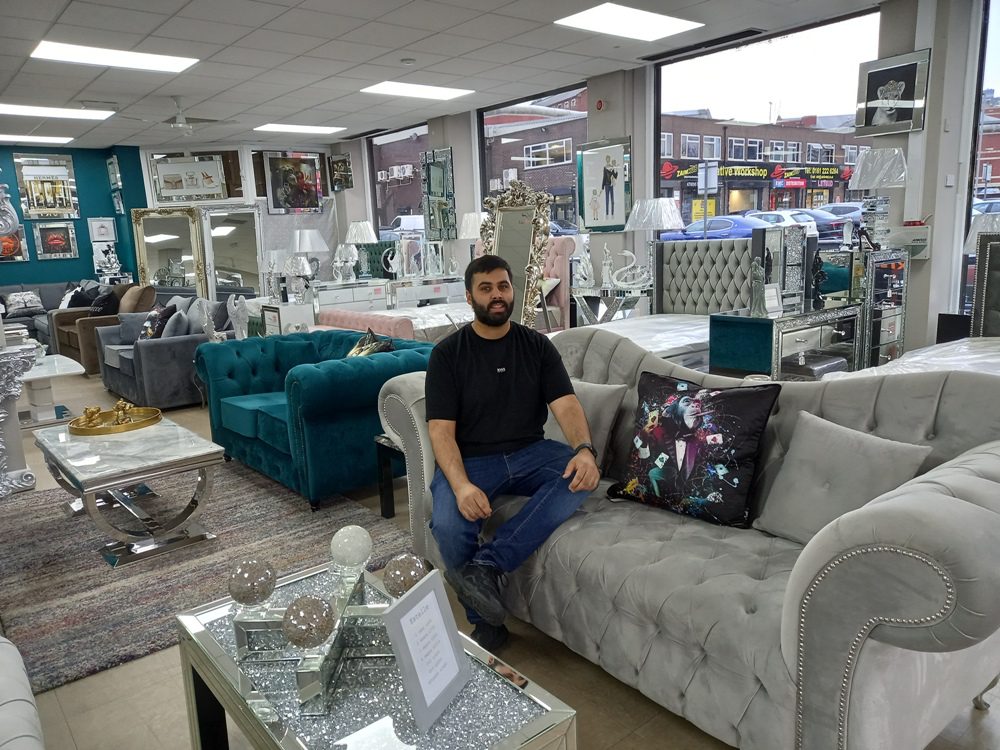 "All sofas and beds are made in-house to order, so you can change the size, the colours and the fabrics. Furniture comes from all over the world – Grade A furniture from China, from Turkey, from Italy, it depends on the item. Where we are, our customers come from everywhere. We support a lot of the travelling community, the Asian community, the English community – we sell our furniture to everybody. Because of such a big clientele, a lot of the stuff is affordable to them, so it's luxury furniture at an affordable price and we do payment plans to help people. We've got everything in here, we've got dogs, horses, lions, eagles, monkeys everything… it's like a zoo.
"Our customers are a lot of new home owners, the price that we're at for the quality we've got fits everybody really – ladies love it in here, they say it's like heaven when they walk in, while their husbands hide behind the door as they don't want to spend.
"The location here just happened – it wasn't expected to go three or four years – I was just going to sit it out for three months really until another tenant was going to take the shop but it ended up just fitting with the area. There's a huge amount of people who drive up and down the Road and pop in saying 'Oh I've just seen that in the window' …"