The Bury New Road project presents…
Made In Strange Ways
On the Prison railings Bury New Road…Tuesday 23rd May 2023
For TWO HOURS ONLY…12noon-2pm
For two hours only on Tuesday 23rd May, between noon and 2pm, there's going to be a unique showcase of post-prudent art and prose by prisoners at HMP Manchester. The evocative artworks are going to be chained to the railings of the prison on Great Ducie Street at the start of Bury New Road.
The Bury New Road heritage project worked with eight long term prisoners at HMP Manchester in September 2022 who created some stunning canvases and verse, expressing their feelings on the relationship between the prison and the over busy Bury New Road in its shadow.
They drew inspiration from some of the Road's icons – John Cooper Clarke, Bugzy Malone, Joy Division and The Fall – who also feature in the behind bars artworks.
"I created this artwork while I was serving my sentence at HMP Manchester" says the creator of Censorship, a multi-media canvas that screams from every corner "I had visited the Road before I came to prison to go shopping in the warehouses but I never knew of the Road's history and all the famous musicians who came from here…"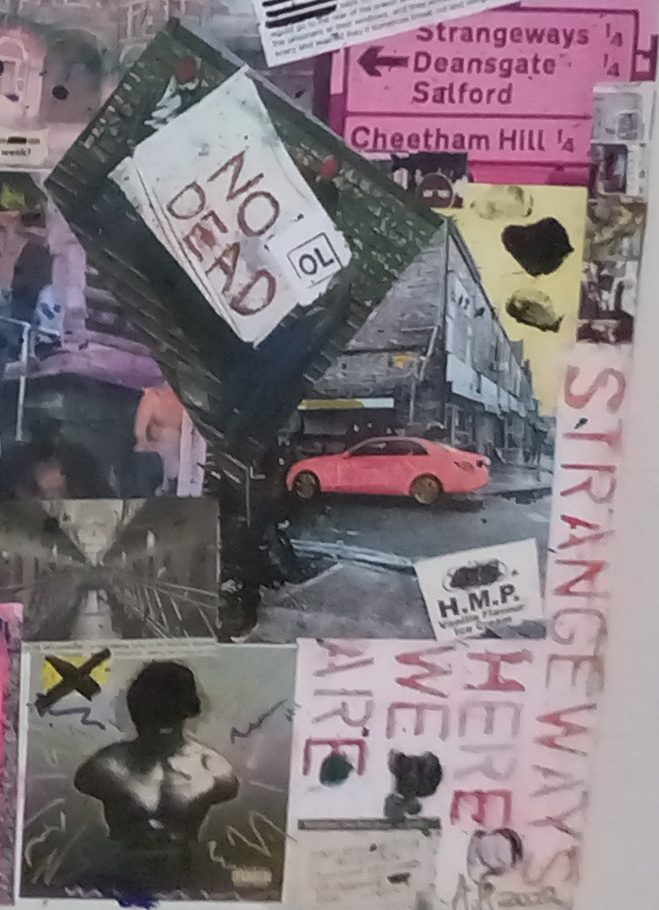 Another canvas, titled The Bloody View, incorporates John Cooper Clarke's 'The bloody view is bloody vile'…but painted with a new twist…And Johnny Clarke's style is replicated too in adverse verse centred around the prison's freedom homing birdlife…
'The bloody peregrine
She bloody screams
I even hear her in my dreams…'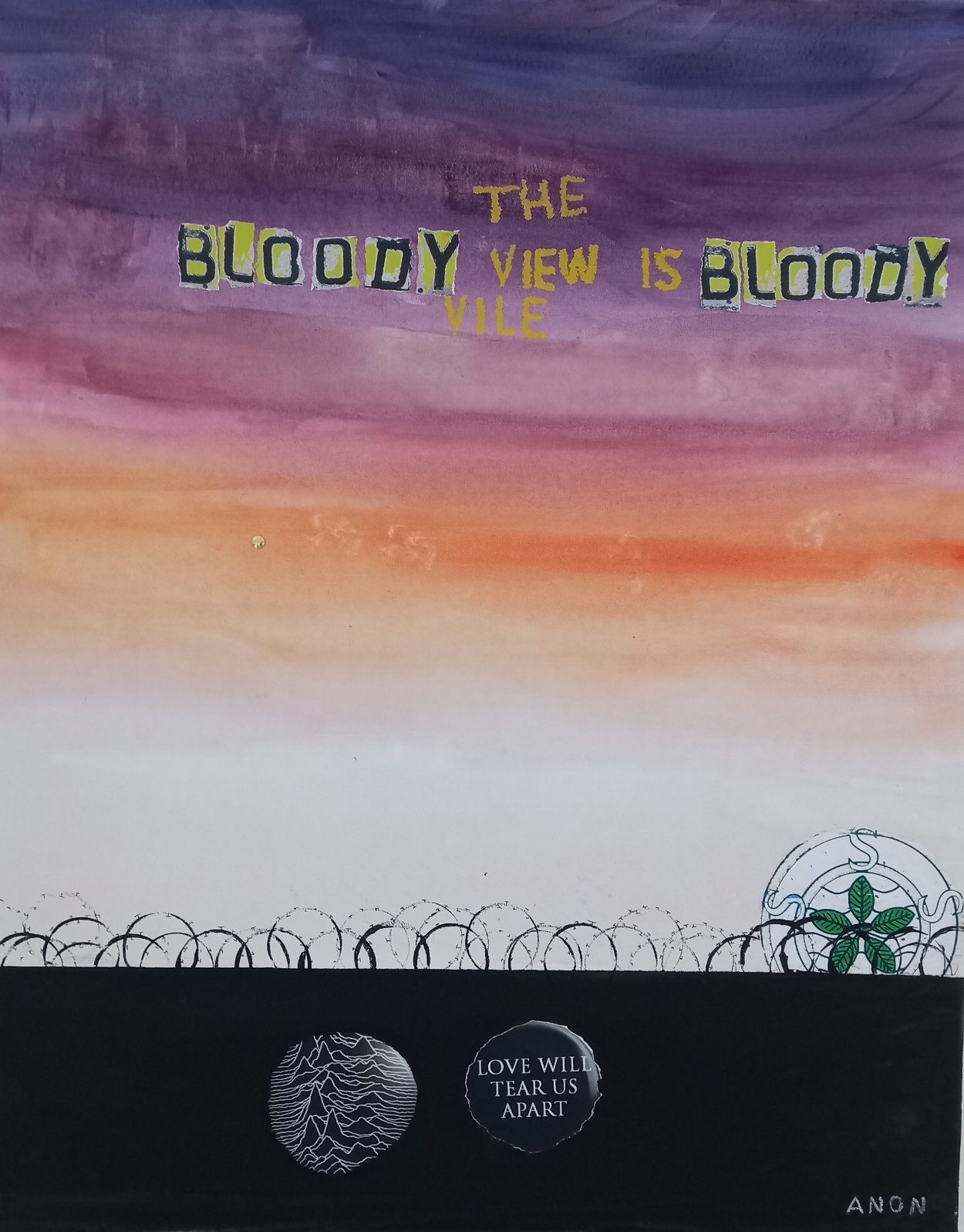 "It's been a privilege/exciting to be involved in such a project" says HMP Manchester Governor, Rob Knight "Utilising the skills and talents of HMP Manchester's prisoners is something we're proud to do…"
"It was an amazing experience for us, working with the prisoners, and in the current art room which was formerly the chapel where the famous riot started" says Stephen Kingston, Bury New Road project co-ordinator "Usually, it's people walking or driving past the prison every day who might just wonder what goes on behind the huge walls.  Here, the prisoners are giving a taste of that, and what they know is happening on the outside…"
 Bury New Road project artist, Louise Garman adds: "There are some amazing artists at HMP Manchester, whose work is exhibited all over the inside of the prison. Unfortunately most people won't be able to view these works but our Made In Strange Ways exhibition will showcase some of the talent that exists unseen and unheard…"
Made In Strange Ways
For TWO HOURS ONLY
On the Prison railings Bury New Road
Tuesday 23rd May 2023 12noon-2pm
Update: Artworks by prisoners at HMP Manchester chained to prison railings for Bury New Road project exhibition – click here
See also the Bury New Road project articles on HMP Manchester – click here to start
See also previous Bury New Road Exhibitions…
The Portrait Exhibition at the Prestwich Church Institute – click here
The Bury New Road Festival – click here
Believing Is Seeing Strangeways Art Installation – click here