Certainly, the most imposing, stunning, landmark building on the A56 is HMP Manchester, formerly Strangeways Prison, designed by Alfred Waterhouse, who also did the Natural History Museum in London and Manchester Town Hall.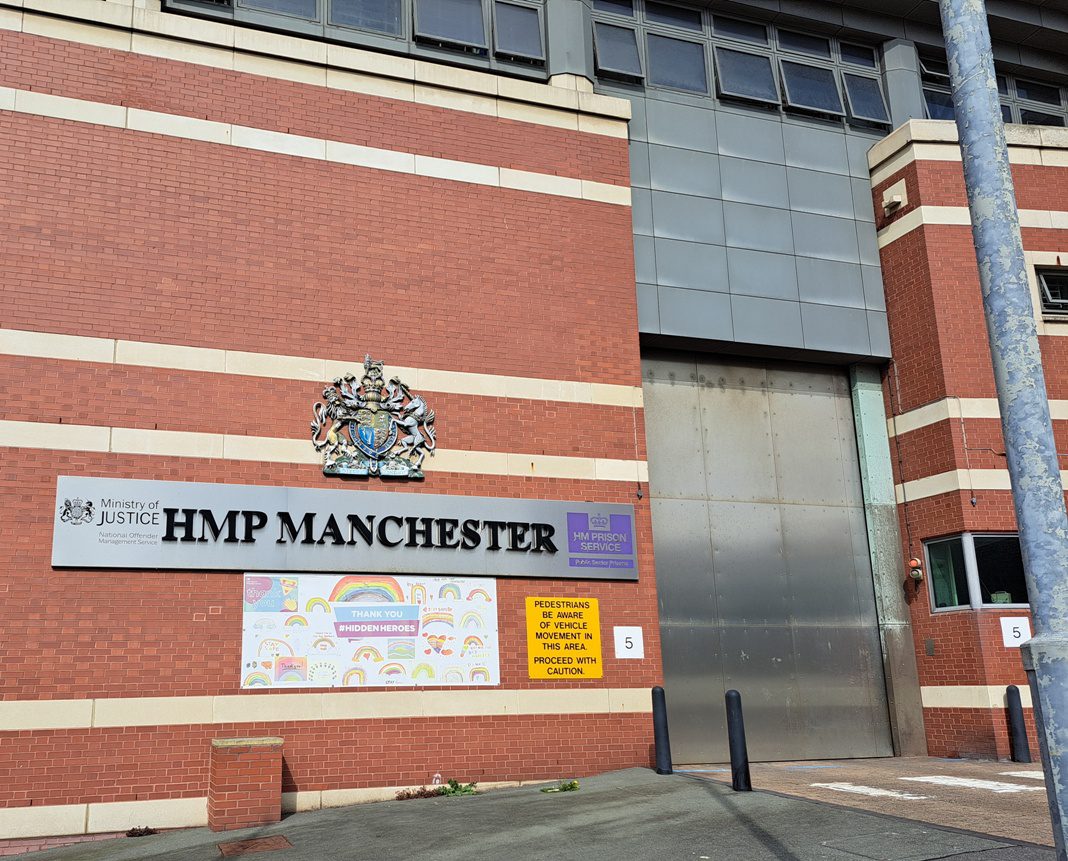 Opened in 1869 and designed to hold one thousand prisoners, it was built to replace New Bailey Prison and was originally known as Salford Prison, until the name was replaced by Strangeways in the 1880s, and then Manchester Prison in the 1990s.
Strangeways gets its name from the area, recorded in 1322 as 'Strangwas', from the Anglo-Saxon Strang and gewæsc meaning '[a place by] a stream with a strong current'. And way before Morrissey, Marr and co got there, the Smiths lived on the prison site in Strangeways Hall between the 1820s and 1840s. In1824 Joseph Smith, a cotton merchant, lived there, and in the 1840s two Smith brothers, Horatio and Junius, lived at the property. The new jail was built on the grounds of Strangeways Hall.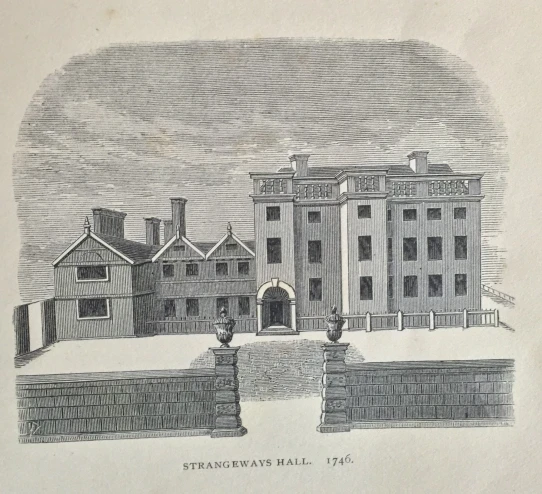 The prison was built behind the gothic style Assize Courts, also designed by Waterhouse, which, at 279feet high, was Manchester highest building until it got bombed in the Second World War and demolished in 1957. A remnant of its wall is still present on the corner of Great Ducie Street (A56) and Southall Street.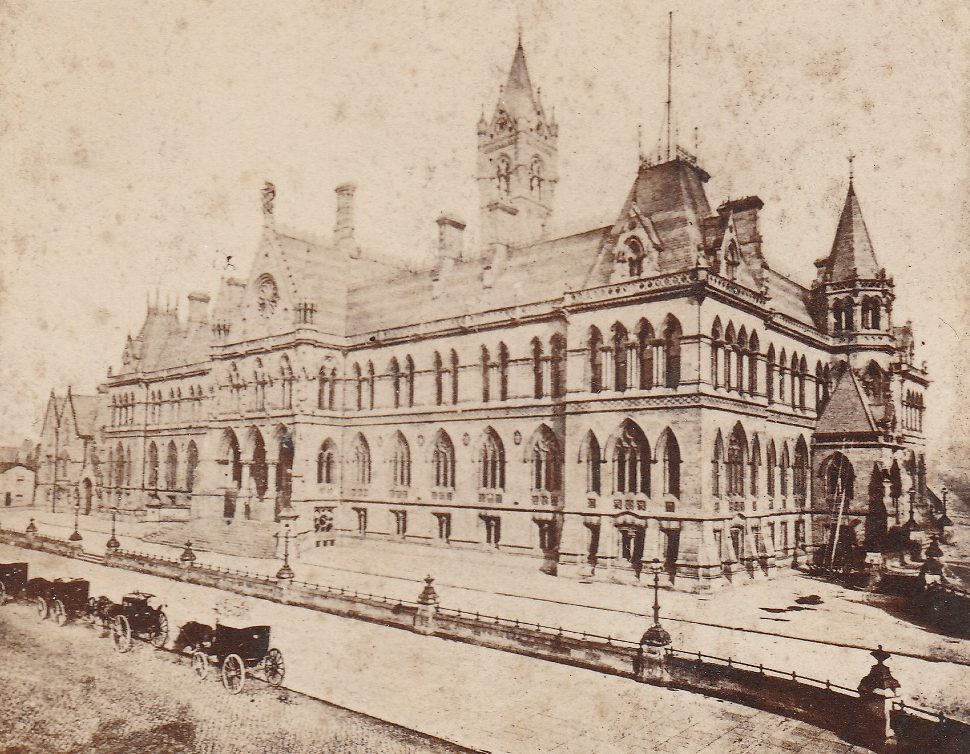 It was such a massive complex that a brick making device was installed on site during construction. And going between the prison and the Courts was an underground tunnel, which was also part of a revolutionary air conditioning and heating system that includes the huge, 234feet high tower, which isn't, as many people think, a watchtower or something to do with security…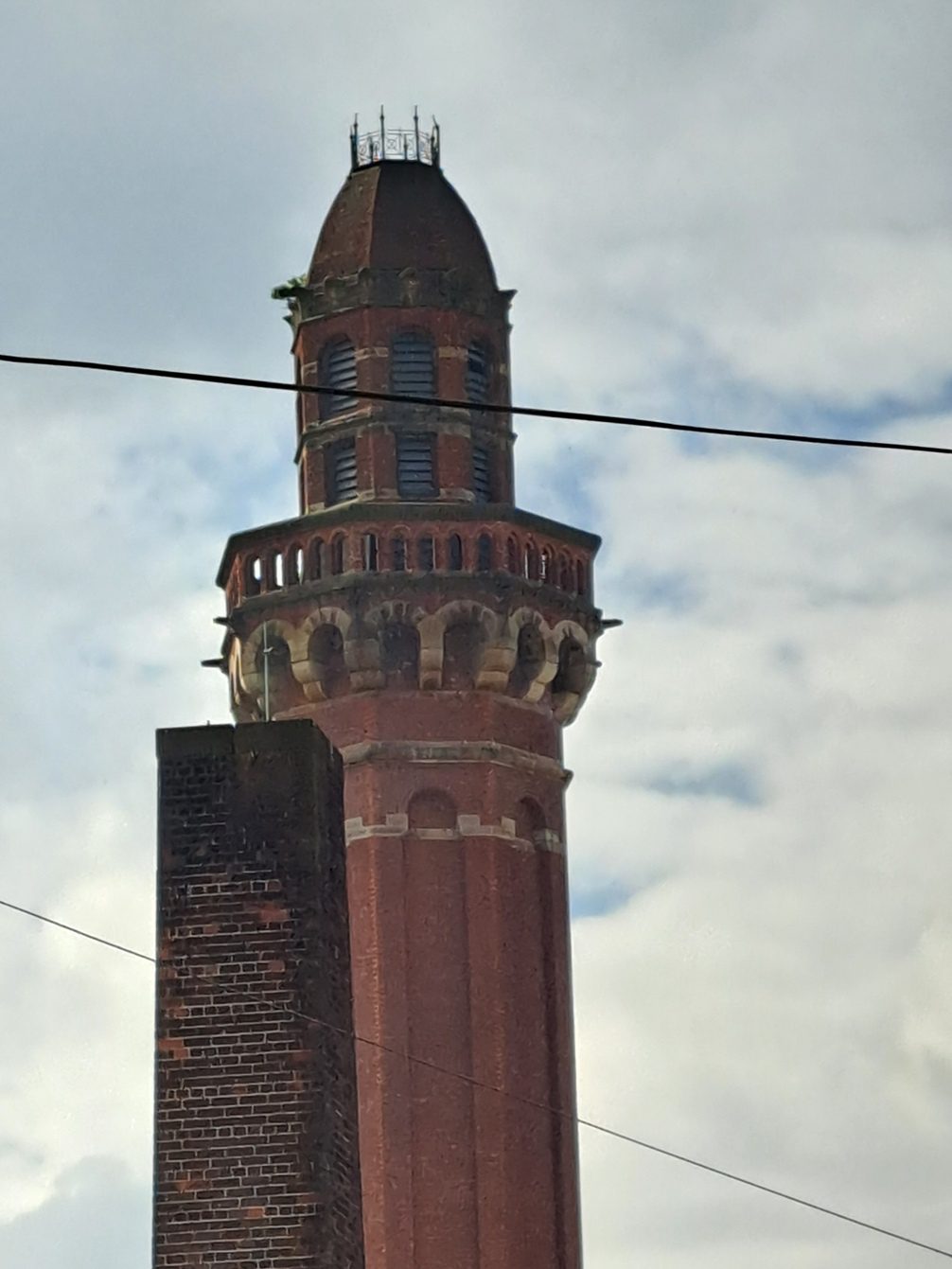 "The tower ventilation system was way ahead of its time, and takes all the stale air out" explains Philip Robinson, Head of Operations at HMP Manchester "It's crumbling a bit at the top and there is construction work going on at the moment but it's 152 years old and it's not totally crumbling.
"The walls are 16feet deep so it's quite substantial" he explains "But it's that high of a listed building that when the maintenance guys drill into the walls they have to hold the dust and put it back in!"
Indeed, HMP Manchester has four Grade II listed structures as part of its complex. The listed tower, built in a Minaret style, is understated by Historic England as "A very prominent landmark in this area of the city…"
The Gatehouse of the prison is also Grade II listed as being in a 'French Gothic style', and the towers on it were formerly used as the residence for the governor and the matron of the top prison which housed women until 1953.  The former women's/boys' prison, or 'top jail', is Grade II listed too, as is the main block with six wings radiating from the central concourse.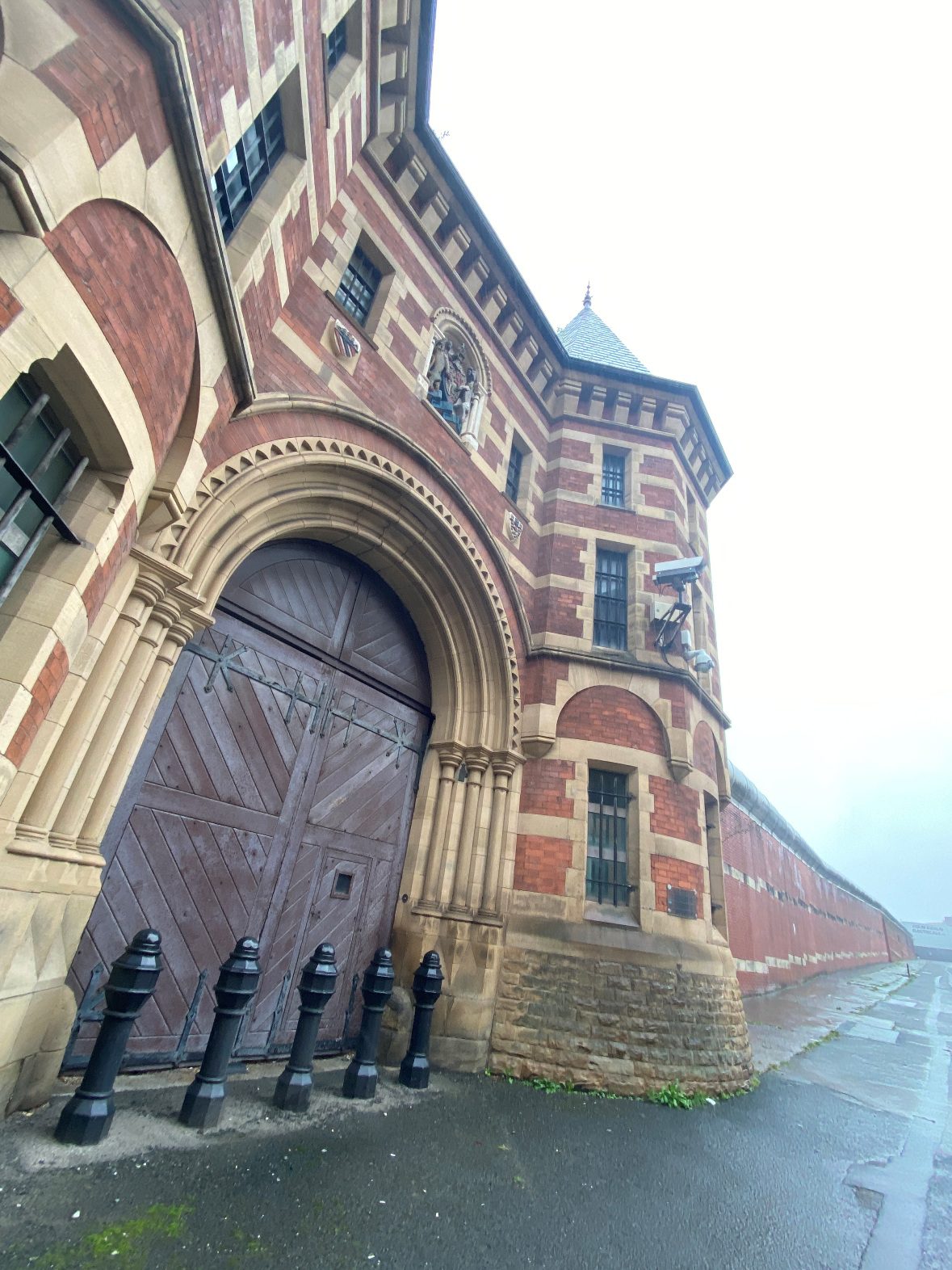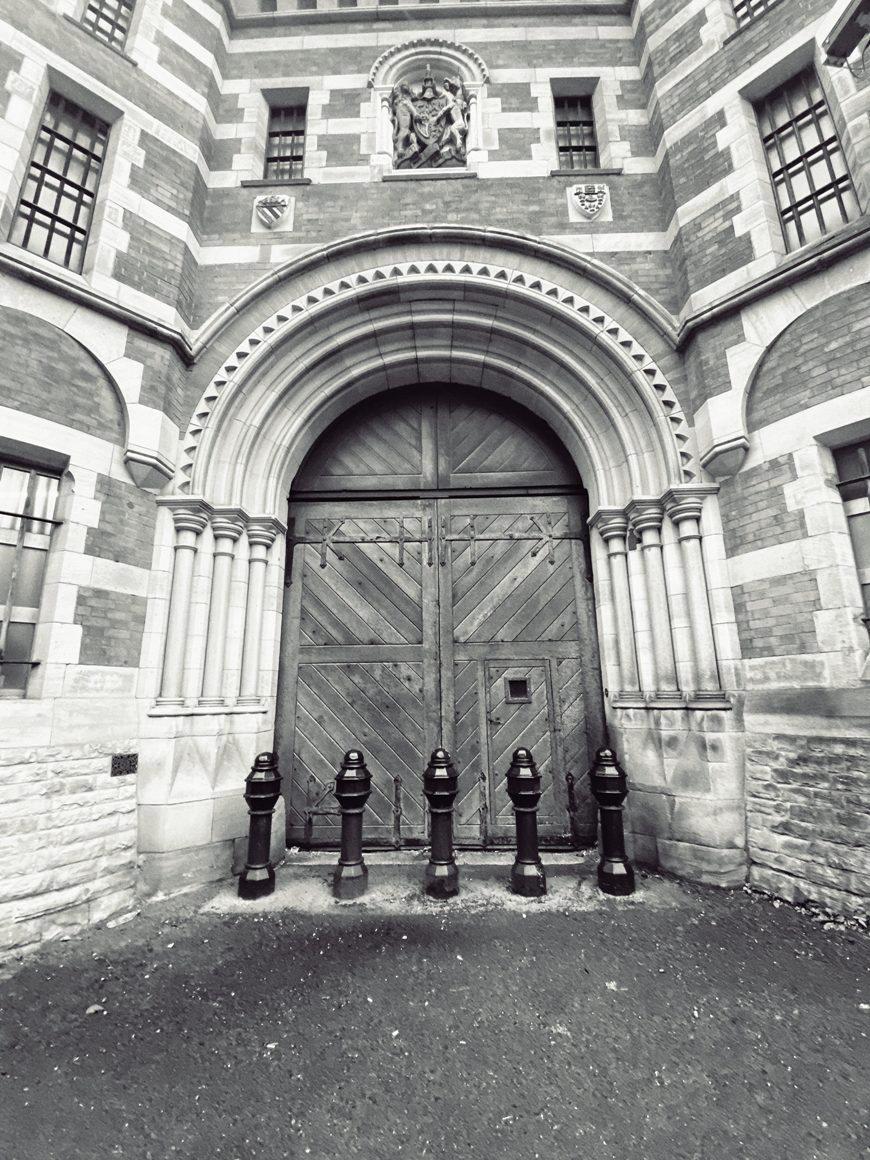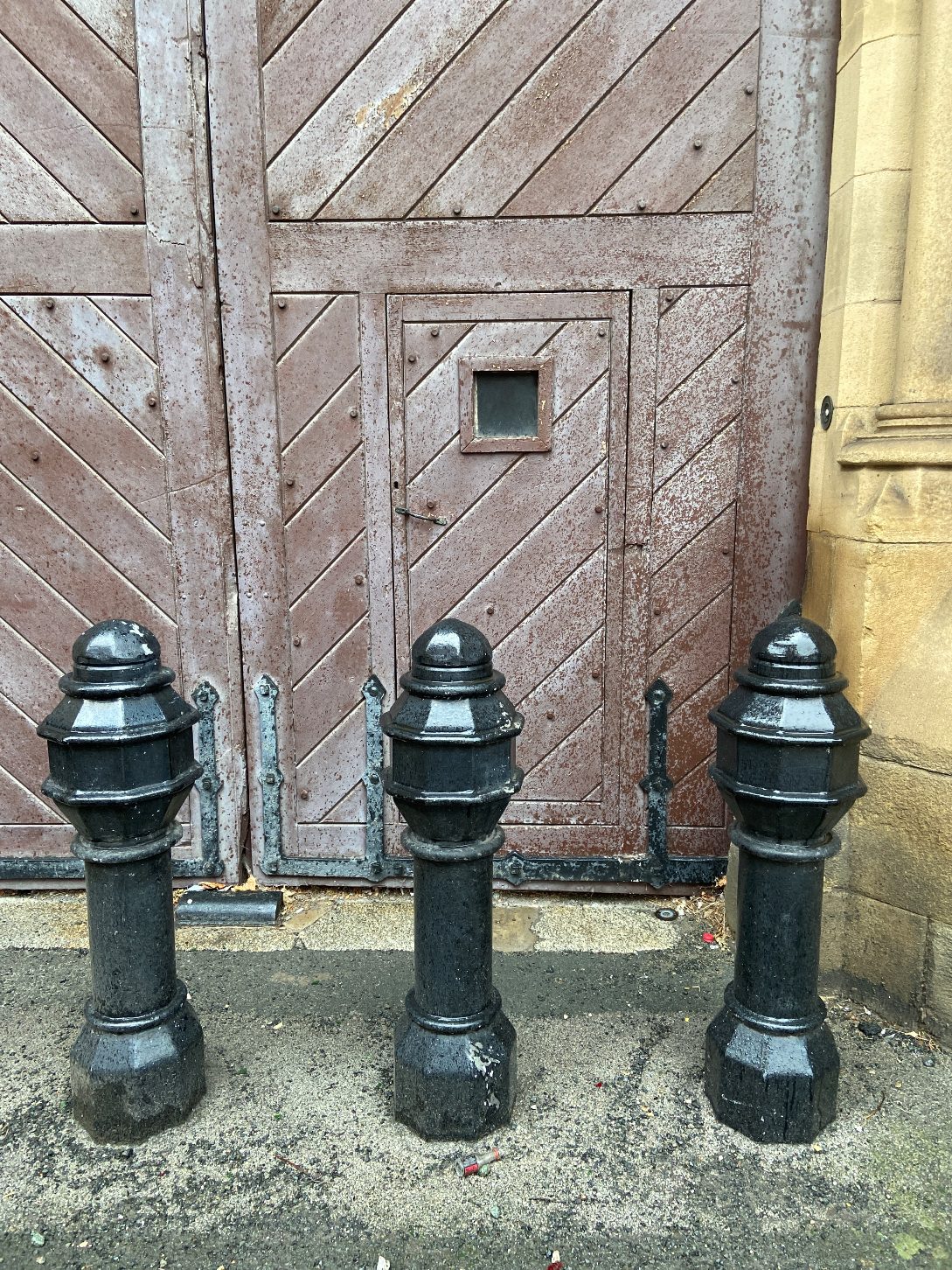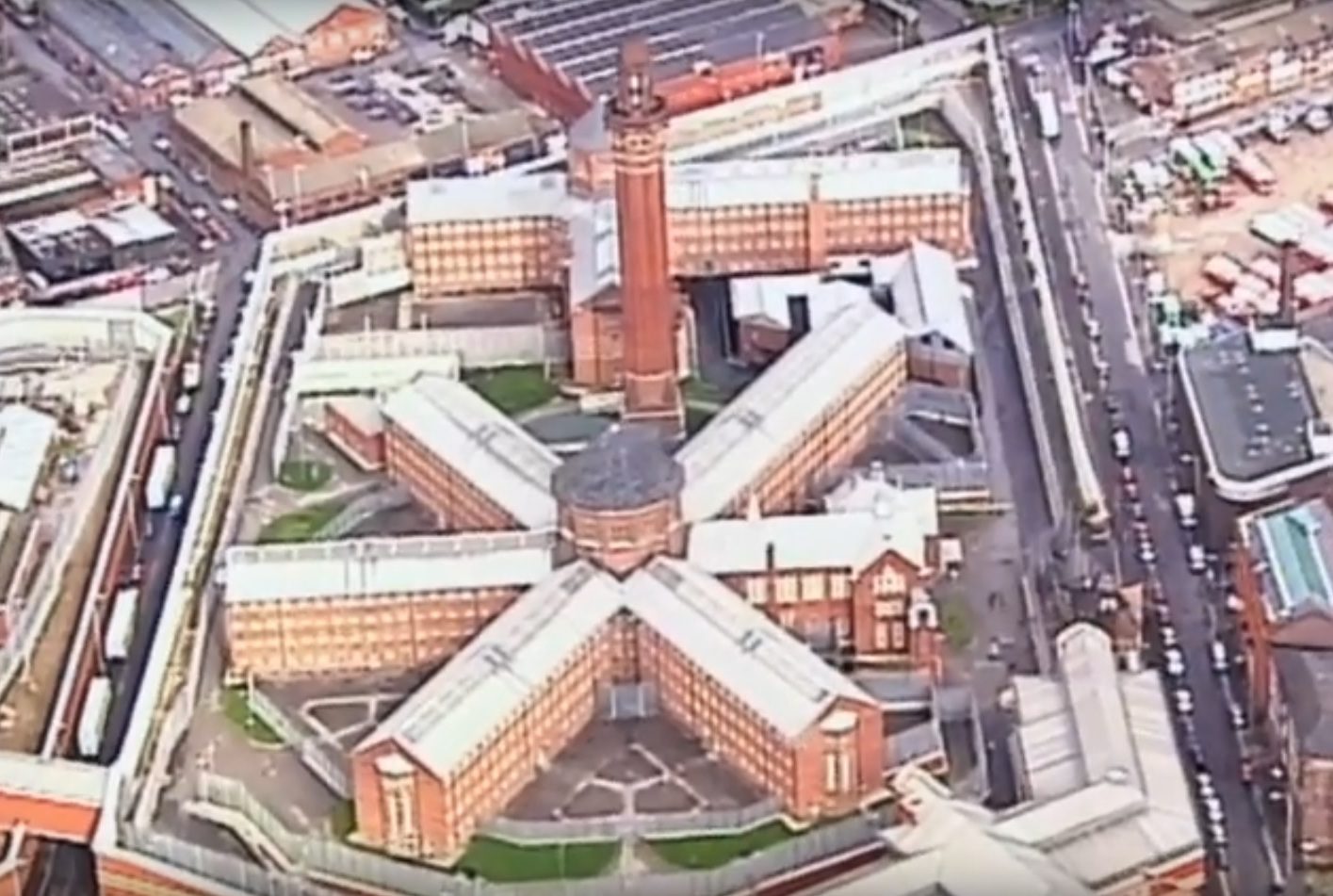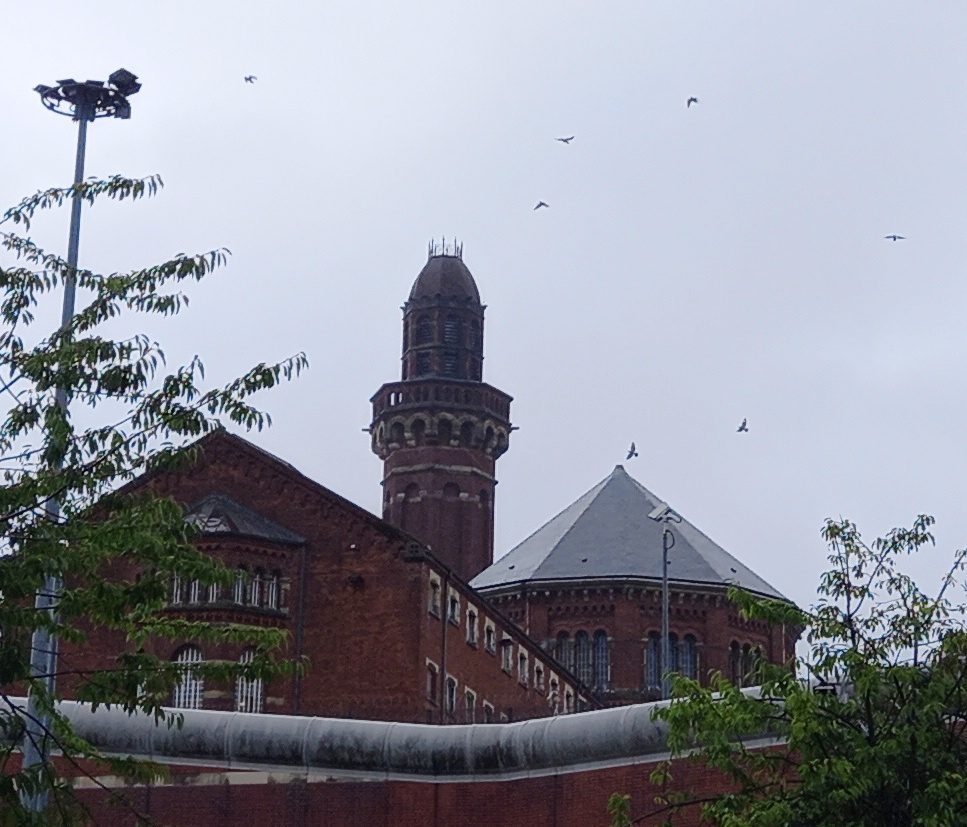 Underneath the prison is a natural spring with quite good quality water that Boddingtons used to use for its beer, and that is still available to the prison if its ever needed.
Between 1905 and 1914 Strangeways, as it was then known, housed women arrested during the fight for women's rights. Christabel Pankhurst was locked up there in 1905, while fellow suffragette, Emily Davison, who was sentenced to one month hard labour after throwing stones at David Lloyd George's car, went on a hunger strike and barricaded her door to prevent prison officials from force feeding her. In response, a prison officer apparently put a hose-pipe through her cell window and attempted, unsuccessfully, to fill the cell with water. In 1910, Emily was awarded forty shillings in damages for the bother.
Strangeways was also notorious as it had its own permanent gallows, which were originally in a shed attached to the prison but were moved into a cell after the First World War. You can still see the discolouration on the brick wall in B wing where the shed originally stood.
"The actual place where hangings took place and the condemned cell is now a wing laundry area" says Phil Robinson "Albert Pierrepoint used to have his office in the centre of the prison, would watch people in the exercise yard, and from his experience could weigh them up for their hanging. A lot of the guys who carried out capital punishment had mental health problems themselves and alcoholism – one guy committed suicide from that…"
The first execution, of a 24 year murderer, took place in 1869, followed by a further ninety nine over future years until the death penalty was abolished in 1965. John Robson Walby (aka Gwynne Owen Evans) was executed at Strangeways in 1964, and he was one of the last two people to be hanged in England.
"In its time, when they unfortunately did capital punishment, the prison had its own mortuary, and the culture then was that anyone subject to capital punishment would be buried in the grounds" Phil adds "But there was one body flown back to Ireland because he was part of the IRA. Outside the original gates, there used to be riots because that's where they used to hang the death notice, and you'd have people for and against that…"
The riots came back to Strangeways between 1st April and 25th April 1990, led by inmates over serious grievances of overcrowding and horrendous conditions. The prison that was built to house one thousand people was now holding over 1,600 men. It was the longest prison riot ever in Britain which saw much of the prison destroyed and damage estimated to have cost £55million. (*see related articles for full details).
Now, the Bottom, or main jail, has five wings – A wing is the induction centre; B, C and D wings are for long term prisoners and E wing is for high risk prisoners. There is also F wing which is the education wing. The Top Jail, formerly the women's prison (with lower doors), has G wing for people with drug and alcohol issues, H wing for people who might need protection due to the nature of their offence, I wing for those with challenging behaviour and K wing where prisoners are entitled to enhancements.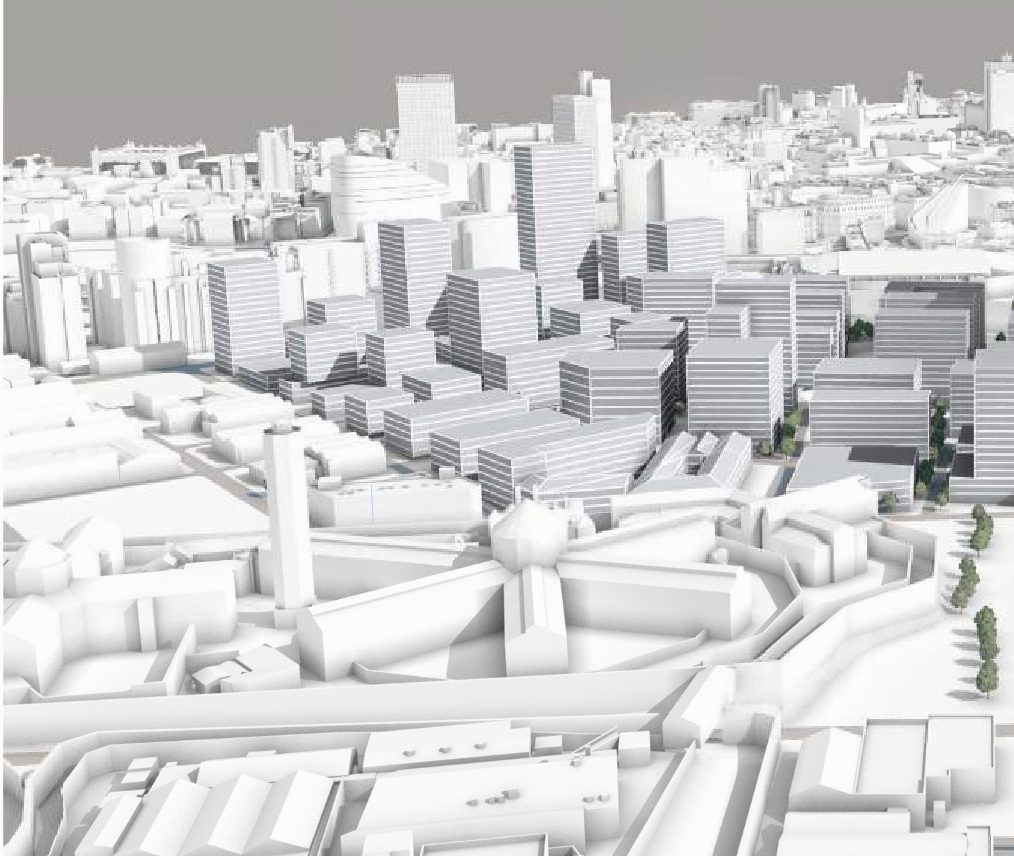 The jail has now changed from locking up mainly local people who were convicted for all sorts of offences, to incarcerating those serving long sentences and those who are shortly to be released. The culture has also changed dramatically**, while Manchester City Council wants the prison closed permanently to aid city centre development…
"There's been all sorts of rumours with the expansion of Manchester City Centre" Phil concludes "But if they wanted to do that it would be a huge task just demolishing the grade listed buildings. With the money that the Government is investing in there, I can't see it being demolished for many, many years. It would be very secure housing for someone anyway!"
Indeed, few have actually escaped from the prison. In 1888 a man named Jackson, who murdered a warder, escaped before being recaptured and later hanged. In 1919, six Sinn Féin prisoners escaped when accomplices threw a rope ladder over the wall. The escapees were two MPs, Piaras Béaslaí and Austin Stack, plus J. Dolan, Con Connolly, Daniel P. Walshe and Paddy McCarthy.
Famous and Infamous Strangeways/HMP Manchester Prisoners…
Joey Barton, footballer jailed for assault.
Brendan Behan, Irish republican, playwright and poet, imprisoned in Strangeways in 1947 for attempting to free an IRA prisoner
Ian Brady, held for theft prior to the Moors murders.
David Britton, author of Lord Horror, the last publication to be banned under the Obscene Publications Act.
Ian Brown, musician and singer-songwriter jailed for 'air rage'. Wrote three songs inside: Free My Way, So Many Soldiers, and Set My Baby Free.
Catherine Tolson and Helen Tolson, suffragette sisters imprisoned in 1909 for breaking glass at White City in Manchester
Emily Davison, suffragette, sentenced to a month's hard labour in 1909 after throwing rocks at the carriage of chancellor David Lloyd George.
David Dickinson, TV presenter imprisoned for fraud in pre-celebrity days.
James Inglis, the world's fastest hanging.
Christabel Pankhurst, suffragette, was held for a week.
Dr Harold Shipman, serial killer, who was held there on remand whilst awaiting trial.
Benjamin Mendy, French football player
Charles Bronson – 'Britain's most notorious prisoner'
Ray Teret – former radio DJ and friend of Jimmy Savile, died at HMP Manchester in 2021.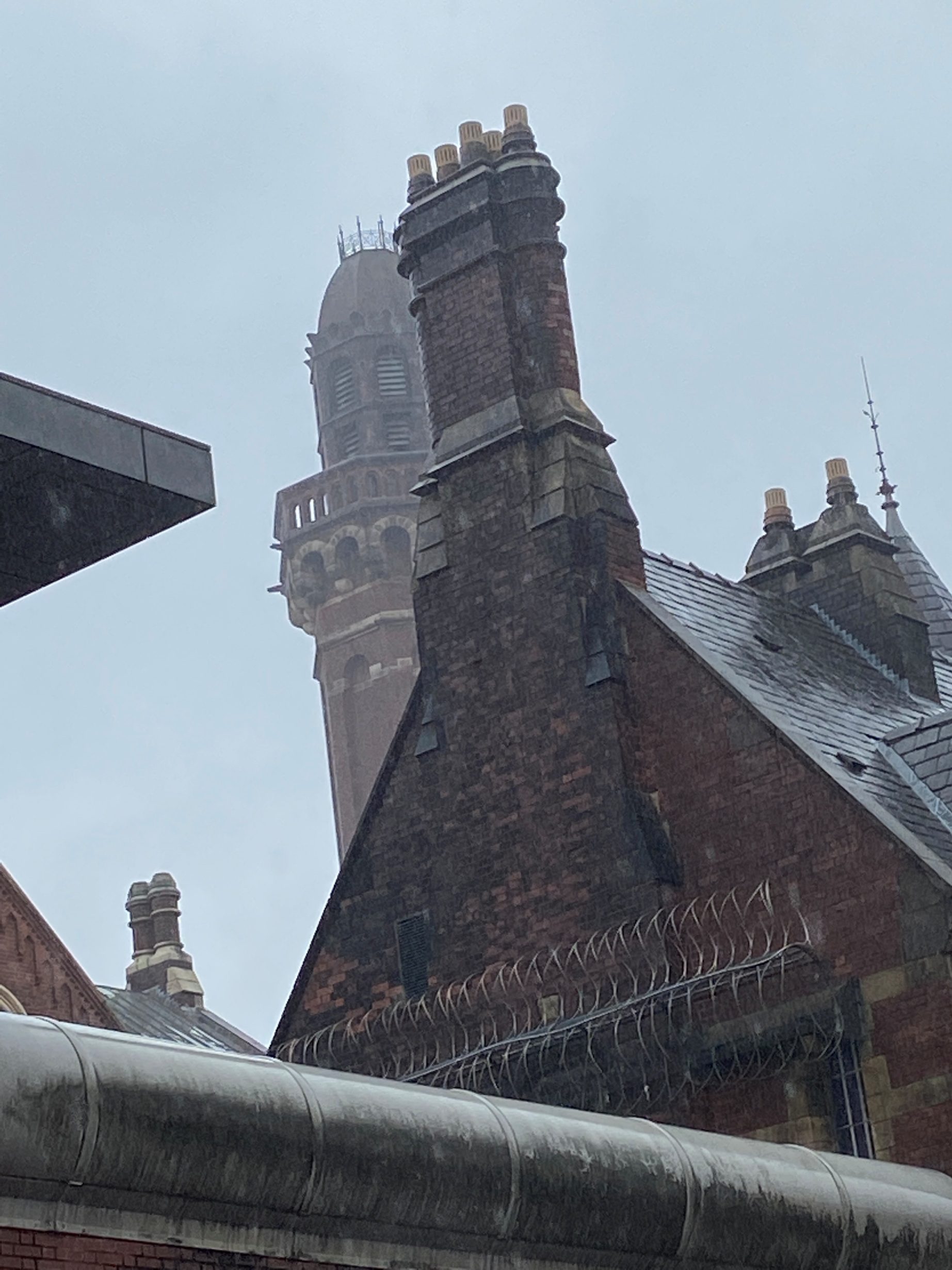 *See also:
The Future Of Strangeways – Over 1,000 new apartments but will the prison still be there? – click here
The Strangeways Prison Riot – what was it and what did it change? – click here

The History of the Strangeways Prison Riot – click here
I Sold The Strangeways Riot T-shirts!- click here
Has the Culture Changed at HMP Manchester? – click here
 See also:
Anti-fascism at Strangeways – click here
Strangeways Here We Come – the movie – click here
The Smiths and Strangeways – click here