"No-one exemplifies attitude more than Mark E Smith. He is attitude personified…" Tony Wilson
"With The Fall you can never be absolutely certain what you're going to get – sometimes it may not be what you want but they're The Fall and that's all you need." John Peel
"I certainly remember getting a copy of Bingo Master's Breakout and thinking 'This sounds bloody weird…this sounds like part of the explosion', and I remember taking a film crew up to a basement in a house in North Manchester in Prestwich…" Tony Wilson
"For me The Fall is much more than just a group, it's a way of life, it's an obsession, like being a member of a cult, with Mark E Smith as its self-styled hip priest…What he's never done is follow fashion and that's probably why Fall fans adore him…He always refuses to play the game…He's a creative force who defies definition – you either get him or you don't – and he doesn't care either way…I love you Mark, you changed my life…" Frank Skinner, comedian
"I always think it was more attitude than music. I think that's what The Fall brought to Manchester and, again, they brought this great oppositional thing…they loathed wankers like me from South Manchester and Mark E epitomised that…" Tony Wilson
"To this day I say I'm not quite sure if I like The Fall's music – but I like The Fall… Just a song called Ya Ya Industrial Estate…fantastic!" Tony Wilson
"It must have been 1978, queuing up outside Band On The Wall to go and see The Fall, and Mark gets off the bus with a Tesco carrier bag, just walks past the queuing fans and into Band On The Wall. For me, that just summed him up; I just thought 'How cool is that?' You see all these superstars arriving at shows in Rolls and Bentleys, and there's Mark on a Greater Manchester bus with his plastic Tesco bag…His music is going to live on forever; one of the greatest musical geniuses ever…" Salford Councillor, John Warmisham
"It wasn't until about the second or third sessions that I started to think, 'Actually this is something fairly astonishing'…" John Peel
"Unwavering, a brilliant writer of prose and poetry. A visionary. You perceived things that not many people could see, let alone wanted to see. You were at times so funny and loving, and yet could be so infuriating, hard arsed, and yes cruel, but you also knew how to turn on the charm and reset the bar, and it changed people, and for me, it was for the better. There was nobody quite like you MES." Kay Carroll, former manager and lover.
"He has an amazing eye for the mundane and at the same time for the complete strangeness and otherworldliness of things…He wants an audience…he wants to be appreciated…he deserves to be appreciated or feels he does…and some of it's just showbiz – 'I'm an anti star…but I shine brightly'" Richard Boon, ex Buzzcocks Manager and Producer
"Politically he's neither left nor right; he sometimes espouses views that you might think were right wing but then he'll come out with something extremely radical. He's neither one nor the other. He's critical, essentially, of everything and perhaps suspicious of everything as well." Alan Wise, ex Fall promoter
"You could go outside the door now and probably bump into someone who has been in The Fall" Marc Riley, ex Fall guitarist and DJ
 "To come up against someone who really doesn't care is stunning" Stewart Lee, comedian
"We're from the same manor and he's the head honcho of the coolest band in the universe…even as he receives this award he is not appreciated…" John Cooper Clarke presenting Mojo Award 2008
"He never sold out…he's keeping it real…He keeps coming up again and again and again; it's like someone who cannot get punched out. I always think when he's going through a bad patch 'This is it, it's finished'…and you know what? I'm always wrong…" Brix Smith, ex Fall guitarist and wife.
Many of these quotes are taken from the excellent BBC Four documentary on YouTube, The Fall: The Wonderful Frightening World of Mark E Smith
And from Ed Blaney's Tribute To Mark E Smith on YouTube
And from Mark E Smith of The Fall on BBC Culture Show on YouTube
Mark E Smith on The Fall
"I'm a big Fall fan…"
"If it's me and yer granny on bongos, it's a Fall gig…"
"When they start saying they like The Fall it's usually because they've run out of ideas…"
"Our singles are really rare for some reason…nobody bought them!"
"It's good I've got a bit of a hard image so people don't hassle me as much as they could…"
"I don't believe in having people who are there because it's hip and all that, that's one of our strengths, you know, there's no fashion take or tag with us…"
The Smiths? "I think they were very, very influenced by us and it's never really acknowledged properly. Seriously. I remember when they came out I was always a bit annoyed, not because they were getting in the top 20 or anything, but because their early stuff especially sounded like really, really weak Fall, like watered down – they then went onto develop their own style…They were just getting it I thought and then threw it out…insane! I Really Started Something was the hiatus, brilliant! I thought it was a tragedy that they broke up. If they'd done it a year before I wouldn't have been particularly bothered, you know"
"I like Manchester a lot, I really do, it cheers me up…"
"There isn't anything in North Manchester, only us, and John Cooper Clarke, that's it really. There's a myth about the North Manchester side. Some of my band live in South Manchester and pay these ridiculous rents and I say 'Why don't you move up north?' and they say 'No way it's dead rough!' – it's not really…"
"They're not in it for the same reasons I'm in it – I'm in it to write, I enjoy it…The buzz I get from all the rest of it is just stuff around that…"
"That's why I think we're more popular now; people see, not that we haven't sold out or anything, it's just that we're consistently good and consistently cool…"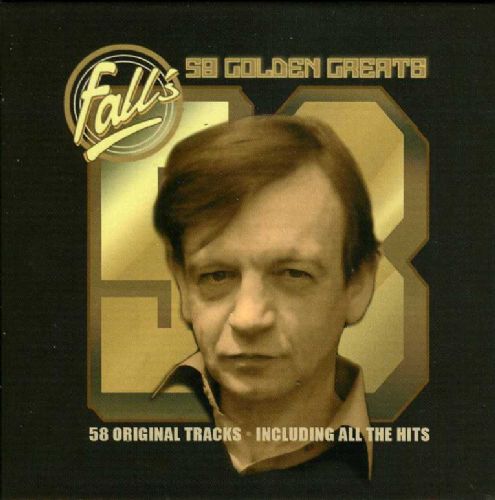 See also…
Mark E Smith: Who is he and how important is he? click here
The Fall: How Many Albums? How Many Members? click here
The Fall Walking Tour of Prestwich – click here
Mark E Smith and Me – by Manager, Collaborator and Friend Ed Blaney – click here
Una Baines on The Fall, Prestwich Hospital and that Prestwich Energy – click here