Friedrich Engels arrived in Manchester in 1842 and stayed until 1844, before returning for 19 years in 1850. During this first period no-one really can be sure of where he lived but it is assumed he took lodgings in Great Ducie Street, in front of the old Strangeways brewery, where he also definitely stayed at the start of his second sojourn to the city.
There is a clue in Engels' book, The Condition of the Working Class, where he writes "There was a calico printworks not far from my lodgings in Manchester where work sometimes went on far into the night. When I got home the building was still lit up…" With Engels' company offices at 2 South Gate, off Deansgate, it is assumed that the printworks was Heald, Wilson and Company, which was based in Strangeways.
Engels left Manchester in August 1844 for his home town of Barmen in Germany, completed The Condition of the Working Class in 1845, took part in the revolutionary uprisings in the country and returned to Manchester in November 1850. His address, as per the Census of 1851 and from letters sent to Jenny Marx, was 70 Great Ducie Street, where he lodged with Isabella Tatham, who he called "the old witch of a landlady". In 1852 the house was renumbered as 44, although Engels moved to number 48 with his landlady in October that year.
After this date the addresses of Engels' residences all get a bit tangled, as he had 'official lodgings' for his 'bourgeois life, and 'unofficial lodgings' where he lived with Mary Burns. To cover their tracks, as they believed that spies were watching and checking mail, Engels and Marx had all sorts of code names and mail addresses. And it is these that Roy Whitfield, who had worked in the rates office in Manchester, uncovered and revealed in his 1988 book Frederick Engels in Manchester: The Search For A Shadow, an endeavour that took six years…
"Engels led a double life in Manchester because he had a professional job and relationships with the German community and business; the other side was his relationships with the Burns sisters and the left wing of politics" explained Roy, speaking in 1995, age 79 "To do this, he had pseudonyms and different addresses where he could accommodate one or another."
Roy Whitfield knew that Engels had unofficial lodgings because Engels wrote about them in surviving letters to Marx but couldn't find any trace of them after he scoured rate books for the years following Great Ducie Street. He did, however, find lots of addresses for 'Frederick Mann Burns', who was the occupant of 17 Burlington Street, Chorlton on Medlock in 1853, and then moved to a new built house at 27 Cecil Street, Chorlton on Medlock in 1855. The same person was also the occupant at Grove House, Willow Bank, Moss Side in the period 1855 to 1859.
"You don't know about pseudonyms until you start finding out about the censuses and so on, then you follow the pseudonyms in the rate books and other documents to see where he is" Roy added "One began to see there was more to it than just a simple dealing. It was a matter of going through records in directories, censuses and also the correspondence with Marx – and that word 'Boardman' that he used and also 'Frederick Mann Burns'. 'Boardman' is proven by a letter from Marx which refers to 'Give our regards to the Bortman sisters', in German, 'Boardman' in English. I also came to the conclusion that he had a sense of humour and all the time he was in Manchester he was a lodger, a man who was boarding.
"Both he and Marx used pseudonyms in their correspondence to cover up things" he said "They knew the German secret service of the day was following their movements and whereabouts and any associations they had. This was one way of hiding their identities. Often the letters were not addressed to the places where they were living. Engels got Marx to address letters to the owner of a pub in South Gate close to his office. It was all quite a long search…"
One surviving letter that Engels did send to Marx was from December 1862 which gives the address as 252 Hyde Road. When Roy checked the rate books for that address in that year it was registered to Frederick Boardman, with Mary Boardman as the householder. Mary Burns died there on 7th January 1863. Rate books for that year and the next show that 'Frederick Boardman' had moved to 4 Tennant Street.
 Meanwhile, Engels official lodgings were, firstly with Charles Lee in Walmer Street, and then at 6 Thorncliffe Grove, now the Whitworth Park Halls of Residence for the University of Manchester (there is an Engels plaque on the wall there). Engels was also officially resident at Dover Street and at 86 Mornington Street.
While these addresses were known to researchers, the unofficial homes and pseudonyms were uncovered by Roy Whitfield. The only addresses that he stated were 'conjectural' were those at 17 Burlington Street, 27 Cecil Street , Grove House, 51 Richmond Grove  and 61 Cecil Street but he presents a "weight of circumstantial evidence" which suggests that he was right…
Unfortunately there isn't a brick left standing at any of these addresses, while the Engels factory in Weaste now has the M602 running through its former site…
For more details see Frederick Engels In Manchester: The Search For A Shadow by Roy Whitfield – published by the Working Class Movement Library which does have some copies for sale, plus an impressive Engels Scrapbook, compiled by Roy Whitfiield while he was writing the book. This is available to view both at the Library and online – click here For more for personal visits details see www.wcml.org.uk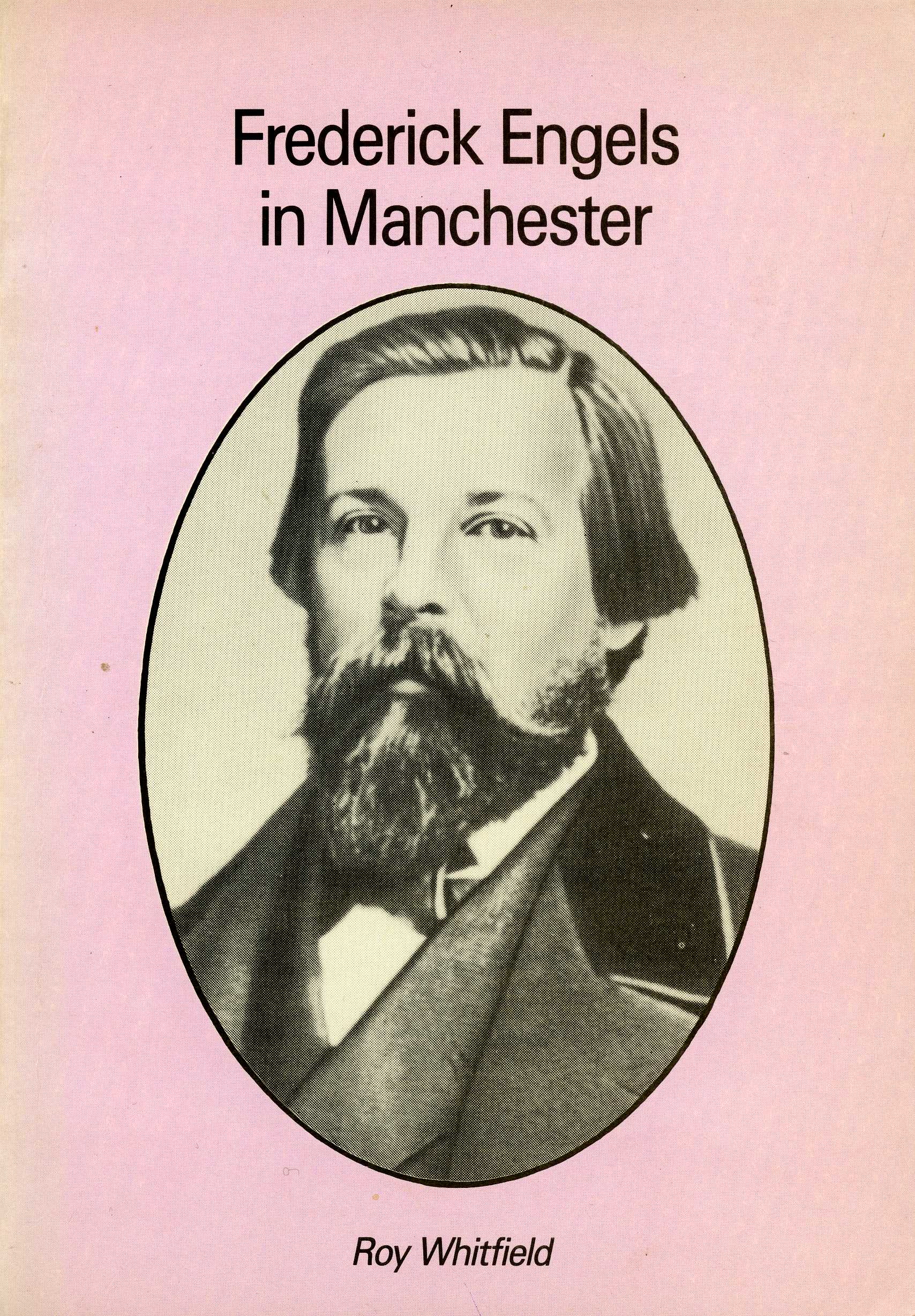 Engels Lodgings…
 70 Great Ducie Street 1850-1853
Unofficial…
Under the name of Frederick Mann Burns…
17 Burlington Street, Chorlton on Medlock – 1853 (with the Burns sisters acting as housekeepers)
27 Cecil Street – 1854 (Burns sisters acting as housekeepers)
Grove House, 374 Moss Lane East – 1855-1859 (with Burns sisters)
Under the name of Frederick Boardman…
7 Rial Street, Hulme – 1859-1861
252 Hyde Road, Ardwick – 1862 -1863 (Mary registered keeper/Mary dies here)
4 Tennant Street – 1863 -1864 (with Lizzie)
Under the name of Frederick Burns
51 Richmond Grove – 1865 (rented for refugees)
61 Cecil Street – 1866-1868
Official…
5 Walmer Street, Rusholme – 1854-1856
6 Thorncliffe Grove – April 1856-1864, (Official)
58 Dover Street (with Samuel Moore) 1864 -1867
25 Dover Street -1867 – 1869
86 Mornington Street – 1869-1870 – moves to London
See also:
Who Was Fred Engels and What Was He Doing On Bury New Road? – click here
Everything You've Ever Needed To Know About Fred Engels – click here
Top Quotes by Fred Engels – click here
Engels Sites in Manchester, Salford and Prestwich – click here