At the Bury New Road Festival last summer, people conjured pictures of Higher Broughton as it was back in the day, from pubs banning Irish people, to celebrities strolling the streets, to 'The Lanny' playground…
Maria Brabiner, now a Salford City Council councillor, lived in Higher Broughton until 1978, during what everyone seems to agree was the 'golden age' of the area…
"My mum told me that Roger Moore lived on the Mews near the corner of Bury New Road and Great Cheetham Street East, Pat Phoenix  – Elsie Tanner in Coronation Street – lived at Epsom Mews, and Jimmy Savile lived at Ascot Court" she recalled "We used to see his Rolls parked at Nunns car showrooms on Bury New Road, where Tim Horton's is now. I used to be dead envious of my classmates telling me that he'd given them sweets but in those days he was god because he did Jim'll Fix It and Top of the Pops, and everyone liked him…"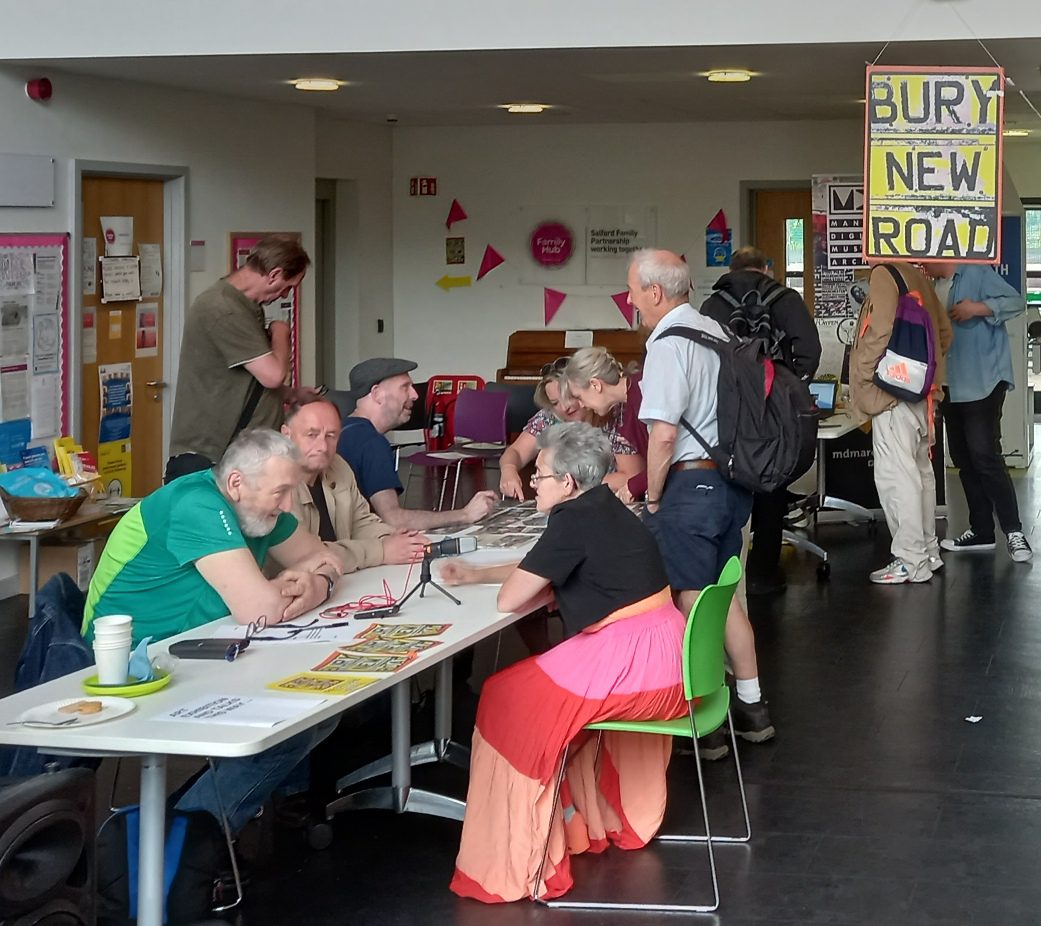 "If you went to his flat he would give you drink and cigarettes, and they sent me and a few friends up there" recalled Debbie Green "We knocked on but fortunately no-one was in. All he ever was, was pro-Jimmy. I mean everyone knew what he was like years ago but people were blinded by fame."
"The Rialto, where he had his club, was a bingo house when I was growing up" Maria added "It was very sad when it got demolished and it's now a MacDonald's…but it lives on in people's memories because when you got on the bus it used to go to the 'Ri' , and older people still say it…"
"We went to the Rialto Bingo Hall on the first night and Elsie Tanner came opening it" recalled Eddie Weinstein, while Lawrence Cassidy used to go The Rialto picture house as a child, to the matinees at the ABC Minors…"Flash Gordon, the Banana Splits and Zorro would be showing, and, in later years, we used to listen to New Order practicing at the back of The Rialto, just after Ian Curtis died, playing all those early songs…"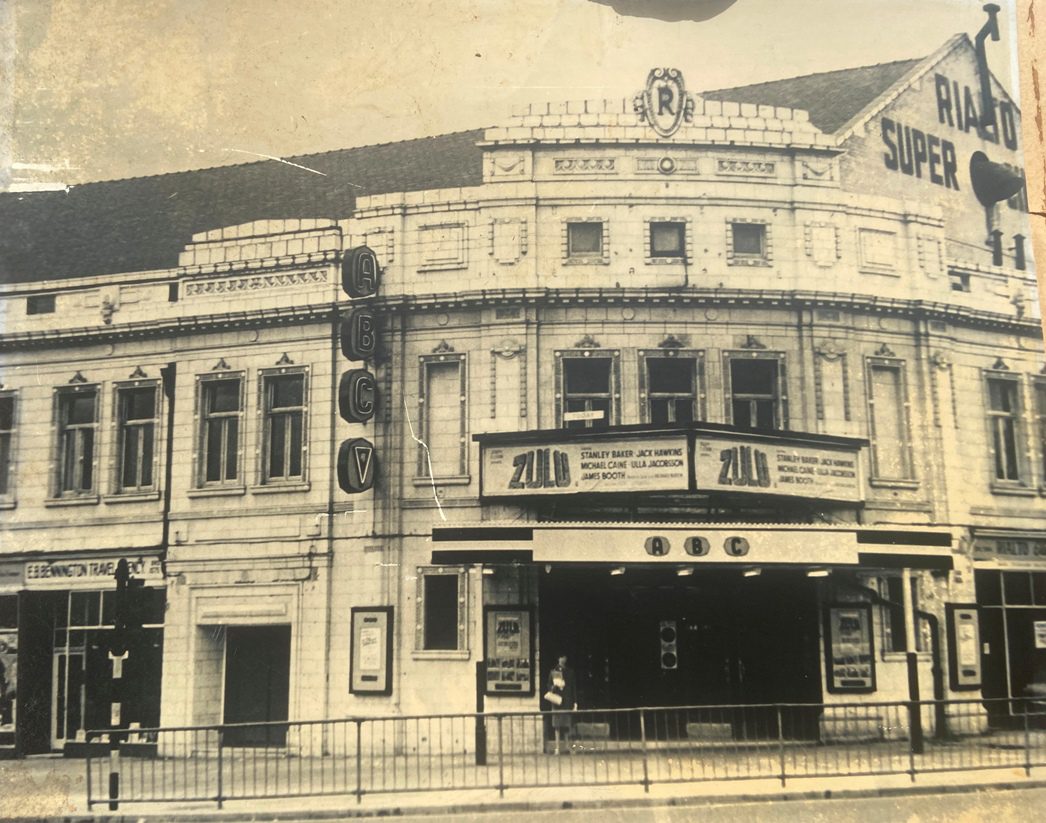 "Bernie Sumner was living on Great Clowes Street for a bit, and Lower Broughton Road" explained John Warmisham, now also a Salford councillor "My era was The Fall, and Mark E Smith was always on Bury New Road. The Buzzcocks lived around here too and they used to rehearse at St Boniface Social Club. Sad Cafe used to rehearse there too…There's so much history and heritage around here it's just incredible…"
"One of the Buzzcocks lived in the basement of my house at 380 Lower Broughton Road, and one of the others lived nearby" added Jim King, now a Salford councillor too "I was a student at the time, and that was my digs, studying for my science degree at Salford University, and he used to come in late at night, drunk, or worse, at 3am and bang, bang, bang! I didn't really know at the time but Bob Osborne, who was later the Salford Council Housing Officer, told me it was Pete Shelley.." *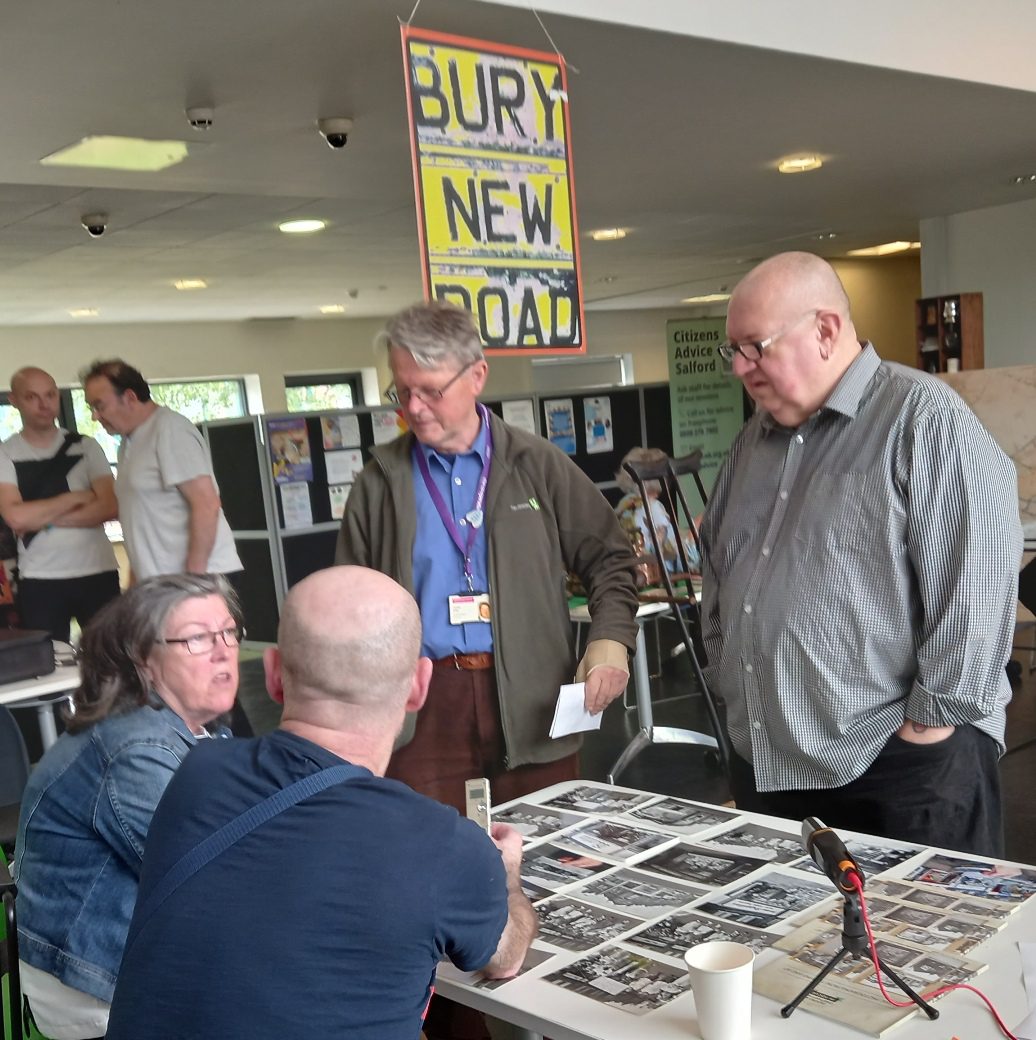 "I remember Pinky's and Potters at The Rialto, although I was too young to go in but they were the places" recalled Maria "I was also aware of John Virgo going in that snooker club and Alex Higgins…"
"We had a few reunions in Pinky's from North Salford School as it was the nearest nightclub. There was also the Whisky but, for me, what stood out on Great Cheetham Street was Wind Up Records because it was the only record shop, and I'd spend hours in there, and they would play anything for you" said John Warmisham "We'd come out of the war, we'd had the Sixties…and then the late Sixties and early Seventies when we were growing up was amazing…"
While the area was buzzing, it wasn't so buzzing if you were Irish and fancied a pint…
"My dad used to take us for a walk every Sunday and he'd stop off at The Sun, as it was the only pub that would let the Irish in because all the other pubs used to say No Blacks, No Dogs, No Irish" recalled Alice Westhead (nee McEvoy) "I used to say to my dad 'Why can't we go into that pub?' and he'd say 'We're not allowed in'. Sometimes we used to go out as a family and my dad asked me to do the talking because he didn't want his Irish accent exposed.
"He worked on the building sites and said, in the language of the day, 'It was ok for us but the darkies had no chance' – but as soon as you opened your mouth that was when the prejudice stepped in" she added "We were the only Irish family on Vincent Street because a lot of the Irish lived on the Cheetham Hill side rather than the Broughton side. On Devonshire Street there as a phone box and we used to wait there for phone calls from Ireland as we didn't have a phone at the time."
John Catterall questioned the accepted notion that Higher Broughton was a happy melting pot, and Alice responded that it was…"There was a hotel on the corner where homosexual activity went on. Everyone knew but it wasn't an issue in those days. It was a magic era…"
"It was just the pubs really" explained John Warmisham "Catholics and Protestants were mixed and it was never sectarian because we used to knock about with each other at night."
Meanwhile, the melting pot of the area also had a large Jewish community…
"My mum used to work for Jewish people on Bury New Road in a textile factory owned by Mr Neugrosh" Maria recalled "She used to babysit for them but she didn't mind because she could eat all she wanted in a big house. Her and her sister used to get invited to all their weddings. There used to be a lot of Jewish factories, now they're all run by Asians, and the Jewish community has gone from the bottom part of Bury New Road.
"On the corner opposite The Rialto was Friedman's Chemist, although we never called it that, everyone referred to it as Freemans" she added "My mum and everyone used to say that he was as good as a doctor, he only failed one thing in his exams. People looked up to people like that…"
"Dr Leigh, Mike Leigh's dad, was also on Great Cheetham Street" added John Warmisham "And John Cooper Clarke lived above Friedman's Chemist…There was also on that block the TSB bank where we all got our first bank accounts, and County Market…it was all, like, built in art deco style…beautiful…"
"My wife's uncle had a butcher shop on Bury New Road and I worked in Gordon and Mills as a cutter" said Eddie "I also got bar mitzvah'd on Bury New Road in the synagogue that's not there anymore."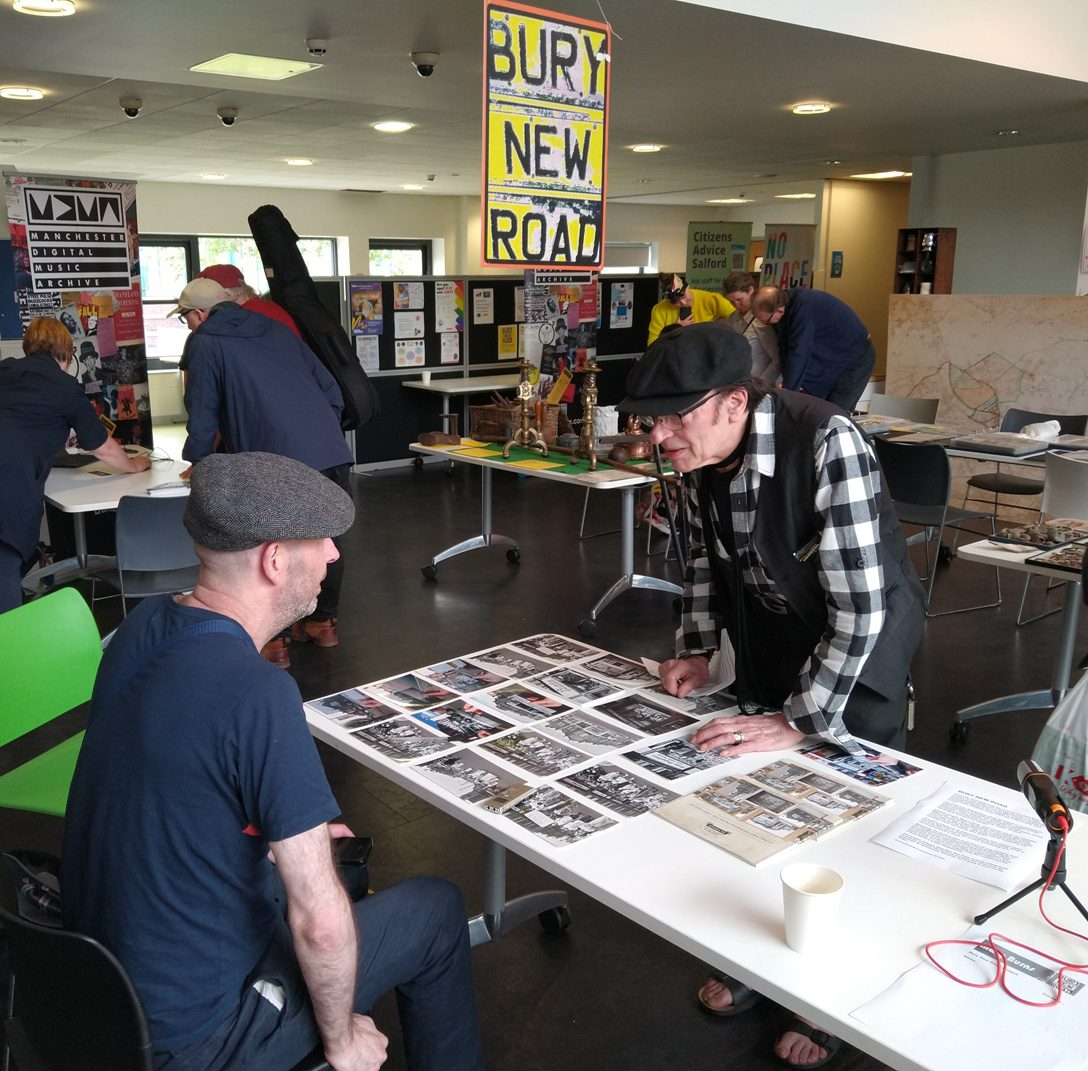 A bit further up Bury New Road from The Rialto was 'The Landslide', where over a number of decades from the late 1800s to the 1920s, and into the 1940s, the land at the top of Lower Broughton Road, Bury New Road and Great Clowes Street had collapsed into the River Irwell, complete with the houses…
"If you walk around it you can still see bits of old houses and the old tramline" said Jim…
"The old tram station was derelict when I was young and it still had the tramlines that came out there, and you can still see them" said Alice "The Lanny was our playground. Everyone went to The Lanny, all the local kids. And then, as they grew up, they all went to The House That Jack Built pub…"
"It was the place to be seen for a while" added Jim "I used to go there. It was on all different heights and had nice little nooks and corners where you could sit and chat with friends. It was quite iconic in a way…"
"I used to go there all the time" said Alice "There was no other pub like it in Greater Manchester. It went down a bit when the landlord got involved in dodgy activities…"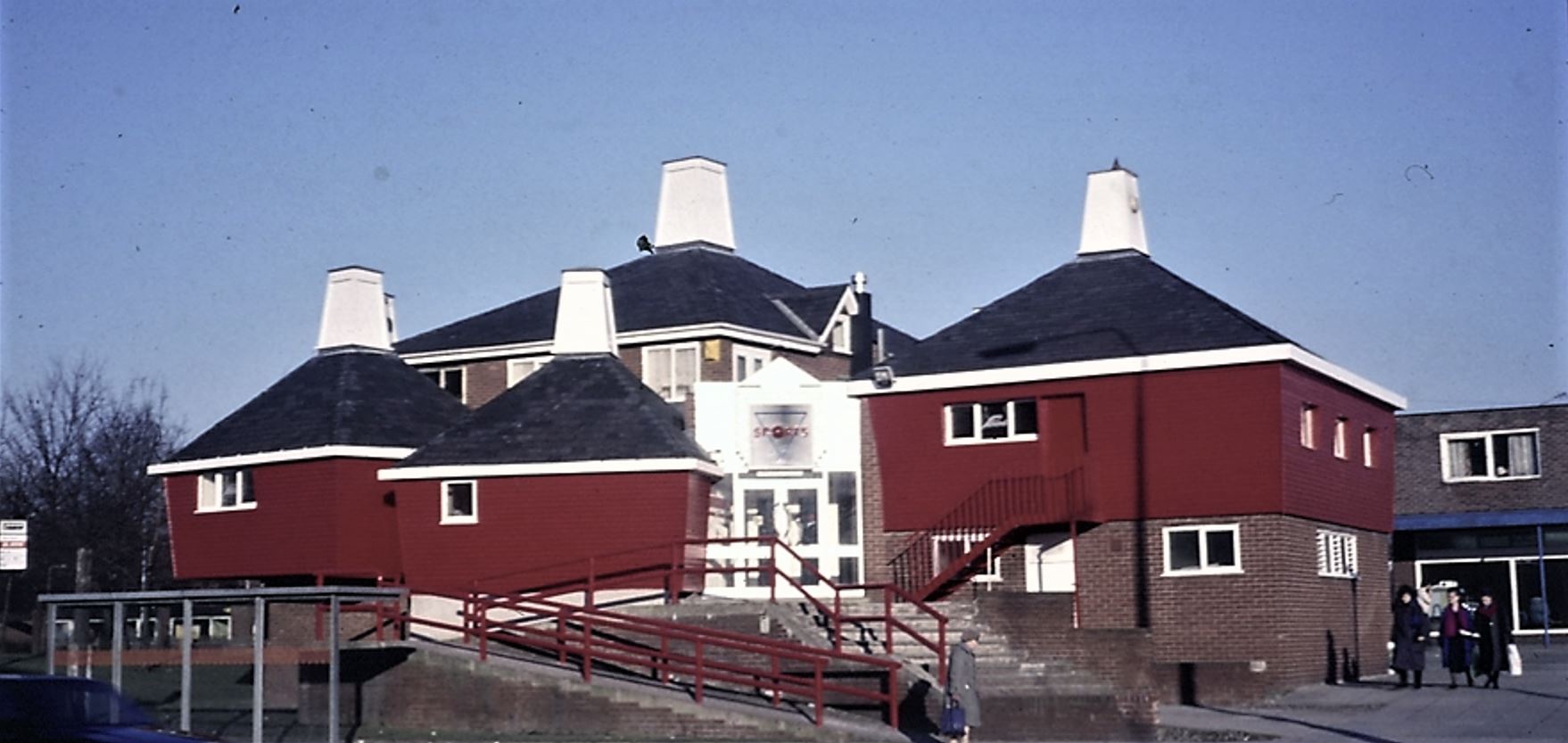 "It was on Newbury Place where there was a newsagents, a butchers, bookies and fish and chip shop…" she added. The Newbury Place shops were bulldozed as part of the 'regeneration' of Higher Broughton and the precinct is now a health centre. While this was planned, Maria remembered her mum telling her how Bury New Road was flattened in the Second World War…
"My mum and her family lived at number 8 Duncombe Street in the War, and they used to sit on the cellar steps on Great Cheetham Street where they could hear the bombs going off" she said "There was a row of shops that got hit. One was a butcher, Fred Penn, and Jim Roberts, who used to throw the mace up on Whit Walks, got a bravery medal for helping to get people out. But some of the shopkeepers died."
Now there are plans for more housing along Bury New Road, near Fairy Lane, plus a new food centre, while, over the past decades, Lawrence explained that "There's been a mass exodus from Lower and Higher Broughton from where we grew up, and when you ask where everyone's gone you get people from South Africa, America, Canada, all over the world…"
"…My brother went over to New York and lived there for 36 years" said Alice "And James Rafter, he's over in Santa Barbara and he won't come back…"
"And Shaun Crow who used to live on Great Cheetham Street, he's been over in New Zealand for years…" added John Warmisham…
"Bury New Road is the gateway to Manchester from the Salford end, and the gateway to Salford from the Manchester end" explained Maria "I suppose you have to move with the times. The fast food industry has come in, with MacDonald's and Tim Horton's, and that's a sign of the times. But I hope it stays as it is. If they start putting skyscrapers on Bury New Road that would be horrible…."

*See also:
More Childhood Memories of Higher Broughton, by Paul Kelly – click here
The Bury New Road Music Hall of Fame – click here
Jimmy Saville – The Monster of Bury New Road – click here
The Rialto – the old buzzing heart of Bury New Road – click here

The Lost Pyramids of Broughton and The House That Jack Built – click here
John Cooper Clarke on Higher Broughton – click here
Mike Leigh On Growing Up In Salford – click here