The Strummalongs, a six piece collective of multi-instrumentalists, will be playing from 3pm at the Broughton Hub as part of the Bury New Road Festival on Friday 15th July.
Expect heritage songs, like Dirty Old Town, plus some self-penned tunes from the band's Bernie Shaw, including one called Bury New Road, named after the route that he's followed into Manchester and out onto the motorways for the last six decades.
Now living just off Bury New Road, Bernie can point to a great career that saw him begin by busking on the streets of Paris and later supporting some of the tv greats, while winning Opportunity Knocks courtesy of his banjo brilliance.
"I'm Salford born and played what they called 'clubland' through the Sixties, Seventies and Eighties" he recalls "I played with The Banjo Boys on the tv show The Comedians, so I had a great time with them, and in the mid-Sixties the clubs were roaring and I was on the circuit.
"When it finished, I joined with another guy and, as Bernie and Chaz, we went on Opportunity Knocks which we won, and ended up doing all those big shows with the likes of Bob Monkhouse and Tommy Cooper" he adds "I can't believe it when I look back at all the contracts…the money was unbelievable for places like Blackpool Opera House – two twelve minute spots with Max Bygraves topping the bill."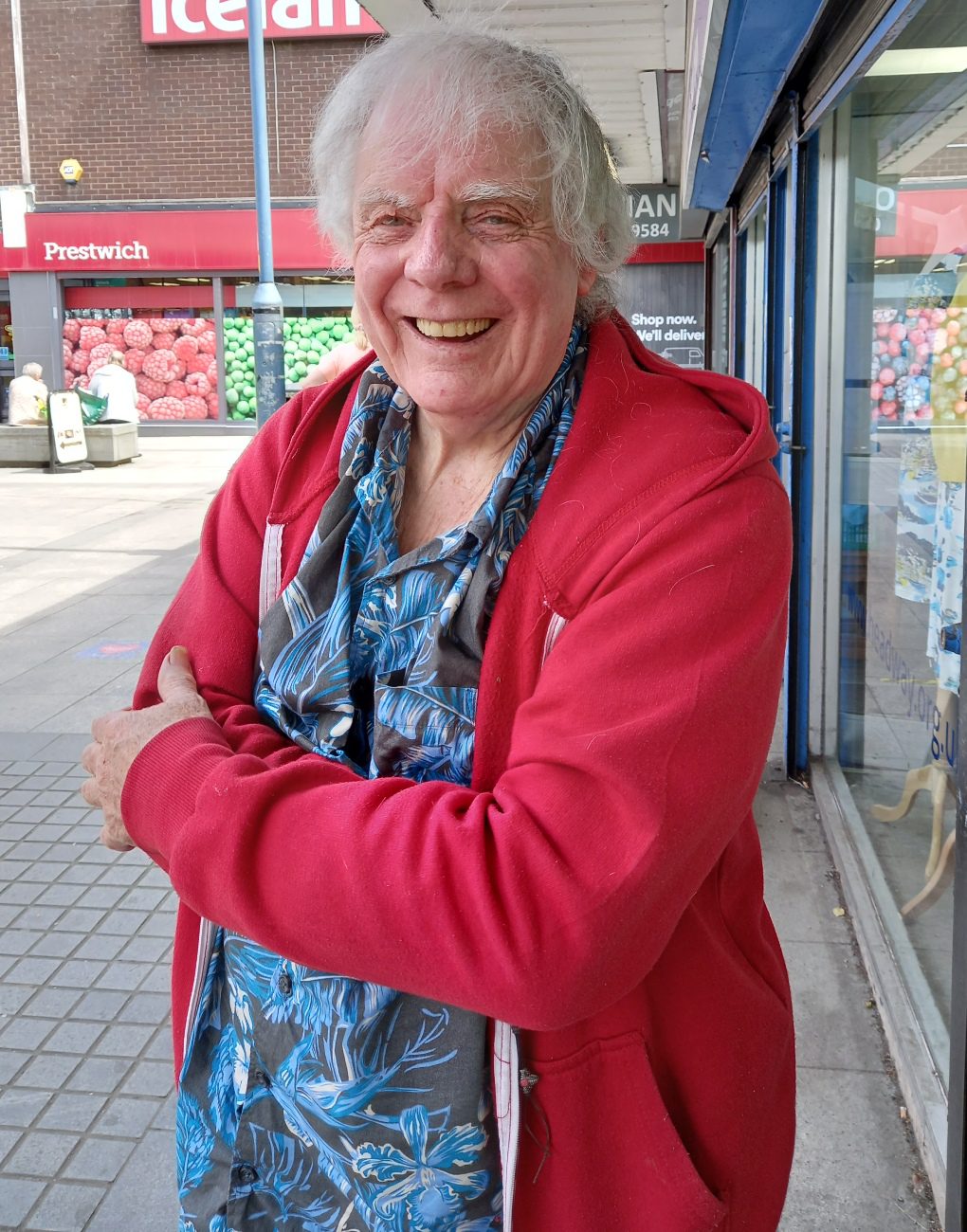 Bernie was also filmed doing nine songs for Granada TV in the Sixties, including Talking Slum Clearance Blues, and has a zillion anecdotes about local Coronation Street stars and footballers. He insists that Roger Moore lodged with Betty Driver (Turpin) just off Bury New Road.
In the mid-Eighties, as 'clubland' and the cabaret circuit withered away, Bernie had a small warehouse in Strangeways on Bury New Road selling 'all different lines', his best seller being a glove puppet and the Strangeways Riots t-shirts while the riot was still happening.*
The constants in Bernie's life, however, have been the banjo, guitar and ukulele, which he still plays and teaches…
"The banjo is still popular" he explains "I teach a young person of 15 who is becoming very good and Mumford and Sons have a rock banjo player in their front line. It may or may not come back in…"
Meanwhile, just the act of playing an instrument, Bernie explains, is good for your health… "When you hit an instrument those vibrations never go away, they just dissipate throughout the atmosphere forever, but it also goes through your body. It's what I call a 'musical massage'…
Expect good vibrations when The Strummalongs play the Bury New Road Festival on Friday 15th July 2022 from 3pm at the Broughton Hub
See also:
Bernie Shaw – I Sold The Strangeways Riot T-shirts! – click here
The Broughton Hub is situated on Rigby Street, off Devonshire Street, which is just off Bury New Road M7 4BQ, behind the Greek Orthodox Church in Salford. (the Hub has a car park, entrance on Devonshire Street)
Meanwhile, the Bury New Road Festival runs noon-7pm at The Hub (for details click here) and will include the launch of the North Manchester Yiddish Dictionary at two shows, 1pm (approx) and 5:45pm (approx) – see here.
There will also be an exhibition of abstract paintings by the Mental Wellbeing Group at The Fed, based on their reactions to the Longfield Centre in Prestwich which is soon to be bulldozed. As part of this process, we developed a special 'Prestwich Palette' of colours based on buildings in the Precinct, so look out for Prestwich Library Yellow, Village Greens Green and Bollard Blue in the artwork…
The Manchester District Music Archive and Salford Local History Group will also be on hand to scan photos and interview people about the amazing events, people and places connected to the Road. Just turn up and add to our archive.
Local history collector, Craig Brisbane, will be bringing along his incredible collection of local artefacts, including ancient flint arrow heads found on Rainsough plus other vintage wonders of Salford and North Manchester, while former miner, Paul Kelly, will be giving an illustrated talk on Big Tunnels Under Bury New Road at 2pm (see here).
John Darwin will be performing verse with a Bury New Road twist (see here), and there will also be an exhibition of the latest Bury New Road portraits by Louise Garman and photos from the Bury New Road archive of Paul Jones (see here).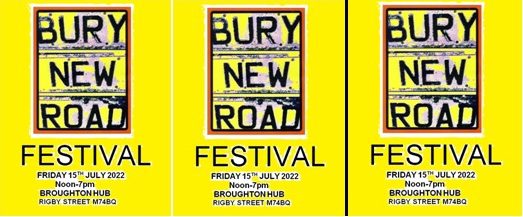 The Bury New Road Project…A heritage project that seeks to point out the amazing people and events that have links to this section of the A56 between Strangeways and Prestwich. We aim to point out the magic, and everyone's welcome to help.
The Bury New Road Project is funded by the Heritage Fund, Granada Foundation and Mary Monson Solicitors, with added support from Salford City Council, Manchester City Council and Bury Council.