Top banjo player, Bernie Shaw, had a great showbiz career from the 1960s to the 1980s, via playing with The Banjo Boys on the tv show The Comedians, winning Opportunity Knocks as Bernie and Chaz, and starring in big shows with Bob Monkhouse, Max Bygraves, Tommy Cooper and more.
However, by 1990, that showbiz circuit which provided a great living for the banjo maestro, had largely died out…
"It all finished so I went teaching banjo and guitar and ukulele, which I still do, but ended up down Bury New Road with a little warehouse selling gear every Sunday morning" he recalls "We sold anything, including a little glove puppet for the kids. We'd start around 7am and finish at 2pm, and it was unbelievably busy.
"One Sunday afternoon I heard the helicopter overhead and when I looked I saw the first guy coming out of the roof at Strangeways Prison; then half a dozen more, then heard the loud speakers telling everyone to go away" he adds "We saw on the tv that it was kicking off big time, so I thought to myself 'There's money to be made!'
"…I drew a picture of prison bars and the logo 'Breakout' and I took it to a guy in Ashton who printed up one hundred t-shirts" he explains "Outside the prison the place was packed with people shouting, and twenty policemen lined up. I got thirty t-shirts and stood in the middle of the road in between them – I was lucky they left me alone – and the t-shirts went in twenty minutes. The next day I ordered five hundred, and that's how it went every day for three weeks. After ten days I got another logo with a photo of the protest and that went the same way."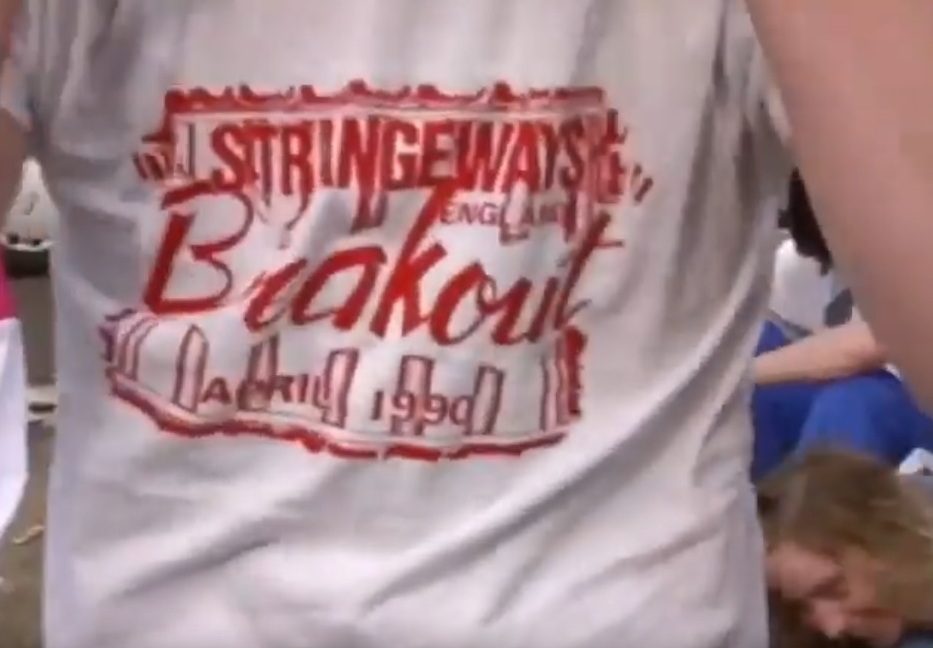 Even the press were buying the t-shirts, as Bernie got closer to the riot, becoming a shlepper for his mate who had a cafe on Bury New Road and was taking trays of breakfast bagels for the crews…
"I saw all the tv wagons and sold them t-shirts" Bernie says "I was even beamed onto New York tv wearing one and the next morning I saw my shirt on Good Morning Britain, with Anna Ford saying 'It's that busy they've even got a t-shirt'. I sold a good few hundred that day! The whole thing was totally historic and, for me, everything was good…"
Prestwich resident Bernie Shaw hasn't got one of the Strangeways t-shirts left in his possession but is still playing banjo and ukulele (far left) with The Strummalongs, who played the Bury New Road Festival last summer…
And for a longer interview with Bernie Shaw – click here
See also:
The Strangeways Prison Riot – What was it? What did it change? – click here
The History of the Strangeways Riot – click here
HMP Manchester – The Most Stunning Building On Bury New Road – click here
Has the Culture Changed at HMP Manchester? – click here
See also:
The Future Of Strangeways – Over 1,000 new apartments but will the prison still be there? – click here
Anti-fascism at Strangeways – click here
Strangeways Here We Come – the movie – click here
The Smiths and Strangeways – click here