You don't see her portrait being paraded around Cuba or revered on stamps, coins and statues, but when it comes to local heritage, Mary Burns is the number one woman. Yet few have ever heard of her…
There's no record of Mary Burns' birth, nor any surviving photos and she is almost a total mystery. But without Mary Burns, arguably, Fred Engels couldn't have written his bombshell book, The Condition of the Working Class and all the sociological and political fall-out that sparked from it.
What we do know is that Mary Burns – who was either a worker at his mill in Salford or an orange seller at one of the great meeting halls in Manchester – copped off with Engels and lived with him for around twenty years at secret locations all over the city.
The only biographical reference to her was in books about Engels. There's one by Max Beer, who wrote in 1935 that Engels "lived in free union with an Irish girl of the people, Mary Burns, who had worked in his father's factory".
There's also one by Edmund Wilson, who wrote in 1941 that Engels "was having an affair with an Irish girl named Mary Burns who worked in the factory of Ermen and Engels and had been promoted to run a new machine called a 'self actor'. She seems to have been a woman of some independence of character as she is said to have refused his offer to relieve her of the necessity of working…
"…She had, however, allowed him to set up her and her sister in a little house in the suburb of salford where the coal barges and chimneys of manchester gave way to the woods and fields."
Wilson gives no proof for any of this, and Roy Whitfield, in his book Engels in Manchester, written in 1988, argues that Mary was actually from the Deansgate area of Manchester, and in the 1861 Census states that her age was 38 and her birthplace as Manchester.
The only direct reference to Mary Burns that survives is a letter from Marx to Engels on learning of her death – stating that she was "very good natured" and "witty". There is also a letter from Marx's daughter, Eleanor, stating that she was "very pretty, witty and an altogether charming girl…but in later years drank to excess".
Mary Burns died on 7th January 1863 at 252 Hyde Road…
Engels wrote to Marx… 
"Mary is dead. Last night she went to bed early and when at midnight Lizzie went upstairs, she had already died. Quite suddenly. Heart disease or stroke. I received the news this morning, on Monday evening she was still quite well. I can't tell you how I feel. The poor girl loved me with all her heart…"
No-one has ever found Mary's grave. After she died, Engels lived with her sister Lizzie, and married her on her deathbed…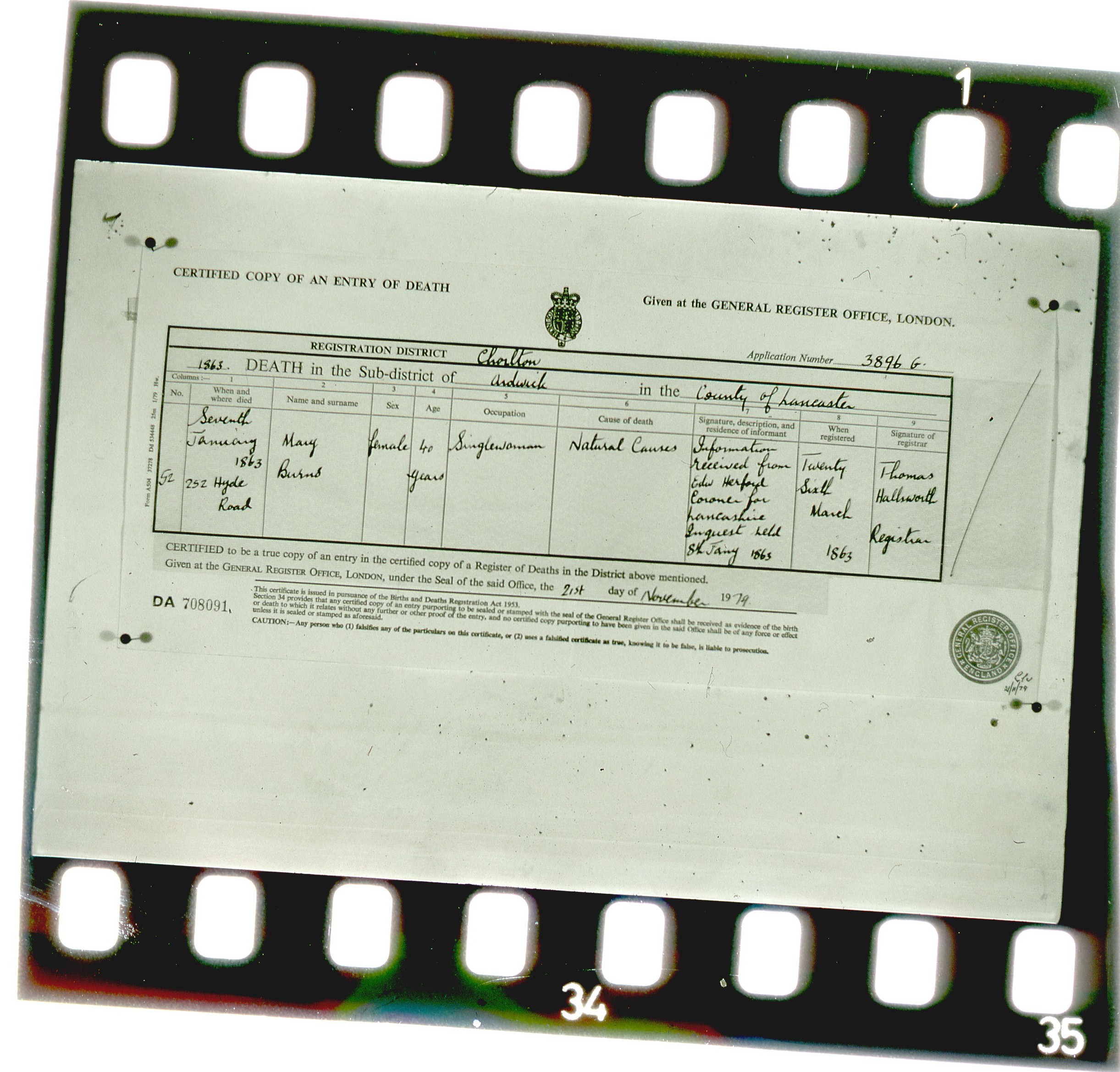 Who Was Fred Engels and What Was He Doing On Bury New Road? – click here
Where did Engels live in Manchester? See the story of Roy Whitfield's sleuthing discoveries – click here
Everything You've Ever Needed To Know About Fred Engels – click here
Top Quotes by Fred Engels – click here
Engels Sites in Manchester, Salford and Prestwich – click here