By 1990 there was a growing feeling, not just amongst prisoners but even amongst the authorities, that prison conditions in England were brutal, overcrowded and inhumane.
A cell in Strangeways Prison, measuring just thirteen feet by seven feet and intended for one person, was frequently housing three prisoners at a time. The prison, built to hold a maximum of 970 people, had 1,647 inmates, 70% over capacity.
Conditions had hardly changed since Victorian times, with men having to urinate and defecate in a bucket within their cell, before 'slopping out' the following morning. They also had to eat within the same environment. There was overuse of the 'liquid cosh', or heavy tranquilisers, while many prisoners were locked up for 23 hours a day with nothing to do.
On 1st April 1990 the riot began in the chapel at 11am when 309 prisoners were attending a service led by a visiting minister and Reverend Noel Proctor. As the final hymn was being sung, prisoner Paul Taylor grabbed the microphone and said… "This man has just talked about blessing of the heart and a hardened heart can be delivered. No it cannot, not with resentment, anger and bitterness and hatred being instilled in people."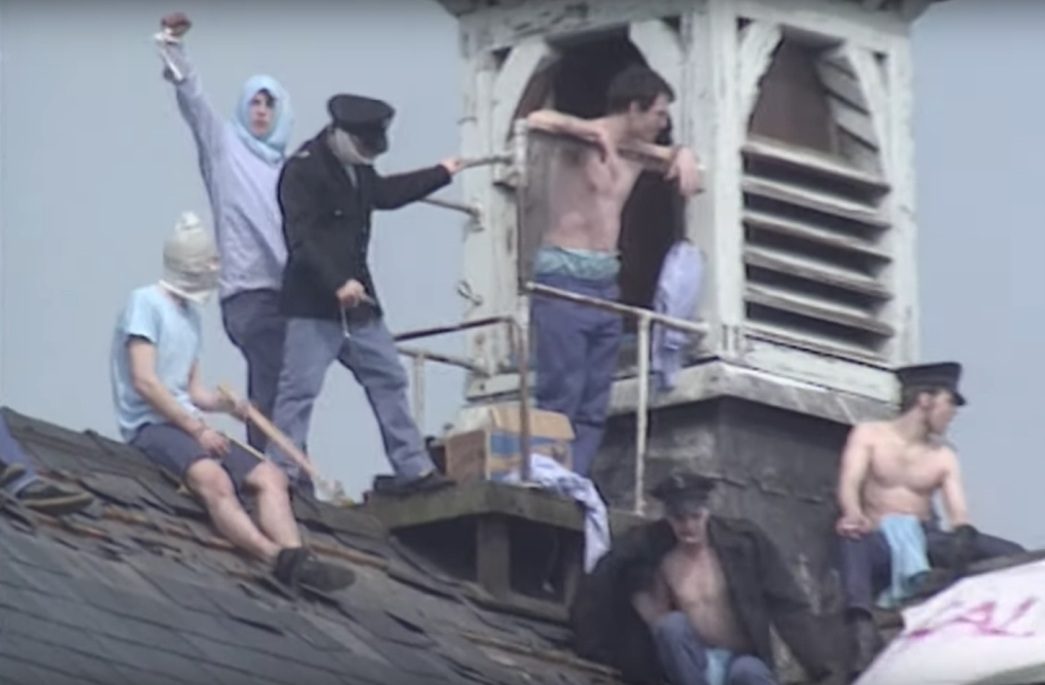 As prisoners put on masks and took out weapons, a set of keys was taken from a  prison officer, while other officers retreated and evacuated the prison…"By 12 o'clock when I came in it looked as if we'd lost control of the whole thing" recalled Strangeways Governor at the time, Brendan O'Friel "What really bugged us was there an element of April Fool about it. We rang staff up about it, who said 'You must be joking, is this an April Fool?' That's what happened when they rang up my home, my son thought it was an April Fool."
Only four hundred of the 1,647 prisoners were not involved in the riot but by the end of the first day seven hundred men had surrendered, meaning 1,100 were moved out of the prison. And by then, up to 350 other prisoners were protesting on the roof of the jail in a variety of outfits and masks, including wearing prison officer hats.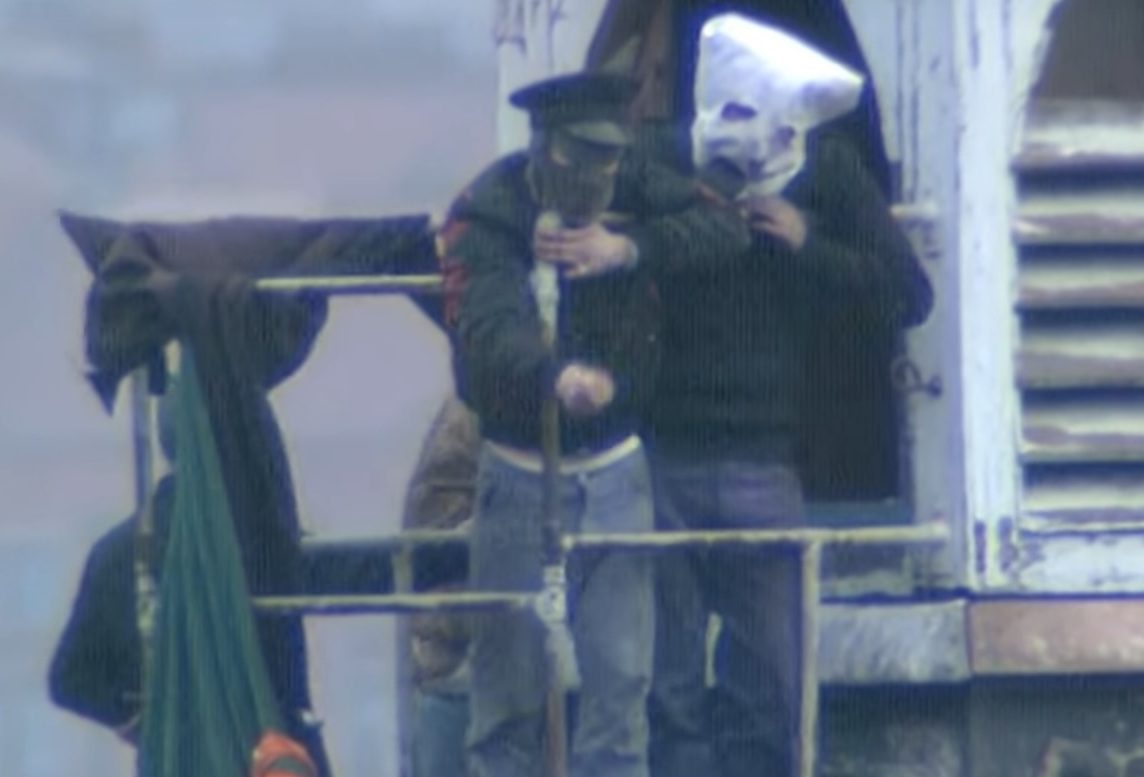 "It was like a scene from Mad Max…the most bizarre fancy dress you'd ever seen in your life" former protestor John Murray told the Channel 5 programme Strangeways Riot – 25 Days of Mayhem "It was like a Genesis concert gone wrong…"
A banner reading 'No Dead' was unveiled on the roof in response to a Manchester Evening News article that claimed up to twenty people might have died in the rioting. In fact, one prisoner, alleged sex attacker Derek White, died from injuries while in hospital, and a prison officer, Walter Scott, died from a heart attack.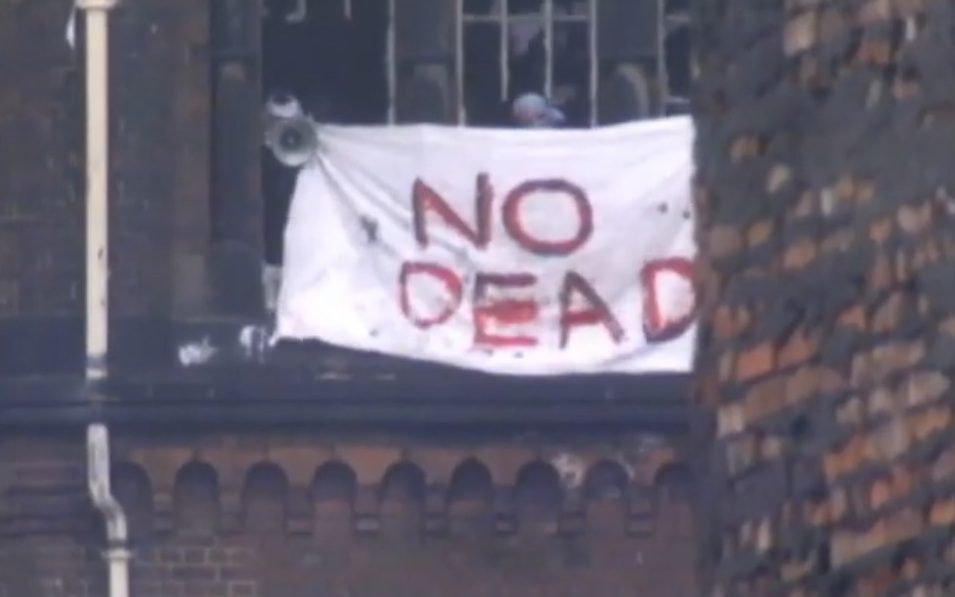 On 6th April a banner was unveiled by protestors reading 'We fight and stand firm on behalf of humanity'. And during the protest, riots and disturbances broke out in 25 other prisons around the country.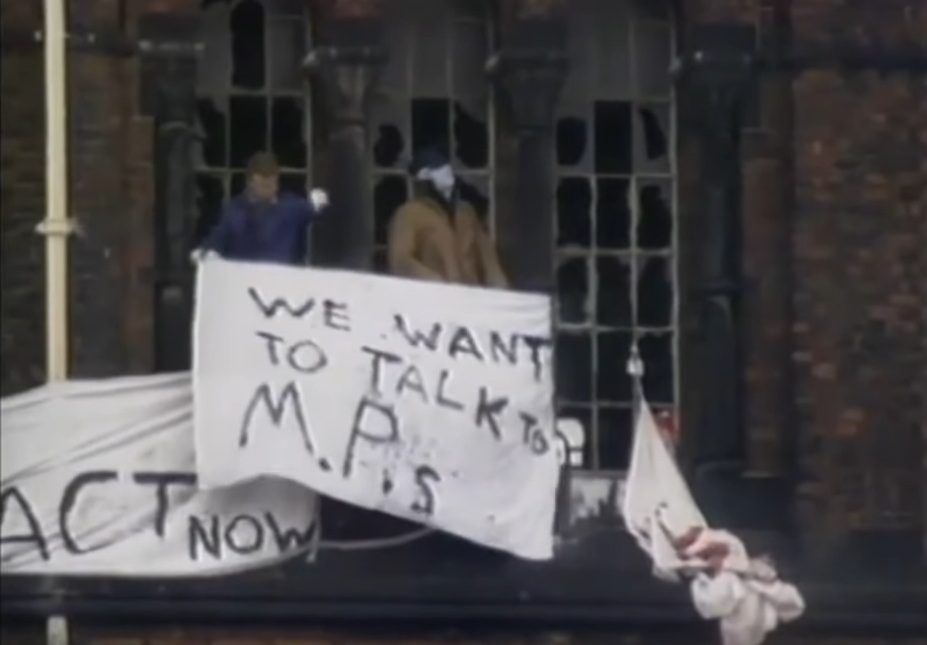 Despite more prisoners surrendering at Strangeways and the authorities using pyrotechnics, loud music and water hoses to disorientate the roof top protestors, the riot, which had become a public spectacle on Bury New Road, lasted until 25th April – over three weeks and the longest riot in British prison history. At 6:20pm on that date, the five remaining prisoners ended the protest and were taken from the roof in a cherry picker. Altogether, 147 prison officers and 47 prisoners were injured during the period, while much of the prison was destroyed, costing £55million at the time to re-build.
The prisoners had demanded, through the Manchester Evening News, improved visiting facilities, including the right to physical contact with visitors and a children's play area; that Category A prisoners should be allowed to wear their own clothes and be able to receive food parcels; that there should be longer exercise periods and an end to 23-hour-a-day lock-ups.
The subsequent Woolf Report into the state of the country's prisons described the conditions at Strangeways before the riot as "intolerable", and blamed the failure of successive governments to "provide the resources to the Prison Service which were needed to enable the Service to provide for an increased prison population in a humane manner". The grievances of the prisoners were addressed amongst twelve key recommendations and 204 proposals, including an end to slopping out, more visits, home leave and telephone calls, and more education and cultural activities.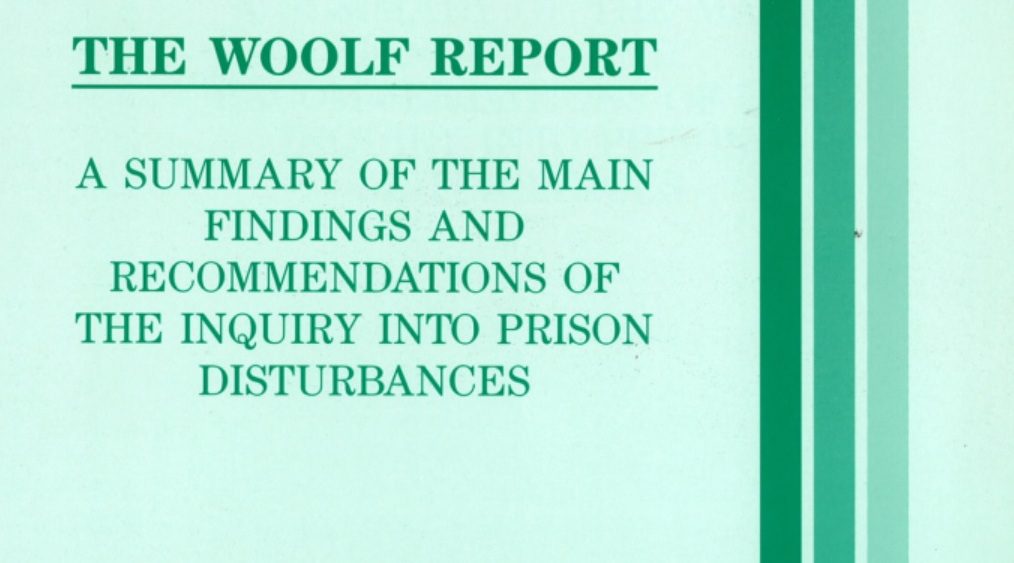 The Guardian described the Woolf Report as a blueprint for putting "decency and justice into jails where conditions had become intolerable".
Meanwhile, the Press Council also looked into the sensationalist reporting of the riot by the media and concluded that "Many of the more gruesome events reported in the press had not occurred – nobody had been systematically mutilated, there had been no castrations, no bodies had been chopped up and flushed in the sewers. Though there was inter-prisoner violence in the first hours of the riot, torture on the scale suggested by many of the early reports did not take place."
It added that press coverage of the riot "fell into the serious ethical error of presenting speculation and unconfirmed reports as fact"…
After the prison was re-built and re-branded HMP Manchester, a prisoner told the media…"The better conditions in here are not down to the prison department. But for the riot, we would still be in the same old jail banged up all day and slopping out …The rioters brought this about. These conditions… should not have cost the lives of a prisoner, a prison officer and two huge court trials. They should have done it years ago but it took a riot to get them to do it."
And Paul Taylor, who was one of the main instigators of the protest and got a further ten years for his trouble, told the BBC in 2015, on the 25th anniversary of the riot, "I'm glad I took part in a protest that changed the course of history, because the prison service were reluctant to implement any changes whatsoever until Strangeways happened."
Manchester Evening News Editor, Mike Unger, who went into the prison during the riot to meet with protestors, also told the BBC in 2015 that "You look back today at those complaints and you think how awful that they didn't have these things at the time. There was no dignity, being locked up for 23 hours a day, being force-fed Largactil to calm them down. It was just appalling."
And Brendan O'Friel, the Governor at the time, also told the BBC that "The way a society treats its prisoners is a real test of its civilisation – in 1990 we weren't really living up to the sort of standards that we should have had."
In 2015, Lord Woolf also said that "There are a few things that are better now than then, but I fear to say that we've allowed ourselves to go backwards and we're back where we were at the time of Strangeways…What is needed is somebody who is younger and energetic to do another review of the prisons and take the prison situation out of politics."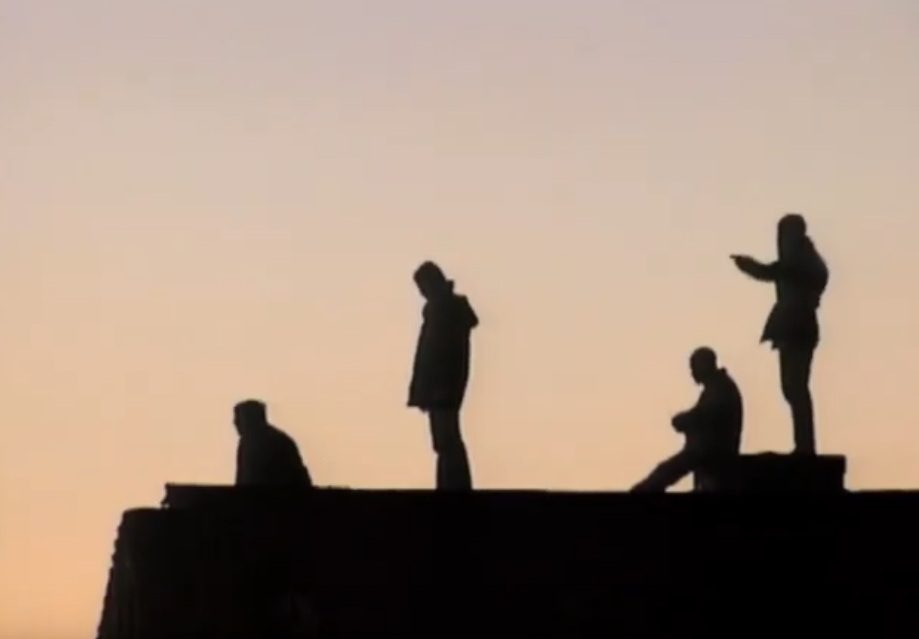 See also:
The Strangeways Prison Riot – What was it? What did it change? – click here
I Sold The Strangeways Riot T-shirts!- click here
HMP Manchester – The Most Stunning Building On Bury New Road – click here
Has the Culture Changed at HMP Manchester? – click here
See also:
The Future Of Strangeways – Over 1,000 new apartments but will the prison still be there? – click here
Anti-fascism at Strangeways – click here
Strangeways Here We Come – the movie – click here
The Smiths and Strangeways – click here